PayPal support finally makes its way to Samsung Pay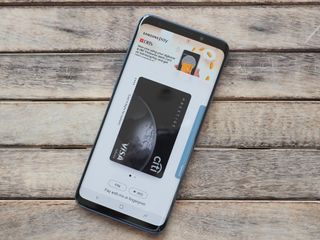 (Image credit: Android Central)
In July of 2017, Samsung announced that it was partnering with PayPal so that Samsung Pay users could pay for things using their PayPal balance. This was exciting news for a lot of people, but it unfortunately never came to light. Nine months later, this functionality appears to finally be rolling out.
As Joe Kester noted on Twitter, an update that's making its way to the Samsung Pay app in the Play Store adds the ability to link your PayPal account to Samsung's mobile payment service. Once you've downloaded the update, choose to add a new payment method for Samsung Pay and then tap the "Add PayPal" button under the "Add payment card" section.
Tapping this will prompt you to enter your PayPal account info, and following this, you should be good to go. Just like with Google Pay, you'll be able to use your PayPal balance/card at any stores that accept Mastercard.
Samsung does note that it may take 1-2 days for the "Add PayPal" option to show up once you've downloaded the new update, so don't fret if you don't see it right away.
Download: Samsung Pay (free) (opens in new tab)
Joe Maring was a Senior Editor for Android Central between 2017 and 2021. You can reach him on Twitter at @JoeMaring1.
For those people who will use it great I'm glad it works for them. As for me, I won't be using it since I don't use Samsung or Google Pay. When I had my Nexus 6P I tried it and had problems. Once I got my note last November, I tried Samsung pay everywhere I go and again I had major problems. I have done everything people have suggested when I researched what was possibly wrong. I have just given up on it. Some much time and effort wasted for me. However, for anyone that uses it and works fine then I'm glad and extremely jealous lol

Mine works perfectly everywhere I go. What "major problems" were you experiencing?

It just wasn't working for me. Maybe I shouldn't of said major problems lol but if it doesn't work than it's a problem. I went to all the big stores. Target, best buy, Walmart, subway, wal-greens, Barnes and Noble and just no success. Even at T-Mobile I asked the rep if it would work. She said it would and 25 mins later I finally gave up and just paid with my debit card. I want to take advantage of getting the free $200 in Samsung pay to pay the phone down a bit. I finally had to settle on using the money on Best buy's website to buy a few things. Yeah I used the free money but I wanted to use it at the store and it never worked for me so I just don't care anymore. Faster to get out my card. Yeah maybe it's safer but it's 2018 everything gets hacked anyways so I don't worry anymore

Odd, I just started using Samsung Pay recently... Works at every store I've tried at - several told me it wouldn't work. One lady kept telling me we dont accept "Apple Pay" I just held my phone by the scanner & told her its Samsung Pay... She said nope sorry and got pissed when it worked lol Already got a 10$ Amazon gift card & over 1000 points in a few weeks - so on top of it being convenient & a solid app that works everywhere the perks are a bonus! Now if I could just link PayPal I'd be set... Although my bank does support Samsung Pay unlike many so I'm good there but would like to use my PayPal funds this way. Sorry you had issues....

Tried using PayPal through Samsung Pay yesterday and it was being declined. I don't carry a PayPal balance and would be counting on the top up function to work, either it wasn't or there is another issue somewhere.

Well, this may finally be a way to use electronic payment for credit cards whose issuing banks refuse to directly support Samsung or even Google Pay (like you, MBNA and TD.)

Was just researching this yesterday to see when and if I could finally link PayPal... Thx for the article but I just checked for an updated version of Samsung Pay on Google Play & it says I have the newest version (March 30) :(

Most of us have version 2.8.27. The version that allows use with PayPal is 2.8.29. Should be available soon.

I really hope samsung adds this for Canada.

4/25 and still no update for my Samsung Pay
Android Central Newsletter
Thank you for signing up to Android Central. You will receive a verification email shortly.
There was a problem. Please refresh the page and try again.