Orange UK officially pull the wraps off the San Diego, the UK's first Intel powered Android smartphone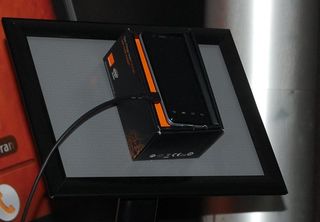 We're at a press event in London this morning, where Orange UK have shown off the San Diego, the first Intel powered device to launch in the UK and in Europe. The device will be launching next week on June 6. On pay-as-you-go the San Diego will cost a very reasonable £199.99, as well as on contract for free from £15.50 per month.
Orange have traditionally marketed their own-brand smartphones towards the lower end of the market, but the San Diego could well be snapped up by more feature hungry consumers.
We'll be going hands on with the device later on and really getting to know it, so stick around.
it is very much similar to the Lava Xolo X900 launched in India.

Screen size?
type of screen?
ram?
anything besides its name?

HSPA+, Z2460 processor, 1080P video, image stabilisation, HDMI out, 8MP camera with 10 pics in a second in burst mode, 16GB storage, 1GB RAM, 4.3" 1024x600 display,

No, it is a 4.03" phone. Like in 2009. The 4.3" phones didn't come out until 2010. Will this be free on contact?

Free on contract from £15.50 a month :)

Why is an Intel phone so important? Is the CPU that much better? Thanks

it should be considerably faster than current arm processors.

Because intels leap into the phone market.

if intel decides to go full force into this android product maybe they can bring the next leap in cell tech. Given they are already the leading manufacturer of processors and have the funds for R&D that is very hard to match who knows what is possible

And don't forget, they have partnered with Motorola

Design wise this thing looks like a Galaxy S II

The Samsung Galaxy S II was the next generation bigger. This is a copy of the 4" Samsung Galaxy S.

Price tag is quite good.
What about specs? In 2012, certainly, wants HD screen resolution, and 4.3-4.7 inch screen size, which more usefull with ICS... others done.
I have running ICS on the some Atom tablets, EEE PC and it's dissappoint me, 'cause a lot of apps in Google Play occurs unavaible to me.
About 50 percents, what I 'm use on my smartphone.
And no one from installed and purchased games on my smartphone are avaible for these Atom devices.
ICS on x86 running enough quicly without any lags (yeah, Samsung with laggy touchwiz on theirs tabs are sloupok in compare to clear ICS on Atom), but even x86 compability apps often crashes.
....
Interest, is device for 200 pounds are sim-free or Orange-locked (even no conract device still be sim-locked, isn't it?)?

They will be orange locked when you buy them yes
Android Central Newsletter
Get the best of Android Central in in your inbox, every day!
Thank you for signing up to Android Central. You will receive a verification email shortly.
There was a problem. Please refresh the page and try again.