LG Optimus G Pro 'Value Pack' now available via OTA update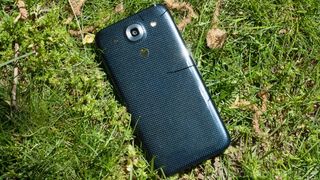 New tools include Smart Video, Dual Camera and Pause & Resume Recording
Update: detailed software information and what is needed to update have been added after the break.
Original:
LG Optimus G Pro owners on AT&T should be on the lookout -- an over-the-air update is coming your way. Dubbed the 'Value Pack,' this update brings features very reminiscent of another popular flagship phone. We've been expecting this update for a few months, so it's good to hear the rollout has begun. New features are detailed as follows:
New Tools:
Smart Video intelligently recognizes the position of a user's eyes, automatically pausing the video when the user looks away and then restarting it once they resume active viewing.
Dual Camera, an extension of the Dual Recording feature, lets users simultaneously capture photos of the subject and the shooter using both the front and back cameras for a picture-in-picture composition, so both sides of an experience are snapped and saved.
Pause & Resume Recording allows user to pause video in record mode and then restart the recording to create one continuous video file.
Enhanced Quick Remote Function:
Magic Remote Pad is designed to work with LG Smart TVs released in 2012 and after, allowing for smoother, more intuitive navigation.
Text Keypad transforms LG Optimus G Pro into a convenient input device for LG Smart TVs.
New and improved communication and notification functions:
The HomeButton LED now also gives users the ability to customize alerts as well as the LED color of notifications from their favorite contacts.
Additionally, users can now select from 800 color emoticons when texting or emailing.
Also note: updates of this nature usually go out in waves, so don't despair if you don't see the update notification immediately. To see how widespread the update rollout is at this point -- and the good/bad/ugly of the update itself -- check in with other Optimus G Pro owners in the forums.
Update continued:
It appears the rollout is underway, as we just got our first report of a reader receiving the update. He was kind enough to send us a screenshot of the Software information screen:
No change in Android version, the Baseband version is APQ8064/MDM9x15M, Kernel version 3.4.0, Build number JZO54K, and the Software version has been bumped up to E98010k. The update is reportedly 65MB, and requires users be on WiFI to download it. Thanks TIm R!
Hello Galaxy S4. You look a little different. Did you get taller? Posted via Android Central App

Man... LG wants to be samsung SOOOOOO bad!! lmfao!! I wont buy anything LG though. Everytime i have, i have almost always had to do some kind of warranty repair and thats ok.... but their customer support BLOWS compared to Sammy!

LG had these features first in Korea, samsung copped them.

False. Apple invented the phone first. Everyone copied THEM ;)

LG has been trying to copy samsung from day 1. Their entire OS skin looks EXACTLY like touchwiz (which was around before LG even made an android phone) Not to mention this latest attempt (which is similar to Sammy's Premium suite).

Your loss. The Optimus G Pro is a great device. They may not be the first manufacturer to update their devices, but they have been making some quality hardware and software since the Optimus G. At least it won't lag like the GS4.

You have no idea if it will lag since you have not touched the device.

That's a pretty groundless accusation.

YESSSSSS!!!!! Posted via Android Central App

Well I own both devices and I can assure you the Optimous G Pro definitely doesn't lag like the S4 does.

LG Optimus Pro G all the way!!!!!!!

LG Optimus Pro G, best unrated phone of 2013! Period. love My LGPRO!

Downloading my upgrade now.

Beats anything Samsung. It's gonna be a great year for the underdogs; LG, Sony, Huawei, Oppo, etc.

I'm not crazy about these "updates". More annoying bloatware at best IMO.regardless, I did update and the phone is a rockstar.
When is the next android update arriving for this phone?

Gave the s4 to my wife and got this lg, i am glad i did.

Still no update available....
Android Central Newsletter
Thank you for signing up to Android Central. You will receive a verification email shortly.
There was a problem. Please refresh the page and try again.