Essential has probably sold around 5,000 Essential Phones since its release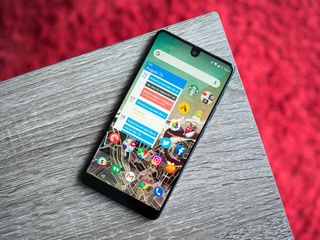 Just like every year, 2017 has brought the release of a lot of new phones — most of them very good. You've got your heavy-hitters like the Galaxy Note 8 and LG V30, but then there's the market oddity that is the Essential Phone. The very first product from Andy Rubin's new startup was officially launched on August 17, and since then, it's being reported that a mere 5,000 units of the Essential Phone have been sold.
In the smartphone world, 5,000 units sold in more than a month's time is nothing. BayStreet Research came up with this number by tracking shipments of the Essential Phone across the United States, and when BayStreet asked Essential for a comment on their findings, they didn't receive any sort of response.
To put things into perspective, Samsung's Galaxy Note 8 saw 650,000 preorders in South Korea in just five days. Compared to the Essential Phone's reported 5,000 units for more than a month, that's not a great start at all.
So, what's the cause for the Essential Phone's weak sales? Although we can't say with absolute certainty because every person has different buying habits, we can safely narrow it down to a handful of possibilities.
For starters, if you want to buy the Essential Phone in the United States, the only carrier you can get it from is Sprint. If that isn't your carrier of choice, you'll need to pay the full $699 asking price upfront. Carrier exclusivity is never helpful for increasing sales numbers as much as possible, and that point is further reinforced when you limit your phone to the least popular major carrier in the country.
Along with its limited availability, the Essential Phone really isn't a complete product. Between unfinished software and numerous camera issues, the phone doesn't perfectly justify its $700 asking price. The premium materials used for its construction are something to behold, but when you're advertising a phone as having all of the "essentials" that everybody needs and don't include a headphone jack, you're looking at a tough sell.
Andy Rubin has reiterated numerous times that the Essential Phone is just the beginning for a host of other products that will make up Essential's ecosystem, and while that may be true, 5,000 units sold in a month's time isn't the best way to kick things off.
How much longer do we wait for Essential to figure it out?
Android Central Newsletter
Get instant access to breaking news, the hottest reviews, great deals and helpful tips
Joe Maring was a Senior Editor for Android Central between 2017 and 2021. You can reach him on Twitter at @JoeMaring1.
Damn, not even enough to invoke a Dragonball meme...

What's the scouter say about the sales numbers? Eh, about 5k

But which is greater, Essential phones sold or Krillin deaths?

LoL.! nice grass roots effort, though!

That's how you know it's bad

Says the guy who never touched or used the phone.

It's amusing how someone who chooses to go by the name *Highfidelity*sounds so much like a broken record... Regardless, what bearing does having or not having used it have on discussing cold, hard sales figures?

Seeing this account was just set up this month, I give you 1 guess who this could be.

My guess would be Andy Rubin's mum...

I'm assuming you never held the phone. I have. And it's the best felt phone I've ever held. How about you?

Too bad the camera sucks. According to like...every reviewer out there.

The camera has taken evenly matched pics compared to my S7 edge. And the low light images are not as bad as people is making it, but are not great compared to the S7 edge. Secondly, it's not the camera, it's the poorly designed software that was fixed in updates. But, you know, people who never had the phone can, well, only go by what the interweb says. Because it's on the internet so it must be true. And reviewers are also say the iPhone is the like the bestest of best phones to best. ¯\_(ツ)_/¯

Where else would get the information? From newspapers? Let's face it. It's too expensive and against the S8, it's dead.

Dead because this article said they only shipped 5K? That is all speculation to actual numbers, plus is for a starter company that already stated they goals aren't to sell millions? That is finally now available for purchase on Best Buy, Sprint, and Amazon? Too expensive, yes. I bought, however, and apparently so did 5K other people. So for some people, $700 is not expensive. People also think the Note 8 and iPhone X are too expensive, and yet people buy it. And as I mention, articles are just that articles. If I listened to the rhetoric about the phone camera, I wouldn't had bought it. If it wasn't for the craptastic customer service, I would had kept it. Software, as beta as it was, already had it's 1st September Security Update and camera update to rectify the issues it was happen. Also, this is Android, and with Android comes hacks and there were plenty of people using the GCam to get better shots which means there was nothing wrong with the camera itself. so again... ¯\_(ツ)_/¯

You're right. We shouldn't listen to professional reviewers. We should listen to you.

You don't have to listen to me. I made my own opinion. Cause I, you know, owned the phone.

You owning the phone actually only decreases your credibility, because you're obviously defensive of an expensive decision. Critical reviews have came from multiple sources, not just 'iPhone lovers', including this site.

Actually you can't read. And to sum up I don't have the phone anymore and return cause i don't want to deal with this crap company. The company if anything will be phone downfall. Not the phone. The problems of the phone was the software they screwed up. The phone price is not for everyone. Clearly you were not its target. That doesn't mean the phone is bad. If you think I'm crticial of this phone then clearly you have not read all of my post. Whatever. It's the internet. You might, however, learn how to read.

You should totally listen to both.

"don't trust people on the internet" says local internet man who disagrees with the majority opinion.

Thank you for twisting my words to fit your rant. Maybe you should do your research of people on the internet who actually loves the phone itself despite the crap customer service and buggy beta software and didn't care what reviewers said. My implication is towards reviewers who ridiculed the phone and yet there are plenty of people including me who loved the phone. Software issues can be fixed. But whatever. I'm just a disgruntle "local internet man" who don't know how to agree with the masses.

A single sentence is a rant? Also, my research indicates that the silicon lottery is strong with this phone, and you happen to be among the lucky one. There are far too many consistent complaints for this to be disregarded, from both reviewers and customers, as "lol internet hivemind". That is what makes you the disgruntled local internet man: the apparent belief that your positive experience nullifies all negative feedback. You lucked out and got a great model, yet many people have gotten one with issues. This should be an ENORMOUS red flag.

Guys I switched from a S8+ to the HTC U11 and now to this phone. Yes I have phone OCD and I'm going to try very hard to stick with my shiny new Essential Phone for the next year. I am using the phone on T-Mobile here in Los Angeles, and I have to say the phone is much better than I was expecting! After reading all the horrible reviews about the phone's camera, I was expecting to try out the phone for a week or so and return it. The poor camera app is definitely a problem, but the company has released multiple updates that have definitely improved things. The Google Camera app can be used with the device and the pictures come out excellent using that app! Really the main problems I have discovered are: slight scroll lag or micro stutters when holding a finger on the display and scrolling up and down slowly, touch sensitivity needs to be improved (light touches are sometimes missed), and my fingerprint sensor sometimes doesn't work until I hit the power button when the phone's been in deep sleep. I have no doubt that these bugs or issues will be addressed. I personally would not hesitate to recommend this phone. The hardware is truly top notch and the software will definitely catch-up. The company still has supply issues so that is part of the reason why they haven't been able to ship out more units.

Not surprising, given its pricing, software bugs, and subpar camera. With phones like the Samsung Galaxy S8, Apple iPhone 8, and upcoming Google Pixel selling for a similar price, why would you buy an Essential?

It should of been priced to compete with the oneplus. Far to expensive for a start up company. Trying to sell on the back of andy rubin.

And missing Essential features.

$599 would have had more takers. But this has 128 GB of storage. And if they can get the kinks worked out, it would be a solid choice. Alas, I am still waiting for white, but it looks like the new Pixels will be ready beforehand.

The headline probably isn't good for them, but I don't know how many phones a hardware startup one one carrier expects to sell out of the gate. If they're sitting on a giant pile of unsold phones, it's bad. if it's what they forecasted, then it's good.

Excellent point. Without knowing how many phones Essential expected to sell in the first month, it's hard to know if this is unexpected or not.

Not sure how that could be good for them. Even if you figure a 50% profit, that's about $1.75 million in the first month. Their marketing budget probably isn't huge, but when you figure in salaries in silicon valley, they're probably bleeding money. Unless Andy Ruben is going to keep pumping money in or they miraculously start selling more phones, hard to see them keeping the lights on.

Wouldn't it be safe to assume they went with 100,000 as an initial milestone? Again, the white one is the one most people wanted.

Newsflash for AC and it's readers, this phone just went on sale like yesterday, and it was never meant to sell tens of millions out of the gate.
https://www.wired.com/2017/05/

New flash. The phone has ACTUALLY been only sale for over a month and slow/delayed shipment and been on sale with Sprint, Amazon, and Best Buy since 1-2 weeks ago. It has also been delayed due to defects that the next batch needed fixed before shipment. Fix your link.

Exactly, it went on sale like yesterday.

No. It's been on sale for a month. The note 8 went on sale "like" yesterday too and we see how that turned out. Let's stop making excuses for the poor execution of this company and their release of a cluster. Their sales could had easily been over 10 to 20K in a month time of they executed this properly.

Dang. Didn't think it was possible to do worse that Windows Phone did and yet...here it is :-)

As a former WP user...this makes me sad. Loved the platform - esp. the 8.1 version. 10 was too buggy. I'd consider an Essential phone that had a better camera and was a little more polished.

Already said it around here. Reading about the Essential Phone feels so similar to reading about a Windows 10 Insider Build release over on Windows Central

Joe, you had me at no headphone jack and no expandable storage.

The phone comes with 128gb of high speed storage and the dongle has a build in DAC and sounds great.

My s8 has SD card storage exponentially larger and I can plug in my top of the line headphones

And you can't charge it while using it for audio.

If this is true and they projected to sell a ton more, maybe there will be a fire sale. I would buy this phone at $250 to $300 range but no way I am paying $700.

Yup, $250 is good starting point

They wouldn't bother selling phones well under cost. Might as well just not sell them.

I don't know WHO expected this to ever sell? - NO ONE in the real world knows who the heck is Andy Rubin. So that's the first thing tech blogs got wrong from the get go. "Andy Rubin"s name does NOT sell anything. And even within people who know who Andy Rubin is, many wouldn't buy a phone just because he made it. I sure wouldn't. - The "Essential" phone lacks pretty much ALL the essential things (from wireless charging to OLED displays to OIS. And don't even get me started on the headphone jack) - The "Essential" phone is overpriced to no end...and that's while only selling in North America where phones are always cheaper. Let's be honest here: tech blogs overhyped this phone way more than they should have. And for no good reason. If they hadn't done so this phone would have arrived, not sold and died quietly without anyone noticing. But because they did, the phone will do the exact same but it will be noticed. That's pretty much it.

I've been an android nerd since the tmobile G1 and even I still dgaf about andy rubins name being on the phone haha. make a good phone and the nerds will buy it. Everyone else...they probably don't care unless Kim K or Obama is using it.

Agreed. The price should be half what it is considering the lack of the essential features. If you want bare bones device, buy a Moto G

OIS won't save this camera though. If it's bad software processing (seems to be the case as the Google Camera made it a more competitive shooter), then that's what needs to be done. If it's bad hardware, not even OIS will save it.

Well, the phone is not for sale in Europe, so they lost at least one sale here. .

It's an overpriced phone that doesn't have the "essentials".

Says the person who never touched or used the phone. https://www.reddit.com/r/essential/comments/70bnd9/loving_my_essential_s...

Don't need to touched or used the phone to know what it's missing

I want the internals of the note 8 or pixel 2, with a headphone jack and sd card support and OIS and I would pay full price for this phone. As is, hell no!

Got a chance to look at the Essential at Best Buy. To be honest it looks beautiful and feels amazing. It has a great grip, the size of the phone feels just right in the hand and the screen ratio is amazing. But paying 700 dlls for this is too much, it has nothing more to offer, and if you add the camera issues and some bugs in this near stock android it is for sure an overpriced phone. I think it belongs into the 400-500 dlls range. For that price I would get one.

What happened, it did not have the toaster over feature, or let us scan your retina feature, you know, all those gimmicks that do nothing but lag the device over time and takes forever to get the latest software update, how is that Samlag doing with 7.0, while Android is already on 8.0.

That is exactly my point. For this price you can expect to have all this extra stuff. Basically you can buy a Moto X4 Android One for 400 dlls and it will be almost the same UI experience. There are also many other companies offering near to stock android with great hardware for 500 dlls. What is the point on paying a premium price for a phone that only looks good?

God damn are you thirsty for some Rubin.
I wouldn't be bringing up software, btw, considering how there is exactly one piece of custom software on the essential and it doesn't even work. At some point, you need to understand that "smooth" and "feels great" are literally Apple-tier justifications. It's a 700 dollar Android phone with a feature set that matches a 400 dollar Android phone. It's time to just stop.

You realize you just made his point, right?

The whole launch is a joke - very limited availability, stock issues, not to mention the white model is nowhere to be seen. And to sell it in just one country - it deserves it's lack of sales.

It's sold in Canada too :)

Please do not compare the Essential phone with global smartphone sales. A better article would be to compare the sales of Essential phones to the sales of Nextbit Robin over the same release time period. Other than that this is a fluff piece that will draw sharp ire on the lack of forethought for this article. Prior to Apple, Samsung, and LG releasing a smartphone, they all had market penetration with other branded products. Yet disparaging Essential at this time comparing them to global market sales is akin to holding a kid's lemon stand to the same sales of Coca-Cola distribution.

They compared it to sales in one country (South Korea). Granted, that's Samsung home country, but still...

48 hours with mine and it is an a nice phone but the rollout was botched big time.

The article is not the problem. The phone itself is the issue. It is such a gorgeous device. The PH1 has so many issues though.

I've heard some nightmare reviews regarding customer service and the company's communication with its customers. That alone is a deterrent, aside from the listed spec shortcomings. I think the company was banking on pre-order sales to pay for the much needed customer support and overhead. They had the right idea, but fell way short with the execution.

Remember when web os tablet by Hp I think came out at 499 then was 99 bucks month later. Fire sale incoming.

Yep, if that does happen and is in the $250 price range, I would buy 1 or 2 of these for myself and wife if i would get the second one.

And 1 is going back today...Mine Just underwhelmed with the software experience and the lack of customer support.

What's the issue that you need support?

1st - Where is my phone? I was one of the few that signed up and pre-ordered and phone was delayed and delayed and then delayed
2nd - Why does WiFi turn off my Cellular signal
3rd - I took pictures and they are not saving on my camera
4th - Phone locks up all the time
5th - 360 Camera not working
6th - Camera locks up when switching between color and monochrome
7th - How do I return the phone - I call the support line and get an answering machine
8th - Hello is there anyone there, how do I return this phone? Are just a few that come to mind. This phone has great build quality minus the earpiece and LCD screen, but that aside the hardware won me over....living with the phone was painful....It got incrementally better with each update but not what I am interested in, you have my money...I do not want to wait and see and hope how it goes.

Not to forget the trusted agent continuing to make the safe lock to stop functioning. Bad/No LTE service in places it should not have issues.

This sounds like a night mare. Thanks for the honest review. Build quality looks awesome. I like heft to my phone.

Look, I am not saying you would have any of these issues. In fact after the Verizon certification I did a hard reset and had no problems I couldn't live with until I noticed the hole in the earpiece cover at the top of the phone. It took 5 days for the return envelope and I had started to reconsider, after all the 2XL is going to run close to 1000 dollars and is it going to be 300 dollars better? Well I am guessing yes and since I will be able to trade my Pixel XL in for @ 400 dollars it won't hurt as much financially.

I feel your pain. I'm in the process of exchanging mine. I can live w/ the crappy camera but I need actual cellular service which it did not have on Tmo for some reason. Worked perfectly fine on Verizon. My earpiece also had the "wrong material installed" as Essential confessed to. Lol

No such issues here, phone is smooth as butter and fast.

Interesting feedback, thank you.

Yikes.
I understand that Rubin is basically saying the phone is just the beginning for the company, and to stay tuned for their other great products, BUT - doesn't a company usually release an initial product and then based on its popularity it releases and sells other products, and they build the brand that way?
if that's the case, then i wouldn't be surprised if this company folds soon, since it seems (time will tell for sure) that their first big product kinda went nowhere.

Wow. Microsoft sold more of their last Lumia's than this. Too bad, considering this phone is actually half decent except for the price.

To be fair it does look great at least. But on the flipside the MiMix 2 looks great, probably performs better and it'll be a damn lot cheaper

I've sold more lemonades as a kid than this. Bring it to tmobile Andy. I'd buy it

It is unlocked and works very well on TMobile.

It's costly for a new phone

Bottom line. It's not waterproof.

4999 with my return... And why would any one expect a response from this company. People who went thru Affirm and requested charge backs because of lack of response can't even get Affirm to communicate with them.

Far too expensive, the price guaranteed its failure. Maybe I'll get one in a year during a fire sale like I did with my Nextbit Robin, lol.

I will say their sales probably would have been better if they 1. Actually waited til they had stock in stock
2. Didn't have to delay shipment due to earpiece mesh defect
3. Actually had the other colors in stoci
4. Actually waited till they had stock in stock
5. Actually waited till they had stock in stock
6. Actually waited till they had stock in stock
7. Didn't have bad PR with poor customer service experience.
8. Actually waited till they had stock in stock

I agree with number 5, but number 4 is definitely not true

Not good? Was anyone expecting better? Technically new comer, only parterned with sprint bestbuy and amazon. That's actually decent lol.

Couple of disclaimers... I'm a Sprint customer and upgrading from a Samsung Galaxy 5. Am disappointed to see these disparaging comments (particularly from people who don't have the phone!) and am hoping the company succeeds. My personal experience has been perfect. Phone is fantastic, fast, and free of bloatware. Customer service has been helpful. Camera has worked perfectly and I take lots of pictures. And I got a great deal on the cost through Sprint. Seems like a third of the comments are from non owners yet are worded very strongly. So that is my personal experience through my 3 week ownership.

You're the only person who has had a positive experience with the device.

I have seen that same comment every time someone writes something positive. I would challenge that there are plenty of positive experiences out there, just not on forums that tend to motivate the negatives

Same experience here, this phone is fantastic, could not be happier.

It's not like these disparaging comments are happening in a vacuum. Essential is its own worst enemy. Defective earpieces.
Releasing customer information to the wild.
Terrible to non-existent customer service.
Dumpster fire of a camera.
Lack of flagship features for flagship prices.
Constantly behind schedule. On and on. The product seems half baked and was desperately released to come out before the onslaught of the Note8 and the new iPhones. Sad.

Releasing customer information to the wild. Releasing customer information to the wild. Releasing customer information to the wild. Releasing customer information to the wild. Releasing customer information to the wild. This company has access to every single word you type and knows every place you'll go while you have the phone. Until they learn how to use Gmail, I wouldn't touch this one.

It helps that you work for Essential :)

That's the other comment I have seen a lot here. Why is it that just because I have had a great experience with the phone, I must "work for Essential?" I don't, I haven't, and won't in the future. I am sharing a positive, personal experience that should carry more weight than commenters that don't have the phone. Share your opinion for sure, but if you don't have the phone, stop acting like you know.

There's a high number of extreme fanboys who attack anyone who doesn't bow before Lord Rubin, and the silicon lottery is STRONG with the essential, so people who have positive feedback are inevitably treated with suspicion.

I agree I would love to see this company succeed, hopefully next years model will be waterproof, OLED screen, either Ambient OS or stable version of Android, a better camera experience, and beefed up support.

The Kin and Kin 2 did better. Ouch.

1- Luxury phones are mostly about branding, and Essential is an unknown brand.
2- even taking out the fashion angle, specs-wise it is nice but terribly let down by its camera and the lack of SD and jack.
3- the design is nice. But so are several other designs, from better brands and/or better phones. What's the Unique Selling Proposition ? "Looks cool (but isn't from a cool brand)" ?

No other phone looks and feels like the essential. All the rest look and feel like cheap Chinese toys.

Ha! Hilarious. That's right, my Note8's earpiece came off. No. Wait that was your phone.

I see who this is. It explains everything.

Hello, is that you Mr Rubin under the guise of Highfidelity??

Oops try again. I moved on from Samsung months ago my friend. I'm a man of many phones but Essential won't be one of them... unless they have a miraculous turnaround with their next offering

I'm thinking more like shipped 5000

That's only slightly more phones than I've sold and I don't sell phones.

Every small competitor faces the same problem: the vast majority of potential customers don't even know they exist. The people who read sites like this one and know anything about the Essential phone is tiny compared to the number of phone buyers. Couple that with the likelihood that most people buy their phones through their carrier, most buyers won't even see it when shopping. There's a lot to like about the Essential phone (and much to dislike, too), but trying to start a new company in this industry is a lot like tilting at windmills. Even Dell and Amazon, with their name recognition, struggled to sell phones. What can a small, unknown company hope to accomplish?

It may look nice but teardown suggested it's almost unrepairable and you don't know if the company will be around in 6 months. It is a leap in the dark, and not many people are prepared to pay $700 for a very unknown quantity when there is plenty of choice from established suppliers.

it should have been all 4 carriers in store

I'd probably have given this a shot if I could have gotten it on my AT&T Every Year plan. But it wasn't, so I got the Note8.

How many articles and reviews are going to keep bashing the Essential for not having a headphone jack. Give it up already!!!! There is an adapter in the box to allow the use of wired headphones and to be honest their are more phones coming out sans headphone jacks then with. Bluetooth 5.0 is out and headphones that support that are going to be out soon. Not to mention Essential will be one of the few companies that puts out a high fidelity wired headset that uses the two USB C prongs on the back of the phone.

They're selling a solution to a problem they created.

As soon as people realize that the free dongle simply cannot include a dac that can compete with what should be in a high end flagship.

The dongle doesn't need to have it's own DAC. Just use the one in the phone itself.

USB-C is a digital output only, therefore you must convert it outside of the phone in order to have functional headphones. The jack is analog output. Its almost like there's actually tangible drawbacks to removing the headphone jack or something.

Wait. USB C can't use the internal DAC but lightning can? Not trying to troll, seriously asking.

Lightning is also digital out as well. There's a dac inside every dongle.

The more you know. I thought lightning didn't need it, but it turns out I was wrong. Good to know.

Yeah, Tomberto is correct, the DAC is in the adapter. Since you've looked into it further now, you might have come across the YouTube video showing them cutting the adapter open to expose the Lightning DAC. Although you will almost never find an external DAC in an adapter that can match an internal DAC, there is an exception. And not only is there an exception, it will probably freak a few people out because highest quality 3.5 mm headphone output of any 2017 flagship so far, is from the HTC U11... through the adapter: Device / Noise / DR / THD / IMD+ / Crosstalk
HTC U11 / -94.1 / 94.1 / 0.0017 / 0.0067 / -94.5
LG V30 / -93.2 / 93.1 / 0.0008 / 0.0069 / -94.2
Galaxy S8 / -92.5 / 92.5 / 0.0016 / 0.0072 / -92.8
Xperia XZ Prem. / -90.6 / 90.4 / 0.0180 / 0.0270 / -92.6

Problem is can't charge while listening. That is my problem with no headphone jack.

Very valid point, and nothing you can do when the charger and headphones plug into the same port.
But, I have to say it has not been an issue for me: the phone was at 56% after 19 hours of use including a good hour of YouTube. I just can stay awake long enough for it to need changing while I'm using it, but that's not the case with every phone.

Think the price of the phone was a miss but than again its a nice looking Device overall

I haven't touched the phone at all but it looks nice. Currently on HTC 10 and looking to upgrade to something newer. Wonder if this phone would be worth it or just wait to see what's coming out next year.

I need to etch my PH-1 with 1 of 5000...funny. I got one of the first production releases, and no physical blems. Software doesn't lag, touch seems perfect now, still get a glitch once a day when I fast scroll FB/news apps. I just lock/unlock...solved. Rarely happens now, compared to the first week. Getting a ton of app updates, so maybe Ess is providing feedback to make them more stable. I use headphones once a day at the gym, dongle works fine...left plugged into my Bose. Battery life kicks ass. For me, I like this better than a 6P & Pixel. One handed on a 5.7 screen. Case options still suck.

Year two should be amazing if rhey can get it on AT&T.

Doesn't the box have a serial number below 5000?

"Case options still suck" Options will always suck on any phone that's not Apple/Samsung/LG!
Your frame is almost indestructible, so some case makers may not bother for that reason.

With all the Android cell manufacturers already present in the market, the market is already more than saturated and doesn't need another. I'm not saying you can't try, you might have the next killer Android cell, but you're more likely to fail than succeed. People become complacent, I have a Samsung, I like Samsung so why would I want to switch from Samsung? I have a Moto (and I really do), I like Moto, so why would I want to switch from Moto??? There's just nothing compelling to cause a user to switch.

Advertising is only for Sprint, and no one has heard about it, or the brand. Implies it's a sprint exclusive and can't be bought unlocked. Those who look it up will find 2 things. Mediocre reviews about the software, and that they can buy it unlocked but most won't pay full price up front for a phone. It has stock Android, which doesn't appeal to the average person, they are used to the bells and whistles from Samsung and others. It also lacks what many consider to be essential features. I'm not surprised it is selling poorly to be honest, it's designed for a very small audience.

I would have gotten this phone except no headphone jack and no sd card support makes it a no go. So I got both with the note 8 and I got the spen. No complaints.

At this point in the cell world why bother. The market is already way to full . Hell you have company's like LG HTC windows an blackberry who can't sell there phones an they've been around for awhile . Sure samsung and Apple will steal customer from each other from time to time. An then there's the Chinese companies but that's mostly in there own market . Heck even Google with all its money can't really make the pixel a main stream phone. You want to see more companies make it but things have become very popularized an that's a fact

I know their goal isn't really to sell in huge numbers, but 5000 phones ain't a lot. After all the hooplah we've seen with people getting customer service issues, the phone releasing with a mediocre camera and buggy software (both seem to have been somewhat resolved by now), the whole mess with Essential asking for some personal information only to mess up and show that clearly to everyone who received that email among other things. The product is not perfect, but it does have some very good points like its build, but clearly, they should shift more units in order to even keep investors interested. Nobody wants to invest a billion into a company only to find out that their product isn't selling in high enough numbers.

They took a lot of risk with this device. The display and the intruding front facing camera module are an issue. While everyone wants smaller bezels, this was not the way to do it. With custom software maybe that could be rectified somewhat, but it's an issue for watching standard def videos. The lack of a headphone jack is definitely not essential. The premium materials while nice, could've been delayed for other generations. Early reports on problems with the software are like a black eye for the whole project. If you want an essential phone, it should run stock software and need no additional special updates. Ultimately, the phone failed at being essential.

It's like they expected the module ecosystem to sell this phone along with its looks. Only, there are other great selling phones from much larger companies, and modules don't sell many phones (something LG and Motorola learned). Why would someone buy this over the latest Mate or Axon?
Android Central Newsletter
Get instant access to breaking news, the hottest reviews, great deals and helpful tips
Thank you for signing up to Android Central. You will receive a verification email shortly.
There was a problem. Please refresh the page and try again.