OnePlus now makes an iPhone 6s case, and it comes with an invite to buy a OnePlus X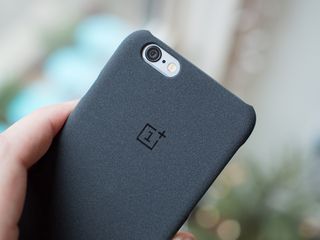 OnePlus makes plenty of accessories for its own phones, but starting today it also makes a case for a competing device — the iPhone 6s. The simple clip-on hard case brings the signature "sandstone" textured back found on the OnePlus One and 2 to your iPhone 6s (or iPhone 6), along with a subtle OnePlus logo on the back and less subtle "Get a grip. #NeverSettle" message on the inside.
And nope, you don't need an invite to purchase one ... but when the case arrives you'll find it contains an invite of its own, unlocking the ability to buy a OnePlus X if it turns out you aren't happy with your iPhone experience (even with this snazzy case). If you're lucky, the invite will even let you purchase the limited edition ceramic OnePlus X. Going a step further, a very small number of cases will ship with a code to get a OnePlus X completely free.
Image 1 of 8
The new sandstone iPhone 6s case from OnePlus will go on sale today from its online store for a mere $19.99 — roughly the same price you'll pay for the other cases OnePlus sells for its own phones. The sandstone finish is nice and certainly adds grip to an otherwise slippery iPhone 6s, but we're not sure how many iPhone owners will be turning to OnePlus for a case.
Whether it actually sells many of these is hardly the point, though — getting the OnePlus name and some OnePlus X invites out into the world is far more important.
See at OnePlus (opens in new tab)
Android Central Newsletter
Get instant access to breaking news, the hottest reviews, great deals and helpful tips
Andrew was an Executive Editor, U.S. at Android Central between 2012 and 2020.
People will buy the case just for an invite and/or the chance to win a phone. There will be a lot of Android users with useless iPhone cases.

Sure the chance to get a ceramic or free phone may be worth $20 to some, but invites for the X aren't hard enough to come by to buy this case just for a plain invite. Posted via the Android Central App

True. I've been getting invites for the X almost every week. And I've not even registered for it lol Posted via the Android Central App

Still a crazy set up, but that's cool too know. I never have tried to get an invite just go by what I read. Posted via Android Central App

Everyone makes it seem like you'll be waiting in line for weeks to get an invite ... more like a few days. Especially for the OnePlus X, which is in lower demand and will actually be sold without an invite in a matter of a few weeks.

ts tuff........... nah, I don't think anyone wants an invite that badly. Being in tech marketing myself, this is actually a pretty smart move on Oneplus's part. iPhone is hands down the most popular phone on the market and the most searched for. They will drive a lot of traffic to see their phones, if someone buys their case or not. I am more surprised at the price. They could sell it cheap as a marketing tool.

Well, that's... Odd. It looks like quite a nice case, I'll grant you. But I'm just not sure what they're going to achieve here. There's a big market for iPhone cases, but as the article says, are iPhone owners really going to think of one plus when they go case shopping? Posted via the Android Central App

Thank you. My thoughts exactly. I mean unless this shows up in an Amazon search, I don't see how they will get the attention of Apple users. Posted using SwiftKey on my LG G4 via the Android Central App

Can somebody check their office for a gas leak? Posted via the Android Central App

I'm on it. Posted via the Android Central App

And check to see if someone laced their coffee while you're at it. Posted using SwiftKey on my LG G4 via the Android Central App

Paying for an invite...then you can give the case as a stocking stuffer to a family member with the iPhone 6/6s. Interesting to say the least.

The FTC would find this practice interesting. Posted via the Android Central App

Lol Posted via the Android Central App on surprisingly well optimized Acer liquid or Asus fonepad

They are literally selling invites now. What a joke!

They are literally selling a $19.99 iPhone case with a promotional deal inside.

On the one hand, I think at least they're not afraid to try.
On the other (I have a thumb and four fingers), I think this is a silly idea and a waste of money (how many units did they have to order?)

#NeverSettle. That's funny. One is settling when they buy the One X over the iPhone 6S.,

Exactly! iPhone 6S has better performance and a much better camera. The OnePlus Two would make more sense, though its camera still pales in comparison to he iPhone 6S. Posted via the Android Central App

So, really, they're just increasing the price of the phone by $19.99. This is stupid. Make your phone available for purchase who want to buy it - there are a lot of people who would, but - spoiler alert - it's not iPhone 6S owners.

I doubt iPhone users even know One Plus exists. Many of them believe Android and Samsung are the same company.

They also think that when they say they have a "droid" they're shorting the term Android when in actuality they just sound stupid Posted via the Android Central App

Working at a cell phone store, I deal with this on a daily basis lol Posted via my Moto G 3rd Gen 2015 with only 1GB of RAM

Hardly. You can still request an invite there usual way and get one in short order. And the invite system for the X is going away entirely in a few weeks. Posted via the Android Central App

"We are crap with selling phones, so we're selling iPhone cases and allow you to buy one of our phones even though you're probably happy with the phone you have" iDK what OnePlus is smoking, but do they even know that iPhone owners typically keep using iPhones? Also, if they buy a case, that typically means that they're gonna be using it as a daily for a long time. Maybe they feel that those owners might consider the X as a backup, but ehhhhhhh. Not like iPhone owners even know OnePlus exists anyway.

Plenty of iPhone owners end up trying out other devices. I know far more people who went Android -> iPhone -> Android or iPhone -> Android than went Android -> iPhone and stayed there.

Uh... Can someone explain to me why would an iPhone owner spend 20 bucks on this case when (s)he could simply buy an official iPhone case for the same price or another case for half the price or less? Posted via the Android Central App

The same reason why millions of people buy cases that aren't the official Apple ones... They want something different. Posted via the Android Central App

...and they can get something different (and better than this one) for their iPhones for way less than $20.

If you pay attention to the cases people have on their iPhones, you'll know that people make quite the variety of buying decisions and choose to spend money on things that other people may not think are a good decision.

My question is how will they even know this case exists? iPhone users don't visit Android tech sites and aren't going to go out of their way to buy a case for their phone from an online company that they've never heard of. Don't they already have websites that have been around for years only selling iPhone accessories?

This should be on iMore then! Posted via the Android Central App

Yup, OnePlus is hardly going to cut into the popular case brands that only sell cases ... but don't think that they actually care much about selling millions of these. A few people will buy them as gifts, some people will stumble on them from simply googling "iPhone 6s case", and that'll be plenty to accomplish OnePlus' goal of growing brand awareness.

This makes the most sense, and is on point- Brand awareness for free while riding the coat tails of the countless searches for iphone cases.

this invite system is getting ridiculous. hopefully next year they'll have a normal launch and make a phone with quick charge and NFC

*laughs* It'll never happen........ Posted via the Android Central App

Can't wait to hear everyone talk about the ridiculousness of this on the AC podcast

Ditto. Posted via the Android Central App

If they was going to do this then they should have targeted Samsung users. I have had all the new glass Sammy phones and you do need a case. It's also Android and owns a large share of the market. Who ever the genius is behind these decisions needs firing as they have gone after a phone that's like comparing apples to oranges... Pardon the pun Silly company, I love my 1+1 but will likely not by another product after some of the idiotic crap they have done Posted via the Android Central App

The funny thing is you're absolutely right. Making a Samsung case would have, in my opinion, sold them more cases and more phones, but it would have also helped advertise Samsung and Oneplus doesn't want to do that.

+1 Posted via the Android Central App

@angry English. I totally agree. They should be targeting the biggest Android manufacturer. Posted via Android Central App

The dartboard at marketing meetings must be getting full by now.

No iPhone owner is leaving for a Oneplus anything. Agree they should go after Samsung. You asking a iPhone user with superb customer support ( sorry but you can't beat walking into a store and walking out with a new one ) to leave their platform ( unlikely ), to join a company they have never heard of using not just Android but something called Cyanogenmod?!? To top it all off they have to buy it through an "invite system"? So glad I left Oneplus behind. Nice hardware but utterly, utterly stupid publicity and sales. They kind of make me angry as they could really be amazing but their stupidity is alienating people. Posted via the Android Central App

Actually, I was thinking about dumping my 6 plus for a one plus model, but I didn't want the One Plus One (due to its age) and none of the new ones have NFC...

You're the type of person OnePlus is targeting here. Someone familiar with both platforms and is willing to switch between them. Unfortunately for Oneplus the other 99% of iPhone users will never switch.

They don't use Cyanogen OS (not the same as Cyanogen mod) any more. They have Oxygen OS, which is just a lightly skinned version of stock android. But for anyone who isn't a nerd like us, it's just android, the same as any other android phone. Posted via the Android Central App

X runs on Oxygen not CM. Agree with the rest

those guys are smoking too much weed :D

I dont get why they would release an iPhone case for people they want to buy an Android phone. Wouldnt making cases for the various competing android phones be a better move? I would love that case for my Note 5 though. The texture of the back of my OnePlus 1 is what I miss most about it.

Yeah. Samsung would've made more sense especially the new models can be slippery. And I hate the Sandstone texture. That's why I have my One with a hard cover

I want to work at OnePlus, I have lots of ideas for the company. Like maybe sell microwave doors with a free invite, or maybe blacktop your driveway for a free invite. It all makes sense. Posted via the Android Central App

It would be a real trip working at Oneplus la la land. The regular laws of business (or physics) dont apply.

Stupid. Dumb. Posted via the Android Central App

Make an iPhone case, I can't even get an update for my Oneplus One. Posted via Oneplus One

For some reason I doubt they snagged the software development team members to make this iPhone case.

Charging $20 for a trade show give away.
The LSD flows freely with that company. it seems.

I wonder how many of these will get returned because "It's got the wrong logo!" They should sell one for the HTC A9 and REALLY confuse the mess out of people!

I know a lot of iPhone users and i can't think of a single way that any of them would even find out about this case if it's only being sold on OnePlus' website. Even if they did find out about it somehow they certainly wouldn't care enough about it to order it online and then buy a phone from an online OEM that they've never heard of. It may just be me, but the iPhone users i know really don't even care about cell phones, they only bought the iPhone because the public says it's the best(i can only think of one of them that has even tried an android phone) they just want a phone that is fast, reliable, and just does what they need it to do. I actually think this is a way to sell invites to people who already have the iPhone 6 and also use Android. It will probably get them some sales from IOS users that also buy Android but it not going to get anyone to switch from Apple to OnePlus.

I think it's just another one of their marketing ideas to stay in news

I don't know whether to laugh at or shed a tear for this company. Their desperation currently rivals that of HTC.

Lol. They're getting close but i still think HTC has them beat. Oneplus hasn't made a phone that looks identical to the current generation of iPhone yet, at least the One X only copies an iPhone model that Apple is no longer selling.

One +dumb Posted via the AC App by way of Lg and SwiftKey.

OnePlus with yet another great product. The sandstone finish is THE best finish on a phone. They just need to do the same for Nexus, Samsung and LG. Posted via the Android Central App

Hahaha Posted via the Android Central App

Desperation causes delusional thinking. Perfect example Posted via the Android Central App

No hole for the Apple logo to show through. OnePlus won't sell a single one of these.

I was going to say the same thing. All the iPhone people I know wouldn't even consider a case that doesn't show off their trendy apple logo.

Gotta love how bad AP roasted this product. Posted via the Android Central App

The average iPhone user will be like, "OnePlus who? Is that a Samsung phone?" Sigh. Posted using SwiftKey on my LG G4 via the Android Central App

HAha out of stock......ya right. Wheres the damn hour long I dont need an invite to buy a damn case???? Worst. Company. Ever.

In my opinion as an iPhone and Android user, this is a very bold (and somehow crazy) advertising move.
And am I the only one to find this cover stunning? It costs about half price of what the official Apple covers costs, and you can still get one Oneplus X for free!

Oneplus x for free? I dont think so. You still got to pay the price for the OPx.

As dumb as this sounds, it's actually one of the better marketing ideas Oneplus has had, not that that's a hard bar to pass out anything. But most of the people who buy it will probably be buying it for the invite, then they'll have the case left over, which they will give to one of their iPhone toting friends, and bingo! Free advertising.

You actually Settle when you get a OP device! That's the irony Posted via the Android Central App

I moved from oneplus to iPhone 6s, yes I am going to buy this case for my 6s. :)

Hello Everyone go check this giveaway out at ANDROID HEADLINES. They are giving away 25 devices with plenty of ways to enter and win.https://wn.nr/NWpjK Posted via the Android Central App

Sign me up one plus. I have my Nike shoes and a roll of quarters. Hail bop comes! Posted via the Android Central App

Not a bad idea. An even better idea would be a USB-A to Lightning cable, with the USB-A side reversible.

I love my note 5! Posted via the Android Central App

Its a(nother) marketing ploy. Make 1000 iphone cases with the oneplus logo - probably cost them under $5000. Every phone site then runs an article saying how stupid one plus is, and comment sections light up with opinions. Essentially free press / advertising for oneplus. AoN

Another dumb Oneplus marketing ploy. How many iphone users will buy a oneplus case for their iphone, let alone buy a OPx to replace their iphone. The OPx sd card doesnt even work. Desperate.

Always rely on Oneplus bringing a smile to my face. One day the fun will stop at Oneplus. Either they will go bust, or they will hire someone who buys their own long trousers, and all these ridiculous marketing ploys will stop.

Lol, I thought they'd dropped the #neversettle malarkey when it became obvious that anyone who bought their phone was #definitelysettling for an overhyped under-performing gimmick. Posted via the Android Central App

They lost me. I am not going to wait around for a company to allow me to buy one of their phones. "Take a dump or get off the pot" I'm not going to bow down to a company so that I can give them money for a phone that still has a bunch of compromises. One plus has failed.

The case looks nice, but i bet a lot of people won't be buying it just because doesn't show off the Apple logo. That's the big difference between phone cases & Android cases. iPhone cases are the only cases around that have cutouts for the phone manufacturerer logo. Even the newest Mophie battery case, which isn't even an Apple product, has an Apple logo emblazoned in the back.
Android Central Newsletter
Get instant access to breaking news, the hottest reviews, great deals and helpful tips
Thank you for signing up to Android Central. You will receive a verification email shortly.
There was a problem. Please refresh the page and try again.