OnePlus 8's 120Hz Fluid Display gets demonstrated in new video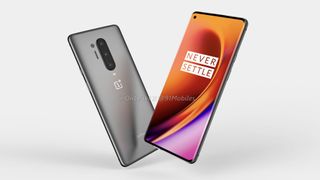 (Image credit: @OnLeaks)
What you need to know
OnePlus has shown off its Fluid Display via a video showed on social media.
The video compares the new 120Hz display to the more common 60Hz standard.
The 120Hz display is expected to make its debut on the OnePlus 8.
OnePlus has been talking up its new display technology all year. Surpassing the 90Hz display of the Pixel 4 and OnePlus 7 Pro, the firm hopes to make waves with a new 120Hz Fluid Display — expected to debut first on the upcoming OnePlus 8.
Well, as they say, the proof of the pudding is in the eating — or scrolling in this case. OnePlus CEO Pete Lau shared a video of the new OnePlus display in action, comparing it to a typical 60Hz display to portray a stark difference.
Lau earlier said:
It certainly looks impressive from the video shared, let's just hope it looks that good to the eye when the phone actually launches.
Smooth displays are the smartphone spec battleground of 2020. Samsung is launching its Samsung Galaxy S20 line with 120Hz, OPPO is partnering with Pixelworks for the same thing, and it's likely Google will continue to build out its own display technology going forward. The midrange won't be left out of it either, Mediatek's new chip is built specifically so it supports smoother displays for affordable flagship types.
Whether you buy a OnePlus or not, your smartphone will look very different by this time next year, and your eyes will thank you for it.
Android Central Newsletter
Get instant access to breaking news, the hottest reviews, great deals and helpful tips
Looks really cool. Side note, Max from XDA said that you can't combine 120Hz display with QHD+ on the S20+. Supposedly the 120Hz only works with FHD+ resolution. I hope that's not true.

Right now this is true, OnePlus won't makle the same mistake.

But you made a mistake... LOL!

I want the one without the glory hole.

Not that fussed, if it kills battery life will probably switch it off. Also wireless charging is a must have!

So, I admit the video makes it look really appealing. But, then I took a look at my OnePlus 6t next to the video. What is wrong with that 60Hz display on the right? My phone doesn't look anywhere NEAR that choppy or laggy. In fact, it scrolls pretty damn smoothly. Either that video is doctored or something is seriously wrong with that phone.

I was thinking the same thing. I have a Galaxy S10 Plus but it also has a 60hz screen and it does not look choppy at all when I scroll. I don't get it.

60fps does not looks choppy at all but , they slowed down video by 75% u can see , now on the left u can see only 15 fps which is obviously choppy vs whereas right one still has 30fps.

Thank you Shminder! So that begs the question: Where is this technology useful? If you can only see it by slowing down the video, is it really worth it. Streamed video is still at about 30fps anyway. Now, I did see that OnePlus has designed a chip to upscale that video to 120fps. But, is anyone really going to notice?!
Android Central Newsletter
Get instant access to breaking news, the hottest reviews, great deals and helpful tips
Thank you for signing up to Android Central. You will receive a verification email shortly.
There was a problem. Please refresh the page and try again.