OnePlus 6T long-term review: Still a great phone today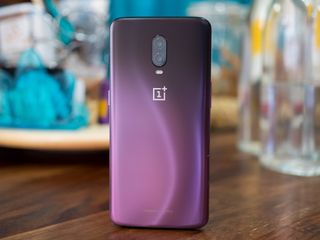 (Image credit: Android Central)
OnePlus' frenetic release cycle means there's a new phone to look forward to every six months. The OnePlus 7 series is all set to make its debut shortly, and we'll have plenty to talk about the device in the coming weeks and months. But before we turn our attention towards OnePlus' upcoming flagships, it makes sense to look back at how the OnePlus 6T has fared following its launch last October.
As OnePlus launches go, the 6T was a marginal upgrade over the OnePlus 6. Both devices had near-identical specs, with OnePlus differentiating the 6T via an in-display fingerprint sensor, 128GB of storage for the base version, and a waterdrop cutout at the top of the display. While the larger 3700mAh battery was a welcome addition, the removal of the headphone jack and notification LED was met with user backlash.
I published my review of the OnePlus 6T on November 22 after using the device for nearly a month. I switched to the phone intermittently over the last five months as new OxygenOS updates were rolled out or new variants were released. Here's what I think of the OnePlus 6T after six months.
Performance beast
(opens in new tab)
The standard-bearer for affordable flagships.
OnePlus' success over the years was built on its obsessive focus on speed. The OnePlus 6T delivers the same level of performance as flagships that cost nearly twice as much, and OxygenOS continues to be the best third-party skin around. Sure, the 6T is missing a few features, but for what it costs, you're still getting great value.
OnePlus 6T What I still love
Once you get over the fact that there's no headphone jack anymore, the OnePlus 6T is a pretty great device. OnePlus has been perfecting the design of its phones with every generation, and the 6T feels just as premium and well-built as the Pixel 3 or the Galaxy S10.
The phone is taller than its predecessor, and that makes it even harder to use one-handed. The build quality is top-notch, and after six months I haven't had any issues with any facet of the hardware. The design itself is fairly understated with the regular variants, but the clean look at the back and the tiny cutout make it look very modern.
The Thunder Purple option in particular is stunning to behold, and it is one of my favorite OnePlus color options to date. The matte finish belies the fact that the phone has a glass back, and it also prevents smudges from showing up. I used the standard Mirror Black option and the McLaren edition as well, but I always reach for the Thunder Purple just because of that sexy gradient effect at the back. More of this, please.
Image 1 of 6
As good as the design is on the OnePlus 6T, what makes the device truly stand out is the performance on offer. OnePlus has done a stellar job over the years when it comes to optimizing OxygenOS for the available hardware, and the result is that the 6T is still one of the fastest phones in the market. I've used plenty of Snapdragon 845 phones over the last 12 months, but none have come close to the OnePlus 6T in terms of sheer performance.
OnePlus started out catering to power users, and while its phones are now used by a mainstream audience, that obsessive detail to speed is evident everywhere. The storage module uses the latest UFS2.1 standard, and the DRAM module is LPDDR4X. Other brands also offer similar hardware these days, but it was OnePlus that pioneered the change.
Six months on, I don't see any slowdowns or performance degradation — if anything, constant software updates have made OxygenOS much better. To highlight the differences, OnePlus sent a 6T loaded with the build that came out of the box, and using both devices side-by-side it was easy to see just how much more responsive OxygenOS has gotten with build 9.0.13.
OnePlus has also done a much better job with rolling out software updates. The 6T came with Pie out of the box, but the company consistently rolled out bug fixes and security updates. My unit picked up the March security patch a few weeks ago, and while OnePlus isn't quite as dilignet at rolling out monthly updates like Google or HMD Global, it has turned things around significantly in this area.
On that note, another feature that I didn't like in the beginning but I'm warming up to now is the in-display sensor. It was laggy at best and failed to authenticate most of the time for the first month and a half, but regular updates have made it much better. It doesn't take as long to authenticate my fingerprints, and the failure rate has also gone down significantly. And OnePlus' face unlock continues to be one of the fastest around.
The display itself still holds up very well in 2019. The waterdrop cutout does not bother me at all anymore, and the FHD+ Super AMOLED panel has held up well: it has vibrant colors with excellent detail, and I haven't faced many issues with sunlight legibility. That said, there were a few instances where I had to boost the brightness manually, but that was few and far between.
I particularly like using OnePlus phones because of Reading Mode. It's still one of my favorite features in OxygenOS, and it makes reading long-from content a delight on the OnePlus 6T — the monochrome setting essentially turns the phone into a phone-sized Kindle.
The Alert Slider also continues to be a differentiator on the hardware front, and it should be standard across Android. It easily lets you switch alert modes to ring, vibrate, and silent, and thankfully OxygenOS also lets you set automatic rules for Do Not Disturb. That was a much-needed change last year, as I often used to forget to toggle the slider before going to bed.
Battery life has also been consistent for me, and I still get a day's worth of usage out of the device. I haven't had to worry about the battery running out even on days with heavy use, and Warp Charge continues to be one of the best charging standards around. Overall, it's safe to say that the hardware on offer with the 6T is robust enough that you shouldn't have any issues with performance degradation for at least two years. OnePlus has a tendency to over-engineer its phones, and that works out very well for its customers.
OnePlus 6T What hasn't aged well
The OnePlus 6T gets a lot of things right, but it's clear that there are a lot of areas for improvement. The fact that there's no headphone jack is still bothersome — particularly when you consider how much emphasis OnePlus put on the feature in previous years. Same goes for the notification LED: its removal is puzzling for a brand that says it cares about its community.
Then there's the haptics: the vibration motor on the OnePlus 6T was one of the worst I've used over the last 12 months, and it was so underwhelming that I had to disable the haptics entirely. Switching to the device from the Pixel 3 highlighted this even more, and OnePlus has mentioned that it will roll out a stronger motor in the OnePlus 7 Pro.
But as annoying as the haptic engine is, it doesn't compare to the camera. Whenever I've recommended the OnePlus 6T, I say that it is the best phone with the worst camera. OnePlus has made no improvements on this front from the OnePlus 6, and I'm still not sure why the 6T has a secondary camera at the back.
It doesn't deliver any meaningful use, and it feels like OnePlus added a sensor just so it can say that its phone also has dual cameras. The front camera is also strictly average, and in general the 6T doesn't push the needle forward for the company.
The OnePlus 6T not only lags behind Google, Huawei, and Samsung, but it also loses out to mid-range devices from the likes of Xiaomi and Honor in this category. The camera just doesn't do a good enough job in low-light conditions, and that has to change this year with the OnePlus 7 series for the company to stay relevant.
OnePlus 6T Six months on
With the OnePlus 6T, the company has finally completed its transformation into a mainstream brand. It now sells its phones in carrier stores in the U.S., and its billboards are found across all major cities in India. The company is no longer the upstart it once was, and that's evident in some of the changes it made.
The OnePlus 6T continues to be a fantastic device when it comes to the hardware side of things. The Snapdragon 845 still has a lot of grunt left, and the design isn't going to be outdated anytime soon. The display is one of the best in this segment, and OxygenOS is just about the best third-party skin in the market today.
The camera doesn't quite hold up to scrutiny in 2019, and there are a lot of features missing for a phone that comes with Never Settle emblazoned on the box. That said, it still delivers great value in the $500 segment, and will continue to do so for some time.
OnePlus 6T
OnePlus' success over the years was built on its obsessive focus on speed. The OnePlus 6T delivers the same level of performance as flagships that cost nearly twice as much, and OxygenOS continues to be the best third-party skin around. Sure, the 6T is missing a few features, but for what it costs, you're still getting great value.
Get the Android Central Newsletter
Instant access to breaking news, the hottest reviews, great deals and helpful tips.
Harish Jonnalagadda is a Senior Editor overseeing Asia at Android Central. He leads the site's coverage of Chinese phone brands, contributing to reviews, features, and buying guides. He also writes about storage servers, audio products, and the semiconductor industry. Contact him on Twitter at @chunkynerd.
Not a bad phone but traded mine in for the G8. I missed the AOD and headphone jack too much.

I'm still trying to figure out why so many people hate on the camera in the 6T. I've taken many pictures (both with plenty of light, and low light) and I get lots of people asking me either what camera I used or what phone I used because the picture looked great. Yeah it's not the BEST camera, but it certainly isn't the worst. Sure it's not as good as Google or Samsung, which both cost much more than this phone. But you also mention it's not as good as Huawei, Xiaomi, and Honor, none of which are particularly easy to get in the US at least, one being practically banned entirely.

Same here.. I think the shots are great.. and it has a night mode which takes pretty good night shots... albeit with a 8 second delay which is a little annoying.

Agreed. The camera on the 6 and 6T is super underrated. I feel like a lot of camera comments on it is regurgitated groupthink. Even using the stock app (which has been updated and refined over several firmware upgrades), you get very good daytime photos and blech-to-very good low light photos. Use the Google Cam, and it's even better.

The camera could be better for sure. I've had mines about 2 months and came from a Galaxy s8 and I notice you have to actually put in effort to get great shots consistently on the 6t. Not to say it isn't a capable camera, it's just not as good as other flagships in some areas. And the flash is horrible close up. Clearly noticeable.

Camera seems to be working great for me. Best camera I've had in a smart phone. Granted, I've never had a Pixel, and stay away from Samsung. But I've been generally happy with my experience.

I agree it is still a great phone. No slow downs.. always runs things ultra fast. Battery life is great.
My only gripe is that it bluetooth can be quirky at times.
Some scenarios:
- Watching a movie on my phone with BT earbuds. Turn off screen... turn it back on 2 mins later to continue watching... now the video is in slow motion and there is no sound. I've seen in on netflix, xfinity stream, plex, and a few others. Seems like it may be related to the Qualcomm AptX thing because when I turn off the headset, videos play normal speed. So then I turn it back on while it is playing and it will be fine.
- Sometimes it just doesn't connect. Usually have to reboot the phone and it fixes it.
- Camera sometimes opens quick and other times loads a black screen. A quick task manager swipe and reopen fixes it.. but really would like to see these 2 things fixed. I think it started a few updates ago. don't recall it having an issue before the first update, but it still had that new phone smell then. The last thing is an issue with Google Reminders and Calendar events. I'm not sure its OnePlus related.
But when I say "Hey google, remind me to bla blah" or "hey google, set an event for tomorrow at 10am".. it works fine and saves it... but it never clears the form signifying that it saved it. Usually it shows you "do you want to save this?" and you say "Yes".... then it says reminder saved and visually clears the form and shows you "Reminder Saved!" but it doesn't.. the checkmark for save just keeps circling like it's loading.. but if you keep tapping it.. it will keep creating duplicate reminders. Those are all pretty small things though.. Otherwise this phone is amazeballs.

Good comments. Useful.
I moved from OnePlus 1 to OnePlus 6T recently due to a big price drop. Technically a big jump....My observations
1. 6T is less broad, Just a bit long
2. Ringer Sound bar: you can't pull it back all the way. It stops short. After you do that, you can hear the phone ringing in your pocket or bag quite loudly disturbing all the people around at a public place. H/ever you can put it off totally thru airplane mode....but then there will be no notification of missed calls!!

Let's not forget about that downfiring mono speaker. That needs to go on the 7, which i hear the Pro version does have stereo speakers.