OnePlus 6 vs. Samsung Galaxy S9+: Which should you buy?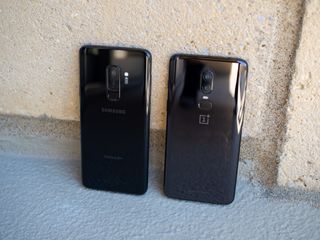 Samsung's Galaxy S9+ is a known quantity at this point. It's been out for a few months, covered every way possible and evaluated by everyone. By most accounts, it's a darn good phone. The hardware is great, the specs are top-notch and the camera is wonderful. But ... it's expensive. Very expensive.
That's where the OnePlus 6 comes in. It's $300 less than the Galaxy S9+, but on the face of it looks like a comparable device. It also has solid hardware, top-end specs and a pile of other enticing features. So the question is, if you're in the market for a flagship phone today, should you get the Galaxy S9+ or consider the OnePlus 6? And does the story change at all if you're trying to hold to a budget? We're here to give you all of the information you need.
What's the same
Image 1 of 3
Smartphone designs have coalesced in the last few years. Screens got taller and skinnier, and a majority of devices are comprised of a metal frame squished between two panes of glass. The story continues when you set the OnePlus 6 next to a Galaxy S9+. Not only do they have the same type of construction, but also very similar finishes — these are glossy and shiny bodies that attract attention and fingerprints alike. They've both even went with the same type of vertical arrangement for their cameras and fingerprint sensors, though the OnePlus 6's is a tad easier to use because it's physically separated from the camera grouping.
The phones are near-identical in shape, size and weight, due to their small bezels wrapping around screens that are almost the same size. The 19:9 aspect ratio 6.3-inch display on the OnePlus 6 is barely larger and taller than the 18.5:9 ratio 6.2-inch on the Galaxy S9+ — that is to say you'd never notice the size difference. The body curves make them both a bit slippery without a case, but that's the cost of beauty. The Galaxy S9+ is a tad narrower, but in daily use you wouldn't notice. Both phones have a typical array of buttons on the side, and all of the ports collect at the bottom — including a headphone jack on both phones.
Internally, the similarities continue. Both phones are powered by a Snapdragon 845 processor (aside from GS9+ models with a similar Exynos), 6GB of RAM and 64GB of storage. In either case you can pay to option up 128GB or 256GB of storage, but OnePlus also gives you 8GB of RAM in those higher storage models — though you'd be hard-pressed to find a need for it. The OnePlus 6 has a slightly smaller battery at 3300mAh to the GS9+'s 3500mAh, but battery life ends up being about the same — and in some cases, the OnePlus 6 actually goes longer on a charge.
What's different
Image 1 of 4
So when the base of the hardware, specs and features is the same, where does Samsung differentiate to justify its higher price? Well, in the details. On the hardware side, Samsung offers IP68 water resistance, which gives you true peace of mind in knowing it can get wet without issue. Its glass back also hides dual-mode wireless charging for those who enjoy the convenience, there are dual speakers available, and its Fast Charge wired charging system, while slower than Dash Charge, is cross-compatible with every Quick Charge charger as well as USB-C Power Delivery.
Then we have to address the big difference that stares you in the face: the display notch. I can easily argue that the OnePlus 6's notch isn't bothersome and simply lets you get a little more display without making the phone larger, but the simple fact is the Galaxy S9+ doesn't have one and you don't have to deal with it. All else being equal, not having a notch is preferable. And further on the display front, the GS9+ just has a downright better panel — its brightness and clarity are unmatched by any Android phone, making it better than the still-very-good OLED panel on the OnePlus 6. It's also higher resolution, if you're into that sort of thing.
The only area on the front where the OnePlus "wins" is that its display is flat and not curved. Yes this is a bit like the complaints about display notches, but many people don't care for the Galaxy S9+'s curved screen edges because they make the phone tougher to operate in one hand. Just like the notch discussion this may not be an issue for you, but no matter what camp you land in you'll never have to think about a curved display on the OnePlus 6.
One of the biggest differentiators here is the software experience. OnePlus has a lot of fans purely based on its clean and fast software experience that has minimal interruptions and delightful improvements over stock Android. Samsung's phones do more, that's not even up for debate, but the trade-off is that the Galaxy S9+ probably has a whole bunch of features that you don't care about but have to deal with anyway. With its simple software the OnePlus 6 is going to be fast out of the box and stay fast over time, and that's something that isn't exactly guaranteed on a Samsung phone.
The final part of this comparison is the cameras. OnePlus has made a big improvement with the OnePlus 6, using a new 16MP primary sensor that's larger, with an f/1.7 lens and OIS. It's supported by a 20MP secondary camera to help with Portrait Mode photos, and is no longer for zooming. The pair is undeniably a large step beyond the OnePlus 5 and 5T. It gets close to what the Galaxy S9+ can do, and in daylight scenes you can't really tell the difference unless you set the two side-by-side.
OnePlus 6 (left) vs. Galaxy S9+ (right) — click images to view larger.
OnePlus 6 vs. Samsung Galaxy S9: Camera comparison
The Galaxy S9+ still has better HDR and colors in many scenes, which can somewhat be attributed to its overall warmer color profile, but the OnePlus 6 isn't far behind on average. Samsung's camera also just seems smoother and crisper in areas of fine lines and details. On the other side of things, the OnePlus 6 doesn't seem to have the same kinds of exposure issues that can often over-brighten shots from the Galaxy S9+. In poor lighting, the Galaxy S9+ is still the king — the OnePlus 6 just doesn't have the same level of clarity and fine edges when the lights get dim. It's good, but not on the same level of the best cameras available today.
Which should you buy?
Choosing which phone is right for you really should start with a discussion of price. The OnePlus 6 starts at $529, which is dramatically cheaper than the base Galaxy S9+ at $839. Even the top-end OnePlus 6 with 8GB of RAM and 256GB of storage is $629, still $210 less than the base Galaxy S9+.
But what if you're willing to spend the extra money, but don't want to if it's not actually worth it? A whole lot of the experience is shared between these two phones. The hardware is great on either one, as is the performance, specs and core features — they're also nearly identical in size, both in display area and overall. For the extra money the Galaxy S9+ offers a better display (without a notch), a marginally better camera experience, and extra hardware features like wireless charging — and we can't entirely discount the value of its more recognizable brand. That being said, the OnePlus 6 has a cleaner software experience that's simpler to use and isn't as susceptible to long-term problems — and, as previously noted, the entire package is dramatically less expensive.
If your budget for a phone is only about $600, it's tough to imagine that you'd all of a sudden decide to spend an additional $250 beyond that to get a Galaxy S9+ — and the few improvements it offers over the OnePlus 6 don't really justify that price increase if you're at all price sensitive. But If the extra money doesn't mean much to you, the Galaxy S9+ does indeed offer a better overall experience provided you're enticed by the extra features rather than the simplicity of the OnePlus software. But no matter your budget, you'd be doing yourself a disservice to not consider the OnePlus 6 in any case — it has a whole lot going for it as a complete package at any price.
Update May 2018: Now that the OnePlus 6 is fully released, we've updated the comparison with details on how the battery life and cameras compare between these phones.
Get the Android Central Newsletter
Instant access to breaking news, the hottest reviews, great deals and helpful tips.
Andrew was an Executive Editor, U.S. at Android Central between 2012 and 2020.