The OnePlus 5T is no longer for sale in North America, making way for the OnePlus 6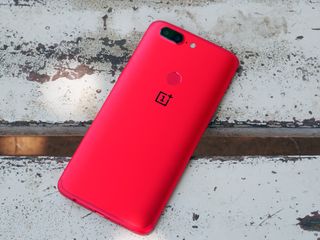 OnePlus has a certain pattern with its phone releases: there is a new release about every six months, and it stops selling the current model before the new one is announced. To that end, OnePlus has stopped sales of the 5T before announcing the OnePlus 6.
Engadget reports that the stock shortage is due to higher-than-expected demand, and the company does not intend to manufacture any more of the current model. This isn't bad news for the company though: the North American market accounts for 25% of the company's total online sales, after a 139% growth in North American sales compared to the previous year.
OnePlus has long kept lean stock of its phones, which lead to the invite system in early years. Less inventory on the shelf means less costs to OnePlus, which is part of why its phones are cheaper than comparable devices. Still, it's unfortunate for potential customers that need a device in the next couple months. For those that really want a OnePlus 5T, Amazon does have them in stock (opens in new tab), but for $50 over MSRP and without a warranty. If you can wait a couple more months, we expect the OnePlus 6 will ship in June of this year.
Are you going to wait for the OnePlus 6, or just purchase a different device? Let us know down below!
Android Central Newsletter
Get instant access to breaking news, the hottest reviews, great deals and helpful tips
Just make sure to get rid of the malware whoever you buy it from gas installed.

*has installed. Can't edit.

Swappa is running out of stock too 😂

I made so much fun of the "notch" last year that I don't see myself getting a phone with one... Especially for the rumored price of over $600...

If they do wanna charge that kind of money they better include the bells and whistles like water resistance and wireless charging, because (I believe) that's getting awfully close to the price of the smaller Pixel and Galaxy phones. Not things I really care about much, but if you want to charge the same amount as other phones, or close to, they need to compete feature for feature.

I'm taking it notch by notch. I haven't cared for any of them thus far, but I'm willing to be flexible if a manufacturer comes up with a good implementation. I actually think that the major issue was that it was presented as a "notch", which translates as a piece cut out of your screen (particularly since they advertise the screen size from corner to corner). They should have presented the top as additional screen space dedicated to the status bar, and never had apps run up into that section. It could then be presented as having more usable real estate, rather than unnecessarily losing a chunk of your screen to sensors. I suspect that many people would have been okay with that interpretation.

Now that I finally decided to pull the trigger on it...sigh...may just look at zenphone 5 or Moto G6 plus

Smh. So they're gonna miss out on potential customers who want a 5T because of the notch on the 6.

Just like they missed our on customers who didn't want a 2:1 display or rear fingerprint sensor when the 5 read discontinued. The number of people who would buy the old device isn't high enough to make it worth it to keep manufacturing and stocking it. If it was, they would.

I'm not getting the OP6 but people need to stop complaining about the notch.

Why? Because you don't like reading complaints? Too bad.

This. If you don't like other people expressing their opinion, stay out of comments sections and forums.

It would be funny if they outsold the Pixel 2s.

😞They're coming out with phones too fast after you buy your phone they coming out with a new one🤔 not good!

You could say the same thing about laptops and TVs. This is the way tech evolves.

Yeah 2 per year is a bit much, but it's also kind of cool.. They need to offer longer support if they're going to bombard us with phones.

They're still supporting the 3 with software updates and it's coming up on two years old.

As annoying as it may be, the twice yearly refresh cycle is almost industry standard more.

This phone is still the phone to beat to this day in my opinion. It is such a powerful, amazing freaking device.

Sign me up for the 6, samsung have great phones and i love my 7 edge. There just getting to expensive and full of gimicks and duel apps.

I'm definitely getting the OnePlus 6

For some reason I'm notch all that excited for the OnePlus 6.

I am really nonplussed about this. I was about ready to buy the 5T....but I ain't gettin no notch.... so I'll have to wait for the 6T notchless version.

Suspending sales here in the US is definitely not a good move on one plus's part. Especially when the 6 is gonna have a notch. The majority of consumer's want nothing to do with a notch. All it does is take away from your viewing pleasure! Yikes!

Out of stock I believe.
All geared up to make the 6 now so no chance of more stock.
Oneplus seem to guess how many units they will sell, make those then start on the next one.

Shouldn't it be no longer for sale in the US because it's Chinese and a threat to national security? Oh wait no because OnePlus aren't a threat to Samsung and Apple yet

That doesn't preclude el presidente from holding stock in them.

I'm well aware of where Samsung are from and you clearly missed the point

I honestly still didn't understand your point :-/

He doesn't get the point. OnePlus, Iphone, Samsung, are manufactured in China for American markets, where Huawei is a Chinese manufacturer made for Chinese markets and exported to other countries through Amazon and Alibaba. But they weren't originally designed to be sold here. They work on our network (my girlfriend has an Honor 8x she uses that she loves) but regardless, they're imports. That means that they are built to the designing nation specs, and in China that means a backdoor built in to them as required by their laws. If Huawei wants to sell phones in the US, have the SOC and Bluetooth chip built using the same SOC that the other manufacturers do for the US market (Huawei uses a proprietary Bluetooth chip, which as of yet, won't allow it to sync with any wearable I've owned (a Garmin Fenix 5, Her Garmin Vivosport, and a Fitbit, meaning it uses a slightly different protocol, which is suspect) Huawei won't do this, and here we are. After all, China did get busted with selling the USG backdoored routers masquerading as Cisco routers (my unit had 3 that had to be trashed back in 2014) So it's not their first bite at this apple. Fortunately, these were layer 3 devices with no external routing. But that's just the application we used them for, numerous others were throughout the DOD.

Only had the 5T four months a bit soon to change phones for me.
Hoping to give the Note 9 a go, notch or no notch.

No notch on the note9 & very possible FPS within the display. Should be interesting!

Whether people like it or not, it is what it is.

So, right now, does this mean that OnePlus currently has no phones to sell at this moment?

Only in the US.
Sold all phones that they made so probably quite happy.

The OnePlus 6T will be out in like 4 months anyways. 🙄

Why would anyone buy the 6 knowing a better more refined and less buggy 6T is coming next just aboutt the time sales drop from the 6.
Waiting for the 6T and not buying the 6 wound let One Plus know your not suckers going to fall for their marketing b/s

But why would anyone buy the 6T knowing the 7 is coming next? There's always something better coming later.

The fact a new phone will be coming out doesn't make the current phone buggy or any less "good" than it is.
Am I bothered my 5T will be out of date within 6 months?
No! it was out of date as soon as the new processors were released.
I don't tend to keep phones long but I change when it suits me.

Given the rumoured hardware and specs regarding the 6, will an incremental update such as a 6T be necessary? With the 3 and 5 I can understand the biannual cycle, but this time, I'm not so sure.

I've got to agree with Zedd. I would tend to lean toward One+'s T cycle as the better out of 2 phones in a given year, if they actually had CDMA compatibility that is.

So you would choose the 3T over the 5?

Your the only sucker here with a comment that dumb

All they have to do is the software top bezel addition that LG7 has n all is well

BOOM! Here comes the notch, because..... originality. 🤣🤣🤣🤣🤣

If it comes with a notch I'll skip

10 gigs of RAM and no micro SD card

No, 10GB RAM 256GB of proper storage and no SD card.

The 8gb model is over 700.00 bananas. Plus you'll receive the notch with all orders. What happened to the 500.00 dollar days? The notch = no sale for me!
Android Central Newsletter
Get instant access to breaking news, the hottest reviews, great deals and helpful tips
Thank you for signing up to Android Central. You will receive a verification email shortly.
There was a problem. Please refresh the page and try again.