One million photos now shared between Android and iOS devices thanks to FotoSwipe; video sharing coming soon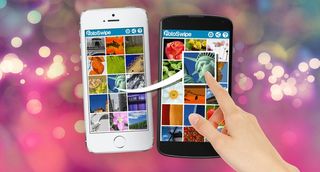 Following the recent announcement of FotoSwipe here on AndroidCentral, the developers behind the Android/iOS cross-platform photo sharing service followed up with us today to say THANK YOU. A small tribe of our forum community members were actively involved in beta testing the app — we love to see developers active in our forums — so we were happy to write up the official release of the app.
FotoSwipe let us know that in the short time since it was released, these efforts have helped them pass the milestone of one million photos being shared. There are now over 175,000 users (about a 50/50 split between iOS and Android) using FotoSwipe in 175 countries and the user base is growing fast. Since the initial release, the developers have been quick to listen to user feedback and have already released an update to FotoSwipe. The basic swipe gesture has been greatly improved, and the UI has been revamped as well. With a 4.3-star rating on Google Play (opens in new tab) and over 3,600 reviews, FotoSwipe is off to a solid start. More features are on the roadmap as well, including faster sharing speeds when on Wifi to Wifi connections and support to share videos by swiping.
How Fotoswipe Works
In case you missed the announcement post, here's a recap of FotoSwipe. It's a free and incredibly easy to use app that allows you to share photos between Android and iOS devices. True to its name, Fotoswipe lets you share photos by swiping your finger from one device to the other (both devices must have FotoSwipe installed). Simply open the app on both devices, tap and hold a photo, swipe to the device you'd like to send the photo to... and you're done. Fotoswipe does not require users to register and you don't need to be on Wi-Fi.
FotoSwipe isn't limited to sharing between just two devices either. Perfect example: Let's say you're at a holiday party (with some friends and some strangers) and you take a group photo. Everybody has their Android phone or iPhone with them and would like a copy of that photo. With FotoSwipe installed on each device, you simply would bring the phones near each other with FotoSwipe open, and the person who snapped the photo would then swipe it over onto each phone in rapid succession - no need to exchange email and sent contact info, no need for NFC, no worrying about whether or not your bluetooth is on or off. Watch the video above to see it in action.
FotoSwipe is free to download, works cross platform, across any network, and no sign-up or registration is required. Get in in Google Play right here. (opens in new tab)
I'm glad you posted this, I first downloaded this when my wife had an iPhone 5 and the app didn't work with it. Now she has a iPhone 6 and I had forgotten about the app. Now we finally get to try it out. Posted via Android Central App

Let us know if you have any problem this time!

How does photoswipe work? How does the app know what phones are close to each other? Posted via the Android Central App

FotoSwipe works by matching devices based on location, swipe direction, timing and making use of other sensors in the phones.

Works about 20% of the time at best between note 2, ipod touch 4th Gen, iPhone 4s and iPhone 5s. Posted via the Android Central App

Looks neat, except you are not just sharing data between two phones/devices. You are also sharing with this "FotoSwipe" company across the Internet too...

That's generally what happens when you use a service provided by someone else. Posted from the amazing whatever device I can afford because I'm a broke college kid.

Yes, but how will most people know it is a service and not just a program? They don't make that clear at all on the Google Play page or even on their home page.

Does it work if internet is dsiabled?

It works whether you are on 3G, 4G, or WiFi. But an internet connection is required.

I would really like to know if either the android or ios version shrinks / compresses the image when sending, or is the image a clone of the original?

Images are slightly compressed and you can adjust the quality in the settings.

Would you talk more about that? Honestly, I'd love an easy way to share exact clones of pictures.
Android Central Newsletter
Get the best of Android Central in in your inbox, every day!
Thank you for signing up to Android Central. You will receive a verification email shortly.
There was a problem. Please refresh the page and try again.