FotoSwipe makes sharing photos between Android and iOS devices incredibly easy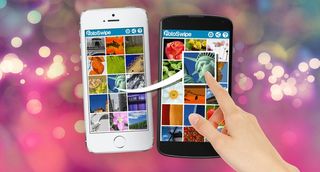 Officially released today, FotoSwipe makes it incredibly easy to share photos between Android and iOS devices. The app lets you share photos by swiping your finger from one device to the other (both devices must have FotoSwipe installed). I've successfully tested it out across the various Android and iOS devices I have laying around my office, and in all cases it works seamlessly. Simply open the app on both devices, tap and hold a photo, swipe to the device you'd like to send the photo to... and you're done. Easy. The app doesn't require users to register, and you don't need to be on Wi-Fi.
FotoSwipe isn't limited to sharing between just two devices either. Perfect example: Let's say you're at a party (with some friends and some strangers) and you take a group photo. Everybody has their Android phone or iPhone with them would like a copy of that photo. With FotoSwipe installed on each device, you simply would bring the phones near each other with FotoSwipe open, and the person who snapped the photo would then swipe it over onto each phone in rapid succession - no need to exchange email and sent contact info, no need for NFC, no worrying about whether or not your bluetooth is on or off. Watch the video above to see it in action.
FotoSwipe is free to download, works cross platform, across any network, and no sign-up or registration is required. Get in in Google Play right here. (opens in new tab)
Why am I blogging about this app?
Some time ago a dedicated group of community members worked with us on some exciting beta testing programs. One of these programs included the beta version of the FotoSwipe app. With the help of our members, the FotoSwipe app was tested and shaped into the finished version you see before you today.
Community members like YOU made this app awesome.
If you're a dev, take note, because this is the start of something really good. We're looking to expand our developer program here at Android Central and across all of Mobile Nations (We recently revamped the Windows Central developer program, and the feedback has been amazing).
If you're an Android developer (doesn't matter if you're a newbie or a seasoned vet), I want you to reach out to me directly. Our new program will pack a lot of great perks and features (like beta testing) for all Android developers, but we can't do it without your help.
Source: PRWeb
Get the Android Central Newsletter
Instant access to breaking news, the hottest reviews, great deals and helpful tips.
Looks useful, I'll get it a try.

Doesn't user NFC or Bluetooth, so how does it work?

Sending the file up & down in the cloud!

So this will count against the data allotment unless you're on WiFi. Was it not possible to use NFC or BT? Depending on the frequency of use and size of the files, that could add up to a lot.

BT would require to pair the devices and add some complexity to the user experience. Until iPhone 6, NFC was not available on iPhone. We have an option in the settings to restrict FotoSwipe to WIFI only... Thanks for your input!

Tried it with my co-worker iPhone just now a few times..didn't work.

Same here.. Posted via Android Central App on The Nexus 5

Did you hold down the photo for more than a second before swiping it over? It didn't work for me at first, but then I realized I wasn't holding the photo down long enough. After that, it worked like on charm, but on my S5, so it could be the N5. Don't know.

It works from my iPad to my note 2, but not the other way around. Posted via the Android Central App

Thanks for trying! Be sure to swipe on the 2 devices. If you swipe right on the Note 2, also swipe right on the iPad! If for some reasons it does not work, we are here to help. Feel free to contact us: support@fotoswipe.com

As a multi-platform household, this will be great if it works as advertised.

So I'll circumvent any minor complexities and instead allow photos of my kids to shoot up and down some random cloud storage in God knows where. No thanks. Google+ gives me all the image sharing I need. Seriously, some people are smoking crack. Posted via the Android Central App

I don't know if you understand Google's terms of agreement in regards to photos of your children on Google+, and what the data can be used for. If you prioritize security of your data, Google+ is not where you want to be. "When you upload or otherwise submit content to our Services, you give Google (and those we work with) a worldwide license to use, host, store, reproduce, modify, create derivative works (such as those resulting from translations, adaptations or other changes we make so that your content works better with our Services), communicate, publish, publicly perform, publicly display and distribute such content."

That I get, but Google is a known quantity. God knows who these fuckers are!! Posted via the Android Central App

It would better if they used Wi-Fi direct. Posted via the Android Central App

If it's not using NFC or bluetooth, how does it know (or why does it matter) who's "near each other" ??

@Fotoswipe: Why does it require Location Setting to be turned on both devices? Thank you.

Yes it is required. This is part of our technology to "match" 2 devices among other things.

Thanks. Somehow, I think NFC could have been better leveraged for "matching" two devices, side-by-side. Perhaps, in the near future??? Great concept though - need more apps like these.

I'm not sure with certain NFC technologies that even holding them side by side (as pictured in the video screenshot) would have enough range to perform this action. One concern I can see with this technology is that once many people in urban areas are using this app, you can be seeing some serious issues with retrieving photos that weren't meant for you. I understand it has a PIN for secure transfer but I can see many people not using it, or even purposely keeping it off so they can pick up some pictures from strangers (creeps). They could just swipe left and right continuously to intercept nearby Fotoswipe users.

Location is not the only technology used to match the 2 devices. We are using up to 10 filters for the match, including many of the sensors.

Going to give it a try Posted via my awesome, longer lasting phone than yours aka droid MAXX

Tried it between S4, G2, and iphone 4. Worked without issue

Awesome! Thanks for trying

How well does it work if you have your phones in a case (Otterbox) with a raised edge?

I had the iPhone in a Spec case with raised edge. Didn't pose a problem, while transferring to my Galaxy S3.

Great question. If you look at our video, in the last sequence we are using an iPhone with an Otterbox case. The trick is that you do not have to do a full "Drag & Drop". You can actually lift your finger between the 2 phones. So if you do a "Right Swipe" from the sending device, lift your finger to clear the case, and another "Right Swipe" on the receiving device, it will work fine!

@fotoswipe What happens to photos in the cloud after they are delivered to the target device?

They are transferred and deleted immediately!

Wouldn't it be more private and secure to transfer over Wi-Fi direct? And transfer 30+ MB of data per second. For example https://www.androidcentral.com/e?link=https2F2F... Posted via the Android Central App

Wi-Fi direct is not available on iPhones... Our focus is around the ease of use and cross-platform transfer.

What kind of sorcery is this?

It's wizardry. I thought it was witchcraft, but I verified it. It's wizardry. Posted via the Android Central App

Fails more often than it works. "Sorry, could not find the photo. Please try again..." Still pretty cool when it does work.

Same here.. From Nexus 5 to iPhone 5s.. No go.. Posted via Android Central App on The Nexus 5

great to see this get an official launch. I was part of that community beta program and amazed to see this app progress from its first version. I love that this is cross-platform, since I have a Galaxy S4 and my wife has an iPhone 5, and while I understand that bluetooth or NFC or wifi-direct sound better (and dont affect your data cap if you are not on wifi), not sure how to do something like this that works as simple and easy without the way they implemented it. Seriously, this is so simple to do! Also, gotta give props to the devs -- they were super responsive to our user input!

Worked well between my Galaxy Nexus and wife's iPhone 4. Fun app! Posted via the Android Central App

Worked great once I followed the instructions lol. Nice app and it worked great with my coworkers iPhone. Posted via Android Central App w/G2

Continuous crashes when attempting to use on dual Moto Xs. Love the idea but can't get past crashing. Posted via Android Central App

So I understand it uploads and downloads the picture from the cloud on to the intended device, but once you swipe a picture to one phone does it have to reupload that same photo every time it gets swiped? Or is it saved in the cloud for reuse? I can imagine the former would use a TON of cellular data. Also, how does it know the phones are close together? Without knowing that it could seemingly send the picture to any phone in the world that is currently using the app. Posted via Android Central App on the Moto X

Holy shit how is this possible... Posted via the Android Central App

Doesn't work on my Nexus 5. Keeps telling me "Location cannot be retrieved. Please try again." Posted via Android Central App on The Nexus 5

This app rocks. it is unbelievable how it works.

You do not even have to be in the fracking same room!!! Swiped from Ipad in the den to the Android tab in the dining room, several seconds later! Freaky! So if someone swipes at the right time, they get the picture I sent???