NVIDIA Shield Tablet LTE hands-on and impressions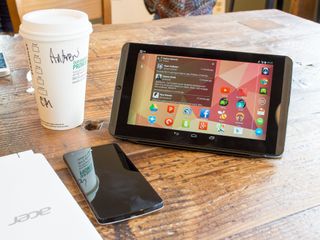 Take a great tablet and add more storage and LTE for just $100 — it's a solid value
Between different colors, storage sizes and mobile data options, you can easily get lost in a SKU-a-polooza when buying a tablet. NVIDIA is thankfully offering just two models of the new Shield Tablet — one with 16GB of storage, and another with 32GB and an LTE radio inside. I've had the lucky opportunity to use the latter version after reviewing the original fully, and have compiled some of my thoughts on using one of the better tablets of 2014, now with mobile data inside.
Thankfully there's not a whole lot to write home about when it comes to using the Shield Tablet LTE when compared to the original version — you're getting the same experience now as you would with the Wifi model, but with a bit more mobility this time around. Having LTE on board does afford you some freedom and open up the possibilities of what you can do with your tablet, though, and I found it to be quite a nice experience. Read along to see our impressions of the NVIDIA Shield Tablet LTE.
The same Shield Tablet we know
One of the greatest things about the Shield Tablet with LTE is that it is in every way identical to its Wifi-only counterpart. From the hardware and design to the software and experience, everything that you can do on this tablet you can do on the first model that was released a couple months ago. You have a blisteringly powerful Tegra K1 processor, 2GB of RAM and of course a stylus in tow. There really are just two changes to be had here — an extra 16GB of storage, and a cellular radio system.
Read: NVIDIA Shield Tablet review
It interacts just the same with the wonderful (again, seriously wonderful) Shield Tablet Cover and of course the Shield Wireless Controller as well, really showing that there are no hardware differences of note here. It's worth reiterating that that's a good thing, as the Shield Tablet offers a pretty great experiences in both hardware and software. While it's a bit on the heavy side, the Shield Tablet feels solid and is very well built — our one gripe still being that the power button is a bit tough to press. At the same time you're getting a very familiar build of Android 4.4, with a few NVIDIA improvements for performance and gaming reasons.
Now with LTE and more storage
The SIM card slot — which is actually visible but inoperable on the original Shield Tablet — is simply a small flap with a push-push style slot that accepts a Micro SIM without a tray (meaning a nano SIM in an adapter isn't going to work). My review unit has an AT&T SIM in it, but the Shield Tablet actually comes unlocked out of the box and will work just fine on dozens of LTE networks around the world. It has the proper bands for T-Mobile here in the states as well, if you plan on going that route.
More: NVIDIA Shield Tablet specs
On the storage side, I never actually ran up against the 16GB limit on my original Shield Tablet so it's hard to see much value personally in the extra storage. I know for those who plan on using their tablet for tons of local gaming and media it's a huge deal, though, and the Shield Tablet has a very comfortable 25.63GB of storage available. After installing my standard setup of apps — including a few games — I had just over 20GB free. That's plenty of breathing room for most people, and with this model you may not even need to use the included MicroSD card slot.
Getting things done on the go
If you haven't ever used a tablet with mobile data connectivity, there's something oddly freeing about the experience. I realize this isn't something exclusive to the Shield Tablet LTE, but it's worth noting. Being at your local coffee shop, a public park or in the backseat of a car for a long trip and not having to hunt for a Wifi connection or turn on hotspotting on your phone is really nice for the few times a week you'll actually need it. And having the ability to use a the tablet — and by extension its huge battery — as a hotspot itself for your laptop and other devices is an added bonus.
Considering that mobile data is still quite expensive — even on modern shared plans with larger data buckets — I still found myself wanting to latch onto Wifi when it was convenient, but not being required to get onto an open Wifi hotspot was extremely nice. It made me feel just a bit more independent with the tablet, and I found myself using it more than my Wifi-only Nexus 7 because of it.
From a gaming standpoint, LTE isn't quite as useful as you'd think at first. There are a ton of variables when it comes to doing real-time multiplayer online gaming, and throwing in the inconsistency of mobile data doesn't help the situation. If you're able to lock down a solid LTE connection with over 10mbps down and low ping times you can certainly hook up some casual online play, but trying something like GameStream over mobile data is going to be more spotty. The fact that mulitplayer gameplay and GameStream are at all possible over mobile data is quite amazing, but don't expect having LTE to change your gaming life forever.
The Shield Tablet LTE continues to be a fantastic gaming device for local games and more intensive gaming over Wifi — just look to the LTE connection as being useful primarily for non-gaming apps and just a backup for gaming purposes unless you can consistently get an amazing data connection.
A solid value if you've already decided on the Shield Tablet
As I pointed out in my original review, you need to be ready to spend the money and go all-in with the Shield Tablet's (technically optional) cover and wireless controller to get the best experience. The same goes for the LTE model, and now we're talking about a total price of $500 when you add in the accessories for a tablet that's arguably no better for gaming than the Wifi-only model. Even if you choose not to go with the controller, you're still looking at a hefty $440 for an 8-inch tablet.
That's a lot of cash to drop on a single device, to say nothing of the price of adding a data plan to it. You better be really sure that you're going to take advantage of that extra storage and mobile data, as well as all of the gaming prowess of the Shield Tablet, before spending $399 on this device. If not, the Wifi-only Shield Tablet is still a great tablet in many respects — and I'll venture it's probably going to be the choice for the vast majority of Shield Tablet buyers. And for those who want to go all-out and have every bell and whistle, their 32GB LTE-enabled Shield Tablet is now there for the taking.
Android Central Newsletter
Get instant access to breaking news, the hottest reviews, great deals and helpful tips
Andrew was an Executive Editor, U.S. at Android Central between 2012 and 2020.
Thanks Andrew I've been trying to decide which version to go with and I think you just made my decision for me on which one to get!! Thanks again Posted via Android Central App

I keep feeling tempted by this tablet...but I think I'm still holding out for the next Nexus tablet. I definitely don't care about the LTE since it's so easy to tap the widget on my Nexus 5 homescreen to turn on my hotspot...

I just returned my wifi model because of the wifi performance issues. This tablet is great in performance and value for what it does. The cover and controller are excellent too. I am going to wait for the nexus and see what that is about.

Didn't they address that issue with a firmware update?

I'm waiting to see what the Nexus 9 looks like and costs. I just really wish that nVidia put out a 32GB without LTE for $350. I don't want LTE but I won't buy a device with less than 32GB of storage anymore. 16GB is not acceptable in late 2014.

Why won't a 64GB SD card solve this for your needs?

expandable storage =/= built in storage.

Now that we are in the days of Android KitKat removable storage has much less appeal. This is one area that Apple has consistently gotten right. I don't want to add a 128GB MicroSD card. I want to have 64GB or 128GB of internal storage that I can use for anything that I see fit. I'm surprised that NO Android OEMs will even give consumers the option. Even having 32GB was a big plus for my One M8, and I haven't worried about my memory card yet. Posted via Android Central App

128GB options will undoubtably come soon. For example, we have yet to see any commercially released phones with 4GB of RAM, most max out at two or three. However, we can expect this as the jump from 32bit to 64bit will open up new opportunities.

To me, it's worth the money, but since the Nexus 9 is supposed to have the same processor I'd rather wait to see what HTC/Google has to offer. I love having LTE on my Nexus 7 2013, and T-Mobile's data speeds & bucket sizes are very affordable. I pay $10/mth for 5GB of tablet data, and my LTE speeds here in Houston are a consistent 40Mb/s down, 20Mb/s up now. With pings under 40ms that's more than sufficient for gaming on the go. If the Nexus 9 doesn't impress then I know what my Christmas present to myself will be. Posted via Android Central App

I have the wifi only version. I've owned an OG Xoom, OG N7 and N10. The Shield is my favorite by far. It combines what I love about the N10 (front speakers/vivid screen) and N7 (form factor) and adds the benefit of streaming most of my pc games. The case and controller raise this tablet above other 8 inch tablets, in my use case. I have to agree, accessories can make the device, ergo Apple marketing method. Nexus tablets have not been good about first party accessories upon release. The case on the Shield feels like it is a part of the device. The controller works like an extension of the device. That makes for a great user experience. If you are on the fence, don't be. You won't regret buying this.

I'll second that. I don't have the controller, tho may pick it up eventually. The cover I do have, and it works great.

I just wish it had an active stylus.

Does it work on Verizon network. I have original xoom. Looking for a replacement Posted via the Android Central App

Not sure officially (haven't compared the bands) but at most you'd only be able to get LTE because there's no CDMA radio in here.

I actually RMA'd my 16gb shield for cracks, and as a bonus they sent me the 32gb lte model instead... Am really looking forward to trying it out. Posted via Android Central App

Sounds like they chose 200 RMA's at random and upgraded in appreciation. I'm sure not complaining. Happier about the 32gb over the lte though Posted via Android Central App

I bought the 16gb WIFI version a couple of weeks ago and was massively impressed with it, so much so I bought the LTE version yesterday and gave the other to my Mrs, hoping to pull her away from her bloody crApple obsession!

Just got my LTE version today and like it so far. I'm going to try to activate a T-Mo SIM to use the 200 MB free data a month with it. Just wish I could remove the AT&T AllAccess app that it came with (bought the no-contract version from Amazon).

So I tried to activate a T-Mobile SIM online and via phone for the 200 MB free data for life for tablets, and ran into a bit of a snag. The T-Mobile rep on the line told me that their system wasn't recognizing the Shield Tablet's IMEI number as a tablet, but as a phone, so it wouldn't activate under the free 200 MB deal. I'm going to try to take it by a T-Mobile store tonight after work to see if I have any better luck there.

i cabt decide between this tablet and the Galaxy Tab S 8.4. I not really going to use the gaming features that much and I really like the screen on the Tab S but can't really justify the cost. Any thoughts or alternative tablets you can suggest?

It definitely isn't worth paying so much to buy a last-gen device... if you want last-gen, then there are tons of devices that are cheap now you can get. I got a 10-Inch qHD tablet for $220 a few months ago. The Tab S doesn't have more than 16GB internal storage and lacks LTE, all for a HIGHER price tag to the equivalent Shield Tablet. Makes no sense to get it.
Android Central Newsletter
Get instant access to breaking news, the hottest reviews, great deals and helpful tips
Thank you for signing up to Android Central. You will receive a verification email shortly.
There was a problem. Please refresh the page and try again.