Nova Launcher joins the 50 million downloads club on Google Play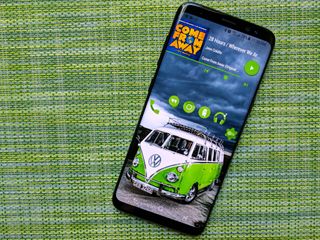 (Image credit: Ara Wagoner / Android Central)
Over five years old and boasting more customization and theming prowess than most other launchers combined, Nova Launcher is popular for a reason: it's awesome. It can emulate the latest phones or kick it old-school if you preferred the Holo days. It draws in the best features from manufacturer launchers and gives users a simple yet insanely customizable canvas on which to theme.
But you don't have to take my word for it. Nova Launcher has surpassed an impressive 50 million downloads on Google Play.
Nova Launcher's success draws on many, many things, but above them are consistency, support, and innovation. Nova Launcher will turn six years old this December, and in those six years Nova Launcher has certainly changed feature sets, but it has remained a stable and reliable launcher. Nova uses their beta program to iron out kinks and refine new features before they come to the stable version that ships out to regular users. Bleeding edge users can help shape the launcher they love while users looking for a launcher that just works get features only when they're ready.
Nova Launcher's support ensures that should bugs arise on a particular model or device range, they are addressed quickly. Their commitment to bringing the latest features like Android Oreo's notification badges and Adaptive Icons to older Android users means that while system updates may be slow for many, Nova Launcher updates mean they'll at least get some of the newest Android goodies on their older phones.
To backport the latest features to older versions of Android takes more than a little bit of ingenuity, and while it's not always possible (or pretty), we can rest assured that if there's a feasible and stable way to backport features to Nova Launcher on older Android versions, the developers will try. These experiments don't always work, but most of the time they do, and all of Android reaps the benefits. But bringing the latest Android version features to Nova Launcher isn't enough. Nova Launcher tries to improve upon the features that it emulates, such as automatically coloring the background layer for Adaptive Icons and coming up with Dynamic Badges before Android Oreo's notification badges had come along. And while it still requires jumping through hoops, Nova Launcher was one of the first third-party launchers to bring a Google Now page to our home screens.
50 million downloads might not mean 50 million users have Nova Launcher set as their default launcher, but it has a devout following. And so long as that launcher continues to be one of the best damn launchers on Android, I have no doubt in my mind that following will only grow.
After all, Nova Launcher is still king of the mountain.
Nova Launcher (Free, $3.99) (opens in new tab)
Ara Wagoner was a staff writer at Android Central. She themes phones and pokes YouTube Music with a stick. When she's not writing about cases, Chromebooks, or customization, she's wandering around Walt Disney World. If you see her without headphones, RUN. You can follow her on Twitter at @arawagco.
Yep, the best... hands-down!

Yes, the greatest feature of Nova aside from the obvious customization prowess is the rock solids stability as even as a beta tester, the only obvious bugs I can recall for the past couple of years are some hiccups on the pixel swipe drawer feature. Its amazing how feature pack Nova is yet remains one of the fastest and stable launcher out there. Kudos on them joining the 50 million download club and I hope they keep it up.

What is the phone in the first (black phone) and second (white phone) photo of this article?

I'd say the black is a Samsung S8, the other one a Pixel.

Nova Launcher is the first app I install on every single Android phone I buy right after I uninstall all the carrier and manufacturer bloat I can.

Have been using Nova since day one. But lately I discovered Total Launcher and because of the way I can customize my home screen with it I'm using this right now. Probably stick with it too. But no doubt, Nova is exceptionally good.

Looking at the reviews for it, it seems like an interesting launcher.

Has a long learning curve but once you get it it's amazing what you can do. Just give it a try and start playing with it. You can always delete it! 😁
Actually, I deleted it twice out of frustration but gave it a last try. Now I'm hooked.

I cannot do without Nova Prime though it's only a year that I have started using Android phones.

I categorize Nova as an all-around theming launcher while Total Launcher is an advance theming launcher but that category only contains 3 launcher which is Lightning, Total and Launcher Lab with Lightning being the most advance.

What does it do that Nova can't?

Well deserved status for Nova launcher. Even the beta builds are very stable. Never had any issues with the launcher in any of my phones. The best in the market. Nova and AL are the 2 launchers on every phone of mine

Been a Nova user for a few years now and absolutely love it.
Quick question, I'm going to be grabbing the V30+ on Sprint when available, does anyone know if the "2nd screen navigation bar" will work if I'm using Nova? Thanks for any info

If I remember right, it's available from any app, so it should work in a different launcher.

Does the V30 or the V30 plus have second screen? I couldn't find it in the specs or lg page.

I was refinancing the removal of the second screen and the addition of the quick launch bar that replaced it.

Well deserved. Nova is by far the best launcher for Android. I even think it makes boring "stock Android" better.

I have Nova pro, but I prefer Microsoft launcher (arrow)

Some price drop would be nice to celebrate! ☺️

I think I got Nova Launcher for a special price of $1 or $2 can't quite remember lol best purchase I ever made from any other app!

I remember that price drop. Sadly, I was using W10m at the time. ☺️

Been using it for years (Nova Prime).
The ability to have a consistent interface when moving devices is great.
My home screen have looks the same across 3 generations of devices from 3 different manufacturers.

Just this last weekend I switched from Nova to TSF launcher. Not bad so far... Awesome transitions!!

Nova has been my go to Launcher for years, over many phones. Everytime I get a new phone, I give the stock UI a chance. But I always go back to Nova, it has so many features, so many customizations. Definitely worth the Prime, to support the dev. I just got a Note 8, already have gone back to Nova. Just imported by backup file

The best, hands-down!! The beta testing option is groovy as well!

Yup! You are right oh Queen of Launchers, Nova is on all my devices cos it's great! 😊

Nova is a really great app for customization, this is really well deserved. I still have it on my phone right now, though the stock EMUI launcher on my phone (P8 Lite 2017) is really enjoyable nowadays.

What is the weather widget on the phone in the very last image (with the Fantasia Mickey background)?

I use Nova launcher..
I know I can backup the launcher and restore the settings on a different device, but is there a launcher that lets you sync different devices? I sometimes save link to my 'desktop' on my tablet and would like to have it on my phone also without having to go through the process of saving it manually and all that... Any launchers that keeps two devices synced??

I use Nova launcher on my phone, android TV box and tablet... it would be nice if I could have all of them sync when I add to the desktop... ???

What is the name of that Music widget on top ?
Android Central Newsletter
Thank you for signing up to Android Central. You will receive a verification email shortly.
There was a problem. Please refresh the page and try again.