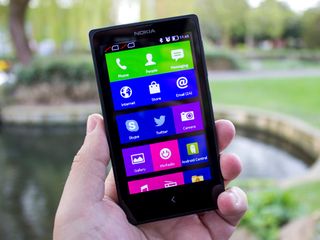 Nokia is taking itself down a new path in the lower end of the market with the Nokia X, but is it any good?
Back on Feb. 24 at Mobile World Congress in Barcelona, Spain, the press – including us – were gathered around the Nokia booth to listen to what Stephen Elop was about to introduce. What came after that was the Nokia X. (And its siblings, the better-spec'd Nokia X+, and the larger and better Nokia XL.) At long last, a Nokia smartphone powered by Android. Only, not quite.
Sure, it's Android running on the Nokia X. But it's Android in a form unlike any other we've seen before. What Nokia introduced that day was its own take on how an Android smartphone should look and feel. The short version; a Windows Phone-inspired homescreen and absolutely no Google anywhere to be found. And not since the Moto G did a low-end handset create such discussion.
Elop emphasized during the presentation that the Nokia X was for Microsoft's cloud, not Google's. It's all about getting folks into Microsoft's services. So this isn't an Android phone like most that cross our paths, but it's still a potentially important device. So we've tracked one down and spent a little time getting to know it. Head on past the break and take a look.
Swipe to scroll horizontally
Solid build quality, removable battery and some excellent Nokia apps such as HERE Maps and MixRadio. Screen is bright and colorful despite its pretty low resolution.
Weighty and a little uninspiring on the design front. Laggy when performing even basic tasks. Nokia Store is woefully lacking in apps and having only a back button leaves a confusing user experience at times.

Row 1 - Cell 0

The Nokia X isn't an awful phone, nor is it an awful experience using it. If you've ever used an Android phone before, then you're going to miss the Google services and you're going to confused as hell with only having a back button. Yeah, it's janky and slow at times, but for the intended audience this might not be the worst buy. And as we've come to know from Nokia phones through the years, it's built like a tank, so it'll probably last the distance.But Motorola still rules the roost in the cheap Android phone space, and more worryingly for Nokia, the Moto G is sold in most of the same markets that the Nokia X is. Which is a much better experience even if it does cost a little more.
Swipe to scroll horizontally
Nokia X video walkthrough
Nokia X hardware
We're not looking at something here that will be winning any design awards. Despite being available in a variety of different – and loud – colors, the Nokia X is pretty unappealing visually. It's just, well, a slab. The very squared off corners have been seen on previous Asha devices from Nokia, but even on a small phone like this, they're not so nice. Granted, in green it would have a little more, zing, but the black one we have here really is pretty darn dull to look at. You can tell it's from the same family as the likes of the Lumia 1020, for example, but it's definitely a red-headed stepchild.
Dull it may be, but it's built like a tank. Nokia knows how to build a phone and the Nokia X is no exception to that. It carries a little weight with it, but the removable plastic shell is — besides being a real pain in the rear to actually remove — extremely sturdy. You probably won't have to concern yourself too much if it falls off a table, except perhaps for the condition of your floor.
Oh, and while we're talking about the shell coming off; there is a removable battery inside. It isn't very big — just 1,500 mAh (the Nokia XL bumps up to 2,000 mAh), but at least you can change it out. You'll also find a microSD card slot which will be important if you want to use the phone for any music or media needs since it only has 4GB of on-board storage. This model also comes with a pair of micro-SIM slots, common for phones in parts of the world where the Nokia X line is being marketed.
So it's dull and tough. But what about the rest of it, the stuff we see out front and what's hiding beneath? We've got the 4-inch Nokia X in, with its 480x800 resolution LCD panel. It's a little low res, sure, but it's plenty bright enough and those colored tiles really do pop quite nicely. It's not the worst display we've ever seen, but it feels a bit cheap to touch and does suffer some latency from time to time.
'Round the back is a rather small looking speaker, but don't let that fool you. The Nokia X is plenty capable enough of powering out some volume. In fact, in terms of sheer volume it's right up there. It's no Boomsound, but you're not going to be struggling to hear it should you think about turning it up. There's also a rather small — 3MP small — rear camera with fixed focus. We'll look at the camera in a little more detail later on, but a Lumia class camera this is not.
And that's about it on the hardware front. Pretty unremarkable, and that's being kind. Nokia falls way short of the competition on hardware, with the Nokia X being a country mile short of the current King of the budget Android, the Moto G. But the software is a little more interesting ...
Nokia X software - the homescreen
The homescreen on the Nokia X is made up of two parts; your apps, and the Fastlane. That's it. Two screens only, no more, no less. Despite being totally different in operation, there is more than a whiff of what Nokia has learned through it's Windows Phone venture every time you turn on the display. We've even got resizable tiles; the regular size or a giant 'super tile.'
The main homescreen is tiles, tiles and more tiles. Set in rows of three wide and coming in a variety of user customizable colors. They're touching on the horizontal, but each row of three is separated by a space. It displays all your apps — yes, all of them — since there is no app drawer. Newly downloaded apps just automatically take up a tile space at the bottom.
One swipe off to the left or right brings you to the Fastlane. The Fastlane is important for two reasons. Firstly, having recently accessed stuff close at hand is always awesome. But more important, there is no fast app switching on the Nokia X since you only have a back button.
But back to the recently accessed stuff for a minute. To a certain extent you're able to customize exactly what you see in Fastlane, but if you choose to have everything then that's exactly what you get. Recent notifications, apps, app installs, even the music controls present themselves in Fastlane. The only drawback is that you can only access it on the homescreen, so it still can't replace fast app switching.
It also means you don't get the standard Android behavior of notifications arriving in the pull-down tray. Instead you get a Windows Phone-esque pop-up banner across the top of the display every time you get a message or an email. But once it's gone you have to then exit back to the homescreen. In fact ... just about everything requires you to go back to the homescreen. It's a little jarring.
Nokia X software — The Nokia apps
One thing Nokia always brings to its phones are its own apps. While we're not as blessed as we would be buying a Lumia phone, there are a couple of notable inclusions. Inclusions we'd like to see launched in Google Play, at that. Nokia MixRadio is Nokia's own streaming music service, and HERE Maps is what you'll be using in place of Google Maps on the Nokia X. But don't worry, it's pretty good.
MixRadio offers you a ton of free music to listen to on the Nokia X, just as it does on the Nokia Lumia phones. It's a radio-like streaming service that will either let you listen to pre-loaded streams or create your own. Creating a station requires you to enter up to three of your favorite artists and then MixRadio will curate a stream of tunes it thinks you'll like. You'll get tracks from the artists you entered as well as some stuff you may have never heard of and a limited number of offline mixes when you're using it for free. But it's pretty good at what it does, and personally speaking I'm a big fan.
HERE Maps — in it's full and proper form as found on the Nokia X — is also a pretty darn fine mapping and navigation app. Nokia has been making good maps for a long time now and what we've got on the Nokia X is essentially an Android port of its Windows Phone 8 app. Which means quality maps, and an excellent satellite navigation service. All for free.
What we don't have is the full suite of Nokia apps that you'd find on a Lumia device. That's totally understandable since Nokia makes a ton of camera focused apps that just wouldn't be necessary on the Nokia X.
Nokia X Software — The Store
With no access to Google Play, Nokia needed a way to get apps onto the Nokia X. And that meant building a store. Nokia has curated its own app store in the past, so the concept isn't completely new. But with the Nokia X, they've had to start from scratch which means getting developers to submit their apps to fill out the listings. And right now this just hasn't happened. Sure, you'll find the Android Central App in there, of course, but the selection is a little slim right now. There are a few decent names in there like SwiftKey, but there's only one real suggestion right now that doesn't involve some serious hackery ...
Install the Amazon Appstore.
Nokia X software - The Microsoft connection (or lack of it?)
Stephen Elop made a big point at MWC of how the Nokia X would "take people to Microsoft's cloud and not Google's." Only that's only half true, at best. With a statement like that you'd expect that the Nokia X would come preloaded with everything that Microsoft has to offer. Except it doesn't. Skype is pre-loaded and that's it. No Outlook. No Office Mobile. No OneDrive. Nothing.
So maybe you have to sign in to a Microsoft or Nokia account to use the phone, you know, like you sign in to a Google account on a regular Android phone? Nope. You don't need an account to use the Nokia X, and you don't need to sign in to anything to begin to download apps. In this regard it behaves more like a feature phone.
I'm almost disappointed by that. Not least because without an account to link to, a reset of the phone means exactly that. Reset and start all over again. It also says a lot about the market that Nokia is targeting with this phone; the same market as its Asha line. Feature phone buyers taking their first steps in the smartphone world, folks in emerging markets who just want a decent, well built and well priced phone that can achieve a certain number of things.
Nokia X software — other odds and ends
There really is a lot to take in and examine with the software on the Nokia X. We've already covered the bigger points, but there are plenty of others worth noting:
The keyboard is actually really nice to type on. Nokia has its own keyboard on the Nokia X with a Swype/SwiftKey Flow-esque swipe-to-type keyboard. Despite the size it's remarkably accurate and predictions are good. It's even pretty good to thumb type away on, which in itself is impressive for such a small display size.
No Google services doesn't mean no Gmail. The stock email app on the Nokia X will gladly accept your Gmail account credentials. As well it should.
Our unit came preloaded with a lot of EA games. That's not cool. On a device with 4GB of onboard storage this is the last thing you need.
That said, aside from the core apps everything else that comes pre-installed can be removed. Which is nice.
Because this is Android, you can completely replace the Nokia X launcher if you really don't like it. You might need to sideload something on there, but with Nova Launcher it looked and behaved just fine.
Glance screen makes an appearance on the Nokia X, similar to some of the Lumia phones and even Nokia's old Symbian phones. It isn't as feature packed as the Lumia version, but you still get to see the clock and some notification types such as email and Twitter.
And, oh, by the way, you can find some of your favorite Mobile Nations apps (hint, hint) in the Nokia X store.
Nokia X Camera
Like the rest of the phone, the actual hardware is pretty unremarkable. The Nokia X houses a 3MP fixed focus rear camera with no flash. On a cheap phone we might not expect the world – indeed, Nokia's own Lumia 521 had no flash – but it's hard to get even remotely excited about it. It's there, and it takes pictures. That's about the best we can say about it. (The Nokia XL bumps things up to 5MP.)
However, while the camera hardware is distinctly lackluster, the camera app is far from from that. The most surprising thing is that Nokia developed such a feature packed camera app for something as low-end as the Nokia X. Just on out and out settings alone, Nokia's camera app outranks Google's newly released Camera application. And that's insanely frustrating. You're able to so so much in the app that is wasted on the hardware round the back.
Exposure, ISO, noise reduction, a small number of color effects, white balance, sharpness, contrast can all be altered on the fly within the app. There's also a panorama shooting mode, and while it's no Nokia Camera app for Windows Phone, it's really not bad.
Image 1 of 13
The Nokia X will also record video, but it's so low-res that it's really not worth even bothering. So the camera isn't really up to much. It's disappointing, but it's also not wholly surprising. Nokia's Asha phones haven't exactly excelled in this area, either, which is important to remember. It's easy to get wrapped up in what Nokia does at the high end.
Nokia X battery life
We're not going to dwell on this too much for one important reason. Our Nokia X is an imported dual-SIM version. Sure, it works just fine here in the UK, but it's tough to make a truly accurate decision on battery life on an imported model. That said, having used the phone for a while without a SIM in and only on Wifi, it's not exactly impressive. It'll get you through the day, maybe.
However, the 1500 mAh battery is removable, so you're at least given the option of swapping it out if you need to. For most users it'll probably be fine, especially given the target market.
The bottom line
The Nokia X is one of the most confusing devices we've come across in some time. On the face of it we're looking at a solid, yet not outstanding, cheap smartphone. It slots into Nokia's lineup where the aging Symbian based Asha line will eventually depart, offering that type of phone buyer a world of possibilities with Android's vast catalog of apps and services. Well, so long as you don't want anything from Google. But if you've never used Google services you'll not miss them.
But it's really hard to understand exactly what the Nokia X is, what the true purpose behind it is. It's probably best not to dwell on that too long, because I don't think we could come up with a comprehensive answer. It doesn't so much take people to Microsoft's cloud as provide the staircase to get there if you wish to. After all, it's entirely possible to use the Nokia X without touching a single software product out of Redmond.
Taking it on face value is probably the easiest way we can judge. The Nokia X isn't an awful phone nor is it an awful experience using it. If you've ever used an Android phone before, then you're going to miss the Google services and you're going to confused as hell with only having a back button. Yeah, it's janky and slow at times, but for the intended audience this might not be the worst buy. And as we've come to know from Nokia phones through the years, it's built like a tank, so it'll probably last the distance.
But Motorola still rules the roost in the cheap Android phone space, and more worryingly for Nokia, the Moto G is sold in most of the same markets that the Nokia X is. And at roughly the same price, with a much better overall experience on offer. That's the biggest problem. Right now, there isn't a compelling reason to buy the Nokia X. It isn't terrible, but it's nowhere near as good as the competition.
Get the Android Central Newsletter
Instant access to breaking news, the hottest reviews, great deals and helpful tips.