What would Nokia Asha mean with Android?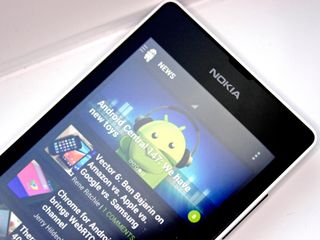 Nokia might be about to dip its toe into Android waters, but that doesn't mean we should all run out and celebrate
Normandy. A name we've been hearing with increasing frequency of late. Why? Because if the rumor mills have been churning the right way, then Normandy – now referred to as Nokia X – is a forthcoming Nokia smartphone based on Android. If all goes according to what we've heard so far, it will break cover at Mobile World Congress in Barcelona on Feb. 24.
Nokia famously went all in on Windows Phone for its main line of devices. But, it also held on to the Asha line. It's this that the Nokia X is expected to either slot in to, or replace entirely. There has been quite the media buzz around Nokia X. So, before heading out to Barcelona lets take a look at what it is, and what it would mean with Android onboard.
What is Asha?
The last bastion of Symbian, until now. Asha phones have in recent times been very low priced phones that have predominantly been sold in emerging markets. Example: I picked up a dual-SIM Nokia Asha 210 in Abu Dhabi for the equivalent of about £35. Oh, and dual-SIM is also a thing in many markets. My Asha 210 runs on S40, has a QWERTY keyboard, pretty long battery life and a low-res display.
To those of us used to using any one of the four major mobile operating systems, Asha devices are basically feature phones with benefits. Sure, there's an app store, with Facebook, Twitter and other options for popular apps and services. Cheap, simple to use, but still able to check your email, Facebook and Twitter.
So, why the hype?
The media doesn't usually get into such a frenzy over low-end devices. Sure, the Moto G caused a bit of a stir, but that was after we knew all about it. But the Nokia X has gained almost total notoriety based on nothing but leaks and rumors.
Deep down, many of us always wanted to see a Nokia phone running Android. I know I did, and still do. I love Nokia phones, I've been using them for 13 years. Some of the hardware Nokia makes is pretty amazing — you only have to look at the 808 Pureview and Lumia 1020 as examples. But what those of us in that camp desire isn't what we're going to get.
Perhaps the hype is partly generated by Nokia's recent transaction with Microsoft, then? Why wouldn't Microsoft kill such a project? After all, why would it want to be using software generated at the lowest level by one of its biggest rivals? Remember though that the transaction still hasn't finalized. The Nokia X will also have been in development for some time. That and we're lead to believe it will be full of Microsoft apps and services. So, there's that.
What could Nokia do with Android on board?
Symbian is dead. So, if the Asha line of cheap phones is to continue it needs a Plan B. Asha and Lumia are two different beasts, so Nokia needs an alternative. There isn't much to choose from. Firefox OS? Tizen? Options, perhaps, but ones that wouldn't advance the Asha line much over Symbian right now. These days a platform just has to have apps for folks to want to use it, whatever it is and wherever in the world you are.
We're not talking Android as we know it, either. Nothing is official, but the chances of Nokia going for Google Play certification with this is extremely low. What we're likely seeing is a 'forked' version, akin to what Amazon did with the Kindle Fire. Android underneath, popular Android apps in the world out front. This alone would solve many of the issues with the previous Symbian based OS.
Nokia also has experience running an app store, with an infrastructure for that dating back several years. It isn't inconceivable that Nokia is serious about using Android for a new line of low-end smartphones, and as such may want to build up an app store of its own. If that were the case we'd see Nokia reaching out to Android developers and promoting a new receptacle for their wares, and a new revenue stream for them. Either that or there's the Amazon Appstore.
But what about any Nokia contribution in the app space? On Windows Phone Nokia makes a whole suite of apps. It's quite possible some form of them may end up on the X. While that's not the same as putting them into Google Play, if there's an Android version, it's always possible. One day.
Ultimately Nokia could do whatever it wants with Android. But regular readers here aren't likely to run out and snap it up as a new daily driver. The OS might interest, but the hardware will not.
The bottom line
If indeed Nokia X is an Asha type product there's little likelihood it would come to the U.S. Or even parts of Europe, for that matter. Nokia has clearly laid out its plans for its premium line of phones, and that's not likely to be changing direction with a low-cost phone directed at emerging markets. Sure, hearing "Nokia" and "Android" uttered in the same breath is kind of exciting, but maybe we're getting ahead of ourselves. After all, we don't even know what is and isn't real at this point.
What we do know is that we'll be live from Nokia's MWC press conference on Monday. Then, and only then, we'll know without any doubt what we're dealing with.
Get the Android Central Newsletter
Instant access to breaking news, the hottest reviews, great deals and helpful tips.