Nintendo Switch Online: Everything you need to know!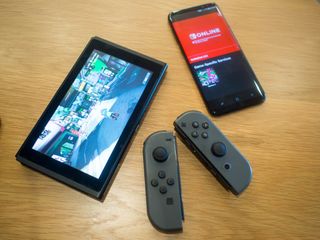 Nintendo Switch Online (opens in new tab), the new companion app for the Switch, has arrived, and there is plenty to parse out. Unlike the apps for PlayStation or Xbox, Nintendo has gone the game-specific route. You'll now be able to enjoy more features, including inviting friends to play with you, provided you have the app open when you're playing a compatible game.
There's plenty to go over, and we have the details for you here!
What does Nintendo Switch Online do?
The Nintendo Switch app works as an extra hub for content, at least for games that work with it anyway. Each game will offer different content through the app, in an attempt to give you access to everything you could want for gameplay. To access everything, though, you'll need a few things.
Namely, a Nintendo Switch console, a compatible app, a Nintendo account, and a phone with the Nintendo Switch app loaded on it. For now, all of that online content is entirely free, but come 2018, you'll have to pay in order to access it. After 2018 gets here, you'll be looking at a subscription fee similar to Xbox Gold or PlayStation Plus.
Which games does it work with?
At the moment, Nintendo Switch Online has functionality with one game, Splatoon 2, and you'll need to use the app to reach Splatnet. Splatnet is where you can invite friends to online lobbies, use voice chat features, and reach leaderboards, amongst other things.
For now, it's just Splatoon 2, but you can be sure that down the line plenty more games will include functionality with the Nintendo Switch app.
How does the voice chat function work?
Different games will implement this feature differently, but generally, you'll need to be friends with the people you want to chat with. You'll also have to have the app open on your phone and the supported game open on your Nintendo Switch.
This means that if you want to voice chat on Splatoon 2, you'll have to keep your phone on the Nintendo Switch Online app. No checking Facebook or playing a level of Best Fiends in between matches, or you'll drop the connection for voice chat. It isn't ideal, considering how many of us use our phones to multitask, but it is better than no voice chat at all.
How to invite friends to matches
Inviting friends to a match is slightly more complicated than we would have preferred, but there aren't too many hoops to jump through. You'll need to first create a match in the online lobby, and then send a notification to your phone. From there, you'll need to switch to the app, where you can open the room you just created. Once you've done that, you'll be able to invite friends to come and play with you, so long as you are connected to them through Social Media or have played with them recently.
If a friend is inviting you to a match, it's slightly easier. You just need to accept the invitation through the app, and you'll be able to join them for as many matches as you want to play.
What else can I use the Nintendo Switch app for?
As we mentioned earlier, each game will decide on what content becomes available through the Nintendo Switch app. Some features you can expect from different games, like voice chatting and inviting friends to multiplayer matches. Others will be game-specific, though, like Splatoon 2's ability to purchase items at a special gear shop, leaderboards, and schedules of which stages will be available at which time.
Jen is a staff writer who spends her time researching the products you didn't know you needed. She's also a fantasy novelist and has a serious Civ VI addiction. You can follow her on Twitter.
Glad to see they still suck at their online offering... I wish Nintendo would just ditch making consoles and be a 3rd party dev. I'd rather have HD Mario games on my Xbox One. If they didn't have Mario/Zelda/Metroid/Pokemon locked down, they wouldn't exist.

Been hearing such BS for the past 20 yrs, yet the company still remains. Lol

Well, Xbox isn't even the number two console now.

And who is the number 2 console if not Xbox? Surely you don't mean the Switch? And if so, what odd obscure metric are using to reach that conclusion?

Yes, they remain because of their exclusives, Mario especially. Their last several consoles have been underpowered compared to Xbox/Playstation. The Wii was good, but a niche item. Wii U was marketed horribly, barely sold, and online was weak. Nintendo Switch is impossible to find, and the game offerings are next to nothing, months after release, with no back-compat, and crap for online service (from what I've read). People criticize the heck out of Microsoft for any little Xbox issue, but Nintendo get's a pass for nostalgia's sake alone, and you know it.

You say they remain of their exclusives as if it were something bad, they are sorry for making really good games and maybe the game of the year. Switch isn't underpowered for a Portable Console, maybe you can bring your Xbox One and play on the go. You can find switches now on Gamestop or Amazon UK, but you have to wait some days. Online services are bad in some ways but not bad for continuos connection. (I really hope they improve their app over time.) And everyone criticize everything of every console. (The number two console now is PS4, number one is SNES Classic ;)

I realize that it's portable, but it's mainly marketed as a home console, and since they make the DS line, they're overlapping their product lines too much. I think they're being over-dependent/confident on the portable social gaming aspect of it. People aren't going to huddle around a tiny screen to play social games. Don't get me wrong, their exclusives are good, but you have to justify spending $300 (if you can find it) on a console just to play Mario? 3rd party support has been minimal.
And how do you say SNES classic is now the number one console? You're joking right? Again, based on what statistic?

You can. Any XBOX game can be streamed to your Windows laptop.

SNES classic isn't the number 1 console. It's the PS4. Followed by the XBOX One/One Should. Also the SNES Classic isn't even a console. it's an emulator.

They do remain cause of their exclusives... What's the reason to buy an Xbox again? Oh yeah, Forza... Pass.

Forza, Halo, Gears of War.
Oh yeah, and every other third party game that you won't be able to play on the Switch. Or buy a Playstation, whatever. I'm not platform biased. I just happen to run an Xbox, and think that the Switch is overpriced, under-powered, and improperly implemented.

"I'm not platform biased" LOL

My kids love their nintendo switch. It is not for everyone, but it is a pretty nice system and who does not love mario?
Android Central Newsletter
Get the best of Android Central in in your inbox, every day!
Thank you for signing up to Android Central. You will receive a verification email shortly.
There was a problem. Please refresh the page and try again.