Nintendo Switch Online: Everything you need to know!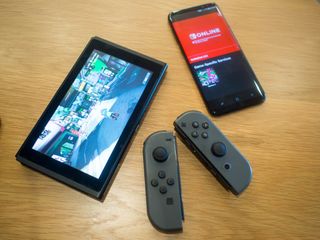 Nintendo Switch Online, the new companion app for the Switch, has arrived, and there is plenty to parse out. Unlike the apps for PlayStation or Xbox, Nintendo has gone the game-specific route. You'll now be able to enjoy more features, including inviting friends to play with you, provided you have the app open when you're playing a compatible game.
There's plenty to go over, and we have the details for you here!
What does Nintendo Switch Online do?
The Nintendo Switch app works as an extra hub for content, at least for games that work with it anyway. Each game will offer different content through the app, in an attempt to give you access to everything you could want for gameplay. To access everything, though, you'll need a few things.
Namely, a Nintendo Switch console, a compatible app, a Nintendo account, and a phone with the Nintendo Switch app loaded on it. For now, all of that online content is entirely free, but come 2018, you'll have to pay in order to access it. After 2018 gets here, you'll be looking at a subscription fee similar to Xbox Gold or PlayStation Plus.
Which games does it work with?
At the moment, Nintendo Switch Online has functionality with one game, Splatoon 2, and you'll need to use the app to reach Splatnet. Splatnet is where you can invite friends to online lobbies, use voice chat features, and reach leaderboards, amongst other things.
For now, it's just Splatoon 2, but you can be sure that down the line plenty more games will include functionality with the Nintendo Switch app.
How does the voice chat function work?
Different games will implement this feature differently, but generally, you'll need to be friends with the people you want to chat with. You'll also have to have the app open on your phone and the supported game open on your Nintendo Switch.
This means that if you want to voice chat on Splatoon 2, you'll have to keep your phone on the Nintendo Switch Online app. No checking Facebook or playing a level of Best Fiends in between matches, or you'll drop the connection for voice chat. It isn't ideal, considering how many of us use our phones to multitask, but it is better than no voice chat at all.
How to invite friends to matches
Inviting friends to a match is slightly more complicated than we would have preferred, but there aren't too many hoops to jump through. You'll need to first create a match in the online lobby, and then send a notification to your phone. From there, you'll need to switch to the app, where you can open the room you just created. Once you've done that, you'll be able to invite friends to come and play with you, so long as you are connected to them through Social Media or have played with them recently.
If a friend is inviting you to a match, it's slightly easier. You just need to accept the invitation through the app, and you'll be able to join them for as many matches as you want to play.
What else can I use the Nintendo Switch app for?
As we mentioned earlier, each game will decide on what content becomes available through the Nintendo Switch app. Some features you can expect from different games, like voice chatting and inviting friends to multiplayer matches. Others will be game-specific, though, like Splatoon 2's ability to purchase items at a special gear shop, leaderboards, and schedules of which stages will be available at which time.
Sign up for Black Friday email alerts!
Get the hottest deals available in your inbox plus news, reviews, opinion, analysis and more from the Android Central team.
Jen is a staff writer who spends her time researching the products you didn't know you needed. She's also a fantasy novelist and has a serious Civ VI addiction. You can follow her on Twitter.