A true 'Night Mode' may return to older Nexus devices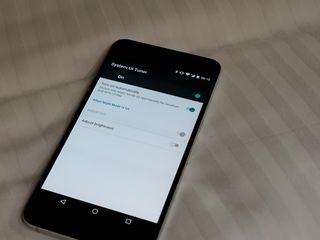 Nexus 6P users who were miffed to find Night Mode removed when they installed the Android 7.1 Nougat OS update might have received an optimistic hint from Google of its eventual return. Night Mode acts as a blue light filter that helps reduce eye strain when looking at your phone late at night, and can be set to turn on automatically at sundown.
Once Nexus users realized Night Mode had been removed, some of the more snarky users resorted to reporting the lack of Night Mode in the latest Nougat release as a bug. Curiously, one such report has been closed with its status set to "FutureRelease". Without an official statement or blog post confirming its eventual return, it's still unclear exactly what this report status means. But it could be an encouraging sign that it might eventually make a return to Nexus devices.
Night Mode as part of the Nougat OS is currently exclusively available on Pixel and Pixel XL devices, found in the Display settings and referred to as Night Light. If you haven't upgraded to a Pixel and just want Night Mode back on your Nexus, there is a workaround available that you might want to check out.
Were you bummed out by the removal of Night Mode? Or is this a feature you're more than happy to live without?
Marc Lagace was an Apps and Games Editor at Android Central between 2016 and 2020. You can reach out to him on Twitter [@spacelagace.
I would miss it if it was taken away, but I actually started using it just last month. Don't have a Nexus, but Night Screen does a nice job. Pro version lets you set the time, and you can have your screen darker than stock, with or without the blue filter. I've tried a few, and this one works better for me.

Since this article is on night mode it is a good place to say this. Your blue font denoting links is very hard to read in the apps night mode. If it was a different color like orange or yellow it would be so much easier on the eyes. Posted via Android Central App

Disappointed: Yes That's all

It's great that Google has perfectly working features in the developer previews that everyone gets used to, and then removes them for no reason. Multi window was working perfectly in Marshmallow, and then removed suddenly. Dark theme in the settings was another item removed with no real reason why. Don't put useful features in the developer previews, and then remove them, especially if they are functioning properly.

I was really bummed night mode was excluded from 7.1. One of the reasons i unenrolled from the beta. I use it every night and for me it's better than anything else on the play store.
P.S.: "Nexus 6P users who were miffed..." Someone forgot about the nexus 5x :P

Fvck a night mode. I want a damn DARK THEME. Google needs to stop being pricks and give us that.

Shame on all manufacturers who don't have night mode on their devices! It's a must have in my opinion! I'm forced to use twilight or reverse colours in my S7 to calm the screen down at night...

I want it back and with no bugs! It works different from any app in the play store, it keeps black original meanwhile third apps tints black too

There's always the Twilight app. Works like a charm and has a lot of great customization features.

Yea its crazy that they remove a simple feature like this. I use it all the time on my LG v20 and LG pad x plus LG even let you set a time to turn on and to turn off automatically. I downloaded twilight app on my nexus 6p and it works but nothing better than having it integrated into the system

GPlay Night Mode Enabler https://www.androidcentral.com/e?link=https2F2F...

I rather have a dark theme.
Android Central Newsletter
Thank you for signing up to Android Central. You will receive a verification email shortly.
There was a problem. Please refresh the page and try again.