Nier: Re[in]carnation launching on Android on July 28, will be free-to-play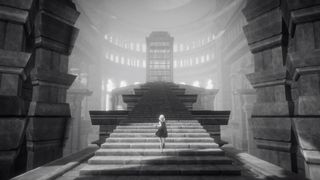 (Image credit: Square Enix)
What you need to know
Square Enix has revealed that it's upcoming mobile title, Nier Reincarnation, will launch on July 28.
The game is the latest in the Nier series, and is an action RPG set in a place called "The Cage."
Reincarnation was originally announced for mobile devices at Square Enix's E3 show.
Good news for Nier fans: The mobile game Nier: Reincarnation finally has a release date. It'll launch on Android and iOS on July 28. The developers are also offering rewards for all players who pre-register for the game, which they can do via the Play Store now.
Square Enix announced the news today via IGN, which also showed off a nine-minute gameplay showcase of the game last month. When the game was originally announced at Square Enix's E3 show, we didn't get a release date, only that it was coming out on mobile devices.
The game is set in a place called The Cage, and stars an unnamed girl. According to the Play Store's description: "She finds herself in an infinitely vast place filled with buildings that touch the very sky. Guided by a mysterious creature who calls herself Mama, she begins to explore her new surroundings. To reclaim what she has lost—and atone for her sins—she sets off on a journey through this place of unknown creation."
You can currently pre-register for the game on the Play Store, and Square Enix is encouraging users to do so. Users who pre-register will begin the game with a supply of gems, and Square Enix has promised it'll increase the amount of gems for all pre-registered gamers the more people pre-register. All ships rise, more or less. The game will support touch-screen controls, but there are lots of good bluetooth Android controllers for gamers who aren't comfortable with them.
Get the Android Central Newsletter
Instant access to breaking news, the hottest reviews, great deals and helpful tips.
Rachel Kaser is an Android Central gaming contributor, who's been writing since 2013 and gaming since the age of five. She's covered everything from gaming news, reviews, and analysis -- if it exists in gaming, she knows about it. She also contributes to Future's other sites, iMore and Windows Central. If you want to hear her opinions on games, pop culture, tech, and everything in between, follow her on Twitter @rachelkaser