UK vaccine passport app produces broken QR codes on popular Android phones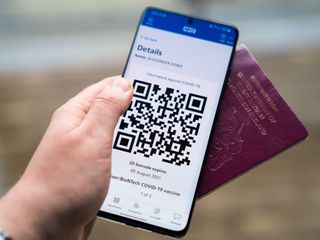 (Image credit: Alex Dobie / Android Central)
What you need to know
A bug in the NHS app's Covid Pass results in cropped, unscannable QR codes being shown on some popular Android phones.
The bug could cause problems for some British travelers using the app to prove vaccination status.
Workarounds involve printing out a PDF version, or changing the phone's 'display size' setting to something besides the default level.
As the UK relaxes its remaining Coronavirus restrictions, many travelers vaccinated in the country will be relying on the NHS app to show their Covid-19 status for international trips. However a bug in the Android version of the app, discovered by Android Central, could leave some Brits struggling to prove their vaccination status at the border, even if they've had both doses.
On some Android phones, the app crops out the rightmost part of the QR code it generates, making the code unreadable. Phones affected by the bug in the current version of the app — v1.48.7 — include some of the most popular current models like the Samsung Galaxy S21, Galaxy S21 Ultra, Galaxy A72, OnePlus 8T, OnePlus 9 and OnePlus 9 Pro. Other models tested by AC, including the Google Pixel 5, Pixel 4a 5G, ASUS Zenfone 8, Oppo Find X2 Pro and Xiaomi Mi 11 Ultra, were not affected by the glitch and showed the full QR code correctly.
The bug only affects Covid Pass QR codes generated for travel, as opposed to those used for domestic events within the UK.
Since the app is essentially just a wrapper for the NHS mobile site, the bug is also present in the Covid Pass section of that website on the affected devices we tested. That means users attempting to get a Covid Pass by logging in via their mobile browser on an affected phone would also see a cropped, unscannable QR code.
The Covid Pass feature of the NHS app is seen as the most convenient way for English residents to prove that they're fully vaccinated when traveling abroad. Currently France, Spain, Portugal, Greece, Cyprus and Croatia recognize the NHS Covid Pass as proof of vaccination, and some of these have much stricter rules for unvaccinated arrivals. Without a reliable way to prove their Covid status, travelers could find themselves turned away at foreign borders, rejected at check-in by airlines, or subjected to lengthy quarantine on arrival.
While the NHS app can also generate a PDF version of the Covid Pass — which contains a working QR code even on devices affected by the bug — it's unclear whether this would be accepted if shown on-screen as opposed to in the form of a print-out, especially outside of the UK. The NHS can also mail out a printed version of the Covid Pass, however this can take up to five working days to arrive.
At a technical level, the bug appears to be a fairly basic UI glitch. It seems to be caused by incompatibility between the HTML layout used to show the QR code and the default "display size" setting (also called "screen zoom") on certain Samsung and OnePlus phones. Changing this setting to a larger or smaller value causes the QR code to display properly on the affected models we tested — with the obvious side-effect of making everything else on the phone appear larger or smaller, which is less than ideal.
Regardless, for the average traveler who suddenly finds themselves with a non-working QR code upon arrival at the airport, these kinds of workarounds will be far from obvious. And while this bug should be easy to fix, it also demonstrates the technical teething problems likely to continue as post-Covid travel opens up.
Android Central contacted the NHS Digital media team and was directed to the press office for the Department of Health and Social Care, which did not respond to a request for comment on this story.
Alex is global Executive Editor for Android Central, and is usually found in the UK. He has been blogging since before it was called that, and currently most of his time is spent leading video for AC, which involves pointing a camera at phones and speaking words at a microphone. He would just love to hear your thoughts at alex@androidcentral.com, or on the social things at @alexdobie.
Just for clarity, this app is only for England. Residents of Northetn Ireland, Scotland, or Wales are unaffected.

Good point. It's not a UK vaccine passport but an England vaccine passport. Covid-19 administration is devolved to each of the four nations that make up The UK.

I hope it remains broken. This app is a sinister move toward a surveillance totalitarian state. Once this app gets introduced it will never go away.

Back in your box Trump. Hardly mate I needed to show my Yellow Fever card before entering Rwanda and that's just a piece of yellow card. Much more basic. Obviously you were never going to go abroad anyway so don't realise you already need to show surveillance paperwork. It's called a passport.

Very true. And it's not like governments don't know who has and hasn't been vaccinated. You literally book the appointment through a government website lol.

The yellow card is completely different than what it being proposed now. The trump comment makes no sense too. Glad he's in your head though

I think I saw the tin foil hats over by the door, don't forget to grab one on the way out 😉

Thanks for the info. How does an American website know this? 😳 "The bug only affects Covid Pass QR codes generated for travel, as opposed to those used for domestic events within the UK." It's the same QR code we're expected to show domestically so would affect this too. Good to know there's a workaround but will lead to problems at airports if you don't know.

It also illustrates the continued problems of the reality of going it alone and leaving The EU. There's an EU wide vaccine passport that lets you travel between 27 countries but nope The British government's jingoism knows better.

Yet here in the UK our vaccination program was up and running while the EU dragged their heels, that meant some countries ended up in a 3rd lockdown as a result. So the benefits of going alone far outweigh the benefits of staying in the EU, the fact is that the UK vaccine passport is likely to be accepted in EU countries anyway.

English app, not UK, Alex...

Interesting that all these little issues (remember the webview crashes) effect the same few manufacturers. I'm guessing the ones that install the most kernel level changes...

Something is _definitely_ broken in your app in the main image! The QR code points to Anroid Central! 😱 😂
Android Central Newsletter
Get the best of Android Central in in your inbox, every day!
Thank you for signing up to Android Central. You will receive a verification email shortly.
There was a problem. Please refresh the page and try again.