The Nexus 9, three months on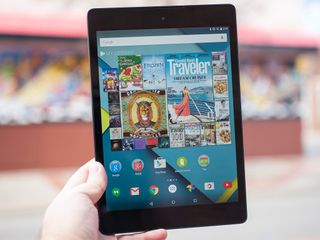 An update after 90 days or so with Google's top tablet
Four-hundred-forty-eight days. That's a near eternity between hardware releases in the Android world. But that's how long it took from the announcement of the second-generation Nexus 7 in July 2013 to the Nexus 9 in October 2014.
And quite a bit has changed in that year. Phones have gotten larger and even more powerful. We're two major versions of Android beyond what launched on the Nexus 7. We've gone from a 32- to a 64-bit operating system, on the first major device to ship with NVIDIA's Tegra K1 chipset. We've moved from a 16:10 aspect ratio to 4:3, on a larger display. And we've seen HTC get back into the tablet game, years after its first couple of efforts mostly flopped.
And the Nexus 9 had some big shoes to fill, as its smaller predecessor set the benchmark for an affordable, easy-to-use tablet.
We've been using the Nexus onward of three months now. Let's take a look and see where things stand.
READ MORE: Three months with the Nexus 9
But first, a word from our original Nexus 9 review
Read the Android Central Nexus 9 review
Before we launch into this three-month update of the Nexus 9, we'd be remiss if we didn't give a quick nod to our original Nexus 9 review, as written by Jerry Hildenbrand. Published on Nov. 11, Jerry experienced many of the same gripes I'll also mention here. The question is whether anything has changed in the ensuing months.
Ready for more? Read on.
The Nexus 9 hardware: Bigger, more powerful, but better?
Perhaps the biggest change for those of us making the leap from the Nexus 7 to the Nexus 9 was one of ergonomics. Going from something more along the lines of an e-reader to a tablet that definitely takes two hands required a bit of an adjustment.
As far as the size and aspect ratio go, I got used to them easily enough. Letterboxed movies — those black bars you get above and below — don't bother me all that much. Same for YouTube videos, but keep in mind that YouTube has built a really good experience around not playing videos in full-screen mode. And with the sheer size of the Nexus 9 oftentimes I don't bother with the full-screen experience.
Reading books on the Nexus 9 isn't quite as enjoyable for me. It's just not as comfortable in the hand or easy on the eyes as the smaller form factor. I can (and do) read often, it's just a little more work.
Gaming, however, is great on this larger-sized tablet. Touch points are large, of course. And you can see details you might otherwise miss on even a 7-inch tablet. Again, you have to adjust your grip just a bit, but it's worth it for the front-facing speakers, which really should be standard on any tablet at this point. That changes the way you experience everything.
The biggest pain point, perhaps, is from the thinness of the Nexus 9. It's got just enough curve to it to be more comfortable than a flat slab of a tablet (in a direct comparison to the Dell Venue 8 7840, for example, the Nexus 9 is easier to hold). But that thinness subjects the tablet to thermal issues. This thing gets hot when you're using it, and it tends to get really hot right where I'm holding it. What's more is that it's not just hot through the back. This is the first tablet I can remember using that's also uncomfortably warm from the front, through the glass display.
That's not a deal-breaker, perhaps, but it's definitely noticeable, and more so than in other tablets we've used.
(You'll noticed how we've not mentioned that air gap in the back of the Nexus 9 until now. That's always been a relatively small cosmetic gripe and in no way has affected the way use use the tablet.)
From a pure power standpoint, I simply don't know how much of a difference Tegra K1 and its 64-bit innards make at this point. It could be working exactly as intended. But so much is dependent on software. For the most part, I've not noticed anything different than when using a "older" 32-bit system. Perhaps that's the point.
The software
So let's talk software. The Nexus 9 was technically the first device with Android 5.0 Lollipop — the Nexus 6 shipped with it a little while later, (though I've been using both for the same amount of time).
There's nothing inherently special about the Nexus 9 running Lollipop, save for the 64-bit stuff, which you probably won't really notice anyway. Lollipop doesn't "look and feel" like it was made for the Nexus 9 any more than than it was made for the Nexus 7 or Nexus 6. It's Android, running on a tablet.
I'm pretty much on record as not being a fan of the new notification scheme in Lollipop. But seeing as how I don't carry a tablet with me everywhere like I do a phone, I've been pretty must just left them turned of.
The one telling thing about software on the Nexus 9 is just how poorly things start to run after a bit. We've talked about bugs. We've talked about encryption — which in Lollipop is turned on by default — taking longer to write to memory.
I don't care what the reason is. It's simply unacceptable and is the sole reason why I can't recommend the Nexus 9.
Reboots offer a temporary reprieve. But it doesn't take long before it can take six seconds or more between tapping on a notification and the corresponding application finally opening. You get used to it. You learn to grit your teeth and just wait. But it's not a good experience, at all.
If that's truly the trade-off for encryption — and I say this knowing full well the importance of scrambling those bits and bytes — then I choose usability.
Surely that will get better, though, and we'll reach some sort of equilibrium. If you've somehow escaped any of that, well, more power to ya.
Other odds and ends
A few more little things that have popped up over the past three months:
You're going to want to cover this big, beautiful display with something. I'm using the official Nexus 9 Magic Cover and have been mostly happy with it. The magnets keep it on fairly well, though not as good as a more traditional snap-on case will. It's done OK for me while I'm traveling, not sliding off in my bag or anything.
The Nexus 9 Keyboard Folio is another option, and as the name implies it comes with a mini-keyboard. It's a pretty cramped experience, though, and mostly made me want to pick up a laptop instead. Still, it was OK in a pinch.
Even with the Magic Cover, I've got a few cosmetic blemishes in the back cover, sort of like a clear plastic film coming off the finish. (Similar to what happened to my old HTC Thunderbolt, now that I think about it.)
I didn't really touch on battery life until now because as Jerry noted in his review, it very depends on what you're doing. A game heavy on graphics is going to crank up the heat and take a toll on the battery more than reading and browsing will. I've generally been recharging either overnight if I remember to, or at work the next day if needed. A good couple days' use isn't out of the question, it just depends on what I've been doing.
The bottom line on the Nexus 9
I haven't completely written off the Nexus 9 just yet. Not by a long shot. It's a Nexus tablet, and that, by definition, means it's important. It's also the first truly 64-bit platform we've got, and so it's important for developers as well.
The real question is what's going to compete with it? Or, rather, what already competes with it?
If you've got to have something in a wider aspect ratio and smaller size, the 2013 Nexus 7 (if you can get one) is still a really good option. Samsung (as Samsung does) has a number of excellent alternatives. The LG G Pad 8.3 has been underrated. ASUS has a number of other offerings, too. And don't forget Sony.
And those are just the Android tablets we have today. More are coming, and soon.
For now? You're not crazy if you hold off on buying a Nexus 9. And neither are you crazy if you spend your hard-earned $399 on one. (Though we'd recommend splurging $80 more for the 32-gigabyte model, if you can — and the "sand" color is gorgeous.)
The Nexus 9 has growing pains, is all. But let's hope it grows out of them sooner rather than later.
Android Central Newsletter
Get instant access to breaking news, the hottest reviews, great deals and helpful tips
I hope that google doesn't wait a ridiculously long time to release a successor to the 9. It's a good tablet now, but I think they are going to need a new hardware revision to iron out all the little problems in it, like the flexible back...etc. Great tablet, but I'm looking to the next Nexus 9. Posted from the Nexus 5 or Xperia Z3

Huh...Interesting (2nd) review. I chose to buy an iPad Mini for the form factor and price. Since they got rid of the 7" Nexus, it's a weird world where an Apple device is *cheaper* than the equivalent Android devices. I'm struggling with iOS (former iOS user but love Android) but the hardware on the iPad Mini 2 is very nice. If Nexus ever release another 7" tablet, I may come back. Also I have the Nexus 5 as my phone and I *definitely* experience the lag the author talks about with the latest Lollipop (5.0.1).

My son dinked his N7 2013 last week and cracked the screen.
It was covered by insurance and was duly sent away for repair. The repair company (KnowHow) contacted me yesterday to say that the device was a write-off and that they would send me £200 worth of Currys/PC World Vouchers.
I thought that was OK, because I only spent £189 for the N7 2013 in October 2013, but I was shocked to discover that hardly anyone, especially Currys/PC World sell the N7 anymore; so I had to choose a new tablet!
I had read all sorts of negative comments on the Nexus 9, so I wasn't terribly keen, and I was toying with the idea of getting a Samsung Tab Pro. iPad Mini's are gorgeous, but I am not a very big fan of IOS, and I detest iTunes, so I wanted to stick with Android if at all possible,
Anyway, I went into my local branch of Currys and they had, that morning, received their first Nexus 9 demo model. The manager and I opened it up and got it set up and boy, oh boy; what an incredible device!
The manager wasn't allowed to sell it to me, but he was happy to order another one in quickly; though he did say that they were getting quite a lot in stock. So I am now waiting for a phone call to tell me that it has arrived.
Bottom line is DO NOT rely on biased opinions or so-called tales of woe from others. Always go and see a device for yourself and make your own mind up.
I kept an open mind on the N9, and now I'm getting one. If it disappoints I can send it back within 21 days, and if it breaks for any reason over the next 3 years, I can send it back for repair or replacement. And that's fine by me.
Last word here is that N7 2013 had all sorts of teething trouble with the first few batches. But my N7 2013, bought just a few months after launch was flawless.

You can only return it withing 21 days if you have not opened the box and used it. They will not accept a used tablet to put back in their stock.

Meh, who needs a tablet, when all the top end phones are near six inches anyway?

People who watch a lot of movies on their tablets? I am still rocking a Nexus 10 for that reason. Great display, 10.1" size, front facing speakers, Lollipop runs great, and decent battery life. i didn't see enough reason to upgrade to the Nexus 9. Give me an HTC One tablet at a 10.1" size and I'm sold.

I realized - why I am watching movies on a tablet when I have chromecast on my phone and a 50" TV nearby. Eventually I ditched the tablets altogether. But if you travel and its truly useful for you, then fine.

I'm with you on this one, Mr Bill. Especially since my phone is a Note. No tablet necessary!

NEXUS 10 Posted via Android Central App

My son has had his N10 since the spring of 2013 and it still rocks. I
t began life on Jellybean, then KitKat and now it is happily running Lollipop.
Battery life is still pretty good for such a huge display, and it charges up in just a few hours using a PoGo cable. Great bit of kit from Samsung. My other son just broke his N7 2013 and will be getting an N9 (already ordered) after the insurance paid out. I was skeptical about the N9, but having held one in my hand, I can see just of gorgeous a device it truly is. I didn't see any of the issues that others have talked about previously, the the N9 that I played with in the store. I'd very much like to see a Nexus 11 or even a Nexus 12 with 4K screen, a storming CPU and GPU, and a battery life that lasts 36 hours!

Seriously?!? I think most of us need a media/Tab device, it's aggravating watching a movie or reading an article only to get interrupted by a phone call. Posted via the Android Central App

Life happens. No need to get upset. Posted via the Android Central App

Only 6 inches? ("That's what SHE said!") --shirtpocketable 6.44-inch Sony Z Ultra GPE

The documented issues with the N9 (not just from here, from other review sites as well) are why I picked up a Shield Tablet just today actually. I really wanted to like it, the size was a bit bigger than I wanted but wasn't a deal breaker, it just sounds like the Shield Tablet is an overall better value for money right now.

I had a Nexus 9 but returned it and bought a Nexus 7 used from swappa. Something just felt off on the Nexus 9 for me. I had many of the issues that Phil mentioned in this second look. To me, the Nexus 9 is just okay and not worth the $400+ I spent on it. Flaky screen, wobbly buttons and bugs galore. No thank you. Posted via the Nexus 6

I like my Galaxy Tab Pro 8.4. Doesn't have any of these pain points. Posted via the T-Mobile HTC One Mini

Well, it doesn't have encryption Enabled on it by default. What an idiotic thing for google to do Posted via the Unrivaled Note 4

From the benchmarks I saw yesterday (xda-developers forum), there really isn't much difference between encryption being on or off on the Nexus 9. However, the Nexus 6 by all accounts, is vastly improved when encryption is disabled.

I swapped my Nexus 9 for one as well. A far better tablet in every single way. Screen is remarkable. Great all round e-reader/film/comic book. The Nexus 9 is a nice enough tablet, but the screen is just ok, it's not comfortable to hold for long periods and the battery life is abysmal. I have to charge mine every night no matter what I do. Plus practically nothing works on Lollipop that I use. iPlayer Sky Go etc. All have streaming issues. I wanted to go Nexus 5 and 9, but have now gone back to Note 3 and Tab Pro 8.4. They don't look as slick, but they get far more done far more easily.

I'm really happy with my Nexus 9 (N9)and have no regrets in buying it. I looked at the Shield Tablet which is also a great device, but I opted for the N9 for the 64 bit processor compared to the 32 bit version in the Shield Tablet for future 64 bit applications.
I still have my 2013 N7 LTE and my N5 and each device has it's place in my usage. I game, watch Netflix and read comics and magazines on the N9, my N7 is better for reading e-books and mapping in the car as well as some of the special ham radio software I run on it while driving. While my N5 is my go to for everything else while out and about.

Bought a LG G PAD 8.3 last week for £130, absolutely loving it. Didn't take me long to flash a lollipop AOSP ROM which runs like a charm! The screen is fantastic as well. Posted via the Android Central App

My LG G Pad 8.3 will serves me just fine, and will for some time to come. Posted via the Android Central App

My nexus7 is still a amazing device. I am going to wait for the second generation Nexus9 then I will upgrade. On my Nexus4 or 5Posted via the Android Central App

The lag on the N9 is horrible. After a reboot, it is fine, but give it a day or two, and the lagginess is back. The N9 is a very disappointing product. Cannot recommend it.

Not getting that on mine Posted via the Android Central App

I need bigger than this,...where is nexus 12 ?

Have to go with Samjunk for that, sorry. Lol. If there were a Nexus 12 I'd snap one up in a heartbeat. I just don't get the sub 8" tablets when the average phone is more than 5". Posted via the Android Central App on the 2nd Gen. Moto X

Agreed. All these people talking about reading books on a 7" screen is better!!?? You can't even see the text.

No, YOU can't see the text. I can. And my wife, who has a low-vision condition (Has to wear a bioptic lens to even legally drive) can. Her mother (Who has the same condition, but a little worse) prefers the 9" Kindle Fire HDX, but can see the Nexus 7 screen just fine. Oh, and for the really low vision people, the text can easily be resized. You must be effing blind, man.

Once you root it and turn off encryption, it runs flawlessly. Why buy a Nexus if you don't tinker with ROMS, kernels and boot images?

Because some people just want a clean version of Android with the same hardware that is offered for the Nexus.

Good answer. Of course, I'm in the root/rom camp, but good answer!

I'm with ultra here,
Although customisation is great, I'd prefer to have it work great to begin with than have to be fixed. If some of my tweaks make things work at least then I have a good place to go back to. Posted from my vodafone smart 4 turbo...gasp.... a long name I know.

RMA'd my first Nexus 9 from Amazon yesterday due to less than tactile power and volume buttons along with a decent amount of light bleed. The replacement still has light bleed albeit less than the first. I'll give it a couple of day's and see how it goes. I may just go back to the 7 or give the Shield tablet a go. Posted via the Android Central App

Lol too funny...I did the same thing for the same reasons. However, judging from the serial # I'm pretty sure my replacement was manufactured before my original was that I ordered on release day. I thoroughly inspected the replacement to make sure Amazon didn't stick me with a used one... But yeah, it still has the crappy power and volume buttons sunk in so it isn't part of the newer batch that had this corrected. Light bleed is pretty much nonexistent on the replacement though. So at least one good thing came out of returning the original, even if it isn't a newer model.

If you're wanting better buttons, you might want to look at something other than the Shield. I like everything else about the Shield, but the buttons suck.

Good to know Posted via the Android Central App

Got a N9 from my wife for CHristmas. She picked it up on Amazon for 429 for the 32 gb white. I really like it. Had already gotten rid of my tab pro 12.2 because it was just to big and Samsung, what a waste. I have a little light bleed along the left edge but other than that it has been good except for the occassional screen redraw. I use it every night at bedtime and when I Chromecast. I'm not saying it's perfect because it's not. STill waiting for the .0.2 update. Kinda had second thoughts about it every now and then, but I like it better than my iPad Air and will keep it. All in all a good expreience and for 429 the price was right. Sorry for the spelling errors.

I hope I'm not alone when i saw this and thought "three months already?!?!?1"

Great read. Posted via Android Central App

Phil you are easily one of the pickiest Android fans out there. I have had this tablet since November and love it. Great overall experience. Posted via the Android Central App

For yucks about lag, try turning off GEL search anywhere option an reboot.

i'll buy a nexus tablet this year. That way the 64 bit processor has apps to utilize and the bugs will be gone meaning more features baked into the OS will be fast. I just hope the price will be under 399. Not everyone is bloody rich Google. Same goes for Apple's Ipads. Apple bugs me more.

Yea. Sounds like a dud. Too bad I forgot my Nexus 10 was unlocked when the 5.0 Android came out. That tablet got toasted by the update which left it without an operating system and no way to put one on it; not even through Wug's Toolkit. I'd look for another Nexus 10 but Samsung has me covered; Note Pro 12.2, Tab S 10.2 and original Nexus 7 which perked up a lot with 5.0. No foolish Apple aspect ratio on any of them.
The 7 is a Chromecast vehicle for the family. The Tab S is only a 16GB (my mistake but use-able).The Note Pro replaces a computer, is a great hi-res tablet and with my keyboard and micro-mouse does the office work. It's my best electronic win ever. Too bad about the Nexus 9. hard to believe the same people that gave us the Nexus 10 were involved in the Nexus 9.

Interestingly, I have not had this lag-requiring-reboot issue that a few of you are commenting on. I honestly don't remember the last time that I had to reboot my tablet. Most of the weirdness that I've seen with it has turned out to be more lollipop-related than Nexus 9-related, things like the background taking a couple seconds to paint in when changing apps, stuff like that. But that happens both on the tablet and my phone.

Same. Like most of the issues, I suspect it's a vocal minority making it sound worse than it is. Everyone who has used my tablet has been surprised at the solidness, build quality, and fluidness (expecting a plasticy piece of crap based on 'reviews'). I'm not saying there aren't issues - there are. but they are grossly overblown.

Curious how you can say they're overblown if you haven't experienced them. It'd bad.

My battery took 6-8 hours to charge, and was good for about four hours of use... Fail Posted via the Android Central App

Charging this thing is painful Posted via the Android Central App

I see from pictures that the back of the Nexus 9 attracts fingerprints more easily than the 2013 Nexus 7. Another advantage of the Nexus 7 is the compact size which makes it easy to hold in your hand. Bigger is not always better. I am pleased with my 1 year old 2013 Nexus 7 as it still runs very well and don't plan to buy the Nexus 9.

+1 Posted via Android Central App on Nexus 7 (2013)

My Nexus 9 seems like great hardware but the software sucks. Laggy and crashy aren't what I expected. I regret letting my return window slip by. Posted via the Android Central App

I had to root and install a custom kernel to improve the user experience and battery life. It's satisfactory to me now but really saddens me I had to resort to this as a necessity rather than tinker with it as a hobby. Posted via the Android Central App

The Nexus 7 is so much smoother and just an overall better experience. I still grab my Nexus 9 more often (probably because its just a few months old and still my new toy), but if I want to show somebody something on the fly I grab my Nexus 7 LTE or my Note 4. I can hit the YouTube app and sometimes close to 10 seconds go by before it opens. I don't get it... Did they even test this god dam thing before releasing it? I don't dare pull it out in front of my iSheep friends always dogging android. Posted via the Android Central App

Returned my Nexus 9. Got a Galaxy Tab Pro 8.4 for half the price. Running Nova Launcher, disabled many touchwiz items. Better screen, better aspect ratio, snapdragon 800 (which doesn't get hot like the tegra), memory slot, one sided speakers suck, but you can't have everything.

I had one of these for a while until the BlackBerry Passport and i pitted them against one another to see witch one I'd like better ... the passport is (in my opinion) 10 times the device this is on many accounts. The only thing i noticed is that the BB PP too way longer to get use to and the display wasn't as big for games or movies. For email , text , twitter , Facebook and the lot the BB was clear winner. OK people don't hate me. It's my opinion. Posted via the Android Central App

Hey this isn't crackberry. Also that's not a tablet. However I thumb up you for the random reference to a random device that I don't hate. I always appreciate when a company tries something new. The keyboard is pretty cool. And I like the crazy form factor. However I've only played with a friend's for like twenty minutes. I wouldn't own the thing.

I have had encryption enabled on my Android phones since it was introduced. I have never experienced any slow downs from it. Now ALL my Android devices run lollipop and the same holds true. Posted via the Android Central App on the 2nd Gen. Moto X

Pretty much agree with everything Phil said. I love the bigger, brighter screen, and it is the best medium i have to show off photos to friends. All the apps work okay, I hate the lag as much as anyone but that's the way it is. Sometimes when casting the lag gets really annoying. Can't use the N9 for reading because it's heavy enough to not be able to hold in one hand for any length of time. Still use my N7 for Kindle app and that's not going to change. I bought the case with keyboard just out of curiosity, because I was using a bluetooth keyboard with my N7 when travelling. It turns out that I don't really need it because I still use the N7 when I need to send a long email while on the road. The case does protect the N9 well, but the magnet on the last section doesn't grip as tight at the other two sections. I do wish the aspect ratio were widescreen for movies and videos. Maybe next Nexus tablet? Most annoying non-feature? It doesn't have wireless charging. Are you kidding me, HTC? If the July 2013 N7 and the November 2013 N5 supported Qi charging, how is it possible that it was left off the N9?

So glad I chose the NVIDIA Shield over the Nexus 9 after reading this, and better value to boot!

My nexus 9 has been working great. Good experience. I think a lot of people have been really picky on this tablet because it's not a unibody aluminum tablet like most people would imagine when it was rumored that HTC was going to make it. Posted via the Android Central App

No mention of the Nvidia Shield Tablet in terms of what competes with the Nexus 9? That seems like an oversight, as it's one of the more powerful tablets out and judging from comments I've seen is one of the main tablets people are considering side-by-side with the Nexus 9

Yeah... I'm praying Google releases a Nexus 7 2015 edition. The size is perfect for me. I'm pretty happy with my 2013 model, but you never know... it might be time to move on if something really sweet comes along that fits in my back pocket.

I had the Nexus 9. For the most part I enjoyed it. The aspect ratio was a great look, the screen was really bright and vivid. For whatever reason, I seemed to really enjoy looking at the screen. Except when it was on a black background, then the lightbleed really showed.
Performance was pretty good, but the occasional stutter was common. Battery life was its biggest weakness. Anytime I was browsing with Chrome, Chrome Beta, or Firefox you could see the battery percentage points dropping by the second it felt like. With general browsing, twitter, and feedly I usually got 4-5 hours screen on time.
So I returned it, and instead, got an iPad Air 2. I am not a big fan of iOS and have had an android phone since the days of Eclair. The iPad is a lot better than the Nexus 9 though. Battery life is basically double. Performance is consistent and strong. With 2gb of Ram browsing is a lot better, especially when moving between programs and tabs. The screen is flawless on the iPad, not as exciting to look at as the Nexus 9 (which I don't understand), but absolutely no light bleed. I prefer the app support on Android, but there are certainly excellent apps for iOS too. Jailbreaking really helped me get used to iOS...by making it more Android like. If Google can improve the Nexus 9 with another version I would definitely consider getting it again, I just felt this version was not ready for prime time.

I'm weird in that both the nexus 9 and the iPad air don't feel right to me size and weight wise, the 4:3 aspect ratio is nicer on a 8 inch tablet such as the iPad mini or Acer iconia a1-830 Plus with a big screened tablet I may as well use my laptop Posted from my vodafone smart 4 turbo...gasp.... a long name I know.

The 9-10" form factor is a weird one for sure. I have a Nexus 10 and it's difficult to hold for long periods... too large for one hand and not very comfortable to hold without some support. I normally use my Incipio FIXIE stand when possible to lighten the load. If the time comes to replace it, I want a device in the 8" range with a 16:9 aspect for media consumption. The Nexus 9 doesn't do it for me,

You should get a Sony Xperia Tablet Z3 Compact. Massive battery life and has a Snapdragon 800. So light, thin, waterproof and dustproof. Check some reviews.

I have owned my Nexus 9 for a couple of months now, and I have to say I really like it. This is my 4th tablet and I think the best thus far. I did unlock the boot loader and disabled the encryption (did this on my Nexus 6 as well) and there has been a noticeable improvement in performance and battery life. So I would encourage anyone owning both of these devices to do the same.
With that done, the tablet runs fast, smooth and very reliably. I have the keyboard folio and I really like it too. It is by far the best small keyboard I have used. It is thin. It is light,. Yet it is pretty effective in protecting the tablet.
I use the Nexus 9 as a laptop replacement and in does very well for me in that role.

I own a Nexus 9 and am disappointed with the performance. I ended up getting a Ipad Mini 2 for the similar form factor at the moment but really hope they iron out the issues on the 9 because I love it but it is not nice to use.

I am a gadget addict, and the Nexus 9 is one of many electronic devices in my toy box. I like the Nexus 9 very much. I am impressed with its overall speed, the screen, Lollipop, overall build quality, and it is comfortable to hold. I am not that big a fan of the 4:3 ratio, but I knew that before I purchased it. I have experienced the flex in the back, but it is not a problem in everyday use. I only know it is there after checking when I read about it online. Fortunately, no screen bleed even on black screens. That would bother me if I had the misfortune to receive one of those devices. I do use the Nexus 9 without a case, and find it easy / comfortable to hold unlike the too shiny, too slippery iPads, Nexus 4, HTC One, and a friend's iPhone 6+. Plastic devices are dissed in the tech press for the most part; however, they are the only devices I can use without a case which covers the highly regarded metal on those coveted devices while increasing the weight. I have not experieced the lag others have complained of. I am certain it is a probem for them, but again, fortunately I have not had a similar experience. The test I use for new devices is how fast a HanDBase database filter can be applied which obtains data from two fields in a separate related database file, and performs several calculations using that related data. I have been using HanDBase as my primary database since the Palm / WinMo days, and the data file is still the same format. The fastest device I have for this test is the Nexus 9. It completes this compliicated filter on a 2600 record file in 7 seconds, an iPad Air 2 takes 8 seconds, an iPad Mini 2 (same chip as the Mini 3)11 seconds, a Note 3 takes 14 seconds, and a OnePlus One 17 seconds. The closest Android device is a Tab S 8.4 which completes the filter in 9 seconds. I realize this is not an official benchmark app; however, it is a benchmark I have employed since the Palm OS days using an app I invoke multiple times per day. For an historical perspective, an iPhone 4 took 24 seconds to complete this filter back when the data file was app 1500 records, not the currrent 2600 records. I respect other opinions, and realize we all have different needs, expectations, and priorities for our mobile devices. For me, the Nexus 9 is an overall excellent device - very fast, excellent screen, quality build, and is comfortable enough that I can use it safely without a case. I have not mentioned battery life since I charge all my devices nightly when I am using them, and all of my devices give me at least a full day of use.

I want one, but the price has to come down significantly. I'd do $299 for the 32GB version.

Been using the 32 GB Nexus 9 LTE for several weeks now. I use it for reading, browsing the net, and editing pics from my T-Mobile Nexus 6.
I seldom play games on it, I tried the shield tablet for games. I did notice that both the shield tablet and the nexus 9 heat up with intense use. Perhaps NVidia can solve that heat issue when their X1 chip begets a tablet.
I'm hopeful the next lollipop update for this nexus 9 LTE helps out with the heat issue. The battery life could use a boost also.
I still enjoy this tablet and use it everyday. Easy to carry with me when wearing a jacket, but not sure about using it during the warmer months. Still, hoping for a 64 GB Nexus 9 version next time, like my phone. I'd buy it! Posted via the Android Central App

I gave it 2+ months, from launch day on November 3rd to January 14th, the day before the return window at Best Buy. I hated, hated, HATED my Nexus 9 experience. I loved the screen, especially the aspect ratio. And I loved the sound from those speakers. I personally loved reading on this tablet, it was a very comfortable experience. But that's where it ends. The lag when switching between apps was horrendous and aggravating. And the fact that all my apps kept getting booted out of memory as soon as they were off-screen was enough to make me want to toss the damn thing across the room. Rebooting would help for a short while, but then it just got bad again within the hour. Things did not improve with the latest update. Some people blame Lollipop for this awful user experience. But my HTC One M8 with Android 5.0.1 + Sense 6.0 doesn't behave the same way at all. It's a smooth, pleasant and satisfying experience. Everything flies and feels great. So I'm left to blame the Denver K1 SOC for the horrible experience. Maybe there's a reason why this SOC has only ever been used on a single product and no-one else is touching it with a 10-foot pole... maybe in-order execution is actually a bad idea. Or maybe the 64bit part of it is just poorly implemented. Whatever the reason, I couldn't tolerate it. I returned it for a full refund and got a Dell Venue 8 7840 instead.

I'm still loving my N9. The screen isn't as brilliant or clear as the Galaxy Tab S I just sold, but it is much more enjoyable than the Shield Tablet I am getting ready to sell. Battery life has been great. Responsiveness and overall performance has also been great. No build quality issues at all. I prefer a different aspect ratio, but I am getting accustomed to this one. Love the speakers. Posted via the Android Central App

Got a Nexus9 LTE. Can't figure out where all the bad reviews are coming from. Do they even own an N9? You can tell the haters because they usually talk little about the performance of the Tegra K1 and whine about the back heating up,( which I don't find at all.) Or they complain about tiny side buttons.( Which don't bother me in the least.) What I like a lot and why I bought it in the first place is the blazing processor. Spend some time on a Samung Galaxy TabPro or S and you'll see what I mean. Laggy Humps courtesy of TouchWiz software and its o' Bloatware. The N9 screams from app to app and web browsing is amazing. Lolliop 5.02 is wonderful and improving . Screen is great , yes not as good as SuperAmoled but I'd rather have the blistering speed than the slightly better picture.
So before you make a decision, tune out the BS and go to a store and test one against the competition. And find a Samsung S in a store that will actually let you access the web instead of just letting you play around with their in-store app.

I really, really wanted to like the Nexus 9. I ordered it as soon as it was available and waited anxiously for the unit to ship on the release date. When I got it I powered it up and noticed immediately that there was white light bleed running the entire length of the screen. You could even see it in the Android set up screens, which have a light background. But, I kept the unit. Installed my apps and played with it for awhile. I seemed OK, but was getting slower and slower and light bleed was getting worse. I was going to return the unit to Amazon and get a replacement, but after reading about others have the same issues (light bleed, heating, slow operations and pauses) decided to wait a few weeks. I waited and the news was worse. So in the end I sent it back and continued to use my Nexus 7 (2013) and Nexus 10 (2012) as a development test units. But I liked the 9 inch form factor and 4:3 aspect ration. So I bought an iPad Air 2 as a personal tablet. The assembly quality and performance of the iPad Air 2 are head and shoulders over the Nexus 9. IMHO, the Nexus 9 has good hardware that is let down by poor build quality and an OS that needs more work.
Android Central Newsletter
Get instant access to breaking news, the hottest reviews, great deals and helpful tips
Thank you for signing up to Android Central. You will receive a verification email shortly.
There was a problem. Please refresh the page and try again.