Nexus 9 hands-on and first impressions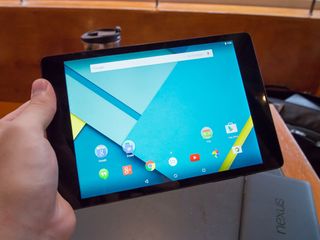 HTC splits the previous Nexus tablets with an 8.9-incher, while adding a premium feel and internals
It's been 15 months since the Nexus 7 (2013) was unveiled, and now we have our hands on its successor the Nexus 9. Built by HTC rather than ASUS, the Nexus 9 takes the sleek and modern design we saw on the last round of Nexuses and scales it up to house an 8.9-inch display, while integrating an aluminum frame and improved internals. It also brings an interesting new aspect ratio that is supposed to be better for getting work done.
While you can't go out and buy one just yet — it's available for preorder now and should ship by Nov. 3 — we've had the opportunity to use the Nexus 9 for a little bit so we can give you our first impressions of it. Stick with us after the break for hands-on pictures, video and our first impressions of the Nexus 9.
Hands-on video
Excited to see the Nexus 9 in all its glory? Check out our hands-on video above.
Hardware and feel
Hardware and design are the big stories with the Nexus 9, as the tablet takes the middle of the road between the previous Nexus tablets — that were either seven or 10 inches — to go with an 8.9-inch display. It also steps away from the "traditional" 16:9 aspect ratio for 4:3, which is well-known when it comes to iPads but nearly unseen in the Android world.
The display is an appropriately dense 2048x1536 resolution, and looked good to my eyes in a brief time using it. It seems bright, crisp and accurate, though it's clear that the display will be prone to glare issues like other large tablets. I quickly got used to the new aspect ratio, actually, particularly when using it in landscape mode. The aspect ratio makes sense when you quickly switch between portrait and landscape, as elements on the screen don't change dramatically between the two.
Of course 4:3 isn't ideal for watching movies (there will be black bars on the top and bottom), but it gives you extra height to work with when working in documents or web browsing in landscape. And when you flip over to portrait, the Nexus 9 doesn't seem so awkwardly tall like other tablets do.
In either case this really isn't a one-handed tablet like the Nexus 7 is, and while it's light at 425g (0.94 pounds) it's just too wide to wrap your hand around comfortably. I was able to hold it for short periods in portrait with most of the weight on my fingers, but you don't have a lot to hold onto with very thin bezels — which are the same size as the Nexus 7 — on the "long" sides. You have much better grip with large bezels when holding it in landscape instead, where you can actually grip the tablet with your thumb and palm.
Image 1 of 10
Aside from the size and aspect ratio changes, it's clear that the Nexus 9 follows the same design language as the previous generation of Nexus tablets. The hard plastic back is coated in nearly identical soft-touch material as the Nexus 5 and 7, with a very similar "Nexus" logo sunken into the middle and subtle HTC branding at the bottom. The differences start with the edges, though, where the plastic flows into a brushed aluminum trim that makes the entire tablet feel sturdier and more premium than its predecessor.
That metal band goes around the entire edge of the Nexus 9, only broken up minimally by a power button, volume rocker, USB port and headphone jack in all the normal places. There's no dock connector weirdness here like the Nexus 10 had, and the optional keyboard dock will simply attach with magnets and pair over Bluetooth (via NFC, in fact). A small metal ring around the camera is the only other design flair — this is still very much a "black slab" kind of tablet. Maybe the white and sand colors will add a little more eye candy.
Left and right of the display (when held in landscape) are front-facing stereo speakers, and while they're not very large they're plenty big enough to give you some good audio for games or media. They aren't tuned as amazingly as the BoomSound speakers on the HTC One M8, but because they're facing toward you the sound is going to be better than the back-facing Nexus 7 speakers.
Software and performance
This is the same Android 5.0 Lollipop that we've been diving into via the latest developer preview images on the Nexus 5 and 7, though things have changed slightly to fit the new larger 8.9-inch display and lesser-seen 4:3 aspect ratio.
The Nexus 9 I had the pleasure of using wasn't feature-complete — or even signed in to a Google Account — on the software side, so it's hard to put too much stock into what we see. For a freshly factory reset device with nothing extra installed it was quick, of course, but it's going to take more time with it in real-world use to get a feel for its performance.
The apps I was able to use were scaled properly to the large 4:3 display, but I'm not overly optimistic about how a majority third-party apps will scale to the size. That was an issue on larger tablets before the Nexus 9, and I'm afraid it'll take some time before things look "right" on this big of a tablet. You can't really get away with phone-style app interfaces like you can on the Nexus 7 currently, so we'll have to wait and see how it comes together.
Much more to come
This only stands as a quick primer to the device. You can bet we'll have even more time with the tablet in the coming weeks, including a full review, as all of us here at Android Central spend more time with it.
Image 1 of 19
Get the Android Central Newsletter
Instant access to breaking news, the hottest reviews, great deals and helpful tips.
Andrew was an Executive Editor, U.S. at Android Central between 2012 and 2020.