Nexus 6 Lollipop build LRX210 factory image now available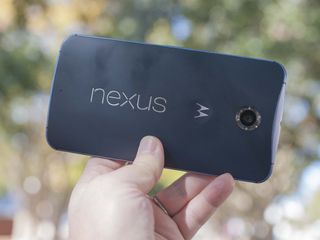 Looky there, just like that the first Nexus 6 factory image, labeled as build number LRX210, has just shown up on Google's developer site. That's a newer build than what is currently available on the Nexus 6, and though we don't know the complete set of changes in store here we do know the radios have been updated.
You can now head on over to the link below to grab the image for yourself, and if you need help with the flashing process to put it on your own Nexus 6, be sure to check out our comprehensive how-to guide.
More: How to manually update your Nexus
Why would you gather the factory image if nexus 6 already comes with lollipop? Posted via the Android Central App

Factory images are needed to go back to stock easily and start from scratch if you mess something up. Also my n6 got an ota for the new build this morning.

I got the OTA also Posted via the Android Central App

Thanks beta testers! Posted by my soon to be retired Note 3

You're such a butthurt samsung fanboy. LOL Stop hating and enjoy your touchwiz.

You are all butthurt over a comment. A comment. That's cute. Posted via the Android Central App

I am truly thanking Nexus users. Sheesh you show some gratitude... Posted by my soon to be retired Note 3

I get your thing and respect your opinion on Nexus devices, but your comments like this contribute nothing. Posted from my Motorola Moto G.

i'm sorry, but how does the comment "My Nexus _ hasn't gotten this update" contribute any more than what he's saying? And not only that, he's not wrong... Nexus users are beta testers of sorts, as are iPhone users. Nothing wrong with that. Posted via an AT&T HTC One Mini

Getting the final release of a software version is not beta testing. Any bugs that pop up they'll get those updated and corrected first as well. For someone who uses Samsung devices, a bug running on nexus devices doesn't affect them. The nexus camera bug didn't affect tl any other model. And what happens when a final build for a version is released such as 4.4.4? It's not beta testing, by the time your carrier and manufacturer get done with the code it hardly resembles the nexus anyway unless you're running vanilla. Look at that sense lollipop preview earlier today for example. Posted via...The One

Except that recently, like the last few years, the final release has been anything but. I understand how software works and how development goes. I get that in an eco system that apps may not be compatible. That is a problem, but it is the app developers problem. WiFi not working is an os problem and part of beta testing. That it just one example. Kit kit was a full on beta version that wasn't right on the Nexus until 4.4.4 and even then it wasn't really. Posted by my soon to be retired Note 3

My Nexus 5 was rock solid on 4.4.2, 4.4.4 and now 5.0. They may be beta testers for app compatibility, but not really for Android itself.

Lol... Go look at the change logs. It is not about just stability, it is about substandard functionality as well Posted by my soon to be retired Note 3

Would you consider 2012-2013 touchwiz standard functionality? Lol

Only the s4 was crap. For its time the s3 and note that year were good, not great. The note 3 on were good as well. At the very least it all worked. Unlike some of the nexus/lollipop reports so far, and the initial issues with kk Posted by my soon to be retired Note 3

TouchWiz on Note 3 works? My Co-workers beg to differ. Samsung has left such a bad taste that they're going back to iPhones. [sarcasm]Yea, Samsung is really amazing...[/sarcasm]

And what will you do with that Note 3? :)

Same firmware as the Nexus 5? wth

I received my Nexus 6 from the Play Store today. Shortly after turning it on, this build was available as an OTA update.

Just picked up my nexus 6 from FedEx. As soon as I signed into my home WiFi it said I had an update. Didn't chance to find out what the differences were. Posted via the Android Central App

Got mine today too. Its a hefty one I wonder what the notes will reveal Posted via the Android Central App

Still waiting for Nexus 7 (2013) LTE....:(

Hmm picking up mine from At&t Friday. Wonder if it will pop up. Posted via Nexus 5 / soon to be 6

Don't update.. Messes up video apps Posted via the Android Central App

I had installed the android L factory image on nexus 5 &
I don't see many things on play store Like I don't have a news read and play music on play store
And even gallery isn't available on my device .
Is that the same with all factory images or did I do something wrong ? Posted via the Android Central App

Gallery was removed, Photos replaces it. However you can sideload the Kitkat version of Gallery no problem.

Really? Google needs to get it together and make up their mind on standard apps Posted via Nexus 7 2013 or verizon Galaxy S5 or maybe one day through my moto 360

And they desperately need to un-screw Photos. The interface is such a mess. Sent from my Nexus 5, behind six proxies

It's LRX21O, not LRX21"zero"
Android Central Newsletter
Get the best of Android Central in in your inbox, every day!
Thank you for signing up to Android Central. You will receive a verification email shortly.
There was a problem. Please refresh the page and try again.