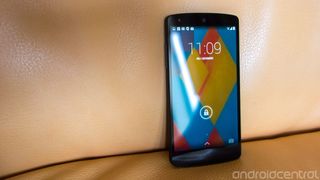 LG's second Ne​xus is the best phone you can buy for $350, and an excellent platform on which to experience the new Android 4.4 KitKat — but that experience isn't entirely free from compromises
Just what is a Nexus? The definition of Google's homegrown gadget lineup has evolved — if not changed beyond all recognition — in the almost four years since the arrival of the Nexus One. Originally expensive, exclusive and developer-centric, Nexus is now solidly a consumer-focused brand. With wallet-friendly price tags, a Nestle-promoted launch, numerous carrier and retailer partners and new, prettier software, the LG-built Nexus 5 is more a phone for normal people than any previous Google-branded handset.
But despite the face of "vanilla" Android becoming more friendly and the Nexus line growing more accessible, these products have always garnered attention from tech-savvy enthusiasts more than average smartphone buyers. Nerds, if you will. People who value the specs, performance and the latest version of Android over shiny features and space-age build quality.
That was clearly the case with last year's Nexus 4, which demanded users sacrifice LTE connectivity to be part of the elite Nexus club. Similarly, Nexus 4 buyers got only an average camera and unspectacular battery life for their $299. Though it was a fantastic phone for the time — and for the money, particularly in countries where LTE had yet to take off — Nexus 4 ownership was also a lesson in compromises. And so for $50 more, this year's Nexus promises high-end internals, 4G LTE support wherever you live, and an improved camera experience with "HDR+" mode — in essence, more of what made the Nexus 4 great, with fewer bugbears.
However, hardware is only part of the equation — arguably more important is the new Android 4.4 KitKat software, the biggest step forward for the OS since 2011's Ice Cream Sandwich release. Aside from the clear visual refresh, KitKat aims to revamp Android's basic phone and SMS experiences, while making it easier to get to use Google Now, one of the platform's greatest assets.
All of this for $349 (£299) sounds like impossibly good value. So can the Nexus 5 really be a slam-dunk of high-end hardware, slick, beautiful software and an unbeatable price point? And for those willing to spend more, is a Nexus still the best way to experience "vanilla" Android in a world of Moto Xs and Google Play editions? Let's find out in the full Android Central review of the Nexus 5.
Pros
Solid build quality. Bright, good-looking screen. Top-notch performance. KitKat delivers a welcome visual refresh to Android while adding useful and important new features. Built-in wireless charging. HDR+ mode is capable of taking awesome photos. By far the best phone you can get for the money.
Cons
Average battery life. Camera is slow to focus, and requires too much time and effort to get great shots. Video camera drops frames in low light.
The Bottom Line
As a high-end Android phone, the Nexus 5 doesn't exactly nail it in every category. However the price point, speed and quality of user experience makes the Nexus 5 a great device for regular people as well as nerds. Nexus doesn't necessarily mean you're getting the best phone. But for enthusiasts, early adopters, performance freaks or anyone looking for a great device at the $350 price point, Google and LG have crafted a phone that's more than worthy of your attention.
Swipe to scroll horizontally
Nexus 5 video ​walkthrough
Nexus 5 hardw​​are and build quality
In a world of black slabs, the Nexus 5 is — well, yet another black slab. Or, perhaps, a white slab, if you go for that color. In stark contrast to the Nexus 4's reflective trim and sparkly glass derriere, this latest Nexus cuts a relatively muted figure. The front is completely flat, black and featureless, save for a tiny circular earpiece up top. The back and sides differ slightly depending on which color option you choose — the black model is furnished in soft-touch plastic all over, the white version has glossy black sides and a white back with a slightly slicker finish. While last year's Nexus was clearly based on the LG Optimus G, there seems to be a little less LG DNA present this time around. The Nexus 5 more closely resembles a miniature Nexus 7, and this family resemblance shows how serious Google is about establishing a clear visual identity for the Nexus line.
Its design might not be particularly striking, but the Nexus 5 excels ergonomically. The very soft, soft-touch coating of the black version we're using feels great — we definitely like it more than the slicker white model — and is markedly different to the rougher matte finish of the 2013 Nexus 7. Like the 7-inch tablet, Google's new smartphone is decorated with a large, vertical Nexus logo which is big, but not obnoxiously so. The other main feature of the back panel is the 8-megapixel rear camera, which protrudes slightly through the back of the device. It's unclear why the face of the camera needs to be this big, as only a small part of it covers the lens. Nevertheless it's there, and it doesn't detract too much from the overall look and feel.
Image 1 of 3
The curved back and slightly angled sides make the Nexus 5 extremely hand-friendly — there's a visible join between the sides and the back, but this isn't something you'll feel in regular use. Instead, the device's weight — or lack thereof — is what's most noticeable when you pick it up for the first time. It's seven grams lighter than the Nexus 4, which combined with its larger surface area makes for a remarkably airy feel. Clearly, the hardware is meant to just get out of the way and allow you to focus on the display. In keeping of one of the main goals of the Nexus program, the purpose of the N5's design seems to be to showcase what's on the screen — the latest version of Android — not necessarily what's around or behind it.
That makes display quality an area of paramount importance, and thankfully the Nexus 5's screen doesn't disappoint. While the Nexus 4 struggled with laissez-faire auto-brightness and poor color tuning, neither of these problems affects its successor. The Nexus 5's 4.95-inch, 1080p IPS LCD is big, bright and beautiful, and while it might not be able to unseat the HTC One's SuperLCD3 or the Galaxy Note 3's SuperAMOLED in terms of contrast and vibrancy, it's a great-looking display regardless. The bright whites of Android 4.4's new color scheme leap off the screen, and text is beautifully sharp, as you'd expect from a panel with 445 pixels per inch. Unlike earlier Nexuses, the N5's auto-brightness setting easily keeps up with the transition from bright to dark areas and was always bright enough to use regardless of lighting conditions. (In fact, if we're honest, it almost seems a little trigger-happy in this department.)
It's also impressive that LG has managed to cram a 5-inch display into a device barely any wider than a lot of 4.7-inch handsets — including the HTC One and Nexus 4 — which makes it just as hand and pocket-friendly than those devices. Contrariwise, the N5 does sport a pretty hefty bottom bezel which seems to serve no purpose besides housing the tiny notification LED. Unfortunately that pushes the display a bit further up, moving the top of it out of easy thumb reach.
Unlike the LG G2, upon which its hardware is said to be based, the Nexus 5 keeps its buttons and ports in the usual, sensible places. Power lives on the right, a little higher up that before; volume is on the left, microUSB down below and headphone jack up top. The N5 also boasts ceramic power and volume buttons — a small detail, but one which gives the keys a more premium finish than the plastic buttons of most Android devices. The microSIM tray, again accessible with a SIM removal tool, now lives on the right edge, under the power button.
On the bottom of the phone, flanking the USB connector, are two sets of speaker holes. Unfortunately, as is the case with the G2, one of these is a facade. Only the left one actually houses a speaker, meaning playback on the Nexus 5 a decidedly monaural experience. We've recently investigated the software bugs affecting playback through the built-in speaker in some apps, which Google says it'll fix in a future update. But even in apps that aren't affected by the glitch, audio playback isn't exactly outstanding, excelling in neither loudness nor bass. It's good enough for notifications, ringtones and other bleeps and bloops — as many smartphone speakers are — but it leaves much to be desired for music and movie playback.
The earpiece, for what we've experienced, is acceptable in calls.
The phone's internals are just as trailblazing as we've come to expect from the Nexus line. It's powered by a 2.3GHz quad-core Snapdragon 800 CPU and an Adreno 330 GPU, which is just about the fastest chipset you'll find in any Android phone right now. That's paired with an ample 2GB of RAM and 16 or 32GB of internal storage. The former gets you 12.55GB for your own stuff, the latter provides a more roomy 26.76GB. And unsurprisingly for a device based around Google's own guidelines for Android, there's no microSD expandability.
Image 1 of 3
A high-end CPU and GPU combined with the latest "stock" Android results in a phone that absolutely flies, whether you're using regular Android apps like, Gmail, YouTube and Chrome, or using the Nexus 5 with high-end games like Asphalt 8. Touch response, scrolling performance and general butteriness is as good as we've seen on any Android handset. We'll dive deeper into performance in our software section, which focuses on the new Android 4.4 KitKat OS, but suffice it to say it's fast — really fast.
Also lurking inside the N5's chassis is a 2,300mAh battery and Qi wireless charging receiver, both fixed and non-removable, we'll examine later in the review. While Google's latest phone won't be setting any records for longevity, we're more convinced than ever of the value of wireless charging on high-end smartphones.
Depending on where you buy the Nexus 5, you'll get one of two models — the LG-D820, which features U.S. LTE support, or the LG-D821, which supports LTE bands used in Europe and elsewhere. So we've not quite reached the point of having global LTE coverage in a single handset, but you do at least get official LTE support for carriers in your own country, which is more than the Nexus 4 could offer a year ago. Nexus 5 does include pentaband HSPA+ (42Mbps) support, though, which is a consolation for jet-setters.
Cellular radios aside, the N5 offers a standard array of connection options — Wifi a/b/g/n/ac on 2.4 GHz and 5 GHz frequencies, Bluetooth 4.0 support and Miracast for wireless display mirroring. Some posters on the Android Central forums have reported Wifi compatibility problems with some routers, but we didn't run into any problems when testing the N5 with our own networks.
As we'll discover later in the review as we take a closer look at Android 4.4 KitKat, the Nexus 5's hardware is probably the least interesting thing about it. But it's important that Google's checking most of the right boxes here, particularly when you consider the device's low price point. The Nexus 5 is one of the best examples in the Android space of how to make a plastic phone — there's a world of difference between the feel of the N5's soft-touch plastic back and other, glossier plastic offerings like the Samsung Galaxy S4 and LG G2. It isn't drop-dead gorgeous, but it always feels solid, lightweight and classy. At the same time, we shouldn't underestimate the importance of shipping a Snapdragon 800 handset at such a competitive price point, in terms of both the performance delivered out of the gate and potential longevity with future software updates.
Nexus 5 specs
The software: Android 4.4 KitKat on​ the Nexus 5
Here's where the rubber really meets the road: The Nexus 5 is the first handset to run the new Android 4.4 KitKat OS. (And, in fact, its version of KitKat is slightly different than what's been updated on other Nexus phones and tablets.)
The most obvious refinements in KitKat are visual — it's lighter, flatter and more colorful, in contrast to the dimmer sci-fi stylings of Honeycomb through Jelly Bean. Sure, remnants of the old, darker Holo design language remain in certain areas — in the alarm clock app, for instance, where it makes sense to use darker tones. However the prevailing "Holo blue" text, icons and accents that dominated Android 4.0-4.3 have been all but eliminated. The result is not just an Android that's brighter, friendlier and more accessible, but also an OS that looks a lot sharper.
KitKat makes better use of the large, high-resolution screens of modern smartphones like the Nexus 5, with less dead space than earlier iterations of Android. Icons in the new home screen launcher are larger and more closely-spaced, though there's still some incongruity among the graphics used for Google's built-in apps. Obsessive-compulsives may notice the "G" icons for Google, Google Settings and Google+ are different sizes, while the embossed logos for the various Google Play properties — Music, Books, Magazines, etc. — look out of place in the new, flatter Android.
Fonts are another area of refinement — KitKat replaces some of the heavier typefaces in Jelly Bean and ICS with lighter equivalents, which is most noticeable in the clock app and certain home screen widgets. Like HTC, Google has switched to the Roboto Condensed font in its updated launcher, which fits in well with the visual style of KitKat. And it's bundled some beautiful abstract wallpapers too, which complements this new design language.
Elsewhere, Google's "cards" metaphor, present now throughout many of its properties on the web and beyond, is slowly taking over. It's most noticeable in the updated dialer app, which uses it to display top contacts, but it's been creeping into other areas, including the stock Email and Gmail apps, as well as Google Drive and the new file opener dialog. It's a nice bit of visual consistency that benefits Android as a platform and the wider Google ecosystem.
And Google's ecosystem is at the heart of Android in KitKat, more than ever before. Consider the three biggest app changes in the new OS version — the launcher, the dialer and Hangouts, the default SMS app — in Android 4.4, all three have been augmented with more Googley features.
The phone dialer app has been redesigned to focus on people, not numbers — as evidenced by the first screen you see in the phone, which is filled with recent and starred callers, not a traditional number pad. And up top is the famous Google search bar, which allows you to search local businesses from directly within the app. Similarly, if you get a call from an unknown number, Google will try to match it against businesses on Google Maps and show you a name and photo as well as a number. From 2014 it'll start doing the same for personal phone numbers, for better or worse.