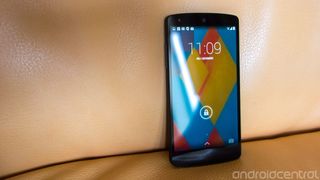 LG's second Ne​xus is the best phone you can buy for $350, and an excellent platform on which to experience the new Android 4.4 KitKat — but that experience isn't entirely free from compromises
Just what is a Nexus? The definition of Google's homegrown gadget lineup has evolved — if not changed beyond all recognition — in the almost four years since the arrival of the Nexus One. Originally expensive, exclusive and developer-centric, Nexus is now solidly a consumer-focused brand. With wallet-friendly price tags, a Nestle-promoted launch, numerous carrier and retailer partners and new, prettier software, the LG-built Nexus 5 is more a phone for normal people than any previous Google-branded handset.
But despite the face of "vanilla" Android becoming more friendly and the Nexus line growing more accessible, these products have always garnered attention from tech-savvy enthusiasts more than average smartphone buyers. Nerds, if you will. People who value the specs, performance and the latest version of Android over shiny features and space-age build quality.
That was clearly the case with last year's Nexus 4, which demanded users sacrifice LTE connectivity to be part of the elite Nexus club. Similarly, Nexus 4 buyers got only an average camera and unspectacular battery life for their $299. Though it was a fantastic phone for the time — and for the money, particularly in countries where LTE had yet to take off — Nexus 4 ownership was also a lesson in compromises. And so for $50 more, this year's Nexus promises high-end internals, 4G LTE support wherever you live, and an improved camera experience with "HDR+" mode — in essence, more of what made the Nexus 4 great, with fewer bugbears.
However, hardware is only part of the equation — arguably more important is the new Android 4.4 KitKat software, the biggest step forward for the OS since 2011's Ice Cream Sandwich release. Aside from the clear visual refresh, KitKat aims to revamp Android's basic phone and SMS experiences, while making it easier to get to use Google Now, one of the platform's greatest assets.
All of this for $349 (£299) sounds like impossibly good value. So can the Nexus 5 really be a slam-dunk of high-end hardware, slick, beautiful software and an unbeatable price point? And for those willing to spend more, is a Nexus still the best way to experience "vanilla" Android in a world of Moto Xs and Google Play editions? Let's find out in the full Android Central review of the Nexus 5.
Pros
Solid build quality. Bright, good-looking screen. Top-notch performance. KitKat delivers a welcome visual refresh to Android while adding useful and important new features. Built-in wireless charging. HDR+ mode is capable of taking awesome photos. By far the best phone you can get for the money.
Cons
Average battery life. Camera is slow to focus, and requires too much time and effort to get great shots. Video camera drops frames in low light.
The Bottom Line
As a high-end Android phone, the Nexus 5 doesn't exactly nail it in every category. However the price point, speed and quality of user experience makes the Nexus 5 a great device for regular people as well as nerds. Nexus doesn't necessarily mean you're getting the best phone. But for enthusiasts, early adopters, performance freaks or anyone looking for a great device at the $350 price point, Google and LG have crafted a phone that's more than worthy of your attention.
Swipe to scroll horizontally
Nexus 5 video ​walkthrough
Nexus 5 hardw​​are and build quality
In a world of black slabs, the Nexus 5 is — well, yet another black slab. Or, perhaps, a white slab, if you go for that color. In stark contrast to the Nexus 4's reflective trim and sparkly glass derriere, this latest Nexus cuts a relatively muted figure. The front is completely flat, black and featureless, save for a tiny circular earpiece up top. The back and sides differ slightly depending on which color option you choose — the black model is furnished in soft-touch plastic all over, the white version has glossy black sides and a white back with a slightly slicker finish. While last year's Nexus was clearly based on the LG Optimus G, there seems to be a little less LG DNA present this time around. The Nexus 5 more closely resembles a miniature Nexus 7, and this family resemblance shows how serious Google is about establishing a clear visual identity for the Nexus line.
Its design might not be particularly striking, but the Nexus 5 excels ergonomically. The very soft, soft-touch coating of the black version we're using feels great — we definitely like it more than the slicker white model — and is markedly different to the rougher matte finish of the 2013 Nexus 7. Like the 7-inch tablet, Google's new smartphone is decorated with a large, vertical Nexus logo which is big, but not obnoxiously so. The other main feature of the back panel is the 8-megapixel rear camera, which protrudes slightly through the back of the device. It's unclear why the face of the camera needs to be this big, as only a small part of it covers the lens. Nevertheless it's there, and it doesn't detract too much from the overall look and feel.
Image 1 of 3
The curved back and slightly angled sides make the Nexus 5 extremely hand-friendly — there's a visible join between the sides and the back, but this isn't something you'll feel in regular use. Instead, the device's weight — or lack thereof — is what's most noticeable when you pick it up for the first time. It's seven grams lighter than the Nexus 4, which combined with its larger surface area makes for a remarkably airy feel. Clearly, the hardware is meant to just get out of the way and allow you to focus on the display. In keeping of one of the main goals of the Nexus program, the purpose of the N5's design seems to be to showcase what's on the screen — the latest version of Android — not necessarily what's around or behind it.
That makes display quality an area of paramount importance, and thankfully the Nexus 5's screen doesn't disappoint. While the Nexus 4 struggled with laissez-faire auto-brightness and poor color tuning, neither of these problems affects its successor. The Nexus 5's 4.95-inch, 1080p IPS LCD is big, bright and beautiful, and while it might not be able to unseat the HTC One's SuperLCD3 or the Galaxy Note 3's SuperAMOLED in terms of contrast and vibrancy, it's a great-looking display regardless. The bright whites of Android 4.4's new color scheme leap off the screen, and text is beautifully sharp, as you'd expect from a panel with 445 pixels per inch. Unlike earlier Nexuses, the N5's auto-brightness setting easily keeps up with the transition from bright to dark areas and was always bright enough to use regardless of lighting conditions. (In fact, if we're honest, it almost seems a little trigger-happy in this department.)
It's also impressive that LG has managed to cram a 5-inch display into a device barely any wider than a lot of 4.7-inch handsets — including the HTC One and Nexus 4 — which makes it just as hand and pocket-friendly than those devices. Contrariwise, the N5 does sport a pretty hefty bottom bezel which seems to serve no purpose besides housing the tiny notification LED. Unfortunately that pushes the display a bit further up, moving the top of it out of easy thumb reach.
Unlike the LG G2, upon which its hardware is said to be based, the Nexus 5 keeps its buttons and ports in the usual, sensible places. Power lives on the right, a little higher up that before; volume is on the left, microUSB down below and headphone jack up top. The N5 also boasts ceramic power and volume buttons — a small detail, but one which gives the keys a more premium finish than the plastic buttons of most Android devices. The microSIM tray, again accessible with a SIM removal tool, now lives on the right edge, under the power button.
On the bottom of the phone, flanking the USB connector, are two sets of speaker holes. Unfortunately, as is the case with the G2, one of these is a facade. Only the left one actually houses a speaker, meaning playback on the Nexus 5 a decidedly monaural experience. We've recently investigated the software bugs affecting playback through the built-in speaker in some apps, which Google says it'll fix in a future update. But even in apps that aren't affected by the glitch, audio playback isn't exactly outstanding, excelling in neither loudness nor bass. It's good enough for notifications, ringtones and other bleeps and bloops — as many smartphone speakers are — but it leaves much to be desired for music and movie playback.
The earpiece, for what we've experienced, is acceptable in calls.
The phone's internals are just as trailblazing as we've come to expect from the Nexus line. It's powered by a 2.3GHz quad-core Snapdragon 800 CPU and an Adreno 330 GPU, which is just about the fastest chipset you'll find in any Android phone right now. That's paired with an ample 2GB of RAM and 16 or 32GB of internal storage. The former gets you 12.55GB for your own stuff, the latter provides a more roomy 26.76GB. And unsurprisingly for a device based around Google's own guidelines for Android, there's no microSD expandability.
Image 1 of 3
A high-end CPU and GPU combined with the latest "stock" Android results in a phone that absolutely flies, whether you're using regular Android apps like, Gmail, YouTube and Chrome, or using the Nexus 5 with high-end games like Asphalt 8. Touch response, scrolling performance and general butteriness is as good as we've seen on any Android handset. We'll dive deeper into performance in our software section, which focuses on the new Android 4.4 KitKat OS, but suffice it to say it's fast — really fast.
Also lurking inside the N5's chassis is a 2,300mAh battery and Qi wireless charging receiver, both fixed and non-removable, we'll examine later in the review. While Google's latest phone won't be setting any records for longevity, we're more convinced than ever of the value of wireless charging on high-end smartphones.
Depending on where you buy the Nexus 5, you'll get one of two models — the LG-D820, which features U.S. LTE support, or the LG-D821, which supports LTE bands used in Europe and elsewhere. So we've not quite reached the point of having global LTE coverage in a single handset, but you do at least get official LTE support for carriers in your own country, which is more than the Nexus 4 could offer a year ago. Nexus 5 does include pentaband HSPA+ (42Mbps) support, though, which is a consolation for jet-setters.
Cellular radios aside, the N5 offers a standard array of connection options — Wifi a/b/g/n/ac on 2.4 GHz and 5 GHz frequencies, Bluetooth 4.0 support and Miracast for wireless display mirroring. Some posters on the Android Central forums have reported Wifi compatibility problems with some routers, but we didn't run into any problems when testing the N5 with our own networks.
As we'll discover later in the review as we take a closer look at Android 4.4 KitKat, the Nexus 5's hardware is probably the least interesting thing about it. But it's important that Google's checking most of the right boxes here, particularly when you consider the device's low price point. The Nexus 5 is one of the best examples in the Android space of how to make a plastic phone — there's a world of difference between the feel of the N5's soft-touch plastic back and other, glossier plastic offerings like the Samsung Galaxy S4 and LG G2. It isn't drop-dead gorgeous, but it always feels solid, lightweight and classy. At the same time, we shouldn't underestimate the importance of shipping a Snapdragon 800 handset at such a competitive price point, in terms of both the performance delivered out of the gate and potential longevity with future software updates.
Nexus 5 specs
The software: Android 4.4 KitKat on​ the Nexus 5
Here's where the rubber really meets the road: The Nexus 5 is the first handset to run the new Android 4.4 KitKat OS. (And, in fact, its version of KitKat is slightly different than what's been updated on other Nexus phones and tablets.)
The most obvious refinements in KitKat are visual — it's lighter, flatter and more colorful, in contrast to the dimmer sci-fi stylings of Honeycomb through Jelly Bean. Sure, remnants of the old, darker Holo design language remain in certain areas — in the alarm clock app, for instance, where it makes sense to use darker tones. However the prevailing "Holo blue" text, icons and accents that dominated Android 4.0-4.3 have been all but eliminated. The result is not just an Android that's brighter, friendlier and more accessible, but also an OS that looks a lot sharper.
KitKat makes better use of the large, high-resolution screens of modern smartphones like the Nexus 5, with less dead space than earlier iterations of Android. Icons in the new home screen launcher are larger and more closely-spaced, though there's still some incongruity among the graphics used for Google's built-in apps. Obsessive-compulsives may notice the "G" icons for Google, Google Settings and Google+ are different sizes, while the embossed logos for the various Google Play properties — Music, Books, Magazines, etc. — look out of place in the new, flatter Android.
Fonts are another area of refinement — KitKat replaces some of the heavier typefaces in Jelly Bean and ICS with lighter equivalents, which is most noticeable in the clock app and certain home screen widgets. Like HTC, Google has switched to the Roboto Condensed font in its updated launcher, which fits in well with the visual style of KitKat. And it's bundled some beautiful abstract wallpapers too, which complements this new design language.
Elsewhere, Google's "cards" metaphor, present now throughout many of its properties on the web and beyond, is slowly taking over. It's most noticeable in the updated dialer app, which uses it to display top contacts, but it's been creeping into other areas, including the stock Email and Gmail apps, as well as Google Drive and the new file opener dialog. It's a nice bit of visual consistency that benefits Android as a platform and the wider Google ecosystem.
And Google's ecosystem is at the heart of Android in KitKat, more than ever before. Consider the three biggest app changes in the new OS version — the launcher, the dialer and Hangouts, the default SMS app — in Android 4.4, all three have been augmented with more Googley features.
The phone dialer app has been redesigned to focus on people, not numbers — as evidenced by the first screen you see in the phone, which is filled with recent and starred callers, not a traditional number pad. And up top is the famous Google search bar, which allows you to search local businesses from directly within the app. Similarly, if you get a call from an unknown number, Google will try to match it against businesses on Google Maps and show you a name and photo as well as a number. From 2014 it'll start doing the same for personal phone numbers, for better or worse.
The updated dialer is a great example of Google using its vast data reserves to enhance one of the most basic smartphone apps — one which had barely been given any attention at all since Android 4.0.
A somewhat less perfect marriage of Google services and a staple smartphone function is the new Hangouts app with SMS support. Available as an update on older phones, Hangouts 2.0 is the only way to send and receive text messages on the Nexus 5. Seemingly part of a push to get more users onto Google's instant messaging platform, a message pops up after initial setup to tell you that Hangouts is the place for all your messaging needs.
For the most part everything works well enough. If you've got multiple Google accounts you can choose which one you want your texts to show up in; it's also possible to select different notification settings for SMS versus Hangouts messages, which is useful. But SMS feels oddly shoehorned into Hangouts, like a second-class citizen in Google's world of instant online messages. Then there's the confusion likely to be caused by the Hangouts naming convention — most users would be looking for an app called "Messages" or something similar, and even those familiar with Google's ecosystem aren't likely to associate Hangouts with text messaging. Google Voice support, too, remains problematic at present.
It's easy to see why Hangouts doing SMS messages makes sense for Google, but it's less clear how the current implementation is of any real benefit to users. Fortunately you can still choose a third-party app for SMS if you want, and this process is relatively straightforward in Android 4.4.
One argument in favor of consolidating similar apps is that it avoids duplicated functionality. Yet there's one big, glaring example of this in KitKat that's been created by the arrival of the new "Photos" app, formerly known as G+ Photos. As we've discussed elsewhere there's a lot of crossover between this and the regular "Gallery" app, which remains in Android 4.4. It's likely Google will roll these two apps together — along with the stock camera app, which as of Android 4.1 is part of the "Gallery" app anyway. For the moment, though, you'll need to hop between Gallery and Photos, and the new name for the latter muddies an already confusing situation for users.
Gallery + Photos: Why does Nexus 5 have two ways to handle images?
Despite this, the new Photos app does introduce some great sharing features, which we'll get to later in this review, such as HTC-style video highlights.
After being left largely unchanged since Android 4.1, the stock Android home screen launcher has been completely redesigned in KitKat. We've already mentioned the larger, flatter icons and font changes, which look great on the Nexus 5's vast, high-res screen. But the underpinnings of the launcher are just as important. As foretold by our own Phil Nickinson over a year ago, Google Now — Google's predictive search app — is now part of your home screen, accessible by swiping to the right on the leftmost home screen page. This works just as it did from the old swipe-up shortcut, displaying cards showing the weather, nearby attractions, sports scores, public transit times and a bunch of other timely info. Google Now is one of Android's great assets, and for the most part we welcome the move to make it easier to find and use. It's easy to turn it off through the launcher settings menu if you don't want it, though it's not possible to disable Google Now in the launcher and keep it around through the old swipe-up shortcut.
And the Nexus 5 currently is the only device to officially have Google Now on the home screen. You can hack it onto the updated Nexus 4 or either of the Nexus 7 tablets running KitKat, but it's not there by default.
Voice search has further augmented in the KitKat home screen app. If you're using U.S. English you can say "OK Google" anywhere on the home screen to activate this feature. Being able to get to it from outside the Google Search app is a significant step forward, even if it doesn't match the Moto X's voice control capabilities. In addition, given how well voice recognition works for both U.S. and UK English, the fact that voice activation isn't available in regions outside the U.S. is a little baffling. (A new Google Search update rolling out now adds even more voice search and Google Now capabilities for all Android 4.1+ devices, including the Nexus 5.)
Elsewhere in the launcher, there's a new customization view accessible by long-pressing on an empty area of a home screen. From here you can change your wallpaper, rearrange home screens and modify other settings. This is also the new way to add widgets to your home screen, since they no longer live in the app drawer — a design decision which, if we're honest, never really made much sense.
Speaking of widgets, lock screen widgets are disabled by default in KitKat, and users are required to navigate into the "Security" settings page, of all places, to switch them on. We've never been big fans of this feature, a last-minute addition to Android 4.2. Perhaps this is a tacit admission that Google, in hindsight, feels the same?
Lock screen widgets on Android 4.4
"Lock screen widgets are still present in Kit Kat, but you'll need to enable them in your settings should you wish to use them. Nestled appropriately under the "Security" section of the device settings, you'll see a line item for Enable widgets. While you're not really told as much — Google often has "issues" communicating well — the group of settings there for Owner information, Enable widgets, and Screen lock all have to do with the lock screen."
Read full article: Inside KitKat: Changes to the lock screen widgets
Another important visual changes in KitKat allow apps to make better use of on-screen real estate, particularly on devices (like Google's Nexus line) with software buttons. Apps such as the Google Now-enabled launcher can now implement a transparent notification bar and software controls, meaning these areas of the screen are no longer hidden behind black borders.
The launcher is currently the only regular app that currently takes advantage of this feature, meaning you'll still be dealing with opaque borders most of the time. However the redesigned lock screen controls for music can now expand album art to cover the full screen, including the areas usually reserved for software controls and the black notification bar. In addition to looking great, the new lock screen controls also allow you to seek through tracks by long-pressing on any of the buttons.
Also new is the fullscreen immersive mode, which is only utilized in one of the bundled apps — Google Play Books. Entering immersive mode removes the notification bar and software buttons, allowing the app to take control of the full screen area. A swipe up or down gesture onto the screen brings back the top and bottom chrome, similar to the way Samsung devices handle fullscreen apps.
Between these handful of new features, KitKat should allow developers to make greater use of the full screen area of Android phones, particularly on Nexus, Sony and Motorola devices with on-screen buttons.
But not all of the important new features in Android 4.4 are flashy or immediately user-facing. KitKat gains printing support through Google and HP's cloud printing service, accessible in certain apps like Google Chrome and QuickOffice; this also serves as an easy way to save many types of documents as PDFs. In addition, the "open" dialog for files gives you an easy way to load documents, images and other stuff from local or cloud storage into various apps.
New printing capabilities in Android 4.4 KitKat
"Google says that "most devices" with KitKat will have Google Cloud Print pre-installed, and Chrome, Drive, Gallery and QuickOffice all support it as well. Other applications might need updating by the developers. As an added bonus, you can save printable items as PDFs. (That's an offshoot of the way this all works in the first place, and it's handy as hell.)
This isn't the new framework in and of itself. Obviously, HP's played a hand here. But it's also just about as simple as it can get."
Read full article: Printing in Android 4.4 KitKat (with help from HP)
In the latest release, Google's efforts to improve Android's performance have focused on the way the OS uses memory, so much so that the company now claims it can run acceptably on devices with just 512MB of RAM. Though it packs four times as much memory as this low-end requirement, the Nexus 5 has nonetheless reaped the benefits of Google's ongoing work to improve responsiveness. Whatever you're doing on an Android phone, chances are there's nothing out there that'll do it as fast as the Nexus 5. From app load times to heavy gaming to quickly multitasking between running apps, the new Nexus is flawlessly smooth. That's likely down to hardware and software in equal measure — let's not forget that the N5 is powered by one of the fastest mobile chipsets around. Sure, performance in third-party apps can never be completely guaranteed, though Google certainly has plenty of tools to allow devs to test their apps' smoothness and memory efficiency. Nevertheless, we can confidently say that the bad old days of scrolling lag micro-stuttering are all but gone, and that in version 4.4 Android is more buttery than it's ever been before. It's not necessarily a great deal smoother than Snapdragon 800 phones running Jelly Bean, but it does feel more consistent in its performance.
Ultimately, Android 4.4 KitKat is the sum of many, many small changes and a few big ones, almost all of them positive steps for Android. It's easy to point out the visual enhancements and the new launcher as the major milestones for Android 4.4. But it's just as important to remember the behind-the-scenes changes, and the work that's been done on less sexy parts of the OS like the dialer, the printing service and the universal "open file" dialog. There have been some missteps along the way — we're still baffled by the presence of separate "Photos" and "Gallery" apps, and Hangouts' SMS integration seems clumsy in its initial release.
In any case, the result of all this is an OS that's more closely aligned with Google's ecosystem and design language — and if you're looking to buy a Nexus, that's probably a plus for you. The software looks more Googley and uses more Google services in a way that adds value to the end user, whether it's through quicker access to Google Now, putting Google's business directory at your disposal in the dialer or making it easier to use voice search. It's a solid foundation upon which to build in 2014, and we can't wait to see it on more devices.
Other software bits:
Wireless payments should be made easier through KitKat's HCE (Host Card Emulation) feature, which lets it emulate NFC-based smart cards, thus allowing NFC payments without the need for a secure element. We weren't able to test this out on our device, as Google Wallet is still unavailable in the UK. But if it works as advertised, then it opens many interesting new possibilities for NFC transactions on Android phones.
Android 4.4 and the Nexus 5's pedometer support works as advertised with the Runtastic Pedometer app. This seemed about as accurate as S Health on the Samsung Galaxy S4, which is to say it's pretty accurate.
The Google-owned QuickOffice is bundled on a Nexus for the first time, allowing you to manage Microsoft Word, Powerpoint and Excel documents out of the box. You could argue that this duplicates some of the functionality offered by Google Drive, but the distinction between the two seems clear enough to us — QuickOffice is for old stuff (and email attachments) on local storage, Drive is for your current stuff in the cloud.
Battery life and wi​reless charging
The Nexus 5 sports a 2300mAh built-in, non-removable battery, which is towards the lower end of the capacities we've seen paired with Snapdragon 800 handsets. As such, there was some concern when the device's specs first became known that it would suffer from mediocre battery life — and we found after a few days with the device that those fears weren't entirely unfounded.
The Nexus 5's battery life is unspectacular, but by no means terrible. After almost two weeks with the device, our impressions are that its longevity is about average for an Android smartphone, but little more than that. A few of our editors have transitioned from the HTC One to the Nexus 5 and we've found that the two compare very closely in terms of longevity. That means you'll get a full working day, but usually no more than that. And if you try, you can absolutely kill it in 8 to 9 hours of heavy use.
Our first full day of testing the Nexus 5 got us down to the warning level of 19 percent in just over 12 hours. During that time we were browsing and using social apps over Wifi and HSPA+ connections, taking around 100 photos with the rear camera, streaming just under an hour of music over Google Play Music and making a couple of brief phone calls. We had Google+ Photo Backup and Dropbox auto-upload enabled during our testing, but only set to kick in when connected to Wifi. By early evening — around 9 hours in — we were approaching 35 percent charge remaining.
The days that followed have proved a little more fruitful, to the point where we're now getting a healthy 15 to 16 hours with mixed use split between Wifi, HSPA+ and LTE. In terms of screen-on time, we were able to squeeze 4 to 5 hours with the display on across those 15 or so hours away from the charger. Again, decent, but nothing to write home about.
As we noted in our first impressions of the Nexus 5's battery life, certain tasks seem to strain the battery considerably, more so than on other devices. The Nexus 5's screen is the big, bright screen is the most significant battery-guzzler, perhaps due to its aggressive auto-brightness mode. The camera app, too, took its toll on our available charge — an hour of shooting photos on and off was enough to deplete a quarter of the phone's battery.
So battery life is probably the closest thing the Nexus 5 has to an Achilles' heel. And if you really need it to get you through the full day, every day, that might be a reason to consider purchasing another phone instead. (If it's "stock Android" you're after, the Galaxy S4 Google Play edition should last a little longer between charges than the Nexus.)
The Nexus 5 has one important trick up its sleeve however, and that's wireless charging support. Like the Nexus 4 and Nexus 7, the 5 is compatible with the Qi charging standard, and should work with any Qi-compliant charger. (We've been using the Samsung and Zens chargers, and they work great with the device.) Wireless charging is no substitute for a larger battery, but it is a hugely convenient way to keep the phone topped up if you're working at a desk, without having to fiddle around with cables. We should also mention that the Nexus 5 seemed to charge considerably faster using Qi chargers than the Nexus 4, while at the same time generating less heat.
Photography, video and c​amera apps
It's fair to say the Nexus line has a pretty dismal record when it comes to camera quality. The Galaxy Nexus brought a disappointing 5-megapixel shooter to the table; a year later the Nexus 4 upped the megapixel count but still struggled in all but ideal lighting conditions. So with Google's marketing materials for the Nexus 5 focusing on "capturing the everyday and the epic," there's hope that its latest handset can buck the trend and deliver a solid camera experience. So is the Nexus 5's camera any good? Well, the answer isn't "yes" so much as "yes, but." It's good, but not great; hampered by slow focusing, slow captures and some general software weirdness.
The Nexus 5 brings to the table an 8-megapixel rear camera with LED flash. It's got a 1/3.2-inch BSI sensor (up from 1/4-inch on the Nexus 4) and f/2.4 aperture lens with OIS (optical image stabilization). Google's also making a lot of noise about its new HDR+ shooting mode, which combines multiple exposures with new, smarter sharpening techniques. For the most part, the Nexus 4 produces good-looking images in most lighting conditions. Colors are generally accurate, if a little muted in non-HDR shooting modes; there's also a slight tendency to grey-out darker areas of photos in normal mode.
In well-lit conditions there's not a great deal to separate the Nexus 5 from the current crop of high-end Android phone cameras. Samsung's Galaxy Note 3 captures more pixels, and seems to produce more vibrant (though not necessarily more realistic) images. Meanwhile, the N5 comfortably outperforms the HTC One in daylight photos, capturing more detail and offering wider dynamic range. However the comparison with the One leads us to one of the Nexus 5's greatest weaknesses — capture speed. While the HTC One snaps photos with next to no shutter lag, the Nexus is often slow to focus and slower to capture. And manually focusing can be problematic too, with the N5 struggling to lock onto objects right in front of it in darker scenes.
The Nexus 5's camera woes seem to be footed in software rather than hardware. The stock Android camera app isn't particularly quick to navigate — settings are buried behind layers of arc menus that users must swipe through, and it's easy to accidentally change settings by brushing the screen with your finger. What's more, there's a delay of a second or so when switching in or out of HDR+ mode. All of these minor annoyances lead to vital seconds being lost, increasing the likelihood that you'll miss that time-sensitive shot.
Image 1 of 28
On the flip side, if you've got time to switch into properly use HDR+ mode and frame your shot properly, the Nexus 5 can produce some fantastic images. In these kinds of shots the N5 comes close to rivaling the HTC One's superlative low-light capabilities, and daylight photos come out looking crisp and noise-free with vivid colors. In fact, if image quality is a priority, then HDR+ mode is where you should spend most of your time. The regular shooting mode isn't fast enough to justify the reduction in image quality — which isn't to say it's bad when set to auto, just that HDR+ a lot better at producing high-quality photos. Like all good HDR modes, it successfully picks out detail in bright and dark areas, but the selective sharpening that's applied to photos is what makes it truly impressive. Edges in HDR+ shots are extremely sharp, almost unnaturally so. And this is all done (for the vast majority of cases) without adding any appreciable visual noise. There's a short delay while the phone processes HDR+ images, but most of this is done in the background after capture.
The Nexus 5's slow capture speeds mean it isn't ideal for moving subjects, but the built-in OIS does a great job of eliminating blurring caused by hand motion, especially in HDR+ shots. The effect of OIS is also noticeable in video footage recorded on the N5, which is extremely smooth and stable even with lots of handheld motion. And with sufficient lighting the Nexus 5 does a good job of capturing 1080p video at up to 30 frames per second — our daytime footage was generally clear and free from noise and artefacts, same as the current crop of high-end smartphones. Video quality deteriorates rapidly in low light, however, as the N5 chops down its frame rate in order to maintain image quality. And the device also struggled to evenly expose bright areas in nighttime scenes.
Overall, the Nexus 5's camera isn't bad, it's just weird. It seems like there's a higher ceiling for image quality than many competing Android phones — mainly thanks to the excellent HDR+ mode — but it's all the more difficult to take those great images because of the wonky camera app and slow capture speeds. Hopefully the issues we ran into during our first couple of weeks with the phone can be fixed in a future over-the-air update. Until then you're dealing with capable camera hardware, hamstrung by software gremlins.
Once you've taken your photos, the Nexus 5 offers a wealth of image editing and sharing capabilities. The stock "Gallery" app has been upgraded with an extremely full-featured photo editing suite, letting you add filters, crop photos and even add localized effects, tweak brightness, contrast, vividness and curves. These are some really powerful options to help you get the most out of your photos.
A few simple changes to make your pictures look a better
"Tapping the edit button while viewing a photo in the Android 4.4 Gallery isn't going to bring a brand new experience by any means, but that doesn't mean improvements haven't been made. In fact, Google has made several enhancements to the experience of editing photos on your phone."
Read full article: Photo editing improvements in the Android 4.4 KitKat Gallery
And although it's not exclusive to the Nexus 5, the new Google+ "Photos" app (again, not to be confused with the Gallery app) lets you create HTC One-style video highlight reels from your photos and videos. The Photos app gives you a lot more filtering and music options than HTC's implementation of this feature, though the videos themselves are less instantaneous — you need to go to the Photos app to create these Auto Awesome videos.
After you're done, you can share your highlight reels to Google+ or save to local storage at up to 1080p resolution.
Auto-awesome all the things with the new Google+ application
"The built-in photo editor has changed, with a new UI that allows you to choose a filter-set then apply one of four different variants. There's a button for a quick look at the original for comparison purposes as well. Finally, there are a slew of frames to add to your picture if you want that extra touch. The edited images are saved separately, so you won't overwrite your original."
Read full article: First look at Google+ update with all new photos app
The bottom line
Fast, beautiful, full-featured and more affordable than its competition, the Nexus 5 is a great device in its own right. It's also an excellent showcase for the new Android 4.4 KitKat, which is an important step forward for Google's mobile OS in terms of design, functionality and integration with Google services.
As a high-end Android phone, the Nexus 5 doesn't exactly nail it in every category. The camera packs a ton of potential, but right now the slow, janky camera software will be a source of frustration for many. Equally, if you absolutely need all-day battery life every single day, then this is probably not the phone for you. But these two major pain points have to be considered alongside the price of the device — $350 for a blazingly-fast 1080p Snapdragon 800 phone is a deal you won't find anywhere else right now. And as a Nexus handset the N5 has a unique appeal to Android fans who need the latest updates right away, along with an unlockable bootloader.
Image 1 of 3
The price point, speed and quality of user experience makes the Nexus 5 a great device for regular people, too. The inclusion of LTE connectivity, a big, high-quality screen and genuinely useful software additions such as Google Caller ID make the Nexus 5 a great purchase for anyone looking for a high-end Android phone without breaking the bank.
If you're willing to pay more, it's certainly possible to do so and get a device that excels across the board — LG's G2 and Samsung's Galaxy Note 3 come to mind, though you'll have to make do with Jelly Bean for the time being on those phones. Other "stock" Android options include the Google Play edition Galaxy S4 and HTC One, which should be receiving updates to KitKat imminently. Though more expensive, those devices provide superior build quality and better audio (in the case of the One) or longer battery life and a more capable camera (in the case of the S4). You'll pay more for all of these options, however.
While KitKat is an important milestone for Android, Google is making it less crucial to have the latest version of the OS, by rolling certain built-in apps out onto the Google Play Store and pushing out new features through Google Play Services. So the question of whether you need the latest updates is more a matter of personal preference than it was in the past. Which brings us to the root of what a Nexus really is. It remains a great device for nerds, with the side-effect of being a great value handset for normal people. Nexus is still about the latest specs at a low-ish price point, combined with the latest stock Android and unlockable, hackable hardware. It's more mainstream than ever before, but still a niche product. And there are still compromises to be made, most notably in terms of battery life and certain areas of camera performance.
Nexus doesn't necessarily mean you're getting the best phone, period. But for enthusiasts, early adopters, performance freaks or anyone looking for a great device at the $350 price point, Google and LG have crafted a phone that's more than worthy of your attention.
Get the Android Central Newsletter
Instant access to breaking news, the hottest reviews, great deals and helpful tips.
Alex was with Android Central for over a decade, producing written and video content for the site, and served as global Executive Editor from 2016 to 2022.
Good thing for me I paid the extra cash for 2 day shipping and it shipped on Thursday so I have to wait until Monday now. Posted via Android Central App

It's no G2, but for the price, it's hard to beat.

i would prefer IR blaster over barometer

Agreed. Still, both are 4th tier features, not really deal breakers.

I used to think IR was a 4th tier feature until I got a Note3. When you have kids in the house who cannot ever put the remote back where it goes, having full TV control on something that rarely leaves my hand has made it pretty important to me. Freaking love IR now :-)

I couldn't agree with you more. My G2 has it and I thought I wouldn't use it that much. My kids are also notorious for "misplacing" the controls. I have a Tasker task automatically bring up the Quick Remote on my lockscreen when I walk into my house now.

I 100% agree...I never thought when I got my HTC one that I would use the IR blaster. Finding the remote is always an impossible task, my son puts it in his toys and all over the house. Im selling my nexus now to get g2 just because of this. lol

Me too. But if they had to cut corners to get to this price, I can live without IR.

Barometer will appeal particularly to cyclists who wish to track altitude variations more accurately. The battery and storage will likely kill the deal for far more of us than either sensor could likely impact.

Alex do you think a software update could fix the camera slowness to focus?
have you tried other camera apps?

there is a mod over at XDA for rooted users that seriously speeds up the camera focus. not sure what it does for shutter speed (to capture moving objects better) but the overall look of the pics are much better than before and capture time is about half what it is stock. still not perfect, but much better. and this was done "by some guy in a basement" so it should be interesting to see what google themselves can do with all the proper tools.

You know the really messed up thing is that half the time, the people over at xda do a better job at improving the software than google or any other oem. Its RIDICULOUS but true. I dont understand why google doesnt spend more time looking at whats going on over there and emulate some of that.

This Posted from my HTC One GPe via Android Central App

Because stability and security are focus 1. It's easy to armchair quarterback this, try to go run the team and let me know after that how you fare.

It's also easy to be critical of people who express their opinion. I agree with you that stability is a #1 focus, but that doesn't mean you understand exactly what the other person's motives are in complaining about something. I on the other hand, respect people with an opinion more so than people who just swallow whatever their company of choice hands down to them, and then defends it at all costs. It's safe to say the people on this site have a decent understanding of the industry. No one is claiming to be CEO's here, but I don't think it's unreasonable to assume they could adopt some of the talent of XDA developers while maintaining their stability and security.

Some people on this site have a good understanding of how the industry works but it's also clear many don't have a clue how 'the sausage is made' and have a poor understanding of the development process and cast sweeping judgements from the limited perspective of the consumer. Posted via Android Central App

I should add that due to user and review feedback I would bargain they are working hard to improving the camera experience by all means possible.

Google spends a lot of time looking at what developers are doing. I've been involved since Donut, and I've watched time and again how release versions mirror where developers have hacked, particularly the CM team. They take the developers efforts, refine them, then release it, along with an original idea or two.

I'm very satisfied with my White N5. The battery life is quite good for me. I still have 41% battery after 2 days of use. I don't do a lot of gaming, but a typical day has a lot of peeking at emails and calendar appointments, a few photos, some voice minutes and a few minutes of casual gaming. The camera can take excellent photos in HDR+ mode, but as everyone has already stated, there are some unfortunate delays when focusing and taking the picture. Video recording is incredibly steady and clear. The speakers are terrible - no apologies can be made. The device generally feels light yet solid. A great upgrade from my Galaxy Nexus.

So the award for the Biggest BS comment goes to you. " I still have 41% battery after 2 days of use" there isn't a phone out there including the RAZR MAXX that can come close to this. Absolute BS. You go on to say that you peek at emails and calls and a scatter game so by your statement you used 59% for 2 days. So you are looking at almost 4 days of Battery use. Sweet God. As the saying goes "just because you are an idiot don't assume the rest of us are.

59% in 2 days is entirely possible. What is he's only using 2g? Or enables airplane mode when not using the phone? Or has screen brightness way down low? You can't call BS without facts. Posted via Android Central App

Not if you are actually USING the phone. For this to happen the phone would have to be in airplane mode 90% of the time with the screen off. What the point of great battery life when it means you arent actually using your phone?

I got over 3 days from my first full charge and 2H40M screen on time and I did USE the phone. However I used it as a phone and a messaging device, not as an entertainment device. When I am at work from 8:30 to 5:30 the phone mostly sits with the screen off. I pick it up and check messages. Email is handled on my computer. I make some calls. At lunch I did some light browsing. Brightness is set to auto. I turned off some of the Google location stuff per recommendations I read elsewhere. My phone is not my interface to the world. I am very pleased with the battery life.

LOL, yes, 2 days is very possible with this phone. It depends on how you use it. I certainly would not expect to get 2 days from what I consider "normal" use. But this phone holds a charge VERY well. It is normal for me not to lose even 1% of my charge overnight with the screen off. So if you are only using it occasionally for light stuff, yes, I could see going into 2 days easily. By contrast, the Maxx is able to get those battery times with "normal" use. It is definitely true that the Nexus 5 will never match that. The Maxx's bigger battery definitely matters. But that doesn't mean you can't squeeze out a lot of battery life in the nexus 5 if you really want to.

Don't be a dick. It's entirely possible, to squeeze out a few days of battery life, if you conservatively use your phone. Of course, his usage will differ from your own. Someone that doesn't live on their phone doesn't really need a Razr Maxx. tl,dr; don't be a dick. Posted via Android Central App

Read his comment Boneheads. He checks emails calendar appointments and casual gaming. Which means the screen has to be on for awhile and some sort of sync. He USES his phone. You're not squeezing almost 4 days out of this type of use. He isn't checking hiss emails in Airplane mode is he. So if you're going to make a comeback at least try sounding a little intelligent.

I don't know if you have an n5 or not, but that seems entirely possible. Checking email and calendar events and even a few phone calls does not eat up the battery all that much. The screen being on doesn't matter as much as the task being performed. And the idle battery life on this thing is GOOD. So that if he's not constantly checking his phone, I wouldn't go ahead and just call bs. Not saying its true or false, but from my experience, its possible. And most of his battery drain comes from CASUAL gaming of course. Posted via Android Central App

You can connect to WiFi in airplane mode. Turn on airplane mode then turn WiFi on again. Posted via Android Central App

Casual gaming. Probably not everyday... Not a lot of gaming was another comment may be the op.

You resorted to name-calling; that pretty much killed your entire comment. I'll play ball, though: The Nexus 4 doesn't have the greatest battery life; yet, I can squeeze 2-3 days from it, if all I do is check email, lightly surf the Internet or AC/mobile nations forums, make a few phone calls, send some texts, and listen to some music. I wasn't trying to be rude; however, everybody isn't a power user. Plus, 4.3 greatly increased standby time. Overnight (8-10 hours), my Nexus 4 will lose 1-2 percent, if I keep it on; my Nexus 7 won't lose any. In short, you can't/shouldn't call BS, just because someone is seeing results that you're not seeing or that you don't necessarily agree with, especially if those results are entirely reasonable. Posted via Android Central App

Exactly. It seems like there's a huge trend of people bashing others comments on this site for no reason recently. It gets annoying as hell. Posted via Android Central App

Lol Posted via Android Central App

Everyone who disagrees with you is stupid or hasn't used this phone. 4 days of usage is so utterly unreachable... Literally impossible. Only people on the internet could possibly defend that. Posted via Android Central App

I'm gonna go ahead and guess that your nexus 5 doesn't get that great of battery life. Posted via Android Central App

Oh, I get it: everyone that either doesn't agree with you and/or doesn't mimic your smartphone usage is stupid. I could see you calling BS, if a person claimed they achieved 10 hours of screen-on time. But, stretching one's battery life to 2-3, possibly 4 days, is entirely possible. You seem to think everyone is a power user. I know I'm not. I charged my Nexus 4, yesterday: I'm approaching 18 hours off of the charger, with 75 percent remaining. That's checking emails, Web browsing, listening to music, and some Facebook. Don't be so quick to judge, brother. Posted via Android Central App

I've hit 49 hours and had over 20% left in the tank on my Razr Maxx. That isn't typical, especially now that it is EOL, but yes, the Maxx can come close to 4 days. I average to kill about 40 percent a day these days, but I no longer use ANY of the power saving tricks I learned with the Thunderbolt out of necessity.

Last night at 10:00pm (my phone was disconnected from charger at 8:30am same day) my battery was at 90% on T-Mobile plan no-wifi. Yes, it can be 40% in day 2 easily. No airplane mode at all. Admit to light usage and did not try to save battery in any way. I am also rooted but it didn't matter cause my battery was great before I rooted my Nexus 5. Came from Galaxy Nexus with extended battery that would die by 10:00pm with normal usage for me.

Beautifully crafted Review Helps a techie like me awaiting his handset , eager to test the potential

You put together great reviews! From the content to the appearance, your rundown is the best.

I ended up getting the note 3 instead because of the battery and SD. Don't plan on using the pen very much but you can't beat the battery life. I am a heavy user and I'm so tired of having to recharge my GS3 by 5pm. I also have already hit the storage limits on my 32GB Nexus 7 so I'm worried about needing more space for my 1080p movies that my 4yo daughter loves to watch along with the graphical games I play which now require over 1GB each. Too bad because the Samsung has their S-crap (some of it) WAY too integrated in the device that it is tough to get back to Google. I use Nova Launcher to skin touchwiz too but would much rather have a more pure android. The updates (or lack of) from samsung bothered me previously but Google has moved most of it outside the OS so I don't cry as much when Samsung takes 6-12 months to update the OS as most of the new features get updated through apps.

Yeah touchwiz bloat sucks, on the bright side you will now be able to use the Google Experience launcher instead of Nova, it works great after side loading now that they've updated Google search

Same reason I'm sticking with my G2 the battery just lasts so long I get 2+ days easy with light use and 1.5 days on heavy use 4+hrs screen on time is no problem. I still really like the Nexus 5 but I'm not sure I an make the sacrifice on the battery. Also as good as the nexus 5 camera is the G2 camera is awesome crisp clear photos. Posted via Android Central App

You think your daughter cares if a movie is 1080p? You could have saved some space there. Posted via Android Central App

Regarding the battery life, if i have heard correctly there is a bug that doesn't allow the device to deep sleep due to wifi_rx_lock (or something), funny fact, when i disabled sync(which keeps wifi working), my discharge rate went from 1% per hour to 1% per 3.5 hours!!! So I am right now perfectly satisfied with the battery life which seems to be a software bug, nothing more.

Great review!!! As an S4 owner, I'm very eager to try a Nexus device. I really like everything about this phone and hopefully an update will take care of the camera issue. Other than that I love the review and everything about the Nexus.

I am an s4 user. I purchased and tried the n5 for a week and a half and IMO it was like going back in time 1 year in comparison to the s4. S4 feels much smaller, software has better/more options, speakers and call quality are much better, camera on s4 is still much better even without ois. And the battery on my s4 after its 4.3 update lasts an unbelievable amount of time (last 2 full days) without power save mode on. Stick with the s4 don't take that step backward!! Posted via Android Central App

A step backwards? Thanks for the laugh! It's ok to to love your S4, though.

The laugh is to think such in immature comment as yours has any subsistence to it. Grow up.

Why don't we all grow up, since it's been mentioned, lol. Posted via Android Central App

My battery lasts 60% of the time, all of the time. ;) Posted via Android Central App

Lmao. Posted via Android Central App

A lack of bloatware and absence of attendant lag doesn't strike me as a step backwards.
The S4 is a very nice phone, calling the N5 a step backwards though just reeks of the presence of a fanboi.

Sorry but a step back? The s4 is a good phone but it's definitely not better then a nexus 5. But that is to be expected the s4 is allready 6 months old the way tech is moving the s5 in 6 months will be better than the nexus 5. Posted via Android Central App

Epic fail... Nexus 5 better than the S4... Suuuure Posted from my SGH-I337M

You may have not noticed but the rim on the camera is made of magnet: you can put magnet add-on lenses to it :)
http://www.youtube.com/watch?v=wCWF5UvoekM

The 'OK' camera has prevented me from upgrading from my N4. Only reason I want a new phone is because I'm not satisfied with the camera on the N4. All I want is a vanilla phone with a GREAT camera in this price range. Asking too much? Possibly...but I think it's possible

Google play edition galaxy s⁴ would fit the bill. If you want to pay for it. Posted via Android Central App

He clearly said "in this price range" so no, I doubt the GPE S4 is an option. Posted via Android Central App

He sure did. Posted via Android Central App

The reviews lie. The Camera on the Nexus 5 is amazing. Browse the Nexus 5 photo thread in the forums to see for yourself. Where it is lacking is software. The crappy software makes using the camera mildly annoying because it is slow. But there is no denying the quality of the final shots, especially low light. It's just getting them that is the problem. The camera is very underrated IMO...it compares favorably with anything out right now (and yes, that includes the S4) except the Lumia 1020. You just can't take photos quickly.

The main problem is trying to take a picture of anything that moves. I'm sure they are working hard at improving the camera for action shots. Other phones can do this with similar image quality. I like the camera, but I was even just trying to shoot some colorful leaves on a windy day and the branches moving was too much to get a nice crisp shot. It was always a little blurry. I finally managed after too many tries to luck out in a small period of dissipation of wind. My wife took about 15-20 shots with her iPhone 5 that looked nearly as good as my best one.

I have had good results in normal mode. It is quick enough to catch leaves. The OIS helps a lot. The only time movement is a problem is in HDR.

Actually, OIS doesn't help at all with capturing movement, it in fact hinders your ability to do so, indirectly, and sometimes directly. OIS can hurt indirectly with capturing movement if the camera's auto mode tends to lean on slower shutter speeds for capturing more light. This is purely software tuning and could be altered though, or overridden with an app that gives you more control, but most people shoot in full auto so you really need to have an auto mode that balances things or can quickly recognize when there's movement in the scene. This is photography 101 btw, you can ask on any photography board whether image stabilization helps at all with capturing movement and they'll tell you the same thing. IS is for two things, countering blur when not using a tripod (induced by camera shake, not scene movement), and allowing slower shutter speeds which let in more light which leads to better low light photos. If you're shooting action you want a fast shutter to freeze the action though, and if you're shooting action in low light then... Well, you really need a high end camera (and lenses) for that, period. IS can also get in the way of action shooting when you're panning and such and the stabilization system ends up fighting your own intentional movement. A lot of cameras actually let you disable IS in one specific axis for this very reason... In any case, designing a good auto mode isn't easy, it's always gonna be a compromise in at least some situations, the better ones are just more adaptable and cover more scenarios (and no real photoenthusiast shoots auto if they bother to study their hobby). I'd be surprised if Google doesn't tweak the auto mode or AF here, and it probably has more to do with the auto routine than with AF itself. These phone cameras have a huge depth of field so finding focus shouldn't be a chore unless it's slowed down by shifting aperture/shutter values or some other processing. It's such low hanging fruit, and well worth the positive PR (Moto should know).

This I think the knock on the camera is related to features on the nexus 5, but the actual photos come out very nice and comparable to even the G2 camera in most conditions it's a good camera only the apple fanatics at the verge ragged on it and it now has an unnecessary bad rep. Posted via Android Central App

It's much better than the Nexus 4 camera. I have both at home and the Nexus 5 camera is way ahead of the Nexus 4. The only thing holding back the good sensor with OIS in the Nexus 5 is the software. I'm currently testing other camera apps to see if any improve the speed of auto-focus. My only qualms with the Nexus 5 camera is the software.

Try it first before you believe the negative reviews, i own an N5 and the image quality and low light performance rivals if not beats my HTC One, yes shocking I know. Now the AF speed is sluggish as well reported but that's a software issue which will improve i can safely say the camera hardware is very good. Posted via Android Central App

Now that is a review! Whew.

My Nexus 5 is an awesome phone. It literally couldn't be any smoother or snappier to operate. But, I think I'll be sending it back because the battery is just too poor and I'm fed-up with having a phone that can barely last a day. I'll probably be replacing it with a LG G2. Reviewers need to stop pretending that this crappy battery life is somehow just good-enough. It isn't! Let's not stand for this crap any more! Google should release two equally specced Nexus phones, one with the normal crappy battery life and another with a much bigger beasts for those who care. It's sad that it's not possible to experience the raw google experience on a phone with a good battery.

I've heard that a lot. But what kind of battery life are you getting? Do you sync more than 2 emails and have facebook and Twitter constantly updating? Posted via Android Central App

Battery life is not awful, but I agree, it could be better. A removable battery would have solved this "problem" pretty easy. Just sayin.

Seriously consider switching your cache from dalvik to ART. I was super disappointed in the battery life over the first couple days of using it. Then I read up on ART and figured I'd give it a try. Ever since then, I've been amazed at how much I've been able to squeeze out of this thing. And consistently too. If I could post my screen shots of my battery life here I would. But take my word for it, I can get a 15 hour day with this thing with nearly 5:30 hours of screen on time. And I'm a fairly heavy user. I'm always on forums, gaming about an hour, almost an hour of YouTube, tons of text, some calls, internet, downloading random crap, gmail, Facebook. You name it. And that's with 50/50 Wi-Fi and LTE. Oh and streaming music for about an hour. I mean I can go on and on. Posted via Android Central App

How do you do that? Posted via Android Central App

Do what? Switch to ART? You have to activate Dev options in the about phone section in the settings. Tap on build number about ten times and a Dev options will appear in your settings. Then go to the Dev options and select runtime. Choose ART. It'll reboot your phone and optimize your apps for about 10-15 min. After that, your battery may drain fairly quick for the first charge. But after that you may see some gain. Can't say for sure because according to the forums not everyone benefits from it. And not all apps are optimized for it but most are. I have had zero problems. Posted via Android Central App

I bought the G2 thinking I would keep it just until the nexus 5 was launched and then I was going to sell the G2 and get the nexus 5. The battery is the only thing holding me back from switching. The UI on the G2 has a bad rap but has a lot of good features, knock knock, and q memo come in handy but even if you don't like it you can download the nexus experience launcher works perfectly on my G2 but I stick with nova I am using the beta of nova kit Kat it's awesome. Posted via Android Central App

So the good news it works as a phone and as a google portal. The bad news is that everything else is sub-par, including battery life and camera quality. How do Google and LG expect to be taken seriously in a world of very nice and fast cameras and long lasting battery life when their 'stock experience' is still so awful? The iPhone 5S is still a better option for people who aren't interested in rooting or using custom ROMs, or aren't tied to the Google Experience/Play Store. Hell, if it weren't for the crumby camera quality of the HTC One, that would still be a better option, and it came out 7 months ago. As a developer who does both iOS and Android development, I am intrigued by the new ART, but I'm not sure why anyone else should care, at least until it's a viable option for mass production and can be proven to provide better performance. I wish Android blogs would get more serious about pushing back against Google and Co for releasing devices with serious hardware and software issues. Stop beta testing on users and developers. Likewise, people on here need to stop being so willing to pay $350+ to be Google's beta testers.

The 5s gets worse battery life and the camera issue is fixable with software. Plus at $349 off contract pricing it beats any phone out there. Plus you can't just look at one or 2 things and then say the phone is flawed. The phone is well built, has nfc, Bluetooth le, Google wallet ability, great screen, works with 3 different companies out of the box including cdma and has wireless charging. Looks to me like the pros outweigh the cons. Same can be said for the iPhone 5s. It's all a matter of preference. My business partner had the 5s for 2 weeks, sold it and got note 3. Now he has nexus 5. It's whatever you like. Posted via Android Central App

Don't you see that that's not really an answer to what I was saying? Great, NFC, which is useful for....putting tags next to your bed to turn on wifi?? NFC would be cool if there was any real application for it aside from useless tinkering. Google Wallet is also useless because of the small handful of places that have it, you get dirty looks when it works and you look like an idiot when it doesn't. 5S has BLE, and one model of 5S works on three carriers including CDMA out of the box as well. Well-built is subjective. As for the camera, great it's fixable via software (we hope!), but why can't these guys just ship something that works. All that talk about making great cameras and they still can't deliver? Come on. And yes, you can just look at one or two things and say something is flawed, that's exactly what "flawed" means. Not to mention that those two things (battery life and camera quality/software) are two very important things. That's like saying 'hey this car gets terrible gas mileage and the windows don't work right without a bunch of effort or custom modding' and then saying that that isn't a flaw. It is. I'm not trying to pitch an iPhone, or any phone. I've got a 5S, an HTC One, a Nexus 7, an iPad, and two laptops (one macbook and one PC). I'm hardly picking sides. All I'm saying is that you should really look at your needs in a phone and make a smart decision. Many things come down to preference, but I'd be hard pressed to recommend this phone to someone who wasn't whole-hog into stock Android or wasn't a developer. Would it be okay for some of my nerdy phone-modding friends, sure. Would I recommend it to my mom or a friend who just wants a phone that takes nice pictures for Facebook and will last a day with moderate use? No. Google needs to clamp down on their background processing and get serious about battery management because every generation of Nexus they seem to make the same promise of battery optimizations it never gets any better or it gets worse. And for God's sake, stop making them bigger. Give me a 4.3"-4.7" flagship and stop creeping up the dimensions. This is getting ridiculous.

You can't judge the Nexus 5 without putting the price in perspective. If par is the average $350 phone, then absolutely everything on the Nexus 5 is above par, including the battery life and camera. It's like comparing a Camry to a Lexus. If you don't consider price then you'd conclude you'd have to be an idiot to pick the Camry over the Lexus. But once you include the cost you'll arrive at the exact opposite conclusion. Posted via Android Central App

@applcobbler, I guess you didn't get the memo that the Nexus is primarily an android enthusiast and developer device. I don't give a damn about posting pictures to facebook, nor do I care about stupid consumer features like fingerprint scanners and scrolling with my eyes. I want a phone with a good display, that is free to do what I want, when I want to it. If I want to flash a new rom every hour the Nexus gives me that ability. There is nothing wrong with the N5. For what you get and the price you pay, no other device comes close. I commend Google for making a device with cutting edge specs for such an affordable price. You slam it for not having great battery life, or not having the camera of a 700 dollar device but I still find it better than anything else I have used this year. I also fail to see why it is so consumer unfriendly. I would have no problem handing my 63 year old mother an N5 and she could use it no problem. As far as the screen sizes go, they keep going bigger because people keep wanting them bigger. I will agree with you that the 4.7 is a good size but 5 isn't that much different.

This comment is spot on. +9000 Posted via Android Central App

You probably do not realize that Google Wallet is in more places than you expect... I use it regularly, CVS, 7/11, Whole Foods are some regular places I have used it. Used it in Toys R us last weekend and just today I used it to pay at my Dental Office after getting my teeth cleaned. It was a little pad that is used to enter your PIN and it had the symbol on it so I used my Nexus 5 and BEEP, it worked just fine. I think a 5 inch screen is my sweet spot. The Nexus is going to sell just fine. The features work well for many people, maybe not everyone but for the majority of Android enthusiast. Price may be important to some but that is not my primary concern on why I choose Nexus. I have bought several phones in the $700 range but the simplicity of Nexus wins me over every year! Now that Google has learned to bypass the carriers with 4.4, hopefully more of the masses will get to enjoy it!

" Don't you see that that's not really an answer to what I was saying? Great, NFC, which is useful for....putting tags next to your bed to turn on wifi?? NFC would be cool if there was any real application for it aside from useless tinkering. " Ironically, NFC is HUGELY useful for enthusiast photography. I use it constantly with both my pocket camera and my interchangeable lens mirrorless camera (like a DSLR but smaller and with an electronic viewfinder, same image quality tho). Nikon and Canon are a bit behind the curve in this regard (and many others), but nearly every Panasonic/Sony camera released this year has NFC/Wifi, many more have Wifi but NFC makes using Wifi so much more seamless. I can tap my phone to my camera at any time and take remote control of it, complete with a live view on the phone's display and everything. Or I can start previewing photos on the phone/tablet's larger display, even as I continue to use the camera (or later when the camera's in my bag and I'm riding the train etc). Lots of pros actually do this now with tablets during studio shoots. I can also tap my camera (s) to the phone at any time while browsing photos and instantly transfer one to the phone. You only need wifi for most of this, but models with NFC make it a one step process (two steps tops if you have to open an app first), rather than turning on wifi, looking for the right device to connect to, enabling it, etc etc. NFC has a lot of potential IMO, I agree a lot of it is yet unrealized but there ARE valid non geeky usage cases already. As to the rest of your arguments, I can see your point... But Google isn't necessarily trying to compete with an SGS or a One. Battery life is competitive with those anyway, the only devices that genuinely get much better battery life are those with larger batteries: G2, Moto's MAXX models, Notes, not much else. Moto X maybe, depending on usage, if you just bang on it with constant data use it's not gonna beat those others either. That leaves the camera as the only substantial negative on an otherwise stellar device that's cheaper (by a long shot) than anything in it's class. Frankly I think they're doing a great job of evolving the line year by year. Then again, my phone isn't my primary photography tool so my buying decision doesn't hinge purely on what phone has the best camera. The way they've structured this project tho, the Nexus line wouldn't outsell a Galaxy device EVEN if it had a better camera. It's just not their goal, if it was they wouldn't come out with them at this time of year with limited stock and while changing the OEM every two years. Frankly, I still think ether the fact that it works across three major carriers (for voice and LTE) is HUGE and isn't getting enough credit.

I have no idea how people get over 9 hours on their n5 when I can barely get 9 on my note 2. And it's not the phone... It's been replaced twice do to defects. Maybe it's my battery. Posted via Android Central App

You are doing something wrong. I get 1.5 days on my noteII.

All in how you use it. A heavy user is not going to get 9 hours on a Nexus 5. I was able to get 5 hours 40 minutes of constant screen time at maximum brightness though, even with LTE on the whole time. Games will eat battery like candy. Stuff that uses all the cores continuously will eat battery life too.

Maybe 9 hours of phone calls. That's the only thing it can do for 9 hours. http://cdn.gsmarena.com/pics/13/11/lg-nexus-5-battery/gsmarena_002.jpg

I'm consistently getting around 5 hours of screen time on auto brightness on my N5. Of course if you use very CPU intensive apps and use LTE all day you will probably not get that. I don't really game much at all on my phone, I do have many things syncing, 3 gmail accts and a few other apps that sync less strenuously (every hour or two) (greader pro, falcon pro, HD widgets weather, NFL news.. etc..) I play music quite a bit but that's lower load than gaming. and I am on Wi-Fi most of the time (office and home) seems 5-6 screen time is where it's at if you're not on LTE and doing heavy CPU/GPU taxing. That's not a bad thing.

Well done Dobie. As we have come to expect from you :) I think the N5 is a fantastic upgrade from the N4 and can't wait to get my hands on one in a few months.

This. Posted via Android Central App

+1 Posted via Android Central App

"elite Nexus club" After reading this article and every comment, I am still Laughing Out Loud about that.

+1 I did the same thing! It's such a subjective statement. Anyway, it's the MO (modus operandi) around these parts, always has been.

Great review Alex, well worth the wait! Now to go and watch the video...Nickinson should give you a pay rise for this work :-) Posted via Android Central App

Awesome review! Posted via Android Central App

I think this review is spot on. The N5 is a great phone for the price. However, I just sold and shipped mine off. In the end, the battery life was the killer for me, but I also was unsatisfied with the washed out colors on the screen. I have an HTC One and a Moto X Dev Ed and I prefer both of them to the N5. The One has a far better screen and sound and noticeably better battery life and the X has turned into my daily driver. The battery life is outstanding, its performance is not noticeably worse than either the One or the N5 (despite the "low end" specs), the form factor and build quality are great and the add-ons (touchless controls, active notifications and Moto Assist) have become difficult to do without. The Achilles Heel is the screen, but it is good enough for me. You also get almost vanilla Android and a promised quick update to Kit Kat. While more expensive than the N5, the $650 I paid for the X is a better value for me than the $399 I paid for the N5. My opinion only, your mileage may vary.

Same here returned my N5 and picked up a moto x at&t version though

Eeeewwwww, you did what!?!?!!!??? Posted via Android Central App

Lmao. The Moto X is a nice device, but there's no way, I'm trading my Nexus 5 for one. Posted via Android Central App

LOL, exactly. The Moto X has some nifty features. That always on thing is neat, and the nexus 5 will never have that.

@Lyall Demorrow I went from an HTC One to a Moto X and have found the user experience to be much better even with "lower specs". By the way... what are you doing with a phone that you need a 2.3 quad core CPU? Rocket science?

The only reason I don't have a phone with a 12 core snapdragon 1800 processor, 16gb of ram, 128gb of storage, 4k screen, 50 megapixel camera, and vanilla android with an unlocked bootloader, is because they don't make it. Posted via Android Central App

Haha agreed, brother. Posted via Android Central App

Great review, honest, fair and to the point! I switched to the N5 from the GS4. I REALLY liked my GS4 and many of the Touchwiz features were neat, but felt like it was too much and caused a slight lag for a device that should have run flawlessly. So I installed the i9505 image so I can be on the GE and the phone worked like a charm. Unfortunately I still felt ripped off on the 7GB of Touchwiz clutter that I couldn't remove so decided to sell the GS4 and use that money for the N5. Now having the N5 in my hands, I love this thing! The speed, performance and the new features from 4.4 make this my best device to date. Only 2 things I miss about my GS4 is the photo quality and the IR blaster. Amazing how much I ended up using the universal remote apps on the GS4. Oh well, back to sharing a remote with the rest of the family. lol Personally I'd recommend the N5 to anyone looking for a newer Android device.

Bar far the best review writing on the web .. thankyou Alex

I've had my white N5 32GB for two weeks now and I am still very much impressed by it. I only have a few complaints, so far. 1} Without rooting the phone, there is no way to turn off, or change, the wireless charging notification sound. I place my phone on the Qi charger at night before going to bed. My wife is usually asleep, so the noise is VERY unwelcome. 2) This may be a Facebook app issue, but sometimes the screen will freeze when loading Facebook. It becomes completely unresponsive to swipes, but after a minute or so, FB will start responding, or crash altogether. (Anyone else seeing this behavior?) 3) This may be my Bluetooth car audio system, but the N5 fails to connect on voice calls. Media audio is fine, but when a call comes in, I have to put it on speaker phone - not a good option in a noisy car. My previous phones all connected incoming calls on the same BT receiver. They were not BT 4.0 devices, though. All in all, this is by far the best smart phone experience I have had. And I gave my outdated Galaxy S4 to my daughter.

I have (had) the same issue with the notification but the problem was more for turning off notification sounds in general while keeping the ringer on. That's the only gripe I have with the base Android image, but an app called Sound Profile Lite fixed that for me. As far as the FB thing, I've noticed that too but I'm thinking its an app issue as it happens on my 2012 Nexus 7 updated to 4.4 as well. Posted via Android Central App

If you can deal with the ringer being off, the charging notification does not chime if you go to silent. Hopefully they will add the ability to control the notification for that specifically in a future patch.

3rd party notification apps can remedy that. I used Sound Profile Lite, its a free app and lets you set sound profiles that silence notifications while keeping the ringer sound on. Works perfect.

"3) This may be my Bluetooth car audio system, but the N5 fails to connect on voice calls."
My Nexus 5 doesn't pair with my Alpine BT car stereo at all. My new Nexus 7 2013 and the older 2012 and my GNex all do. I have paired my Gnex and Nex5 together to move pics from the G to the 5 but seems like BT is broke now. Anyone else with BT problems???

Thanks, Alex!! Posted via Android Central App

This phone charges very fast. I am getting more than 1% per minute using the included charger.

Well written review. I always enjoy the work you fine folks at AC put out. Posted via Android Central App

I'm on the fence about returning/selling my N5. The main reason is the battery, which is inconsistent at best, and awful at worst. But that's not the only bit that bugs me. I use Bluetooth headsets from time to time, and I get constant interference on my Bluetooth signal. It's a regular repeating drop in the signal, that garbles the mic and the speaker, and it's really freaking annoying. It comes every 5 seconds or so, like clockwork. It's probably a driver or a firmware issue, but that it even exists is just sloppy. Bluetooth has been around for years now. This isn't new-fangled tech, and this headset has worked on every other Nexus I own. (I've tried pairing/unpairing. No luck.) The battery life is at times "just fine" and sometimes "God Awful." I get the feeling that it's either a bad radio driver/firmware thing, or some annoying background process I can't find. I'm leaning towards the radio, because the battery life gets much worse when I go to places with spotty coverage. The Moto X looks really tempting now.

Try out the G2. You don't lose anything, but gain a better battery, camera and IR remote. The LG UI is not as bad as some like to make it out to be.

Well, you lose nothing except about $200. Posted via Android Central App

Well I won't have to change my name yet Mercdroid. The camera was the deal breaker right there. I won't roast this one either. It is a nice phone for the money. It has made huge strides since the n4. Maybe the n6 will make me move on Posted via Android Central App

Oh and the battery seems to a step back Posted via Android Central App

Battery for me is nearly the same screen-on time as my Nexus 4. I don't think that's a step back it's just lateral.

Yeah but it doesn't compare to the X Posted via Android Central App

Most don't, that's Motorola's hallmark.

Yeah but Sammy is catching up Posted via Android Central App

Haha, it's all good, brother. I was never going to harass you, about changing your name. Yeah, after reading the review and actually using it, the camera is, definitely, the Achilles Heel of this device. The battery life isn't too bad: but, I can't be an accurate judge of it, as I don't really use my phone the same way the average user might. You got a smoking deal, on your Note 3. I think, you'd be crazy to swap it for anything else. As for the name, what's in a name? I enjoy the conversations we have. We can't all be members of the "elite Nexus club." lol jk jk Posted via Android Central App

Oh but they were so close... So close. I could have dealt with the battery. The camera reviews just kill it though. Like I said, I won't go overboard with my abuse of the n5, the others are still fair game. I want a Nexus for a backup, I just need one to not fall flat. Posted via Android Central App

BTW I haven't used it yet. Been relying on reviews. Will on Monday. Maybe if they push an update out the can get a sale :-) Posted via Android Central App

The best thing about my nexus is expandable mem, Alex .OTG cable buddy, I know u know I'm just saying... And where the f*ck is my kit Kat paint job, ahhhhhhhhhhhhhhhhh!!!!!!!!! Posted via Android Central App

A Great Review first of all, and Secondly the nexus is a great phone for the price point quite simply value, enough to prise my grip from my Note 3 haha no dont be daft lol Posted via Android Central App

As I told NoNexus, if you already have the Note 3, you'd be crazy to swap it for the Nexus 5. Posted via Android Central App

Unless you decide that the Note 3 is just way too big. Or decide that $400 sounds more reasonable for a phone than $700+.

Agreed, brother. Posted via Android Central App

The size you get used to. The extra 400$, well who couldn't use that Posted via Android Central App

I couldn't get used to the Note 2 size.

The more I use my Nexus 5 the better I like it! Just updated my S4 to 4.3 then popped my SIM back to my Nexus 5! Just used Google wallet at my dental office! Sent from my bada$$ Nexus 5

If you need to check your partner's sincerity , track his current location with gps, employee's honesty,recover your email passwords,social networks(i.e Facebook,Twitter,IG),change your school grades,clear your criminal records, gain access to bank accounts contact hackerethique gmail com...he helped me catch my cheating spouse, I referred him to 4 friends who can't stop thanking me

Awesome, in depth review! I am loving KK. This is a total nitpick, but in noticing that the notifications pull down shade is in need of a redesign. It just doesn't seem to fit with the new theme. Just an observation. :) Posted via Android Central App

Props for featuring a few shots of Manchester in the photo gallery, particularly the one at Manchester University next to University Place and the Computer Science building! :D

I would not find "Average Battery Life" to be a "bad" .. Poor battery life would be, but average? Otherwise I agree! I think the only think i'd like to see is camera refinements and the ability for me to toggle whether Google Now exists to the left of the homescreen or not. I'm used to being able to swipe one panel left or right to get to most of my stuff instead of two swipes or more for the outlyers. I'm find with the up from the bottom being the only way I get to Google Now. More efficient that way. It's a nit-pick so whatever. Love the phone!

So can we now end the bogus claims of 6+ hours of screen-on time on this thing? Those of us who owned and returned the phone because of its confirmed "Achilles' Heel" know better, and potential buyers deserve the truth.

I'm consistently getting around 5 to 5.5 .. I would definitely see someone that has less syncing than I do being able to eek out 6. Epsecially if they are controlling their brightness buy lowering it. I use Auto.

Interesting considering one 90 minute video stored on the device took mine from full charge to about 16%. I call BS (or maybe denial). Can't imagine what is driving these silly claims. Battery life reminded me of my old OG Evo.

Sounds like a defect. What video player software?
What was the codec, resolution and bitrate of the video?
What was the display brightness set to? I do notice if i'm under a lamp on the couch the brightness jacks up, it definitely seems to be more aggressive about the display being brighter than the N4 when using Auto, thought that might just be the display is overall brighter in general. Seeing how i am equalling the around 5 hours I was getting on my N4 under identical usage patterns (except I have LTE now when i'm not on Wi-Fi!) I see the battery life as a lateral from the previous nexus device. Can you provide me a link to this video perhaps I'd like to do a rundown test and see what you're seeing.

Actually, the video was a DVD rip that I played in MX Pro. Not sure about the brightness, I turn it up or down in app until it looks right (no issues with auto brightness, since I control it within the app). Works fine on my Nexus 7 and it lasts good and long... can probably watch 3 full movies and more. I do a lot of video podcast watching in PocketCasts, too, which also killed the battery. If I had a phone that could do 5 hours of video or using camera and observing images, I'd buy it immediately. This wasn't the one. I'm thinking those of you who are seeing the insane screen time are doing what? Maybe browsing and looking at Facebook? If I did that 5 hours a day, I'd go insane. :)

Great review, though I still have an issue with this "confusion" talk about Gallery and Photo apps living concurrently on a phone. Yes, they both create viewable databases of your photos, but that's about 5% of what each app does. The new photo editing features in the gallery app deserve an article unto themselves, and all AC talks about is how confusing it is to have two ways to view photos...shortsighted.

Ill input my battery life here for anybody thinking about switching from a Blackberry Z10. Its actually better. My Z10 needed charging around 7pm (my day starts at 6-7am) and my nexus 5 will last till about 11. So I`m right there at 16 hours Id say. My daily phone usage is pretty much identical everyday so this is a real world comparison you can count on. Oh and camera is slightly better aswell, I tend to only take pictures outdoors in good conditions though so the Z10 looked great too.

If you don't mind me asking what was your screen-on time, for both? Posted via Android Central App

Never watched detailed battery stats. That shit will drive you crazy lol.

Hahaha, I can believe it. Posted via Android Central App

Thank you danny!! I sold Z10 only because the battery life... Excellent phone, a little unpolished OS but an excellent piece of hardware... But OMG, horrible battery life. Had to go everywhere with an extra battery and charge both every night :( So glad to know those days are over bacause I already ordered a Black 32GB N5!! Now if I just could get it before December whould be great!

The longest I've made it was on light/moderate use for 1d 16h, I was at 32% when I finally charged again.. Heavy would probably be around 8 hours (about 2-3h screen on)

I'd say that's really honest. That's about what I found to be the case... closer to 2 than 3. I still have the HTC One, which is maybe 20% better, but still nothing to write home about.

Perhaps I missed it, but how is the RF performance on the phone? (Or how well does it capture and hold on to a signal in comparison to other phones?)

I don't have to worry about battery life my note 3 last all day I play games ,surf the web, or anything with heavy use and still have some battery before bed could not be happier with another phone :-D Posted via Android Central App

can't agree with this review more. I love the speed of this phone. However.... Super disappointed by the camera focus. Alot shots look equal or worse than my galaxy s3. battery life isn't great either. If I dont have a phone, this would be a good one to have. It's just not a significant upgrade from gs3. I returned the phone after using it for 5 days. Hope next nexus phone will be better.

Had my Nexus 5 for a week, sold it yesterday and replaced it with a G2. (Don't worry, I'm not one of those guys. Sold it for break even, instead of some ridiculous markup) The reason? The battery. In my situation the signal is not necessarily good all the time, especially at work, which absolutely destroys battery life. I'm talking going to work at 9, using it to check email, text, and watch 15 minutes of Hulu, and leaving at work with the phone at 30% battery. It was just getting worse too. The G2, meanwhile, can get me through that same shift and end up at 60-70% when I leave. Posted via Android Central App

Looks like I need to try the G2. Going to Craigslist to find one now.

Good luck, man. Posted via Android Central App

I did. Sorry, that phone isn't worth the $550 people are charging. Yikes. It will be $300 in December. Maybe then.

Here's to hoping! Posted via Android Central App

I dunno, its worth it. The battery is over 30% bigger. But it just depends on your situation. For me, the nexus just wasn't cutting it. If my situation changes, I will gladly go back to one. Posted via Android Central App

That G2 sounds tempting, lol. Posted via Android Central App

overall a great a thorough review. great job, alex. i gotta say though, my battery life on my nexus 4, before root and mod, was far worse than what my nexus 5 is. with my n5, i can get through an entire day and just charge it when i go to bed. couldn't do that with my n4 before root and mod. and i just don't understand the knock on the camera.

Googlicious review, old man!
I actually preferred the odd placement of widgets in the app drawer. I used it to zip to the bottom of the apps list to work backwards.
I've also noticed that with the overhaul of NFC, tags that worked on my Gnex are no longer supported.
Googley!

Just get the moto x. A much better overall phone and experience. Posted via Android Central App

The Moto X is nice. Probably a better experience but not necessary a better phone. That screen and icons always seems so small when I switch from my Nexus 5. Can't go wrong with either.

I'm still on fence with buying one. I know that it's cheap compared to other phones, but the battery and camera. Plus, no SD card slot. Hmm. Other than those, it's a really great phone.

Battery life is good enough for me but I can see how it could be a big deal. After my Moto X and Nexus 5, I just do not think I can go back to a heavy skin. Near stock or stock Android is what I am buying. Oh except for the Galaxy Gear I am going to pick up for my S4...lol!

Coming from a VZ Gnex I'd have say I'm pretty pleased with the Nexus 5 battery so far. I could never get through an 8hr shift w/2 batteries on my Gnex. Right now I've been able to get through my 10hr shifts on a single charge with my Nexus 5. I'm getting about 12-13hrs on a single charge with about 4.5 hrs of SOT. The camera app def needs some work, hopefully that gets fixed soon. Posted via Android Central App

I'm convinced to now wait for the HTC One M8

Enjoy the wait man... Sent from the Android 5.0 Milkshake

The Nexus 5 lets set it streight is a huge step up from the nexus 4, its price point is better than most, is there going to be niggles and gripes yes eg camera, bettery life ect, well you cant compare a 2300mah (roughly as i cant remember whats in the Nexus 5) battery to a 3200mah and expect identical results, as for the camera its seems decent not the same as the Note 3, G2 ect but again look at the price point. Is the nexus a great device-Hell yeh is it on par with other high end devices eg Note 3, G2 very nearly. I respect the value you get with the Nexus range-perhaps i will be a nexus 6 owner lol as of now i am happy with my Note 3 but respect that it aint to everyones taste. Would most recommed the Nexus 5 yup as i know i would, from the specs and what i have read its a great device. Posted via Android Central App

The Nexus 5's a great phone for its price but please don't ever say its on par with the Note 3 and G2. That's criminal! Sent from the Android 5.0 Milkshake

Fixed the WiFi issue I had by changing 'auto' to just 2.4, much faster speeds when further away from the router. Battery wise definitely a bit better than the N4, and I have Google now on this time. Getting 4hrs screen time compared to 3. Also think there'll be a small update sometime fairly soon like there was after the N4 came out, which should fix a few bugs and help battery life. Media server seems to drain far too much! Posted via Android Central App

Is it true you can just replace the battery with the 3000mah g2 battery?

The battery is non-removable.

Alex, have you switched off the LTE radio and noticed any battery life savings?

Decent review, however after a week I took it back. The Nexus 5 has a lot going for it. It has a very stealthy, simplistic look that I thought was just ok at first but after a few days it grew on me more and more. However, I quickly found the negatives to out weigh the positives after the excitement of owning my first Nexus phone wore off. I consider myself an electric junkie and smartphone lover. I typically purchase a new phone every 6 months and came from a HTC One, and a S3 before that. What I loved about the N5 in no particular order was the wireless charging, KitKat and all of the great functions that came with that, with the transparent notifications and soft keys to the full screen Google Music album art in all of it's glory on the lock screen, and loved, loved, loved the soft touch plastic that felt great in the hands and the phone was very light but did not feel cheap. I also love that you can use it on Sprint, AT&T, and or T Mobile or any other GSM Carrier. What made me take it back was the horrible speakers, I would miss phone calls and texts all the time because I would not hear the phone go off, the single speaker at the bottom is in a horrible position and I would always find myself covering it with my finger when holding and blocking it when playing games and when playing music or youtube videos I could barely hear it and it lacked punch and the whole back of the phone would vibrate as if the speaker was on the back. I also did not care for the screen, mine had a very washed out look, almost like it had a coating over the phone, similar to wearing glasses in the rain and then you wipe your glasses and it leaves a film, and colors lacked saturation, I know some say it shows accurate colors but I did not like it, the screen is more warm and I prefer cold, however it had one of the brightest screen I have seen on a phone and I really appreciated that. No issues in the daytime on this device. Battery life was horrible, it might get better with root and switching to ART like some people have, but I struggled to get more than 3 to 3 1/2 hours of on screen time and throughout my work day I found myself placing her on it's wireless charger over and over with light use because I typically use my Note 10.1 for the heavy lifting. The camera is a pro and a con, when you have HDR+ set it takes some beautiful pictures as long as it's in good lighting and the subject is not moving. If your trying to take pictures of something moving like a small child or your pet, it will not turn out good because it takes several seconds to auto focus once you touch the screen and several more once you press the camera button and by then the subject has moved. I decided to take it back and go with the G2 and I have truly not regretted it. It is the far better device, it's more premium, the speakers sound a whole lot better and the screen is just gorgeous, the bezels are so thin and the extra size is great, and has so many options that you can customize your device with. The camera is better and you can go all day long with the G2 and I regularly get 6 to 7 hrs of on screen time with heavy use and the phone charges very fast considering how large the battery is.

can you tell me bout nexus 5 In a dialer, is it available function block contact in it? Or is it available features "blacklist" in security apps

i have a doubt. what's the use of Top LED indicator and bottom LED indicator?

There isn't a notification LED at the top, just a "hidden" one that shows when lit in the bottom bezel.

"KitKat makes better use of the large, high-resolution screens of modern smartphones like the Nexus 5, with less dead space than earlier iterations of Android." Could not disagree more. In my opinion they've taken a step back by making the icons larger. We have phones with five inch + screens that pack 1080p resolution and instead of adding another column or row to the home screen so we can actually use that space and resolution they just make the icons comically large. No, they aren't using their space any wiser, they're just better at wasting it in KitKat.

For those who want a ridiculous number of icons on each screen, there are dozens of fantastic third-party launchers that let you customize that. But for a vast majority of people, keeping the same 4x4 grid and making the touch targets larger makes more sense.

And yet when the iPhone (one of the single most popular phones around) added screen size they added another row. I'm not saying Google should throw a 10x10 grid on there, I'm saying if the phone's screen is bigger than x size they should add another row or column. It obviously comes down to preference, I am just disappointed they didn't decide to use their screen space a little more wisely. Also I really really like having Google Now a swipe away, other than the icon size issue the new GEL is fantastic.

With iPhone having such a long thin screen they had to add another row or there would have been gaps. As the Nexus screen is in proportion there is no need. Posted via Android Central App

They could have easily just made the icons bigger, instead they opted to actually use that screen space. Again, it has nothing to do with need and everything to do with preference.

How could they have made the icons bigger? The screen was exactly the same width, they could only have made them taller which would look silly, so one extra row was the only option. Posted via Android Central App

I think I've grown weary of the whole "The external speaker is terrible, so audio quaility sucks compared to its competitors". This is especially true since the sound quality of the device through a headphone jack gets almost completely IGNORED in these reviews, despite the fact that WAY more people listen to their media content with headphones on devices like this than without. Newsflash, not all devices sound the same through the use of a headphone jack and a good pair of headphones and the differences between them go beyond "which one is louder". How does the DSP handle audio through a pair of headphones with flat sonic response? What's the output impedance? Is there any discernable hiss (however slight) during playback, at low levels? At high levels? Does the DSP produce a flat curve? Or is it V shaped? Every review that I've read (outside of one) has focused almost exclusively on the external speaker of the device while declaring a winner. But if you're like me, and you have a 250.00 pair of headphones, how the device sounds with said headphones is pretty damn important.

"device through a headphone jack gets almost completely IGNORED in these reviews, despite the fact that WAY more people listen to their media content with headphones on devices like this than without." Citation needed. Also do you know what I do more than listen to music through headphones on my phone, get phone calls and various notifications, which are all affected by a weak external speaker. If you're really that worried about how music sounds through your "250.00" dollar pair of headphones by an iPhone, as they generally have the best DAC I believe.

I love that the Nexus devices get the latest updates, but the phone itself and the stock UI isn't all that impressive. That's the only backdrop for me. I have the Xperia Z, I dislike how Sony lacks in pushing out the latest updates. Can someone help me make my decision on whether I should stay with the Z or go for the 5? Posted via Android Central App

WOW!! Got mine yesterday... from the LG shoppe was the first customer to get it.. :P
Very impressive!Quick! blah blah but there are so many software glitches.. could be easily fixed by Google
The battery is really mediocre...
Hangout needs to be improved it doesn't update the threads properly..
Camera is very slow... quality is just okay sort... but yeah it did impress me.. I am loving it

Someone in here, can tell me bout nexus 5 In a dialer, is it available block contact in it? Or is it available features "blacklist" in security apps

It cant block the calls..unfortunately

If you download CM security app you can block calls Posted via Android Central App

Friends do you know we can easily root and install clockworkmod recovery on Lg Google Nexus 5. Want to know the procedure visit – http://goo.gl/KDJfUw

Bought a Nexus5 in the Italian store and Google now tells me that I cannot get a replacement where I live now in Holland. If you are buying a Google product in Europe watch out for their (illegal!) replacement process which essentially prevent you for getting a replacement within the 2 years, in case you move out of the country.

I don't know if this is happening to anyone else, but my nexus 5 keeps restarting itself even though I have never dropped it or downloaded anything other than from play store and I only have trusted apps on it such as Facebook and twitter. This also happened to my nexus 7 but it gradually got so bad that I had to do factory resets and eventually it wouldn't even turn on anymore. Has anyone else had the same problem and why is this happening? Posted via Android Central App

The best phone to date!! I was an iPhone user for more than 4 years until I found this phone. It's just amazed me how this phone can change my perception on iOS devices. Google really rocks the show now!! Posted via Android Central App

The best phone to date!! I was an iPhone user for more than 4 years until I found this phone. It's just amazed me how this phone can change my perception on iOS devices. Google really rocks the show now!! Posted via Android Central App

Excellent review! Very detailed and informative. I just parted my 1.5 year old GS 3 and got the N5. I derailed from the Nexus line after I got the GNex (I have owned the N1, NS). The GNex was a disappointment for me. But now I'm back to the Nexus line. First impression of the N5 after the first boot: this thing is wicked fast. I agree with the camera assessment, it's not on par with the GS3 camera both hardware and software. I'm going to miss the nice GS3 camera but I don't snap too many pics using my phone so that's not a big deal. Focus is a bit lag but not too terrible. 32GB gives me amble of storage space for my needs. Battery is a bit better than the GS3, 2300mAh vs 2100 mAh, not much complaint there. Better screen resolution than my GS3. Overall, this isn't a super phone but it's a decent high end phone and I'm pleased with it. Slapping AOKP ROM on it enriched the Kitkat experience even better. Edit: forfot to mention, it got LTE!! It was one of the reasons I parted the GS3 and got the N5. Posted via Android Central App

Hello. Anyone in Glasgow looking to buy a red nexus 5, 16gb for £250 just 11 days old? Would swap for iPhone 5, HTC one or LG G2. If interested jasperanto@gmail.com. thanks Posted via Android Central App

I really love Android Central, and this is a good article, but it underscores what i've thought for about two years now. The people who operate this site are Nexus fanboys to the max!!! No matter what new phone is featured, the Nexus always comes out just a little bit better. IMHO, the Nexus5 isn't even in the same league with the LG G2, but the N5 inched it out overall. Maybe Nexus Central would be a better name for this website.

Google Nexus 6 To Be Called Nexus X - Coming This October
Check Out Here - http://goo.gl/rJnB1f

I just picked up a certified refurbished Nexus 5 to replace my ailing Nexus 4. It's still a great phone, Goldilocks size ("just right"), powerful, fast data speeds, and (naturally) being an old phone, accessories are cheap as chips. LG QuickCover $10, Nexus bumper $10, Nexus 2013 wireless chargers for $20-30. Yay. And oh, this screen. I can barely see pixels with a jeweler's loupe. Amazing.