Newton Mail will shut down in September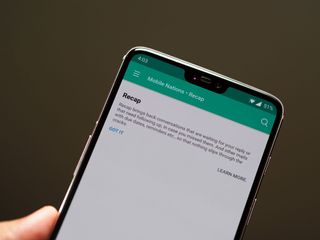 (Image credit: Android Central)
Newton, a popular email app for Windows, macOS, Android, and iOS, has announced that it will soon shut down. Founder Rohit Nadhani said that CloudMagic, the company that owns Newton, couldn't find a viable business model that provided profitability and growth, citing stiff competition from first-party email apps. Newton will end service in September.
Writing on the Newton blog, Nadhani said:
New sign-ups for Newton have been suspended immediately. Subscribers for Newton's annual plan for $99.99 can claim a pro-rated refund, though this must be done by September 18, 2018. Newton's app will be shut down on September 25, 2018.
CloudMagic originally launched its email app in 2013, later relaunching as Newton in 2016 as a subscription-based service. Newton could connect to apps and services like Todoist, Trello, and Evernote, the Tidy Inbox feature kept your inbox clutter-free, and the Recap could help you revisit unfinished conversations to find things you might have missed.
For those that loved Newton and the services it provided, it's surely a sad day. I know many people across the Mobile Nations team are avid users of Newton, and will be sad to see it go.
Android Central Newsletter
Get instant access to breaking news, the hottest reviews, great deals and helpful tips
I had totally forgotten about them. I loved their product, but then (out of the blue) they decided to make it a pay platform. If that's the way they had started, fine, but when a product is free just long enough to get you liking it and then they say, "By the way,...", sayonara.

Too many good free email apps. Pointless even having tried.

People paid $100/year for the mobile mail app? I'm guessing something else was bundled in there?

Who even pays $50-$100/year for an email service that has cheaper/free alternatives? Do they also want to buy some ocean-front property in Arizona?

I have some bags full of air for sale.

No. I have 15 email accounts all with a specific purpose. I like having a service that doesn't force me to login and register every damn account on my phone. I'm ok with paying for said service.

That's... that's silly...

"Newton, a popular email app for Windows, macOS, Android, and iOS..." Haha apparently not popular enough.

Who? Never even heard of the service. Only email I ever hear advertised anymore is mail chimp

My condolences to Daniel Bader on that one. 🇨🇦

Blackberry HUB. A fantastic alternative

Used cloud magic in the beginning, when they transitioned to Newton, tried for awhile, not worth using, jump to outlook, yahoo, recently back to default mail.

I have to admit email is not a big or very important part of my life. I have gmail because of the android thing but outlook is the one I actually use. I got attached to that during my Windows phone days. I missed it enough to bring it back home to Android with me. Sorry to see Newton go though.

It's too bad...it was a good reliable service but the cost was too expensive...

Fuuuuuccccckkkkkkk. Every single time I adopt a service.

Bought a moviepass subscription lately?

I"ve been using BlueMail app for a while over the Android Gmail app. I like it better than the Gmail app.

Me too. Got rid of the avatars and it is a really nice app. Looks good and very functional.

I'm surprised they're still around. I didn't expect them to last a year after they started charging.

was a great app didn't even know thier closing down until just now I really like this app, outlook world's similar however they don't allow you to delete emails from the lock screen you always have to open the app which is pointless sometime

I used it because of the amazon echo skill. It was nice to have it read emails to me as I did other things. I will miss it. I do agree, 100 bucks was way too much. My subscription was only 25 and I used google rewards to pay for it so it was basically free by answering a few survey questions.

I also paid 25, and it let me connect to Exchange at work when other apps wouldn't.

I would have paid a sensible price, I loved Newton when it was CloudMagic but really couldn't justify their pricing model when it transitioned to Newton. I have no sympathy for them.

I have tried their app and it was ok, but no way in hell I was comfortable paying that outstanding amount of money on the subscription. A subscription based email client was plain stupid.$100 a year? Seriously?? No wonder they are done right now.

I loved this app when it was cloud magic and used it since it first hit the market and recommended it to many customers. Then they changed the name to Newton and tried charging $60 a year for an email app. I emailed them saying it was a terrible business decision. While people could rationalize paying for an exceptional application $60 was a ridiculous amount in a field where so many competitors charged nothing.
I moved on to outlook app sadly. Great product, terrible decision makers at the helm.

$99.99/year for an email client 😂😂 seriously?
Android Central Newsletter
Get instant access to breaking news, the hottest reviews, great deals and helpful tips
Thank you for signing up to Android Central. You will receive a verification email shortly.
There was a problem. Please refresh the page and try again.