The new Surface Duo doesn't have NFC support, here's why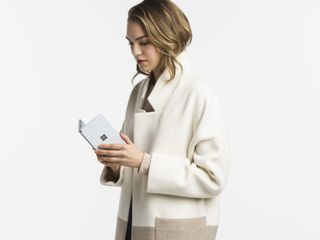 (Image credit: Microsoft)
Microsoft's new Surface Duo smartphone is available now for preorder, and begins shipping to customers in the U.S. starting September 10. It's a new form factor for Microsoft, bringing together the best of Surface with a new, dual-screen form factor powered by Android. Microsoft calls it a Surface, but it's also very much a phone.
But don't expect all the usual phone features on Surface Duo, because they're not there. Features such as 5G capabilities, wireless charging, and NFC support are all missing from Surface Duo. These are features that most people paying $1,400 for a phone would expect, but you won't find them on Surface Duo.
NFC is a big deal for people in areas where things like tap and pay are frequently used, so to not have NFC inside the Surface Duo is a big omission especially to those who almost exclusively use their phone for payments. But it's not just about payments, NFC is sometimes also used for external accessibility accessories and other important uses.
Here's Microsoft's official reason for why Surface Duo doesn't have NFC, and by extension, support for tap and pay:
In short, Microsoft says that the first generation of Surface Duo is focused on its fundamentals. The things that make it a great phone aren't a priority for version one, as the company has focused almost exclusively on making sure the dual-screen form factor is perfect from both a hardware and software perspective. This is also the same reason why Surface Duo doesn't have a great camera, or other common-place smartphone things.
This first Surface Duo is out to prove that the form factor works. It's about Microsoft building a great Surface that can fit in your pocket, and not about building the best phone. Microsoft will likely focus more on making sure Surface Duo is a great phone with version two, but for version one, it's focused on making Duo a good Surface by ensuring it's a productivity-driven device with unique capabilities that you can only find on the Duo.
What are your thoughts on Microsoft's official reasoning for Surface Duo not having top of the line specs and features? Let us know in the comments.
Preorders today!
(opens in new tab)
Two screens are better than one.
Microsoft delves into the future of foldables with an ambitious dual-screen device, featuring two ultra-thin 5.6-inch AMOLED displays bound by a 360-degree hinge. This pocketable inking-enabled Android smartphone marks the latest in the Surface lineup, geared for mobile productivity.
Android Central Newsletter
Get instant access to breaking news, the hottest reviews, great deals and helpful tips
wow, no NFC, that will put people off, while it makes no difference to me as NFC is turned off on my pho0ne, lots of people do use it.
Saying that I think the price will turn a lot of people off.

Use tap and pay a lot so no nfc is no buy for me. Unless they release a smartwatch with nfc I would also say a lot will pass on this.

I was eyeing this but can't live without both of those things. I am also trying to hold out until a phone supports some great video output to be a full, dual-external-monitor computer. If Surface Duo 2 has Qi, NFC, & USB4 (or Thunderbolt 3/4) - I'm in!

lame excuses for v1. you either come out with feature parity of your price point or you fail.

Sounds like the same scripted BS that OnePlus said when they omitted NFC in the OnePlus 2. I hope this fails so they hurry up and release version 2. I won't put it past these idiots at Microsoft to add NFC and the other notable omissions, and offer it up for $1599.

No NFC, No Sale! I was considering it, but with touchless payments being so important now, there's no way.

I suspect the fact that they wanted an all metal case has a lot to do with it. NFC and QI charging are likely blocked by that metal. Add in the mediocre camera specs and a missing SD card slot, and it is pretty much a no go for me.

1400 ways this is wrong.I am not going to pay to be a guinea pig.

So for 1400 I get no wireless charging, no NFC, and a puny battery. My LG G8X destroys this thing on specs and costs half, with a similar enough form factor. I love the dual screens and I wanted to love the Surface Duo, but it's a white elephant.
Android Central Newsletter
Get instant access to breaking news, the hottest reviews, great deals and helpful tips
Thank you for signing up to Android Central. You will receive a verification email shortly.
There was a problem. Please refresh the page and try again.