New policies from Google will make apps safer for your children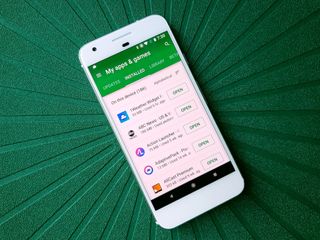 (Image credit: Android Central)
What you need to know
Developers will be required to fill out a new form stating if their app is for children.
Ads must come from a network which is compliant with Google's families policy.
Google will be reviewing apps to make sure they do not unintentionally appeal to children.
Being a parent can be tough, especially in the digital age, but Google is trying to make it a bit easier when it comes to apps. This is starting with some changes to its Google Play policies aimed at making sure apps are more appropriate for your children and family.
These changes include a new form for developers, making sure ads come from approved networks, and verifying apps not meant for children do not target them.
The new form requires developers to specify if the target audience for their app is children. If that is the case, the app must meet policy requirements to ensure the personal information of your kids is handled correctly.
While every new app submission will be subject to filling out this form, apps that have already been published are not excluded from this new policy. All existing apps are required to fill out the target audience and the content section by September 1, 2019.
Ads are also under more scrutiny and must come from a network that is in compliance with Google's families policies. Using one of these approved networks will prevent your children from seeing any unsuitable ads.
Google will also be checking to make sure that if your app is not for children, it does not appeal to them. This includes an app's icon and marketing materials (think of Joe Camel from Camel cigarettes, for example.)
If your icons and marketing materials are found in violation, Google will ask you to change them, change your target audience, or add a disclaimer that your app is not intended for children.
There are also plans to introduce more features in the coming months that will help parents make informed choices when installing apps for their children.
By taking these steps, Google has put further emphasis on keeping your children and family safe online. It builds upon previous initiatives, such as the Designed for Families program or Family Link, which allows you to set rules with parental controls.
Get the Android Central Newsletter
Instant access to breaking news, the hottest reviews, great deals and helpful tips.