The new Mobvoi TicWatch C2 watch is powered by Wear OS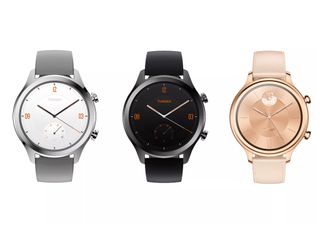 Today the Mobvoi TicWatch C2 (opens in new tab) was unveiled. Available on December 6th, this shiny new smartwatch ships running Wear OS. It features NFC for Google Pay compatibility, too. You can pre-order it now (opens in new tab) in black and platinum, as well as in a slightly thinner rose gold version.
The TicWatch 2 was originally launched on Kickstarter, and it ran on its own Android-based OS. The new version, aside from using the Wear operating system, features a two-day battery life and an IP68 waterproof rating. It's also powered by a Qualcomm Snapdragon Wear 2100 chip, and features built-in GPS as well as dynamic heart rate monitoring. The stainless steel front and leather strap construction add to the timeless aesthetic. The faces and straps are customizable, too.
In addition, the Mobvoi TicPods Free (opens in new tab) are also up for grabs online. The headphones are compatible with Google Assistant, Alexa, and Siri, and they come in white, blue, and red. Similar to Apple's Airpods, these headphones respond to touch controls to change music or pick up phone calls.
See at Mobvoi (opens in new tab)
Louryn saves money on everything she buys (which is a lot.) In between waiting for Amazon deliveries, she pines for the next Elder Scrolls installment and checks Reddit for gaming rumors. She also loves Hearthstone, makeup, and beer. Find her on Twitter: @lourynstrampe
Call me when Mobvoi offers a TicWatch using the 3100 SOC. I like their watch, but I'll wait.

I agree. I'm really feeling this watch, as I've just learned about it. Currently have the Gear S3 but would love a watch to truly match up with my Pixel 3 XL.

Gear S3 Frontier owner here. Looking forward to finally getting a smartwatch with apps, unlike the Gear watches.

Their last watch was also powered by Wear OS. The Ticwatch S and the Ticwatch E..... Is it just me finding these articles getting less accurate recently?

The original Ticwatch 2 came with Ticwear OS. This is pre Ticwatch E/S

Wish they would have stuck with their own OS.

I'm waiting for ANYONE to use the 3100 SOC but not charge $1000. With my luck it will be the day after I give up and buy the Galaxy watch and be stuck with Bixby.

"the Mobvoi TicPods Free are also up for grabs online. The headphones are compatible with Google Assistant, Alexa, and Siri..."!? I doubt these have Assistant, Alexa and Siri built in... so I think you forgot to mention they are also Spotify compatible! And YoutTube Music compatible! And Rihanna compatible! And Netflix compatible...

I absolutely LOVE my Ticwatch 2 (I think I got it via a Thifter special)

I have the TicWatch 2 and while I love the watch I cannot support Mobvoi anymore. They dropped support for the watch and their customer support is trash.
Android Central Newsletter
Get the best of Android Central in in your inbox, every day!
Thank you for signing up to Android Central. You will receive a verification email shortly.
There was a problem. Please refresh the page and try again.