A new Essential Phone might be announced soon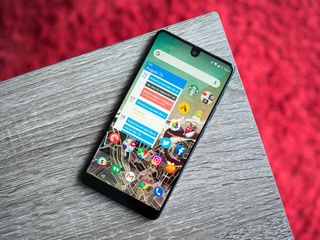 What you need to know
A new Essential Phone will be announced.
Andy Rubin confirmed this on Twitter.
The Essential Phone PH-1 was discontinued in late December 2018.
Ever since the Essential Phone was canceled in December of last year, not much news has trickled out of Essential since. The phone has continued to receive software updates per the company's promise, but we've yet to see any new hardware be released.
However, that looks to be changing.
In a very odd move, Andy Rubin replied to a tweet from September 2018 in response to someone complaining about Essential not announcing an Essential Phone 2. Here's what he said:
https://twitter.com/Arubin/status/1138408957880332288?s=20
The tweet doesn't give us a lot to go on, but it does sound like we can expect an announcement sooner rather than later. As for what Essential's next phone will look like, that's where things get interesting.
In May 2018, a report came out indicating that the Essential Phone 2 had been canceled. While he didn't address it directly, a statement from Andy Rubin shortly after indicated that this was the case. Then in October of that year, another report claimed that — while the Essential Phone 2 was dead — Essential was working on a new type of smartphone that would have a much smaller screen than we're used to and primarily be used via voice commands.
The first Essential Phone was met with a lot of criticism following its release in August 2017, but with software update after software update, the handset was gradually made better and quickly became one of the most up-to-date phones on the market — sometimes getting updates faster than Google's own Pixel phones.
That clean and fast software experience is what helped the Essential Phone stand out so many months after its initial launch, so if Essential decides to go a completely different route with its next device, it'll be interesting to see how fans react.
We aren't sure what to expect at this point, but we'll definitely keep our ears to the ground to hopefully learn more soon.
Android Central Newsletter
Get instant access to breaking news, the hottest reviews, great deals and helpful tips
Joe Maring was a Senior Editor for Android Central between 2017 and 2021. You can reach him on Twitter at @JoeMaring1.
I would be very interested in this phone. The only reason I got rid of the essential phone was the reception issue on T-Mobile. I really loved the rest of the phone and wouldn't hesitate to buy another if they sorted out the reception issue on T-Mobile.

In my area there isn't problem with it.

My initial interest in the Essential Phone was my dissatisfaction with bloated Android which became incrementally worse with the accretion of cruft over time. The first Essential iteration may have failed, but Android has not improved so hope springs eternal.

Their first phone brought with it one of the worst display designs in cell phone history. I hope they don't repeat.

It's odd how people have different tastes, for an LCD screen I thought it looked pretty damned good. I also respect your opinion. To be honest it's not my primary device and use it rarely. Use a Mint Sim with it and to be honest, my oldest daughter uses it when she goes to converts and events with the 360' camera which came included with the package, as they pushed ota's the device got better and better. Do I think it was worth the MSRP no. But on a sale with the camera mod for a few hundred dollars was worth it; Initially the phone was used on AT&T and had little problems, played with it on my TMO account and it seemed to work fine, but other phones use that account. I do have a few mint mobile sims which when needed I use with the device, or well my daughter uses. The phone has no resale value so just as well keep it.
I do think they're promotion for the phone was over the top, with nothing really to back up their claims.

I was extremely interested in their initial offering. My phone at the time was dying and I needed a new one, but they delayed too long in releasing and I couldn't wait. I hope their second offering is better received and has less hiccups than the first and I may just get it when I replace my current phone.

I would be interested depending on what they put out and what they charge for it, yes Samsung, Apple and a few others demand top dollar, But charging that much for what was an industry failure would cause doom. In any case, I would not be an early adopter.

I wonder where they're getting the capital? Surely they can't still have people willing to back them? Talk about a high risk investment...

The best thing Essential had going for it was its build quality and timely updates. They had an opportunity to be a great alternative to the Pixel but the camera and other software quirks held it back. I think OnePlus has earned that spot. I'm interested to see what they will bring for a second generation device but it's hard for me to imagine what feature will set it apart.

The Essential build quality was my favorite feature, and I really wanted the green and brass color.

There's a lot to like in the original, but also a terminal fault. The signature issue is connectivity. Strava works poorly. I have little or no data while my wife's Samsung has a strong signal.

Reviewers don't seem to mention signal much, but it's the reason I stopped using Sony phones. I liked them, but when your phone is the only one in the room without signal, it's time to move on. I left iPhones as my primary devices because of the battery, but signal strength was also barely adequate. I remember my wife being in our dining room standing next to the window, afraid to move and possibly lose signal because she was on a suicide call (she's a counsellor), and then she had to ask me to get her charger because the phone was also dying. I bought her an HTC M8 after that which averaged 36 hours of talk time per charge, AND had good signal. She's using the U11 now and says she never wants to go back to Apple.

I'm using the PH1, as my main phone. The build quality and material choice is the best on the market. The ceramic still looks new and the TI frame also looks great. I get compliments on it all the time. Add to that the software updates every month and I am a believer in Essential products. Now I hope they don't do something crazy with the PH2...

Really hope they release a new phone. I know a lot of people had issues with their PH-1, but I got lucky and have had no issues with mine at all. Give me 6-8GB of RAM and better camera software and I will definitely get the PH-2

Instagram.com/phxchristian... See some pics I've taken. The camera isn't as bad as the bad press in the beginning... Updates fixed it.

I know the phone can take some great pictures, I've been using it since November 2017. But compared to some other phones out there it's way behind.

Amen!! Actually the only complaint i have now is the 4gb RAM, definitely not enough in 2019. But overall PH-1 still running well. Interestingly in China where i live you can find service that solder 8gb ram to ph-1 :)) but the phone becomes battery hungry, i tested it, not worth it.

I loved my PH-1 but the mediocre camera was always very frustrating. Ditched it last month for the Pixel 3A and haven't looked back. If they get the camera right in a version 2, I'll definitely be interested

Hopefully they learned from the first one with the issues and price.

This sounds pretty interesting..
I love my PH1.

I haven't had an issue with my PH1. I get updates faster than my friends Pixels. The camera software improvements have been great. I can't go wrong shooting in B/W either. Maybe when this thing putters out then hopefully the 2 with a strong camera out of the box will be available.

Andy Rubin, bring us a similarly sized, similarly designed device as your PH1 with an AMOLED display, dark mode and full gesture control... And I'll buy three in a blink. Thanks, your loyal watcher.

As an iPhone user for the past 4 years, coming from my beloved Nokia 1020, the essential was really the only android phone I would consider. As a lover of all things tech, I frequent the stores regularly and spend time with all devices. The build quality on the ph1 was amazing. Felt premium like my iPhone. I cannot say that about the pixel, Galaxy and various other android based devices. I hope essential comes to market with a new handset. The only thing is they need to release all colors to the public. I would have purchased 2 ph1 if the ocean color was available easily.

Love my Essential and have been waiting for a potential 2nd version. But I don't understand why you are running this article now (again) based on a September 2018 tweet!?

So I'm reading this again (looking for updates on PH-2) and noted the feature of Andy's tweet...which answered my question. :) I'm hoping you all will see this though and know something new about possible release of ph-2. My original ph-1 is beginning to lose extended battery life.
Android Central Newsletter
Get instant access to breaking news, the hottest reviews, great deals and helpful tips
Thank you for signing up to Android Central. You will receive a verification email shortly.
There was a problem. Please refresh the page and try again.