New app translation service announced for Google Play developer console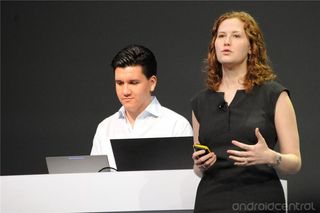 New developer tool to take away the difficulties with language barriers
During the Google Play developer console presentation in the Google I/O 2013 keynote, a fantastic new tool has been unveiled for the first time. Language barriers are tough to overcome, but Google is introducing a new app translation tool right within the developer console.
The demo given by Ellie Powers on stage showed the new feature, by choosing a language -- Russian -- desired for translation. Then developers can select a translation service, pay, send their app away, and in around a week it comes back all translated and ready to go. Fantastic news for developers to help them get their apps out to a wider audience.
Developers interested in trying out the pilot program are invited to apply now.
Follow our live coverage of the Google I/O keynote for the rest of the day's news!
Android Central Newsletter
Get instant access to breaking news, the hottest reviews, great deals and helpful tips
@Richard Devine Thanks for the post. it's really a fantastic matter for developer. so cool. Thanks in Advance

Trusted Translations is excited to be a part of this important Google initiative as we strive to provide the best quality at the most competitive rates to Android developers. We will be involved as a competitive vendor and as part of a team that will be engaged to continuously improve the translation tool ensuring it is the best localization solution for developers using the Google Play platform.

I happen to know first-hand that you just offered a project from French into Dutch for $0,055 per word (proofreading at $0,001). Assuming a 30% profit margin this means your translator receives $0,0385 per word. Google tells you that the average translator can translate 1800 words per day, so this translates to $69,30 per day. Gross. And you dare say you offer the best localization solution in the world? I feel sorry for the poor developers falling for this. Your rate is far below the minimum wage in The Netherlands ($90,60 per day), the country in which your target language is spoken. What does this tell us about the quality of your translators? What do you use? Students? Unemployed people with no experience or whatsoever? If you pay peanuts, you get monkeys.

Yes it's cool, but sometimes it does not work, so you just can try to visit this page- www.bv-translations.eu/lt/kontaktai/ , just because it provides cheap services and high quality translations.

As a translator I'm happy to hear that Google take localisation seriously.

As a translator, you should be not happy at all. Google is using one of the crowdourcing translation portals to work for Google Play (One Hour Translation, namely). These crowdsourcers pay peanuts, so professional translators do not bother to cooperate with them. This means that the quality pretty much sucks. I'd never recommend any developer to use this service, unless you're keen to put your precious work at risk. Better, find a decent agency and get a proper translation. Crowdsourcing is always a bad idea.

Not to mention the fact that they also partner with Trusted Translations, a notorious sweatshop in Argentina posing as an American company. Your translations are safer in Google Translate, and that says a lot. Developers had better select an agency themselves or even better: cut out the middle man and start working with freelancers directly, so that they can exert far more influence on the whole process. An association like http://www.aipti.org/ can give great advice on that. Use it. A bad localization is worse than no localization at all.

Hi,
I'd like to answer the serious matters you raise here, as I feel you misjudge us.
1. Large corporations like eBay, Google, Coca-Cola, IBM, Xerox are using our translation services. Those companies are working only with translation companies that offer very high quality. Needless to say, those companies are checking thoroughly their suppliers.
2. Translation projects aren't crowdsourced. Only the QA process is. And in translations, more eyes means better quality. Each translation is done by a professional translator, after a long screening and testing process done by our translators team. One Hour Translation is ISO certified and ATA member.
3. You are invited to our translators forum. You will find there that for many professional translators One Hour Translation is the main income channel. I believe that many high-rated translators who work with us are making more money than they managed to with traditional translation agencies they worked with in the past.
4. A few dozens of translation agencies (including some of the world's largest) are using our translation services in times they need to outsource some of their projects.
5. Since you are an Android developer I invite you to check our translation service with one of the Android apps you created. Please private message us @OHT and we'll credit your account. Please mention that you came via this forum. Thanks
Yaron Kaufman
One Hour Translation

According to your website, the Dutch part of which is infested with spelling errors by the way, your standard rate per word is 0.057 euro. Your website states that your translators translate 1800 words per day. That means your translators make far less than 102.60 per day, as these prices include your profit margin. The average profit margin of agencies is 100%, but let's stay on the safe side and assume 30% for your agency. That means the translator only receives 71.82 euro per day. That is 8.98 euro per hour. Gross. A janitor makes more money. What does that tell you about the experience and quality of the "translators" working for you?

Dear Yaron, What is the standard fee for English > Spanish translators? (this based on the 0.07 USD that clients pay) Thank you,

There is no, let me repeat that: no, professional Dutch translator that works at 0.057 euro per source word. So the claim that you use professional translators is uncalled for, proven by the poor Dutch of your web site (just two examples: you apparently do not even know that not every noun gets a capital in a Dutch title, and that's only the first sentence; also 'email' is completely different from the English 'email', it should be 'e-mail'; great quality!). In short, you cannot back up any of the claims you make. I would urge Google to use professional translators if quality is of any concern to them.

Wow, I agree with the above two comments re: price. No way you are going to get quality in the German-English pair for that price either - and I'm not even deducting the agency's margin.

I Agree with you
http://www.dutranslation.com/

Indeed! And it is illegal to expose our clients' documentos to any online MT (Google et alii). We can be sued for doing it.

All the companies involved in this project including One Hour Translations, Trusted Translations, Translated.net and Google are all on the cutting edge of language technology and providing quality services though highly efficient workflows. I believe all the agencies involved are independently certified to meet ISO quality standard (at least One Hour and Trusted Translations are). This technology will actually improve quality, increase turnaround times and lower costs for developers. I do not understand why people criticize advances in technology. This is definitely the future of localization. To each his own I suppose.

Hello employee of one of the above-mentioned agencies, ISO says nothing about the actual quality of translations. All it tells you is that a second-rate translation was double-checked by a second-rate proofreader. You also have not explained why a good translator would ever be willing to work for the rates you pay. A janitor makes more money.

"Cutting edge of language technology" and "bottom feeders", what a combination.

Congrats to all those involved! Sounds like a great project. I have actually utilized Trusted Translations and they provide great service and quality. Happy they are on board with this project.

Interesting. A professional and apparently very experienced developer writing his first post ever on one of the biggest developer sites on the net, after having registered only 4 days ago. Do you really speak C#? The buzz words in your posting sound more like managerial talk. The kind of talk a manager of one of the above-mentioned companies would use to defend themselves under the guise of a non-existing developer. You guys don't need us to dig your graves; you're doing a fine job yourselves already. But let's assume you are who you say you are. I really hope the Dutch on their website is not representative for the quality you got. We stopped spelling local als locale about 60 years ago, neither do we ever capitalize words in the middle of sentences, like their website does everywhere. An Italian colleague by the way just noted that half of the Italian pages on their website is still in English.

Hi Josef, I'm curious which app you submitted for translation. Can I already see it and test for myself if the quality is what I expect from a professional translation?My standards for localization are high. The Dutch on the website isn't up to my standards anyway :-(.

This it what employees and translators say about the company you are using for translation services:
"Constant Pressure and impossible deadlines resulting in poor quality translations-No support or motivation-No HR department or qualified teamleaders with people skills-Very poor rates that haven't changed in 8 years". And here's another piece worth reading: http://globaltolocallanguagesolutions.com/2011/06/27/blowing-the-whistle... Clients should run a background check on companies/suppliers.

Sadly, the agencies mentioned in this thread pay their translators very low rates. Very few professional translators work for these rates - but unprofessional translators do. While the cost of this kind of translation is low, the outcome is not always good.
It pays to shop around, so I would recommend this excellent guide for translation buyers:
http://www.atanet.org/publications/getting_it_right_trans.php

If need good translation service, please visit our company http://ajprojects.lt/vertimu-paslaugos-vilniuje. You can trust for us.
Android Central Newsletter
Get instant access to breaking news, the hottest reviews, great deals and helpful tips
Thank you for signing up to Android Central. You will receive a verification email shortly.
There was a problem. Please refresh the page and try again.