Netflix updated to officially support Honeycomb tablets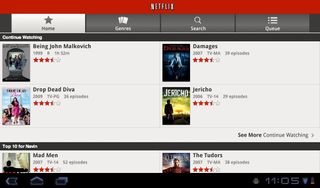 Netflix updated its Android app today, which now officially supports all tablets running Honeycomb (Android 3.0+). It wasn't too long ago that the app was updated to support all phones running 2.2+. Since then, tablet owners could find the app and install it on their own to find that it ran fine on their tablets, but it's great to see official support for more devices.
This update also brings support for everybody in Canada and Latin America, so you can now get Netflix on Android in those regions.
Please find links to the app after the break. If you have any questions about the app or want to share your experiences, shout out in our Android App Forum.
Source: Netflix (opens in new tab); Thanks to everybody who sent this in!
Android Central Newsletter
Get instant access to breaking news, the hottest reviews, great deals and helpful tips
Great now I delete my outdated version that says it not compatible with my device but works

I wish that they would update the UI to look like it belongs on a tablet.

Blah blah don't care. Had this on my tab fovever now. WHAT ABOUT HULU+!?!?!

Jericho is an awesome show, finish it!

I dumped netflix after they tried to screw me twice

Awesome! It didn't show on my Transformer when I searched the market, but using the web market or a market link allowed me to install the app. Now I don't have to keep pulling the version off my phone and throwing it over to my tablet every time it updates. :D

I had to scan the QR code to find it in the market on my WiFi Xoom. Doesn't show up when you do a search for Netflix in the market.

Hope it isn't so darn grainy.

Wish HBOGO would follow suit. Those Rat Finks.

Great news! Been running the outdated but working one for quite some time, but now no more annoying update messages!! The Netflix fiasco didn't phase me... we were only streaming content anyways so it was a no brainer.

Great, getting my Xoom back tomorrow after the LTE upgrade. Really hope HBOGO is next.

Seems to break video on allot of devices running cm7. Anyone confirm?

I hope the app isn't supper laggy still. Embarrassing how smooth it is on the iPhone but how choppy it is on Android :/

Umm...sounding a bit trollish. There are SO many reasons why you can't make a blanketed statement about Android. Netflix has always streamed smoothly on my Evo and now my Evo 3D...and that was via WIFI and 3G. I just installed the app on my Xoom and it works GREAT. What Android device were you using that it was choppy on?

I second that. Has always been smooth on my EVO4G, Evo 3D, and now my Epic Touch. Surprisingly smooth on 3g connection as well.

He's not talking about video playback. That's fine. He's talking about scrolling through titles and switching between tabs and he's right. I have the most powerful Android phone on the planet and yes, navigating through the app is a slow, laggy exerience.

@cbmc It did on my Nexus S 4g, now all I have is audio ;(
Android Central Newsletter
Get instant access to breaking news, the hottest reviews, great deals and helpful tips
Thank you for signing up to Android Central. You will receive a verification email shortly.
There was a problem. Please refresh the page and try again.