Netflix now streaming with 'high-quality audio', because your ears matter, too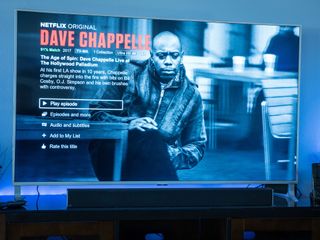 Netflix today in a blog post (opens in new tab) announced that it's revamped its audio streaming for all content that use either 5.1 surround sound or Dolby Atmos. It's calling it "high-quality audio," which is a pretty unassuming name given the big deal it's making about all this. And to be clear, it is a bit of a big deal.
It all comes down, as it so often does, to compression. Just like video, audio also gets compressed when it's fired off through that series of tubes we call the internet. And that means you don't the the same "studio-quality" sound at home as you do when the folks making the shows are perfecting the audio.
So Netflix wanted to work on that.
The end result is twofold. First is that they're streaming better audio, full stop. That's important unto itself. The second part of the equation, though, is that they're able to adapt the audio stream depending on how much bandwidth you have — just like they already do with audio.
So for 5.1 surround sound (and for the uninitiated, that means five channels up front and behind, and a subwoofer for the low end) audio will start at 192 kbps and ramp up to 640 kbps if you've got the speed for it. (Higher bitrates mean better audio.)
And for shows that are streamed in Dolby Atmos (which already requires more bandwidth and requires Netflix's Premium plan) the range goes from 448 kbps on a slow day up to 768 kbps.
Netflix also says it's tested this new scheme across pretty much any device you can watch Netflix on.
Here's how Netflix puts things in its technical blog on the matter:
Will you notice a difference? Maybe. But even if you don't, Netflix says (and I'd agree) that better audio makes for a better experience, even if you don't say to yourself "Know what? That's much better than it was yesterday."
Thanks Phil, good to know!

I'm pretty sure I'll notice the difference. I have a full fledged reciever (Sony DN1080) with a 5.1 setup. I happened to have the blu ray copy of Last Jedi and compared it to Netflix. Even on max quality, Netflix was inferior in the audio department. Dynamic range was greatly compressed and clarity took a hit (to say nothing of video, blu ray has it beat soundly). I'll take the Improvement but I got a feeling I'll still prefer my discs.

Yeah, you're not going to get the same resolution as Blueray, but it's still a welcome change. I might just have to get my old center channel out and hook up the mains again. Our previous TV had garbage audio outputs, but we just got a new one a couple days ago.
Android Central Newsletter
Get the best of Android Central in in your inbox, every day!
Thank you for signing up to Android Central. You will receive a verification email shortly.
There was a problem. Please refresh the page and try again.