NBA 2K Playgrounds 2 for PlayStation 4: Everything you need to know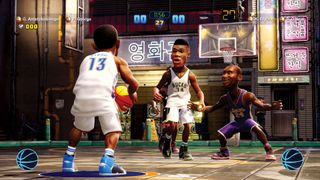 If you're tired of the accurate simulation that NBA 2K19 provides and you favor something that will allow you to suspend your disbelief, you might want to pay attention to NBA 2K Playgrounds 2. Fly high and slam your eyes down below — here's everything you need to know.
What is NBA 2K Playgrounds 2?
A little-known company named Saber Interactive sought to bring back the over-the-top arcade-style basketball genre. Their vehicle for doing so was a game called NBA Playgrounds.
Playgrounds offered that fast-paced action popularized by games like NBA Jam and NBA Street, though the game launched to mixed reception. Namely, its lack of big-name legends and a lack of depth in the gameplay department made the title forgettable.
But it caught the attention of 2K Sports, with the longstanding veteran of the basketball genre reaching a publishing deal to produce the next game in the series. That game is the newly-titled NBA 2K Playgrounds 2.
This is an area 2K has yet to dive into, with the company preferring simulation-style development more than anything. Its partnership with Saber Interactive shows 2K has real interest in this area and thinks there could be potential for this thing to become a hit.
As is usually the case with 2K, is contributions to the cause are said to have been quite immediate, with help in both development and licensing being the two biggest examples of that. Let's start with what the game will offer at its core.
Ridiculous basketball fun
Sticking with the spirit and theme of the original game, NBA 2K Playgrounds 2 is doing everything it can to bring that ridiculous form of basketball where everyone can defy the laws of physics, gravity, and everything else that should make sense.
You'll often find yourself flipping and flying higher than the courts, and maybe even higher than the Ferris wheel in the background of the peer you're playing on. Look for 2K to tighten up the gameplay and button things up with new moves, animations, and abilities.
That comes with new modes, including four-player online matches, three-point shootout contests, and 10 new playgrounds to play at. You'll be able to hop all over the globe with courts in California, Seoul, and Australia. There are also seasonal and championship play modes for those who want to compete in leagues for glory.
Alongside general gameplay improvements, 2K is shoring things up on the infrastructure side of things. Matchmaking will be better and games will be smoother thanks to the usage of dedicated servers. You'll also be able to set up custom matches for you and your friends to enjoy.
A much better roster
This is another area where 2K is bringing its power to the franchise. The original NBA Playgrounds had a good mix of both past and present stars to play with, but NBA 2K Playgrounds 2 is bringing the number of playable stars up to over 400.
What's more, that roster consists of some much bigger names in the legend department. Names like Michael Jordan and Kobe Bryant were missing before, but 2K used its connections to seal the deal.
Saber says it never would have gotten some of these names without 2K. It figures to be an important deal, as playable stars like those are crucial to attracting interest in these sports games.
As far as all the other stars are concerned, 2K's extensive work in replicating player likenesses and styles will find their way into Playgrounds 2. We get the sense that we won't see the entirety of the roster get complete overhauls right away, but be sure 2K is planting a firm flag in the ground for some of the bigger names of the NBA.
When can you play it?
NBA 2K Playgrounds 2 is out October 16th, 2018 for PlayStation 4, Xbox One, PC and Nintendo Switch. You can pre-order the game today to guarantee it by launch.
$30 at Amazon (opens in new tab)
Get the Android Central Newsletter
Instant access to breaking news, the hottest reviews, great deals and helpful tips.