Nascar.com launches their own Google TV app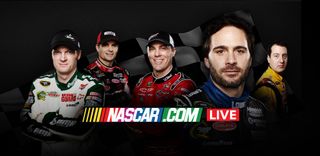 Nascar fans rejoice! Right out of the gates following the recent Google TV update announcement they have launched their own Nascar.com Live app into the market.
Promising access to HD on demand content as well as all manner of information on your favourite drivers, teams and circuits the first racing app for Google TV is squarely aimed at enhancing the fans experience of watching Nascar racing. The apps "live mode" pairs up with the TV broadcasts picture-in-picture feature to bring you additional content while you watch.
Check out the full press release and market link after the break.
Source: Nascar.com
NASCAR.COM announced Friday the launch of NASCAR.COM LIVE, a new app available on Google TV, the open TV platform that brings entertainment from the Web to your TV. Through NASCAR.COM LIVE, fans can access interactive features including HD video on-demand clips, driver profiles, standings and schedules for the Sprint Cup Series, Nationwide Series and the Camping World Truck Series. NASCAR.COM LIVE is the first racing app for Google TV.
NASCAR.COM LIVE provides users with exciting free content throughout the week and brings fans closer to the action during the race. On a Sprint Cup Series race day, users can launch live mode to access the app's lap-by-lap updates and follow lead changes and statistics with the Live Leaderboard. Additionally, users can complement their viewing experience of the live race broadcasts on FOX, TNT and ESPN/ABC by pairing the app's "Live Mode" with their existing TV service's picture-in-picture feature. On non-race days, users can access a library of HD video on-demand clips, upcoming race schedules, standings, archived race results, driver profiles and a NASCAR 101 section with information about the points system, common NASCAR terms, and an overview of how the Chase for the Sprint Cup works.
"NASCAR.COM LIVE is an exciting option for fans looking to consume NASCAR.COM content through their television experience," said Justin Williams, senior director of business operations for NASCAR.COM. "Our partnership with Google TV is another example of NASCAR.COM's efforts to deliver content through emerging platforms and technologies."
"For the first time ever, NASCAR fans can consume the sport's most popular content on one screen, on demand, and in high definition," said John Martin, managing director of digital media for NASCAR. "NASCAR.COM LIVE is our first foray into the interactive TV space, continuing our commitment to provide the most loyal fans in sports with NASCAR content in as many places as possible. This new app will be a great complement to the television broadcast, giving our fans the ultimate companion viewing experience."
Fans will see much of the same content that they see every day on NASCAR.COM as they navigate through the app, including the latest video features and preview shows, all optimized for web-enabled televisions running Google TV. Additional features for NASCAR.COM LIVE include:
* Driver Profiles: Accessible through the standings and drivers sections, fans can drill down for additional details about Sprint Cup Series drivers including current ranking, photos, and team and car details.
* Schedules: Before the drop of the flag, fans can access a schedule of races for each series (NSCS, NNS, NCWTS). In addition, users will be better able to tune in to NASCAR programming by setting reminders that alert them to the beginning of the qualifying round and official start of each race.
* Real-Time Race Updates: In addition to lap-by-lap updates and Live Leaderboard module, on race day the app will automatically change its race flag background to green, white, yellow, red or checkered to reflect the current status in the race.
Google TV launched in 2010 and is a platform that brings all the great entertainment from the Web to your TV. Google TV is available on select televisions, Blu-Ray players from Sony, and a companion box from Logitech.
Android Central Newsletter
Get instant access to breaking news, the hottest reviews, great deals and helpful tips
THEY'RE TURNING LEFT! THEY'RE TURNING LEFT! YOU CAN TURN YOUR TV OFF AND CHECK BACK IN AN HOUR AND YOU WON'T MISS A DAMN THING!

YEEEEEEEEEEEEEEEEEHAAAAAAAAAAAAW!!!!!!!

Just because you people don't like NASCAR doesn't mean you have to make fun of it how about you people grow up.

Why not? I think it should be a moral obligation to make fun of pathetic "sports" like NASCAR, golf, bass-fishing, and poker, among others.

Hey watch what you have to say about bass fishing! It takes more skill and concentration than you realize!

Nascar....the golf of motorsports! Hold down the throttle and turn the steering wheel to the left...such skill!

If you have never raced a stock car how do you know what skill it takes to race one.

No I haven't, but considering that none of the modern day NASCAR drivers ever make it to Formula 1, or even 24 Hours of LeMans (at least not in LMP classes) shows their lack of skill it takes to drive real race-cars. Why so defensive? What do you care what people think about the sports you like? How would that affect your feeling about the sport? Maybe you're the one who needs to grow up.

Your the one who is making negative comments about NASCAR drivers, so you prove to me that you need to grow up.

None of the modern day NASCAR drivers ever make it to Formula 1 because they choose not to. Just look at how many Top Formula 1 and other open wheel drivers are trying to make it in Nascar. Years ago Jeff Gordon and Montoya switched cars to do a exhibition and Gordon set a fast enough lap time to qualify for a F1 race the first time he ever sat in the car. There is no question F1 cars are STATE OF THE ART, the most sophisticated race cars made but those cars practically drive themselves. Everything is monitored and tuned from a computer by engineers in the pits. In NASCAR it is all feel from the driver. The driver actually has to drive a 3400 pound race car that has 900 horsepower with very little downforce or grip. Those type drivers can drive anything you put them in. I do realize there is a arguement that NASCAR is boring going in cirles and that is all a matter of opinion but I have watched F1 races where they run the entire race without a lead change and that gets really boring too. NASCAR is set up to watch side by side racing with lots of passing and F1 is not. To me no passing is boring but to some circles is boring.. I am a race fan so I watch F1 and NASCAR and Indy Cars and Motorcross and whatever else but to say NASCAR drivers are the worst is a very uneducated (about motorsports) statement. As far as athletes go, there is not a professional athlete of any sport that could sit down in one of those racecars and go for 500 miles on a summer day. Hemingway said that "There are only two sports: motor racing and bull fighting. Everything else is just a game."

Also NASCAR drivers that are full time don't have time to race in the 24 hours of LeMans since they race in their own series too.

I wasn't interested in the app, but I checked here because I was expecting these funny comments. :P

This just shows how much of a Nerd some of you people are, get all excited over a cell phone being released but make fun of people that like Nascar.

watching nascar live on android is easy now here www.nascarlivetv.com , register here and enjoy without ads and popups
Android Central Newsletter
Get instant access to breaking news, the hottest reviews, great deals and helpful tips
Thank you for signing up to Android Central. You will receive a verification email shortly.
There was a problem. Please refresh the page and try again.