MyFord Mobile for Android Wear lets you start select cars from your wrist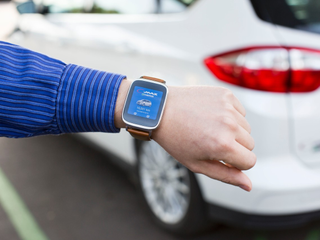 Ford has updated its MyFord mobile app with support for theap Android Wear. The apps are geared towards owners of Ford's electric and plug-in hybrid vehicles, specifically the Ford C-MAX Energi, Ford Focus Electric and Ford Fusion Energi. The smartwatch apps allow owners of these vehicles to check the range and charge status of their car's battery life and remaining range, for instance.
In addition to checking your car's battery, there are a number of other MyFord functions that have been brought down to size for your smartwatch. Here's everything you can do with MyFord Mobile for Android Wear:
Range and charge status for battery electric and plug-in hybrid vehicles
Capability to initiate preconditioning of vehicle cabin remotely
Locking/unlocking capability
Vehicle mileage summary
Last trip summary includes personal driving score, percentage of electric vehicle miles
Vehicle location provides walking or driving directions back to your parked car
The update to MyFord Mobile is rolling out now on the Google Play Store (opens in new tab).
Source: Ford
Someday, I'll be able to start a Shelby Mustang GT350R and Ford GT using a watch. Someday....

Now that's a cool app Posted via the Android Central App

Cool, I already use this feature from my phone for my C-Max Energi.
It so nice on hot days to be able turn on the AC 5 minutes before I leave the office so I get into a pre-cooled car.
Guess it's time to consider a smartwatch. Posted via my Note 4 on Cricket

That.is. AWESOME! Surprised they don't have this for Mercedes. Straight outta JAMES Bond. Posted via the GS6 Active, aka GS6 M.E. (Manly Edition)

Come'on Chevy, give us Wear support for the Remote Link app so we can do the same

Will the MyLincoln app also support Android Wear? I use the app on my phone (mainly to schedule starts so my car is cool when I get off work), and I love it. Having the app on a smartwatch would be even more convenient, though.

Need 2013 Ford Focus (Titanium) support! Can start it remotely from key fob already, just need that support to do it elsewhere. :(

Can't wait for the security exploit on this!
Kids'll be walking through the mall parking lot, starting up everyone's Ford.

I think it's funny electric cars are being sold as the cleaner vehicles but then they put features into them like this that allow you to turn on the vehicle when you aren't even inside the vehicle which is as far from green as you can get.

If the car is a pure electric, then the AC won't cause any pollution. Well, until you plug it into a charging station powered by coal, lol. Posted via the Android Central App

I don't have a Ford but it's things like this that make Tizen look real bare bones. Posted via the Android Central App

Hate how Ford only makes an app for their hybrids. Guess my 2014 Focus is not good enough :( * sent from my Note 5, with an S Pen safely inserted TIP FIRST.*
Android Central Newsletter
Get the best of Android Central in in your inbox, every day!
Thank you for signing up to Android Central. You will receive a verification email shortly.
There was a problem. Please refresh the page and try again.