Sennheiser PXC 550: Better than Bose?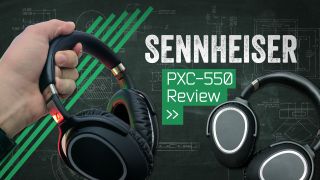 The Sennheiser PXC 550 can keep your ears closed off to the rest of the world. A must-have for those of you with long holiday travels and long holidays with family. They're good-looking and long-lasting, just like everything you'd want in a ... pair of noise-reducing headphones. With the added luxury of a touch-sensitive panel to help control what you're listening to, you'll really drive your ... headphones wild.
MrMobile, in his infinite wisdom, will help you decide if these cans are what your ears have been looking (listening?) for, or if you're better off with the Bose QC35. Take Michael Fisher's advice, and you'll be ready for all that December has to offer.
Stay social, my friends
Justus Perry is a producer for MrMobile. He's an editing machine. He's also a comedian, so take everything he says literally.
So Mr mobile reviews Mr mobile. Interesting.

I would rather give my money to a company that puts more into their product than advertising.

Sennheiser is one of the creme-de-la-creme when it comes to audio experiences, Bose..... really doesn't stand a chance, its like comparing a rock to a mountain

Exactly, Bose is joke when you compare them to other models of similar price. I bought a set of Audio-Technica ATH-ANC7B, very good set for the price.

All subjective, like food, music and fashion. I love my QC35's.

I actually preferred the Sony H.ear Wireless that were on sale on Amazon for $200 on Cyber-Monday. Still available for $220, which is a steal. 20 hours of battery life, good noise cancellation, and better sound than the Bose... though I haven't tried the Sennheiser.

Sennheiser headphones sound great. Do yourself a favor and find a store to listen.

I liked the Bose but couldn't get used to the noise cancellation so I ended up returning them. I always felt like my ears were wanting to pop. I tried the Fiil Diva Pro's that he mentioned and have been enjoying those ever since.

I wrote a long comment, that I just couldn't publish for whatever reason. Long story short: the best ANC headphone on the market is Sony MDR-1000x.

Completely agree with you. The mdr-1000 sound better and have better noise cancelling in my opinion... If you go into Bestbuy try the q-35's on and the 1000's. The q-35's are nice but you can still hear the music over the loud speaker put the sony's on it gets quite. Also be advised sony for some reason sony put the worst sounding demo out that I have ever heard the headphones sound way better then the demo. Also another cool feature about the mdr's you don't need to take the headphones off to have a conversation. You can just cover up the right earcup with your hand and it allows you to communicate back and forth without taking the headphones off it's really nice feature it works well

It may have better sound and some say it has the potential for better noise cancelling, but it is ABSOLUTELY A PAIN IN THE ASS to switch between Bluetooth sources, unlike the QC35s that are sorry user friendly and easy to switch between sources with.

Maybe mr. Mobile cab review the Sony mdr 1000x.
I listened to them at IFA and was blown away by the sound quality and NC tech.
They seem way better then anything else. So… review?

Sony forgot to include an easy way to switch between sources so it's very difficult to connect to your computer and your phone and switch between them. It's much easier on the Bose.

Love my QC35! Wish they would offer the software to control the amount of Noise reduction like these.

It's odd they don't. I have the QC 30s where you can't turn it off but with the ear buds (forget the number) I can. Couldn't watch that video, it's just an advert and not a review
Android Central Newsletter
Get the best of Android Central in in your inbox, every day!
Thank you for signing up to Android Central. You will receive a verification email shortly.
There was a problem. Please refresh the page and try again.