Mozilla takes the covers off a faster, more powerful Firefox for Android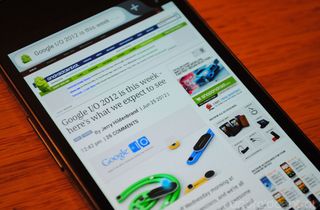 Just last week Mozilla took to Twitter to announce something big for Android was coming our way. Of course, the Firefox logo being used in the promotional material was a dead give way but that didn't stop the speculation from happening. With it now being "next week", Mozilla has taken the covers off what they had to announce and sure enough (as some guessed and was earlier confirmed) it's a revamping of Firefox for Android.
Moving out of beta status, the latest Firefox for Android boasts plenty of improvements over previously available versions. In fact, the Firefox development team has gone ahead and redesigned the whole thing. Faster browsing, better security, better memory management plus, much more. To put it simply -- a completely re-engineered Firefox for Android.
Having put previous versions to the test and living the re-engineered version for the past few days, it's easy for me to say this latest release is more in line with what one would have expected from the Firefox team with their Android offerings. Pages render much better now thanks to the code being native and Firefox making use of the GPU directly, while text looks as it should even on smaller screened devices and crazy zoomed in rendering no longer happens even on larger devices, like the Samsung Galaxy Note.
If you've given Firefox a go before and ended up ditching it for lack of flash (which by the way, is now included), poor memory management or bad rendering, go ahead and give the latest release a try. The update is available for download right now in the Google Play Store (opens in new tab) and let us know your thoughts on how the Firefox for Android team did with this version. If you need some video it in action, jump below where you'll a overview video along with the full press release from Mozilla.
Download: Firefox For Android (opens in new tab)
Mozilla Launches a Speedy and Powerful Upgrade to Mobile Browsing with Firefox for Android
As a pioneer of the Web, Mozilla unlocked the Web experience on the desktop with Firefox and we are doing it again in mobile. We're proud to announce a new Firefox for Android is now available for download in the Google Play store. The new Firefox for Android is a snappy and dynamic upgrade to mobile browsing that makes it faster and easier to get where you want to go on the Web.
Super Fast - We redesigned Firefox for Android to make it a screaming fast and personalized upgrade to mobile browsing that lets you take your Web experience everywhere you go. You'll notice dramatic performance improvements that make Firefox on your Android phone super fast with everything from startup and page load times to panning and zooming and Web app performance when you just want to play Mozilla's BrowserQuest game with your friends.
Firefox for Android is significantly faster than the stock browser that ships on Android phones according to the leading industry benchmarks, such as Sunspider. In addition, we developed a new benchmark, called Eideticker, that measures the actual user Web experience and we built Firefox for Android to it, yielding an experience that is two times faster than the stock browser.
Upgrade to Mobile Browsing - Firefox for Android has a fresh, streamlined look with a personalized start page that saves you time getting where you want to go on the Web. The new Awesome Screen powered by Firefox Sync delivers all your browsing history, bookmarks, passwords and form data to your Android phone. We also optimized your favorite features like tabbed browsing, Firefox Sync and Firefox Add-ons to deliver the best mobile browsing experience possible.
Firefox for Android supports Flash so you can watch videos, play games and interact with more Web content on your Android phone.
Based on the same open technology platform as the desktop version of Firefox, Firefox for Android offers the highest level of privacy and security features in mobile browsing. Firefox respects your privacy and protects your security with features like Do Not Track, Master Password, HTTP Strict Transport Security and more.
Upgrade to the Web Platform - New HTML5 capabilities in Firefox for Android enable developers to create rich Web apps and websites based on HTML5, JavaScript, CSS and other open Web standards. As the advocate for the Web, Mozilla exposes new Web APIs and submits them to standards groups to move the Web forward as a platform. Among the standards that Mozilla helped build are Camera API, Vibration API, Mobile Connection API, Battery Status API, Screen Orientation API and Geolocation API.
You can play Mozilla's HTML5 BrowserQuest multi-player role playing game across desktop and mobile Web experiences to see just how powerful, fast and fun the Web can be.
Android Central Newsletter
Get instant access to breaking news, the hottest reviews, great deals and helpful tips
not compatible with my Prime but seems pretty nice on my Galaxy SII

Yep not compatible with my Xoom, and FC'd twice on my Maxx. Uninstall... Why remove tablet support? Edit: The Xoom is even listed on their "supported devices" page...

Sorry, the tablet version of the new UI was not ready for this release; it'll be in the next major update. You can already start testing it today in nightly development builds: http://nightly.mozilla.org/

Ouch, Play is telling me "This app is incompatible with your Verizon Phone." (OG Motorola Driod). Guess I'll try it when my S3 comes in. Anyone have a comparison with Dolphin Browser HD?

The Firefox for Android team hosted a Q&A on reddit yesterday - http://www.reddit.com/r/IAmA/comments/vkwjz/iama_significant_portion_of_.... There's some good stuff in there about future versions. The new UI on this build will make it to tablets in FF 15. And there's a reader mode in the works.

how does this compare to chrome?

hot garbage. installed it, tried navigating to google.com and it FC'd. uninstalling. vz gnex.

You're doing it wrong! LOL :p

loads pages on my s2 faster than Chrome does on my Prime.

This seems identical to the Beta that I have been running for several weeks.
Its faster then Chrome
Its smaller than Chrome.
And it doesn't slow down my HOX just being installed, like Chrome does. So the big announcement is that its out of Beta. Wow. Lots of Drama.

Way better. I love Chrome, but it has two big issue for me. First is obvious as it doesn't have Flash. I need Flash. Second is it hangs on the homepage. If I open a new tab, it loads fast, but cold start it sticks. Maybe when it's out of beta it will be better. Firefox is simply awesome. Has all the features of Chrome, but with Flash, and to me a better UI. It load pages quicker for me too on my SGSII. Syncs with my desktop FF. And I mean it syncs everything. Has a ton of extensions. Full screen, URL fixer, Adbock, Phoney, etc. It just feels like an overall better, more polished browser.

Just tried it on my Droid 3. I like that the address bar stays put at the top of the page, and I like the way they handle multiple tabs, but rendering and scrolling seems laggy. Also, no text reflow. Finally, not a fan of the menu placements."Share" and "convert to pdf," two options I'll hardly ever use are on the main menu level but "quit," which I use ocassionally to clear everythingout, is another level down in the menus. -Suntan

Even though an HP Touchpad with Cyanogenmod seems to meet their requirements, Play says it's not compatible.

Same experience on Droid 2 Global. Listed as compatible on their devices page, but incompatible in Google Play. I ran the beta just fine...

You can find direct download links at https://wiki.mozilla.org/Mobile/Platforms/Android

Just downloaded it on to my Sprint EVO 3D. It seems zippy and I like it. But I do have one question. Is there a way to set it to open pages in "desktop mode"? Unlike the stock browser, I don't see anything in the settings to disable "mobile view". Any ideas?

I think you need the "Phony" add-on that lets you change your UA string...

I had to figure that one from the last install a month ago. I think it is a bit silly that has to be an add-on when it is pretty much a basic feature. Still, I would rather have more things in add-ons than in bloat. And I believe Firefox is the *ONLY* Android browser with true Adblock support so you can read a page without constant, irritating, distracting elements on the screen.

I'd love to see an article comparing the major browsers (full & lite versions both) along with a few less known ones like boat. Feature comparisons and speed tests would valuable. I know it's always a moving target with frequent updates but it would help.

No tablet support?! WTH Mozilla? I griped about this the day they removed it from the beta, too. I had seriously hoped that they wouldn't go live without tablet support, but I guess that was too much. I suppose if I want bookmark sync, it's time to go to Chrome.

Tablet support will be in the next version. You can see what it'll be like in the nightly builds. I put that on my TouchPad with CM9 last night, and it's pretty nice.

That is a huge relief! Firefox is my main desktop browser and bookmark sync is the ONLY reason I keep it installed on my Transformer. Losing that capability is like cutting off my right arm... Good to know that it will return soon enough. I still think it was stupid to drop tablet support in a full release (beta, OK.. you can forgive this). And how many tablet owners read their info on nightly builds? They're only going to see that the Play store says the app is incompatible with their device.

Wow, runs silky smooth on my G.Nex. Synced all my desktop bookmarks in no time & renders every page I have tried flawlessly. Looks like I will keep this as my default browser for a while. Blows Chrome's sock off imo.

Yeah, thats my biggest question, how does it compare to Chrome. I like Chrome, it's my default, plus I use Chrome on my laptop, so syncing works effortlessly.

That's my issue exactly. There would have to be a huge feature or performance difference to pull me away from Chrome. Syncing open tabs and bookmarks between desktop and mobile browsers is even more useful than I Had expected it to be.

Chrome is a good browser, but it has been a memory hog on my GNex since the last update, but it has the best page rendering imo. Tried the New Dolphin HD Beta but found it having trouble loading some pictures, deleted it in less than a day. My go to browser has been the ICS stock, it has been buttery smooth since 4.0.4. If Mozilla claimed is true, this could be my new browser.

It's ridiculously fast on my ATT One X, but the lack of search suggestions slows me to a crawl. Completely baffles me why they left out such a commonplace and useful feature.

Lack of search suggestions?
What are you talking about? Suggestions happen for text keyed in the URL bar, As well as in the Google Search page

The latest development snapshots from http://nightly.mozilla.org/ have search suggestions on Android.

As does the current version in the market.

I'm talking about this feature, which is only available in the nightly builds of Firefox 16: https://bugzilla.mozilla.org/show_bug.cgi?id=586885 It looks like this: (Note: I'm a member of the mobile Firefox development team.)

Wow. Seems very nice so far. Fast. Running on G2x with CM7.

Amazing on my international GNote, very much impressed with Flash support and how faster it is than any other browser that's out there (including the stock ICS one). It did hang during testing at one point, but it came back to life and hasn't done this since.

grabbed this on my G Nexus and holy crap it blows the doors off the stock browser or chrome beta

I just downloaded the latest nightly of Firefox on both my GNex and my Transformer, set up sync on both, and it absolutely blows every other browser I've used away. I'm sold. I'll stick with the nightlies until tablet support returns to the Play Store version, though ;).

Pages won't load. My old phone is =(

Very fast and very smooth. Better than opera on my nook. However the text field entry is still award to use and when I submitted the post the app crashed. Has potential but still needs a lot of work. =X=

I think Firefox on Android is the only app that brags about its speed improvements each and every release, and it's still slower than molasses no matter which device I try it on. I can't figure out how to change the home page, and as soon as I hit a site that required me to login, I realized how much I rely on my LastPass addon in Dolphin Browser. Uninstalled. But on the bright side, it'll be the last time I uninstall Firefox for Android, because no way, no how, am I ever wasting another second on it.

Slow? You must be a majority of ONE. Its faster than Stock,
Its faster than Chrome.
Its faster than Opera.
Its faster than Dolphin.
Its just as fast as Dolphin's Plus Dolphins new engine, but it doesn't crash. You probably installed the old one.

So to change tabs or close a tab I need to hit a drop down and then click on a new tab to open or hit x to close an opened tab, there's got to be a better way to interface this. I think I'll stick with dolphin where you can instantly go to the tab you want or close the tab your on.

The lack of settings is impressive! Soooo many things one would like to change and can't!!! My most important setting that's missing: User agent. Goodbye Firefox, I'll stick with Opera, thank you...

User agent is available as an add-on

Speedy on my Droid X (MIUI).

Works great on my Galaxy S3, its really quick and has flash support, Phony is a must plugin. However hearing about how many devices are not supported makes me disappointed with mozilla; more people should be able to use this very snappy browser

I love FF on the desktop, but haven't been able to stand the Android versions... until now. Kudos to the team... this build is now seriously usable. Will kick the tires more but initial impressions are that it's fast, the UI is polished and looks great. Very responsive and intuitive. I'll try making it my daily driver for a while and see how things go. Samsung Galaxy S II w/ Android 4.0.4

This scrolls pretty buttery smooth. It has a nice tab design. It doesn't lag like Chrome Beta does. That being said, we still need the request desktop version in the menu. I like the hepatic feedback when clicking a link. Otherwise its a little Chunky but Funky ;) - Tested on One X.

You don't need to request desktop version, just go to settings, add ons, hit the little shopping bag icon and install Phony extension. Configure it for what you prefer. I don't like desktop in all cases, so I choose Android Phone.

I take it your liver metabolism changes in response to your touching the screen. Very advanced stuff.

The development builds from http://nightly.mozilla.org/ have "Request desktop version" included.

That is great!!! Seems stupid to need an Add-on for something so basic

I currently use Dolphin Browser on my phone. Is this worth uninstalling in favor of?

I totally like Chrome the best but this is totally impressive. I'm gonna try it out-

I like Firefox for Windows but have been disappointed with previous Android versions. This one is a huge improvement. I'm running it on a Droid Incredible 2 (Android 2.3.4, HTC Sense 2.1) Likes:
Firefox Sync works very well and is really handy.
A wide variety of web pages display nicely. Problems (may be unique to my phone -- note my lack of ICS):
The controls that I'm supposed to see by swiping to the side do not appear. (bug)
The only way to scale the fonts (really necessary on most pages) is to pinch-out but that causes the text to often go wider than the screen, leading to annoying side scrolling. (maybe not a bug, but a pain) Overall, I like it and will use it but hope they fix these problems.

On the font-scaling problem, I want to be clearer. There is a font size selection in "settings" but that doesn't work on my phone. Therefore, the only way for me to scale the font is to pinch in or out. Font scaling is a very important feature if you're going to actually read web pages.

Why can't it import bookmarks from a bookmarks.htm or backup files created on a desktop PC? What's with this obsession of sync accounts?
Android Central Newsletter
Get instant access to breaking news, the hottest reviews, great deals and helpful tips
Thank you for signing up to Android Central. You will receive a verification email shortly.
There was a problem. Please refresh the page and try again.