Motorola Triumph initial hands-on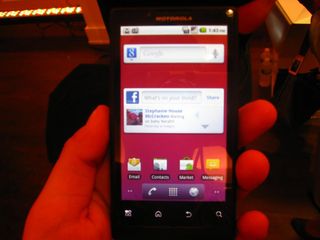 Youtube link for mobile viewing
Today's event killed two birds with one stone, with Sprint and Motorola unveiling both the Photon 4G and the Triumph, the latter a seriously respectable device headed to Virgin Mobile. It's being called one of the best phones available for prepaid customers and it's got the specs to prove it: 4.1 inch WVGA display with 800x480 resolution, 1 GHz Snapdragon processor, 5 MP rear camera with 720 video capture, VGA front facing video camera, 512 MB RAM, and HDMI out, all stuffed into an impossibly thin package. It's got "Virgin Mobile Live", the carrier's video and music streaming software, and it ships with Android 2.2 Froyo. But wait, did we mention this bad boy is Blur-free? That's right-- you've got a Vanilla Froyo experience on Virgin Mobile. Pretty cool, huh? Hit the break for pics.
Android Central Newsletter
Get instant access to breaking news, the hottest reviews, great deals and helpful tips
all I have to say is... i want i want i want. Did I mention that I want this phone?

It's interesting that Sprint saves stock Android for their low-end phones, but skin their high end ones. For example, the Transform, Optimus S, Replenish, and Intercept are all stock Android. The Nexus S 4G being an exception of course.

Just out of curiosity, how good is Virgin Mobile's service? Does it use Sprints towers?

Yes, Virgin Mobile USA is owned by Sprint and uses Sprint's network for it's service.

Virgin uses Sprint's network, but there's no roaming agreement, so if you're out of Sprint range, you're out of luck. Sprint, on the other hand, roams on Verizon's network, so you get the best of both worlds (but pay more for it than for Virgin).

Certainly not a high end phone, but might just be worth every penny. Stock froyo, camera with flash. Cell phone service might be lacking, but could be a good buy if you're in an area that gets decent service. What are their plans, $25-40/month for completely unlimited? That's amazing! For $25-40/month, I'll happily sell my Nexus S and buy one.

I wouldn't say it's *certainly* not high-end phone. The processor is a current-gen Snapdragon: the same as in the HTC Thunderbolt and the Droid Incredible 2. Sure it's not a dual-core, Tegra 2, 1GB-of-RAM sort of a high-end phone, but it really is on par with all but the highest-end phones. When it comes to real-world performance, I'm sure 90% of people wouldn't be able to tell the difference. The pricing should be interesting... If you can get one of these with no contract for $200, that would be an incredible deal.

Hmm... Looks like a good deal for a second phone. I may be needing a second line for a few months, and this may be the way to go. Great phone! Oh and I think you mean WVGA screen, as QVGA is 320x240...

Anyone else find it odd that Moto is using a Qualcomm processor instead of the usual TI OMAP?

I guess this is their first handset with a Snapdragon, huh? Weren't they kind of the last company using TI processors? Seems like everything is a Snapdragon, a Tegra 2, or a Hummingbird these days.

Did this feel like it was made with Gorilla glass? Also, any word on whether or not the bootloader is locked? This could be the phone I ditch Verizon for.

That's one ugly ass phone.

It may be ugly, but it is cheap to operate.....

But isn't this just a rebadged Huawei U9000 Ideos X6? I feel the 800x480 res screen and the snapdragon CPU is very un-Motorola http://www.gsmarena.com/compare.php3?idPhone1=3988&idPhone2=3595

So, I will wait for someone to root it, and then a the end of the summer sell my rooted Optimus V and get this. $25/month for unlimited text & data with 300 minutes on this bad boy would be sweet.

if its not too expensive ill buy it for an mp3 player! or if someone finds out how to do an esn swap i might grab it out of contract.

Anyone's next phone? Mine for sure!
Android Central Newsletter
Get instant access to breaking news, the hottest reviews, great deals and helpful tips
Thank you for signing up to Android Central. You will receive a verification email shortly.
There was a problem. Please refresh the page and try again.