Motorola Droid Pro, Droid 2 and Droid X said to be getting Gingerbread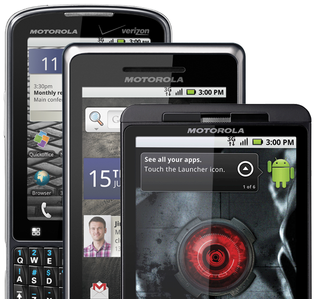 Well, two out of three ain't bad, folks. Way back in early December, we asked Android Central Seer (it's on his business card) Jerry Hildenbrand to predict which phones might get the upgrade to Gingerbread. And out of Motorola's stable he picked the Droid 2 (and Droid 2 Global) as well as the Droid X. Easy choices, both.
And while we don't have it recorded for posterity, I distinctly remember someone asking Herr Hildenbrand in disbelief if he really believed the Motorola Droid Pro would be left out -- at least that's my story, and I'm sticking to it. The first two are easy to imagine at this point -- there have been leaks. The latter, well, it admittedly might have been a toss-up, so maybe we'll let Jerry off the hook on that one.
That brings us to a post in the Motorola support forums that states the Droid X, Droid 2/Global and the Droid Pro will be getting Gingerbread updates. So it's semi-official. As for when? Sooner rather than later, we imagine. Stay tuned.
Source: Motorola (opens in new tab); via Droid Life
Android Central Newsletter
Get instant access to breaking news, the hottest reviews, great deals and helpful tips
At least I can believe this more than the Rapture....

Are those of us with R2D2's left out?

The Droid R2D2 is the Droid 2.

Doesn't it have a custom version of the OS with additional apps and features?

Nope, it's just a Droid 2 with a paint job & some extra bloat.

sure we all know updates are coming but when thats the question....

I AM SO HAPPY FOR THEM. I would be even happier if it were coming to Thunderbolt.....

If this means my Droid2Global's random reboot glitch is gone then I'll be happy.

Likewise for my Droid Pro.

No different than promises from 6 months ago. I'm getting sick of all the rumors.

I really really hope this is true!! Droid Pro

So they are getting the update in 17 months, right?

I just hope they update Motoblur. Gingerbread really isn't that different =op

have you ran any of the leaked updates? MB has been updated, and in my opinion, fixed. it's usable, stable and fast. since going with the leaked GB, i haven't missed AOSP. granted, there are still a few quirks I could live without, but overall i'm very satisfied.

If I remember correctly, one of the initial rumors set the update at May 15. Obviously that didn't happen, but hopefully that means it's imminent. Droidx ftw!

would I need to go back to stock 2.2.1? Running Apex 1.4.1 currently... and I am aware that I would loose root for now

LOL, people still asking this. Yes. Please see all FAQs concerning SBF's and stock before actually flashing a custom rom :)

Update needs to come in the form of 2.3.4 us with leaks are board of it I'm sure at least I know I am. Oh and root methods are needed same day of the update :)

you shouldn't have such high expectations. just be glad your device is being updated.

MILESTONE 2 NEEDS GINGERBREAD! GIVE US SOME LOVE!

The Droid 2 is the Milestone 2. Gingerbread will come maybe a week or two after the Droid 2 gets updated fear not. The recent update worked out two weeks or less so I'd expect the same.

That isn't always true. The original Droid got 2.2, the milestone US did not. At least not the Cellcom version in Wisconsin.

I was getting upset there was no mention of D2 getting the update. I knew maybe it would one day, but there wasn't evena peep. When I read this last night, it totally made my day. I can see it on the horizon now, even if its 6 months away!

finally some good news. getting sick of reading about accessories and phones i'll never use/have. :) now if the tooth fairy would just make sure that hte D3 is released with LTE, i can have wet dreams again.

the next page of that forum basically outlines the dates: "...I can say that the Droid X update is currently scheduled to be released before the end of the second quarter of this year or sooner. The other updates are currently scheduled to be released before the end of the third quarter or sooner. The above estimates are dependant on Verizon approving the OTA (over the air) updates..." https://supportforums.motorola.com/message/388118#388118

& People say Motorola sucks when it comes to updates
Motorola have been very busy this year
Most of their product line is updated\being updated

now it would be really good to get Gingerbread on Atrix....

what about us Atrix owners ?

ACK! Just checked the Moto forums. That Moto "employee" post was edited by the Forum Manager and the device callout was removed!

Maybe we can get Harold Camping to do the math for this prediction. He only got the end of the world wrong twice so far. He has a better track record than the prophets here at Android Central who have been wrong at least 4 times :) I for one am sick of the "oohhh... GB is coming this weekend" only to try to update my phone and getting the "your phone is up to date" message. I'll believe it when I see it. I figure we will get the update a week before Verizon and Motorola decide to end all support for the Droid X.

I agree with the 2nd sentiment whole heartedly. The 1st sentiment, however, is mathematically incorrect. 0 for 2 is no better than 0 for 4, they both constitute a 0% success rate.
Android Central Newsletter
Get instant access to breaking news, the hottest reviews, great deals and helpful tips
Thank you for signing up to Android Central. You will receive a verification email shortly.
There was a problem. Please refresh the page and try again.