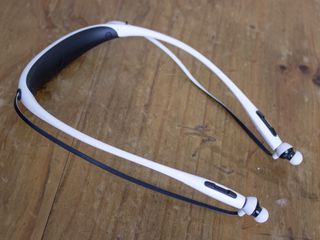 Bluetooth headphones aren't for everyone. There are some of us out there – myself included – that prefer the reliability and quality that comes from using a cable. That goes for broadband too – Ethernet is generally better than WiFi. But that doesn't mean there isn't a decent selection of good quality Bluetooth headphones out there, like these buds we've picked up from Motorola.
Simply known as "Buds," what we've got is a neckband ensemble with a pair of micro-adjustable earbuds at the end. But are they any good?
The hardware
At first glance, the hardware may look a little unusual if you've never looked at Bluetooth earbuds before. You wear the main band around your neck, while the earbuds are attached to this via a flex cable. The bonus to this type of arrangement over just a set of cans is that you're presented with music controls such as play/pause, volume and skip track without needing to go reaching into your pocket.
In addition you can also use these headphones as a Bluetooth hands-free kit. Sound quality is good, and the range is excellent. Motorola claims it's good for up to 150 feet, and I have had no problems wearing these around the house and leaving my Phone in my office. And, with the tips of the neckband being magnetized, when you're not wearing the earbuds they stick to this rather than be left dangling around your neck.
Pairing with your phone
The Motorola buds are incredibly easy to pair with your phone or tablet. Once paired, every time you turn on the headphones you'll be greeted first by a welcome message, then by another message confirming your device has been paired.
The headphones provide a good, solid connection, not disconnecting randomly at any point during this review period. While streaming music to the headphones occasionally things get a little choppy, but it does soon pass and generally things are pretty good.
And a nice little added bonus on certain devices – like Motorola's own Moto G and Moto X – is that you can pair them up and use as a trusted Bluetooth device. Really handy when you're listening to music and not having to unlock your phone every time you want to change the track.
Sound quality
By no means is the sound quality the greatest you will ever hear from pair of headphones. But that said, everything is pretty good. The audio technology as described by Motorola:
Bass is good without being overpowering, the sound is crisp and clear and generally listening to music is a pleasurable experience. The Buds come with 3 equalizer presets built in so to some extent you can tinker with the sound to your own liking.
Everyone has their own ideas on what sounds good when it comes to headphones, but if you're looking for a good quality pair of Bluetooth earbuds then the Motorola buds do deliver a pretty good experience.
Battery life
Motorola claims 10 hours of battery life from these headphones, and I have absolutely no reason to doubt their claims. I've been using these pretty consistently for the past couple of weeks, and on average I'm charging them up about once every 2 to 3 days. Charging is done by way of a standard micro-USB cable which is included in the box, along with a power adapter.
Gallery
Image 1 of 4
The good
Lightweight, comfortable to wear.
Pretty good sound quality
Volume and playback controls on the neckband
Good battery life
The bad
Neckband can get caught in clothing quite easily which can pull earbuds from your ears
Cable connecting earbuds to neckband could do with being a little longer
The bottom line
I was sceptical about moving into using a pair of Bluetooth earphones. But I'm quite taken with these, and they have quickly become my main daily set of earphones. They're incredibly lightweight and comfortable to wear, offer a good compromise a battery life, convenience, and sound quality. I genuinely like these a lot more than I expected to when I opened the box. There might just be something to this wire free thing after all.
Get the Android Central Newsletter
Instant access to breaking news, the hottest reviews, great deals and helpful tips.