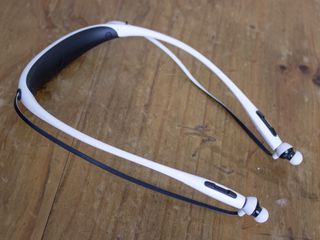 Bluetooth headphones aren't for everyone. There are some of us out there – myself included – that prefer the reliability and quality that comes from using a cable. That goes for broadband too – Ethernet is generally better than WiFi. But that doesn't mean there isn't a decent selection of good quality Bluetooth headphones out there, like these buds we've picked up from Motorola.
Simply known as "Buds," what we've got is a neckband ensemble with a pair of micro-adjustable earbuds at the end. But are they any good?
The hardware
At first glance, the hardware may look a little unusual if you've never looked at Bluetooth earbuds before. You wear the main band around your neck, while the earbuds are attached to this via a flex cable. The bonus to this type of arrangement over just a set of cans is that you're presented with music controls such as play/pause, volume and skip track without needing to go reaching into your pocket.
In addition you can also use these headphones as a Bluetooth hands-free kit. Sound quality is good, and the range is excellent. Motorola claims it's good for up to 150 feet, and I have had no problems wearing these around the house and leaving my Phone in my office. And, with the tips of the neckband being magnetized, when you're not wearing the earbuds they stick to this rather than be left dangling around your neck.
Pairing with your phone
The Motorola buds are incredibly easy to pair with your phone or tablet. Once paired, every time you turn on the headphones you'll be greeted first by a welcome message, then by another message confirming your device has been paired.
The headphones provide a good, solid connection, not disconnecting randomly at any point during this review period. While streaming music to the headphones occasionally things get a little choppy, but it does soon pass and generally things are pretty good.
And a nice little added bonus on certain devices – like Motorola's own Moto G and Moto X – is that you can pair them up and use as a trusted Bluetooth device. Really handy when you're listening to music and not having to unlock your phone every time you want to change the track.
Sound quality
By no means is the sound quality the greatest you will ever hear from pair of headphones. But that said, everything is pretty good. The audio technology as described by Motorola:
Bass is good without being overpowering, the sound is crisp and clear and generally listening to music is a pleasurable experience. The Buds come with 3 equalizer presets built in so to some extent you can tinker with the sound to your own liking.
Everyone has their own ideas on what sounds good when it comes to headphones, but if you're looking for a good quality pair of Bluetooth earbuds then the Motorola buds do deliver a pretty good experience.
Battery life
Motorola claims 10 hours of battery life from these headphones, and I have absolutely no reason to doubt their claims. I've been using these pretty consistently for the past couple of weeks, and on average I'm charging them up about once every 2 to 3 days. Charging is done by way of a standard micro-USB cable which is included in the box, along with a power adapter.
Gallery
Image 1 of 4
The good
Lightweight, comfortable to wear.
Pretty good sound quality
Volume and playback controls on the neckband
Good battery life
The bad
Neckband can get caught in clothing quite easily which can pull earbuds from your ears
Cable connecting earbuds to neckband could do with being a little longer
The bottom line
I was sceptical about moving into using a pair of Bluetooth earphones. But I'm quite taken with these, and they have quickly become my main daily set of earphones. They're incredibly lightweight and comfortable to wear, offer a good compromise a battery life, convenience, and sound quality. I genuinely like these a lot more than I expected to when I opened the box. There might just be something to this wire free thing after all.
Get the Android Central Newsletter
Instant access to breaking news, the hottest reviews, great deals and helpful tips.
Are they better than Jaybird Bluebuds?

Jaybird Bluebuds X would easily walk all over these. They're more expensive but amazing for running. They come with clips which you can tie the wire up behind your head so you dont even notice you're wearing them. I'd suggest buying a pair of Comply Foam tips to go along with them. They're the same type of material as ear plugs so they never come loose. Amazing fit and fantastic sound from the Jaybirds. Lots of bass and clarity without the "listening fatigue" that you get with normal earphones. Would highly recommend them over these. Free shipping on Apple's website.

there is no listening fatigue with the buds, i can guarantee you that. they practically disappear in your ears, and are designed to do just that. i don't even know they are there when listening to them for hours and hours. the jaybirds are most definitely not going to walk all over these. depending on the scenario... the buds will walk all over them.
i will also add that i have sold five pairs of these for motorola. they hang around my rear view mirror when i am not using them. one time a guy in the gas station asked me about them, they look really good hanging there in white/black, and i insisted that he try them. before he was done pumping gas he had already bought a pair from amazon.

i keep napkins and hand sanitizer. i don't like putting my own dirty earbuds in.

you can't compare a $160 product to a $60 dollar one.

Headphone pricing is very VERY relative and not a very good indicator of quality... I can name a dozen pairs of headphones and IEM off the top of my head that sound better than a $300 pair of Beats for half the price. When you toss in things like a battery and BT into the package, it becomes even muddier.

I just ordered a pair of those yesterday cuz they were on sale at amazon for 139.37. Couldnt pass that up and I really wanted a pair of wireless earbuds. The reviews for it sold me on it. And the fact that I can have a vigorous workout and not worry about them falling out of me ears.

How are these different from the LG units that have had this form factor for years? Posted via Android Central App

Same thing I was thinking. They just ripped off the design of the LG Tone series of BT headphones. I have a pair of LG Tone 700 at work and 730 at home for the treadmill. Great wireless headphones. And they would solve the author's problem of not having long enough wires. -Suntan

the tones are a lot shorter. the buds curve down over the front of your shoulders to give you easy access to your buttons (this has its pros and cons for both). the buds are also weighted a lot better than the lgs. as in i have found that the lgs bounce more, along with move around a lot more. it is harder to get to the rockers on the lgs also.
the problem with the wires of the buds is that they come around from the back. the little rubber things can be adjusted to give you more wire to your ears. doing that has a negative effect, and is usually why you 'think' you need more wire. but i still would not complain if moto added another inch. it just is not a necessity.

These actually look better and less cluttery than the LG Tones.

I have these Motorola buds and they are better than the LG's. They're very durable and the bass in Cleaner but not as loud or distorted either

this is true. they also fit better in the ears.

I like when they heat up to your body temp you can actually feel the buds expand inside your ear giving you a totally sealed ear. The fit is so tight that when you pull them out that make a sucking sound. Plus they're mounted on a swivel for total Adjustment when moving around

can anyone identify the wireless buds that were featured in that recent "Android Everywhere" video? see :27-45 https://www.youtube.com/watch?v=d36cIFCJvQs

they look like the jaybirds. mentioned in the first or second comment

LG Tone+ user here. These look like a bad copy... and white, which is awful. I'm terribly hard-to-please and I love the LG version, so much that if they break I would quickly buy another set.

although black is my favorite color - i actually like white for earbuds. why? because it is easily visible so people won't come up to you and try to talk to you when they see you have earbud/s in and are trying to listen to music or talk on the phone. they can see the white and leave you alone. kudos to Apple on that one. i love the $29 EarPods with my Nexus 5. great value.

I have had black, white, and bright red orange headphones. No matter what people try taking to me.

+1
Ppl don't care. Posted via Android Central App on The Nexus 5

I have the LG Tone 730s in black and I love, love, love them but I DO question their long-term durability. Mine are about 6 months old and I worry another 6 months of heavy usage or travel will cause something to break or pull apart. I'd get these Motos if they I had to get a replacement but I still prefer black or grey earbuds/headphones.

There is a black version of the Motorola Buds (not shown in the above images) for what it's worth.

Never Use White rubber or plastic wearables if you are working out! Your sweats and oils will turn them yellow in no time looking kind of disgusting, The More You Know

They come in black too. Click the "Buy Now" link. Posted via Android Central App on The Nexus 5

As a runner, I'm interested but uncertain I'd want the band sitting at my neck. Perhaps I'd not really notice (?).
I have a Jaybird bt that I use, just a cord - and it sometimes drags along my neck and pops and earbud out, particularly if I turn my head... say to check traffic. So I get a little annoyed with that. Different use case compared to how you were using them, but I'd be welcome comments/opinions that folks have had with active (exercise) use of this or similar products.

Jaybird Bluebuds X would easily walk all over these. They're more expensive but amazing for running. They come with clips which you can tie the wire up behind your head so you dont even notice you're wearing them. I'd suggest buying a pair of Comply Foam tips to go along with them. They're the same type of material as ear plugs so they never come loose. Amazing fit and fantastic sound from the Jaybirds. Lots of bass and clarity without the "listening fatigue" that you get with normal earphones. Would highly recommend them over these.

Bluebbuds X if you want a headset that's comfortable and will stay in during exercising otherwise the LG Tone and Moto headsets are both great for daily use. I wear my Tone+ all day long at work. If someone calls, pop the bud in, then seat it back in the neck piece when you're done. VZW NOTE 3 via AC app

I run on a treadmill with the LG Tone headphones. The buds stay in fine, but the band around your neck can start to flop up and down a little if you are really moving. Nothing too bad though. -Suntan

Running I just use a single earpiece (hx550). Leave the other ear open for the elements.

Thanks for the tips and insight; it's the Jaybird Freedom Sprint I typically use when running...At the very least I'll look into the Comply Foam tips, but the clip sounds interesting so I should look at that more closely too. I may look at the LG and Moto headsets for more casual use, though have the single earpiece available too...

I have a pair of LG's and have not had a problem with the band bouncing or moving too much while running. I suppose though, depending on your running style, they might flop around some. They're light enough that generally I forget I'm wearing them, however. My biggest complaint with my LG's is the sound quality. I had to muck with the equalizer in Google Music a lot to get them sounding acceptable; otherwise they sound muddy to me. If they ever die, I'll probably pick up a pair of these for a change of pace.

try adjusting the EQ on the LG by pressing the volume up and volume down simultaneously for one second until you hear beep...

i have a pair and love them. i wear them at work and have left many times with them still on because a lot of time i don't even realize they are still on on my neck

How do these compare to the LG HBS 730 and such? I was wondering as the 730's have an issue with Audible and clipping part of the narration randomly.

Motorola buds have amazing sound Posted via Android Central App

" then buy another message confirming your device has been paired" .....so we have to buy additional pairing messages???? (jk)

trickle down from the in-app-purchase travesty

Your iPhone?? Posted via Android Central App

I have a pair of these. They are on sale at Costco for $39. Sounds great on audio, but the call sound is very poor. I have a Nexus 5 with TMO. Other bluetooth sounds much better with my phone for call quality. Should I exchange for a new pair, or is this expected? Thing behind your neck is a bit of a pain when resting your head back on a flight or something...

Very much true ,only useful for listening to audio songs and not for talking .
The Mic is not good at all.

Had these for a month as my work headphones. Stayed I'm my desk, never threw then around, left side went out. Not happy about that.
Posted via Android Central App

They used two different drivers on these. The right bud produces lower frequencies then the left. Pretty weird. These do handle Apt-X properly unlike the LG Tone 730 and 750.

How do the magnets hold up? The ones on my LG Tone+ don't hold onto the buds all that well. Posted via Android Central App on The Nexus 5

My brother has a pair of these but I prefer my LG 730. To me, the Buds feel like a wishbone waiting to break. Maybe that's just having a thick neck but I find the LG's more comfortable and they sound about the same to me.

I own both LG 730 and Motorolla Buds, so I can comment for some of the folks. I use it for my Nexus 5 and Apple Ipad mini. Music quality is much better on LG 730 and it's louder too. That said, voice quality is much better on the Moto Buds, LG730 is fair at best and people complain that they can't hear me.. So that's a big trade off. Magnets are much better quality on the Buds so they don't fall off as easily. Fit feels better on the Buds because the balance doesn't slide around like the LGs. But, you sometimes feel the plastic and the hump in the back sometimes. Aesthetics wise, Buds win because wires don't stick out as much like the LGs (it always feels like it's flopping). Lastly, the most important. Bud's are not your best friends if you own a Nexus 5.. every 5-10mins i start getting static popping noise. I have to press the pause button for it clear the static and then press play again to make it work clearly or it'll keep having this issue. At first I thought it was a bad unit, and got a replacement sent. Second one had the same problem. I had to test on Ipad to realize that it was my nexus device that's the issue. My LG 730 doesn't have problem and plays like a smooth criminal. Both of these devices have a very good battery life I go 2 days before I need to charge. LG is rated for 15hrs and Moto is for 10, but I don't see huge difference where it would matter for a purchasing decision.

I have used both the LG and Motorola, and have been happier with the fit and feel of the Buds. But, if I had a thicker neck, the LG would have won instead. The LG does have a longer battery life, but gives very little warning before dying. The Buds have a battery low voice warning that offers another 15-20 minutes of life. I have a Nexus 4, and find in general that it doesn't manage Bluetooth well, as often after I turn off the Bluetooth and I make a phone call, the other person can't hear me even though I can hear them. Connecting via Bluetooth, they can hear me just fine. Takes a complete phone restart to complete a phone call if I don't have earphones handy. Posted via Android Central App

I actually found a Motorola elite flip on the sidewalk yesterday cleaned it and that's what I use now lol I love it and can watch YouTube and the quality is actually really good and has voice dialing
Posted from my Nexus 7 2013 running Android L or Samsung galaxy S5

These didn't work well with my HTC One M8. I would get lots of drops. Odd thing was it only happened when I was walking. If I wasn't moving they worked fine. Worked well with my Moto X however.

I had the lg 730s I took them back and bought the buds. Best decision for me. The lg keeps moving and falling to one side. I found the buds to have much clearer sound and had a lot of popping sounds with the 2 lgs I had. Only down side I have with the buds is the size. Thick neck gets bothersome after while. Other than that I would say they are great. Good for work like others have said. Range and battery life are both amazing for me. A lot better than the tone Imo.

My problem with them is that they don't get loud enough still pretty good headphones. And people will always look at you funny when you have them on. Posted via Android Central App

I also will forget they are in my ears the Motorola buds are very comfortable. And they have very clean sound quality. Posted via Android Central App

How do these compare with the Sony sbh-80 which have a very similar design?

New to AC, hopefully it's worth my Scooby Snack's!

This product is one of the worst I have ever owned. They didn't last a month before they stopped working. Shoddy construction is the biggest drawback, other than Motorolla's terrible customer service. DO NOT BUY THESE, get a different brand. The sound is great when they do actually work, but they only do that for a very short time.