The Moto 360 (2015) has officially exited the Google Store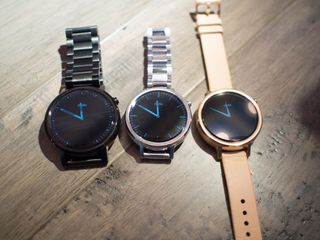 With Google's smartwatches making headway in the rumor mill, it's likely this won't surprise you: the second-gen Moto 360 is no longer available in the Google Store.
The Moto 360 was one of the first worthy Android Wear smartwatches for the mainstream by virtue of its pleasantly circular watch face. It was then followed up with a second-generation device that was equally as attractive and came in color variations that suited almost everyone. Since there are still plenty of users out there donning the device, they will see Android Wear 2.0 quite soon. But if you were thinking of buying one, you can hit another retailer like Amazon. Or wait for Google to release its own line of circular smartwatches.
Florence Ion is an editor and columnist at Android Central. She writes about Android-powered devices of all types and explores their usefulness in her everyday life. You can follow her on Twitter or watch her Tuesday nights on All About Android.
Hopefully the newer ones that get released next week start doing better.

Grr next month is what I meant

Still rocking with 1st Gen motor 360. Battery doesn't last as long but still works well from 5 am to 9 pm. I think that's still impressive considering its age.

My 1st Gen now only gets ~ 4 hours of battery life on a good day

So it's pretty much not worth wearing eh?

Same. I have to carry my charger around with me all the time. At this point, I'm waiting until I have the money and getting a Zenwatch 2. It's affordable, and it looks nice...even though it's square.

It's too bad that the OG 360 won't be getting updated, I still get comments about how awesome it looks today.

I gutted the 1st one won't get it but happy with the watch. Just hope the prices of the android 2.0 watches come down

Hopefully the next one has a flat tire. I really liked that about the motos

2nd gen Moto 360 is still going strong. I get around 2 days on a full charge on average.

Same here, although the 2nd day better be a day without too much notifications, maps navigation or google voice answering from your wrist :)

Ended up getting a gear s2 when Verizon ran them for $49/$99 and I like it. But if they do a fire sale on these and I can get one for $99 then I'm all for that too.

The Gen 2 Moto X is still my favorite smartwatch, I wear it every workday. Great screen and I still get easily a day and a half battery life. I am looking forward to seeing what the new Android Wear 2.0 watches have to offer though.

How sad that one day battery life is considered good.
Android Central Newsletter
Get the best of Android Central in in your inbox, every day!
Thank you for signing up to Android Central. You will receive a verification email shortly.
There was a problem. Please refresh the page and try again.