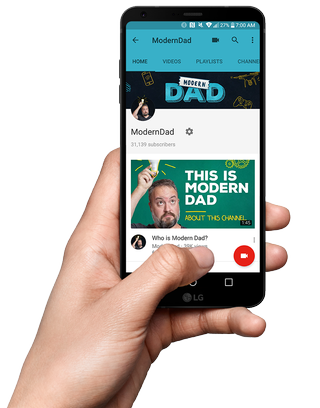 The Modern Dad 2017 Smartphone Tour continues, this time with the LG G6. And it's a bit of a departure for LG, which has experimented with modular designs in the LG G5 (spoiler: it didn't work), leather in the LG G4 (spoiler: it didn't last), and buttons on the back of the phone with the G2 and G3. (That was pretty great, actually, even if the volume keys have moved back to the side.)
So what's so special about the G6? Maybe that it's just a really good Android smartphone. Definitely a little more demure in its design, lacking the overt sex appeal of the Samsung Galaxy S8 (among other things, for that matter). The rounded corners on the screen are, well, rounded. And occasionally that's led to software glitches. (And LG's software is the same story I've been telling for years — it's better, but not great.)
The reason I'd buy this phone? The dual cameras. Yeah, they're still a bit of a novelty (having first been introduced on the G5), but they're also really good and a great way to change the composition of the same old smartphone pics. Couple that with what otherwise is just a solid smartphone (including water resistance!), and this is right up there in my favorite phones of the year.
Get the Android Central Newsletter
Instant access to breaking news, the hottest reviews, great deals and helpful tips.
Phil,
Thanks for the review and the article. I'm considering this phone may be my main daily driver.

Nope, waiting for V30. My V20 is superior in features and better (main) camera.

I switched from the V20 because they brought the manual video capabilities to this phone. And I wouldn't say that the camera is better on the V20, just because the megapixels are higher.. if that's the case, the wide angle camera on the G6 is way better (which it is) because the megapixels are higher.. lol Battery definitely lasts longer.

I liked the V20 enough to take the plunge on the G6. Personally I disagree completely, G6 to me is a better device in nearly all regards. I thought I'd hear a really stark difference between the v20 dac and the G6 but I can't unless I am sitting in utter silence at home focusing. Feels snappier to me as well, and being able to use it one handed but still have plenty of screen area to read articles and email is just sublime. Lastly the build quality to me no is better. I thought I'd miss the removable battery but wireless charging is more useful to me. I thought I'd miss that tiny screen up top but always on display is more useful to me.

I will never understand the tone reviewers have with non-samsung phones... Phil this isn't directed only at you but I've noticed most reviewers (I hate to say it but even u this time) come off as if this phone isn't anything special and even use the word boring.
Yet I see reviewers get all giddy saying the screen ratio, the headphone jack, the less crowded software than previous versions are such amazing features on the s8 and this phone has all that as well and it is them playing it safe (nothing special). I don't understand it and I'm starting to think that majority of you all don't realize you are coming off this way. I personally don't have this phone but bought it for my mother and it is a great phone no less intriguing than any other flagships out now. Oan: can anyone explain to me why ppl make the new screen ratio seem so amazing on the Galaxy phones but it comes off as"oh yeah, LG did it too" when talking about the g6? <=Serious inquiry, not trying to be a smartass

I think I like the G6 because it mostly does when it does really well and isn't trying too hard to force things forward. (As much as I love innovation, I think the GS8 is tripping over itself a little.)

"Oan: can anyone explain to me why ppl make the new screen ratio seem so amazing on the Galaxy phones but it comes off as"oh yeah, LG did it too" when talking about the g6?" I think because Samsung is so mainstream. I'm a gamer, and I consider Galaxy phones the 'Call of Duty' series. It's flashy, follows a formula people are familiar with, throws in a few gimmicks and rides the coattails of its previous success. People in general seem to buy in to it. The G6 tends to get ignored by the masses because 1. marketing is nowhere close to Galaxy devices 2. It "looks" like a regular phone just with a 18:9 display. The S8 gets noticed because the curved edges make it look futuristic.

I guess I can understand that, but LG TV marketing was everywhere when this one was first released but it has since disappeared...
I'm one of the few that doesn't see the edge display as futuristic... I see it as somewhat of a nuisance on some activities, but that would make sense why the tone is different when reviewers talk about the 2 phones... Thanks for the reply!

If you are a gamer there is no way you could think the S8 exynos version is good for gaming. The exynos version overheats and throttles to about 35 frames per second in as little as 10 minutes of gaming. The SD 835 version was intentionally throttled by Samsung to match the performance of the exynos version to try to make exynos chip look good.

Honestly, having looked at the GS8, I was not impressed. That thing just screams "GIMMICK!" at me with that idiotic scratch-magnet wraparound screen. I I think I can honestly say that is probably the WORST design decision I have ever seen. SO glad I bought the G6. Much smarter purchase.

You do realize that the G6 has glass front & back right? Just like the GS8. In fact, LG did something quite odd by having two different glasses.... Gorilla Glass 5 on the back and GG3 on the front. Here's my question, why wouldn't LG put the newer and stronger glass on the front that people will use 99% of the time? Search on YouTube for the video CNET did drop testing the G6 versus the GS8. Quite interesting to say the least. At least Samsung put GG5 all around the phone. But the edges do create a weak point on the GS8. That's why I keep a slim case on my GS8.

I'll avoid the technical terms, but I think its probably because while gorilla glass 5 is 'stronger' it achieves that crack resistance by having more 'give' to it, but that also makes it less scratch resistant as gorilla glass 3 which is 'harder'. So it seems that they prioritized scratch resistance on the front and crack resistance on the back.

Thanks Phil! I think your perspective of the G6 is spot on. It doesn't try to be anything it isn't and what it does, it does well. The wide angle is fun!

It really changes the way you compose shots.

Yup! Love the wide angle camera on my V20!

Wish I had the wide angle on my s8. I still carry around my HTC Re to get those wide angle shots. Maybe the G6 would have been right up my alley. The design got me I guess.

I have the v20 and my favorite part is the wide angle lens too. Until you have a phone with one hard to understand that. I don't care for the narrow screen all content is 16x9 so in use the screen is smaller. The second screen on the v20 is so handy use it all the time.

I do get a little nostalgic for the second screen but always on display kind of does what I need and makes me not miss it very much. I'm still excited to see to the V30 though.

I have g4, and it's been a really good phone. The audio is way better than samsung. I've not drunk the samsung kool aid. As i've had samsung, and they never fail to disappoint. My question is would anyone recommend the g6 as a new phone? I'm also taken with the mate9, but that's not what this thread is about.

Recently got a G5 (got it super cheap and I'm not using the mods) and I've had a lot of fun already with the wide angle on it. Might upgrade to a V30 in a few months. Coming from an S7 I don have to agree with Phil about the LCD display, AMOLED is a lot better.

Hey Phil, thanks for your take on this! I feel similarly about their software as well. Along with getting a replacement launcher, the theme engine LG has built in, works really well. Really makes it feel like a whole new phone.

You should answer the phone sometime...ijs

Thanx for the review. Don';t like phones where the control buttons are on the left. Nearly imposable to get to when the phone is in a protective wallet. Also prefer the fingerprint reader to be on the front so that I don't have to pickup the phone to unlock and it's a real pain when in a car kit.

You probably know this, but in case you don't you can enable the knock-on function to unlock the phone without picking it up. . . That's how I'm dealing with it anyway and it works well for me . . ymmv

Wait...I just realized that wasn't u... That was Mr mobile... Nevermind!

I bought an LG G6 to replace my HTC E8 which had developed the infamous "Missing SIM Card" problem that eventually caused a total failure of the SIM slot and an inability to make calls. I have to say, that while I too use an alternate launcher (because I can't stand ANY of the phone company UIs. Just give me Google, please!) I generally like the phone. It's got a nice bright screen (brighter than my HTCs) a great fast camera and really good battery life and performance. Oh, and it has the ONE thing that Google keeps farking up with their own phones, it has an SD card slot so I can actually save stuff on my phone! If I were to offer one complaint (outside the UI complaint, but that's not unique to LG) it's that the built in speaker is kinda junk. Especially coming from an E8 with it's awesome stereo speakers. Really LG, how hard would it have been to move the mic hole to the face of the phone and put two speakers on the bottom for stereo sound? But other than that I really love the phone. VERY happy with the purchase and plan to hold onto it for at least 2 years, assuming I don't have a failure.

unless Apple do it no one has been able to accomplish that or had the desire to accomplish it anyway... with the new display ratio you gonna sacrifice those speakers until someone develop some new smaller more powerful ones.

What did you do to your cameras to get them so scratched up?

Seems to be a thing with this phone, mine is in a case and I 'baby' it and its all scratched up. Lots of threads on Reddit etc that its a coating that's scratching and not the lens glass itself.

Some peoples are crazy though..

Huh. I travel every day by bus and ferry, my G6 has been tossed onto many a table etc. Dropped twice. I have not a single scratch or scuff on the lenses. I do have a slick wrap on it though, one of the natural series wooden ones.

I'm enjoying the g6 so far...let me check if I have any scratches

Phil....Someone is looking slim and trim...has AC finally found an Ashley Esqueda replacement? Lol......#throwback

I've had this phone 2weeks now and just love it. The camera quality is good enough for me. The water resistants is a plus and I love the feel,it's sturdy in the hand. I haven't felt that sturdiness (security)in the hand since my Blackberry days. I do miss my i.r blaster that I had on my g5 but a minor trade off. I do want to get a wireless charging pad for the coffee table now!