Mobile Nations podcast: State of the camera art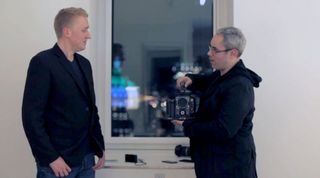 Alex Dobie of Android Central joins Rene to talk about mobile camera, from the dumb phone days to the latest iPhone, Android, Windows Phone, and BlackBerry glass, plus a look at micro 4/3, high end DSLR, and a RED. Yeah, pretty much pure camera porn!
Guests
Hosts
Credits
You can reach all of us on Twitter @iMore, or you can email us at podcast@imore.com or just leave us a comment below. For all our podcasts -- audio and video -- including the iMore show, ZEN and TECH, Iterate, Debug, Ad hoc, and more, see MobileNations.com/shows
Rene Ritchie has been covering the personal technology industry for almost a decade. Editorial Director at Mobile Nations, analyst at iMore, video and podcast host, you can follow him @reneritchie on [Snapchat](https://www.snapchat.com/add/reneritchie), [Instagram](https://instagram.com/reneritchie), or [Twitter](https://twitter.com/reneritchie).
I enjoyed this. You guys should do more cross platform podcasts. Its nice to see what people from different ecosystems have to say about a topic.

You have to know about other platforms, especially the innovations being done. "knowing is half the battle" --GI Joe

So this podcast is on imores page?

Alex Dobie IMO does the best Mobile electronics reviews out of all the cast from Mobile Nations. I find him very knowledgeable in all fields and his accent is pretty cool as well.
Android Central Newsletter
Get the best of Android Central in in your inbox, every day!
Thank you for signing up to Android Central. You will receive a verification email shortly.
There was a problem. Please refresh the page and try again.