Might Google Assistant and the Lenovo Smart Display be the whole-home hub the Echo Show isn't?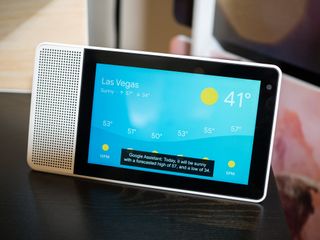 The just-announced Lenovo Smart Display is better than the Amazon Echo Show, says our own Andrew Martonik. He's seen it. I haven't. But I'm inclined to believe him.
For as excited as I might have once been about the Echo Show, any luster wore off pretty quick. More than six months in, it's still pretty worthless as a way to glance and gather important information. It no longer can play videos from YouTube — pretty much the only video source that matters. And one of the other tentpole features — the ability to watch a security camera in real time — really is more of "Alexa, please show me my camera in hopes that something's actually going on in front of it, and take a few seconds to do so."
In other words, the Echo Show is still a pretty passive device. You have to tell it what you want and what to do, rather than it actually showing useful newsworthy headlines. Or popping open my Ring camera when it detects motion. (The latter is something that happens on all my phones, and all my computers, and all my tablets.)
The Echo Show is not the whole-home hub we've always wanted. ... So will the Lenovo Smart Display fill that gap? It could.
Take my biggest gripe — the lack of proactively displaying useful information. OK, the Echo Show gives the time and weather quite nicely. That's not even table stakes, though. That should be the equivalent of an LED showing that the device has power.
For a number of years now, the driving force behind what Google does has been to give you the information you want not just as quickly as possible, but to predict what it is you're going to need to know and show it to you that much sooner.
Or, as one reasonably smart person asked way back in 2012: "How long before Google Now becomes your home screen?"
Then there are the hooks. The things that let the device talk to the services.
Sure, the Echo Show can display calendar information, but that requires the extra step of connecting Alexa to whatever calendar service you use. If you're getting a Google-powered thing like the Smart Display, chances are you're already using Google services like Calendar and Contacts. That takes care of calendar info, as well as finding folks to call through the included Duo service. (Of course, you'll have to have folks actually using Duo, but I have a feeling that'll be easier to do than getting them to use Alexa calling, as it's way more likely to be built into a phone.)
So that's another hurdle leaped.
Then there are the basic services. Don't discount Amazon's on principle — Prime Music is good. So is Prime Photos, and the Echo Show is a great digital picture frame. Alexa calling works very well. And Amazon's got a ton of video to watch. But it doesn't have YouTube, and Google's not letting it have YouTube. And they all require separate downloads — Google has the bonus of being preloaded on its Android phones.
So the Lenovo Smart Display will have services that are easier to get to, services that may be missing (OK, banned) from the Echo Show, and fewer steps to integrate everything in the first place.
But I'm getting ahead of myself. Way ahead of myself.
We need to know about third-party services. We see Nest cameras working, which is great. But companies not own by Google need to have their services working with this sort of product. And they need to work better than they do with the Echo Show.
And, frankly, we just need to see what else happens here. Presumably, this new implementation of Android Things will be a big topic of conversation at this year's Google I/O developer conference. The two models of Smart Display — the $199 8-inch version, and the $249 10-incher — won't see the light of day until sometime toward the end of next summer. That gives Google tons of time (says the person not actually doing any of the work) to work on things on the software side. And will Google be doing its own hardware, as rumored, and end up competing with its partner Lenovo on this front? And what else might Amazon do in the meantime?
And then Google and Lenovo have to actually sell the thing.
So, yeah. There's a lot to get excited about here. Maybe Google will be the one to give us the whole-home hub we've been wanting. (I want it, so I presume the rest of y'all do, too.)
But we've got a while to wait. And Google's got work to do.
Get the Android Central Newsletter
Instant access to breaking news, the hottest reviews, great deals and helpful tips.