Microsoft Surface Duo 2 to bring 5G, better cameras, and improved software later this year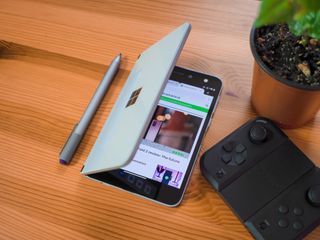 (Image credit: Daniel Bader / Android Central)
What you need to know
Microsoft Duo 2 could launch as early as this Fall.
The foldable phone will bring improved cameras, 5G, and a better overall specsheet.
Microsoft is putting much more focus into the software experience.
Some may say that the Microsoft Surface Duo has been a flop, while others continue to rave about having two separate screens working in tandem. Plus, the Duo has a unique design that looks pretty darn good, and fits right in with the rest of the Surface line of products. It seems that Microsoft won't be giving up easily as it re-entered the smartphone market last year, as Windows Latest claims that the Surface Duo 2 is in the works.
The original Surface Duo was introduced all the way back in October of 2019, but was not actually made available for purchase until September of 2020. This meant that the Duo was already way behind the curve of the ultra-fast pace of the smartphone market with its Snapdragon 855, 6GB of RAM, and middling camera.
That could all be changing, as Microsoft has been working on the Surface Duo 2 since September, in anticipation of a Fall 2021 launch. There aren't specifics as to what the specs for the Duo 2 may look like, however, we can expect a much-faster processor than the 855, along with the likely-inclusion of 5G connectivity. Microsoft is also expected to improve the camera system, while likely keeping the same general design of the current iteration.
The most exciting aspect surrounding the Duo 2 actually has more to do with the software integration than it does the hardware. Surface Duo owners have lamented the fact that they are dealing with a subpar software update cycle, in which there seems to be no concrete date for an Android 11 release. Buggy software has plagued others, as Android and Microsoft's software don't exactly handle the separate displays as one would hope.
New job listings, as seen by Windows Latest suggest that Microsoft is dedicated to bringing more Android engineers onboard. We've seen Google put more of a focus on foldable displays in the early-days of the Android 12 Developer Preview. Plus, Microsoft and Google are already working together on improving foldable phones on the whole with the new Flutter development tools.
Samsung already leads the way when it comes to the best foldable phone, and could increase the lead with the rumored Galaxy Z Fold 3. But if Microsoft can manage to get the software down pat, and deliver an elegant and useful package with the Duo 2, the foldable market could heat up quickly.
Microsoft's foldable
(opens in new tab)

Gorgeous design, dual screens, and Surface branding make for an interesting first attempt at a foldable with the Microsoft Surface Duo. But it's time to improve the software so that the next generation is leaps and bounds ahead of the rest.
Get the Android Central Newsletter
Instant access to breaking news, the hottest reviews, great deals and helpful tips.
Senior Editor - Chromebooks, tablets, and wearables
Andrew Myrick is a Senior Editor at Android Central. He enjoys everything to do with technology, including tablets, smartphones, and everything in between. Perhaps his favorite past-time is collecting different headphones, even if they all end up in the same drawer.
Buggy software sucks, but the heading subtitle that, "Microsoft is focusing on software with the rumored Surface Duo 2," is a bit dismissive of what I think many's biggest issues are for the current Duo. Firstly, the hardware is a bigger crime than the software. I would have accepted software bugs in a new form factor from an OEM new to Android. I was in on Windows phones and their Insider builds, so I get that new efforts can be a bit clunky. What I couldn't accept was giving up my G8 (which was over 18 months old) to pick up a phone that would take away microSD support, take away my headphone jack, take away NFC, take away wireless charging, take away an IP rating, fail to bring a usable camera, and not even bring in new tech like 5G to the game. The second screen is cool, but it came with massive losses on the hardware front. Secondly, the price was insane. $1,400 for a phone from essentially a new mobile division, and it was missing almost every modern feature. Switching from my G8, I would have gotten the SAME SoC from 18 months prior, lost all of those features, and the thing would have cost more than double what the G8 did when I got it at launch. It was basically the second-most expensive phone on the market (after the Z Fold 2), but it had one of the worst spec sheets in the game. Of course, bumping up to a new SoC is a fairly mundane move forward. Tweaking new contextual behavior for the UI is a more impressive feat and takes longer. However, having to engineer in a 5G antenna, plus the hardware for Qi and NFC (assuming they bring them to avoid staying miles behind the competition), then throwing in a passably modern camera? All of those hardware changes are sorely needed, and trying to squeeze them in and keep a similar footprint won't be a breeze. The software focus should be stability, much more so than leaving things buggy while they try to be bleeding-edge by jamming in wacky features. Both are separate to getting a phone out there with a feature set better than Microsoft's last attempt prior to the Duo (the Lumia 950 had arguably better camera hardware and things like Qi, NFC, and microSD support).

I really really want to buy something in this form factor but unless they add in all the hardware that's expected in a flagship its just not something I can even look at. Why pay 3 times what my Oneplus Nord cost me for something with none of the hardware and a second screen that doesn't really work properly yet. I think the one I really want is the Neo but that's vaporware at the moment.

That's going to be a hard sell, especially if the Fold 3 is already out. There is NO WAY Microsoft is going to match the Fold's camera array. Nor will it match the software experience. Then there's the unknown update cycle. Microsoft would have to make some massive changes to even compete.

Personally, none of the concerns you raised are of interest to me. I don't need the best camera array around. I don't need updates years after I upgraded. I don't need Bixby either, THAT'S FOR SURE. I like the Duo form factor more, in terms of being more pocketable and less clunky in-hand with the thickness of the Fold, both opened and closed. I'd much rather have a Surface Pen than Samsung's S-Pen (assuming the Fold 3 works with it). The problem is that MS isn't just behind, their numerous generations behind, with some things. NFC was in Windows phones nearly a decade ago (8+ years back with the Lumia 920), same for Qi and OIS. The only thing costing as much as a Duo (comparing base prices) is the Z-Fold 2, and running laps around the Duo, in terms of feature set. They don't need to match the Z Fold, but beating Samsung's bottom-end options in the A series (which offer 90 Hz displays and multiple cameras and 5G and more) is a pretty reasonable expectation when you spend $1,500+ on your phone.

I bought the first Duo because I love my other Surface gear, but that thing was an unfinished, half baked, expensive, forgotten POS. Microsoft sent that thing out the door completely unfinished and in an almost unusable state with the amount of software bugs. I don't regret returning it for a second.

I can't say I'd be willing to purchase the DUO 2 from MS. Their Surface Tablets are awesome but the DUO was crap and was glad I returned it before I was stuck in that cluster.

Of all the "foldable" phones available this one is the most interesting to me. I am not going to rehash what everyone else has already said in the comments here, but I do agree with all of them. If Microsoft wants my money, then they need to lower the price, and build this thing with every possible hardware spec known to man and then...maybe, just maybe.