Microsoft's Arrow Launcher picks up tablet support in latest update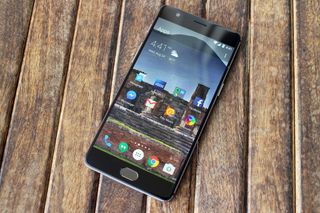 Arrow Launcher, an experimental launcher from Microsoft's Garage division, has picked up another big update. The biggest feature coming along in this update is tablet support, but there are a number of other little handy additions like more backup and restore options, a horizontal layout option for the apps page, and more wallpapers from Bing.
Here's a full look at what's new in Arrow Launcher version 3.1:
Tablet support: a very popular request since Arrow's first release -- and now it's here!
Horizontal layout option for the "all apps" page!
More beautiful Bing wallpapers.
Backup & restore: more backup options available.
Ability to hide headers.
Ability to configure the utility page: show/hide, choose card color (transparent or solid white)
Carousel scrolling mode.
This follows up from a similarly large update that hit the launcher in late February, which brought big performance gains and a new utility page for pinning your most commonly used functions. To check out all of what's new in this latest update, you can grab Arrow Launcher version 3.1 from Google Play now.
Get the Android Central Newsletter
Instant access to breaking news, the hottest reviews, great deals and helpful tips.
Love this launcher. Combined with the next Lock screen it gives me everything I need.

I've been stuck with Arrow Launcher and Nova Prime lately. NP for customization goodness and Arrow if I feel being productive and organize. Shock that this doesn't have a premium version cause I'll buy it without second thoughts, its that good. I also like the update where you can switch to pages or have those neat pages organized in a single page. Makes things more neat IMO.

Arrow is my launcher of choice, mainly due to the wonderful Bing wallpapers (Google's ones just aren't as purdy).

It's about time it supported tablets.
This is a problem with Android is that many apps are designed for phones and not tablets. While they make work on tablets, they may not display correctly. Developers don't always make a phone and/or tablet version.

What phone is that in the picture??

The killed it with 3.0. 2.9 was much better. Now it's just another launcher.

I just downloaded this. Silly question, but how do you add another page to the home screen?

It's kind of buggy in my experience. I added a widget and a chrome link to the home screen. Initially the widget didn't show. The chrome link said "Added to your home screen", but wasn't showing either. Then, both magically appeared. And they disappeared just as quickly again. If it's not going to "just work" with basic launcher things, I'm not going to give it the chance to make things right.

I like this launcher too. I used it until I installed a Windows phone clone instead. But I may go back to it. It used less battery as well. Arrow is really nice.

In fact just reinstalled and restored from a backup. Really is a nice launcher to use

This launcher has become so good it's crazy. Easily right up there with Nova and Action Launcher