Microsoft acquires SwiftKey, pledges continued development of Android app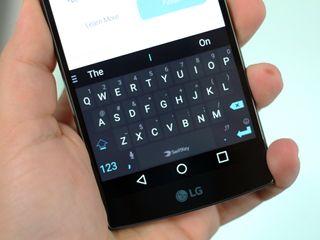 (Image credit: Android Central)
SwiftKey has confirmed the acquisition, stating:
Microsoft has mentioned (opens in new tab) that it will continue to offer the SwiftKey apps for Android and iOS:
Original story follows:
According to a new report, Microsoft is preparing to acquire SwiftKey, the makers of the popular predictive keyboard app of the same name, and whose technology has been licensed by many phone manufacturers to power the predictive engine on their default keyboards. From The Financial Times:
A SwiftKey spokeswoman told Android Central the company couldn't comment on rumors.
If true, SwiftKey would be just the latest of several productivity app acquisitions by Microsoft, joining the likes of Accompli, Wunderlist and Sunrise. According to the report, Microsoft's particular interest in SwiftKey is due to its artificial intelligence prowess, which powers the predictive technology that has helped SwiftKey become one of the most popular keyboards on the Android platform.
Source: Financial Times
Why? MS has the resources and $$$ to continue improving it.
Better than the rotten fruit getting a hold of it and cutting everyone off.

Exactly! A smart move by MS! The only way to make their OS as an alternative as a third option to Android and iOS as well as their apps and services on those platforms is make them better to be more competitive. Posted via Android Central App

That's true, but they already have the best keyboard of the three OS's Posted via the Android Central App

Probably because you use only 1 keyboard and 1 language? SwiftKey is the only keyboard which can change the letters of the keyboard depending the country. Yes able to use 3 different languages and 3 different keyboards... However it still has lots of bugs as it 's not recognising greatly our words and gives us suddenly another language prediction in the sentence. Posted via the Android Central App

The WP keyboard easily changes the languages too, that's not a issue, I'm using 2 languages, but would be great to have the best typo correction and word prediction from WP integrated on Swiftkey, I have to uninstall the swiftkey from my android because the constant errors. Currently using Ginger Keyboard (http://www.gingersoftware.com/) because it has better prediction and correction but still short compared to WP.

I use Touch Pal. Very nice 'advanced' swiping (i.e. swype up for a number) and good auto correction. I can change languages by simply swiping horizontal on the space key. Posted via the Android Central App

The languages I use don't change when I travel so I'm not sure why I'd want that to change based on the country. On windows 10 mobile you just swipe on space bar to switch languages. Easy enough. I also liked it better than any other keyboard I've used (the worst is by far the iPhone where the key display is always in uppercase, so stupid) If Microsoft can take the best of their own keyboard and swiftkey there won't be any competition for it as the best keyboard on all platforms.

I agree - Microsoft's keyboard is superior to Google's for predictive text and auto-correction. I switched to Android and the only way I wasn't getting frustrated with typing experience was not until I switched to SwiftKey. Bold move Microsoft!

agreed, but rather than developing their keyboard app for other platforms, they buy one that is already very good. just like what they did with outlook calendar. i think it was sunrise that they bought, i cant remember. also wunderlist.

Thanks for your support! Cheers, Ryan, SwiftKey Community Manager

SwiftKey was the only keyboard I used when I was on Android. I've been using WinPhone/Windows 10 Mobile for about a year. While I love Word Flow keyboard MS has, I still miss the quality prediction (and swiping) I got from SwiftKey. I cannot wait to see what happens with the combined MS/SwiftKey teams. Make it great(er)!

All companies have the same goal ... Microsoft is no better than Apple or Google.

And possibly charge more for it Posted via LG H815

Exactly. Kept it outta isheep's hands Posted via the Android Central App

Get ready for MS to take it out of free and start charging a Monthly subscription fee. Even people who paid for pro versions will get screwed again. Or it'll be free and all the Auto Corrects will be auto corrected to advertisements.
Spelling Cochell.... Coca-Cola Chevrolet Costco

Fanboy detected. Posted via the Android Central App

Yikes... Posted via the Android Central App

Fanboy. Posted via the Android Central App

Didn't Microsoft have their own keyboard that is also somewhat predictive? Mmmmm, Android Smores....

MS has Wordflow. going by what windows phone users say, it's really good.

Yup.
I use to use Windows Phones. Wordflow is excellent. I was a bit disappointed when they released it on iOS before android.

Agreed! But at least it should be coming to Android. I'll be downloading it as soon as it's available Posted via the Android Central App

Why? In the recent past even Google has released certain things on ios 1st. The tip is not included! So tip your Uber driver.

WordFlow was excellent on WP. On Windows 10, going by the reviews, it's a little messed up though I'm sure they'll improve that.

WordFlow on WP8.1 is REALLY good. Actually, I even liked it more than SwiftKey. So if Microsoft combines their WordFlow tech with Swiftkey's we will all come out of this really benefited.

I miss the WP keyboard but so far I'm getting used to SwiftKey. I find it easier to use than Swype. I did not like how Swype didn't use Google Voice.

I love Swype but agree with you on the no Google voice option. I use Swype now, but it was preloaded on the Note 4 and only has Google Voice as an option.
Does the version on the Play Store still not allow Google Voice? Posted via the Android Central App

Agree Wordflow on wP8.1 is the best word correction and prediction, and is based on grammar and common sense, I'm using multiple languagues and I improved my English typing on it.
Cannot get any closer on android and I been trying more than 10 different keyboards, all the time checking the reviews and noticing how people are impressed with those keyboards, a lot of features but really sucks in the most important.

It is good. But then again, we have no alternatives. Word Flow is coming to Android, so you'll get to use it soon.

It's over Posted via the Android Central App

We believe this is a great partnership for our technology and team. Stay tuned – you'll be pleasantly surprised! Cheers, Ryan, SwiftKey Community Manager

I'm sure you guys like it; you get a ton of money. But, for the rest of us, we've seen what usually happens when big hulking corporations buy up small, great developers. It tends to just get enveloped into the larger companie's products and the thing we all love dearly gets destroyed. I'm sure you can understand people being just a bit skeptical. Most of us are waiting to see if this will be another Skype (which has been really stagnant ever since Microsoft bought it) or if it will be more of a Minecraft (which has been largely untouched by Microsoft and left to its own devices)

I doubt it. One of the reasons I started using SwiftKey was your commitment to privacy. Microsoft slaps privacy in the face at every corner. I'm sorry, but after using SwiftKey for roughly 6 years, I'm done with this deal. Posted via the Android Central App

This. Bye, SwiftKey. Microsoft's privacy policies means I won't be using my favorite keyboard any longer.

Jerry, you're a big reason I started paying attention to this stuff. I'm looking forward to the alternatives you explore. Posted via the Android Central App

So you're ok with Google's privacy policy, then? Even though they collect, buy, and sell just as much (probably more) of your information than Microsoft? That makes a ton of sense... Posted via the Android Central App

That's not the point. A keyboard is a sensitive part of your device. I can pick what email to use, apps, permissions, etc. But what good does using an app like Signal for SMS do a user, if your keyboard is logging and sharing the content of your messages? If you are crafty, you can use an Android device without sharing a lot of stuff with Google. But your keyboard selection can blow all that out of the water. It's like locking the front door of your house but leaving all of your valuables in front of an open window facing the street. Posted via the Android Central App

Yes. Google doesn't share my data with anyone. Microsoft tells me they will sell my data and share it with partners, without naming the partners. Read those EULAs ...

@awsomsause I suppose if you don't use Gmail, Chrome or other Google apps on your Android device, you might have a point. Of course, for that point to be valid, your bit about 'collect, buy, and sell' would have to be true. But for the zillionth time, Google does not sell your information - other than using it to improve their ad placements. if that's the equivalent of selling your information, then it's time for you to stop using the web at all. I'm sure there are plenty of websites that do sell your information. Google isn't one of them. I suspect Microsoft isn't either - since their web strategy seems to be to copy Google in search, cloud storage, online document creation, etc. My objection to Microsoft's web presence is just that - all things being equal, I'd prefer to give my business to the innovator rather than the copier. And before you question why I use Android instead of iOS, all things are not equal there. I prefer Android for its contributions to open source, it's greater flexibility as an OS, and the availability of moderately priced handsets.

I seem to recall the same was said when they acquired Sunrise Calendar. And look where that went. =/

Ryan, I hope this means Swiftkey will be available on W10M soon. The MS keyboard is better than the stock Android keyboard, but Swiftkey trumps them both, IMO. I have W10M preview on a Lumia 640, and miss the lack of custom keyboards

Idk how this is a bad thing Posted via the Android Central App

Because Microsoft apps are terrible

You clearly haven't used any recently.

I'm not gonna lie, I haven't used any in a good while.

Their OneDrive app is FAR SUPERIOR to both the Dropbox and Google Drive versions. Also true of their authenticator app. I'm just giving credit where it's due. Pluto is STILL a planet!

I got a kick out of their authenticator app when it automatically popped up when I tried to log into my Office 365 account on a new computer Posted via the Android Central App

No, they're not. I've used them

+1 they are alright not the best .

We really appreciate your comment – we're excited! Cheers, Ryan, SwiftKey Community Manager

Competition is good. This is a huge amount of user data though. Maybe they can use it to make Bing a bit better. Posted via the Android Central App

I use Swiftkey, bought it before they went fremium and can't imagine switching. I already use Office and Outlook on Android. Besides just being generally suspicious of change, I can't really see why this is so bad. I understand Microsoft is reinventing itself as platform agnostic, which is great, but not sure why they'd want Swiftkey. Here's hoping not much really changes.

Hints at what is going on are in the post. It's the tech behind SwiftKey Microsoft apparently wants. Posted via the Android Central App

I'm assuming it's to help further improve Wordflow. Either that or it's to help push Wordflow to Android.

i think microsoft is really buying the data base for the predictions. this is very good for office for weird languages like arabic

Cheers, we can't wait to get started on our next chapter. Cheers, Ryan, SwiftKey Community Manager

Good luck to you guys The tip is not included! So tip your Uber driver.

That seems like a reallyyyy low pricetag. You'd think a company like Swiftkey would go for near a billion, considering what other tech companies/apps are "worth".

How have they generated revenue since they went free? Do they have ads? I haven't used Swiftkey in a long time. Posted via the Android Central App

They sell keyboard themes for $.99 each, some of which are pretty nice and worth the IAP. They also license their prediction engine to OEMs like Samsung.

I think that a billion would be WAY too much. I'm not sure SwiftKey is really worth anything at this point. They and Swipe were the first two 3rd-party keyboards to make a name for themselves, and in 2010 they were must-have applications because they were obviously superior to all the first party keyboards. These days, every keyboard is pretty good, including Google Keyboard, which is free. Other than the nerds who read this site, users don't really care how their keyboard works. The keyboard on iOS is garbage, but iPhone users done mind at all because they're used to it. So, without any real business model, I think Microsoft is doing them a favor by paying $250 million.

Wow! if you think android keyboards are "good" PLUUUHH! (oops I think I just threw up a little) and the iPhone keyboard is garbage... Why don't you just buy a shirt that says "I've never used an iPhone" then you would only look half as dumb.

Huh? I've owned iPhones and iPads, and the keyboard is one of the biggest reasons I don't currently own one. No swiping, no symbols on the main keyboard, limited to only 3 predictions, no themes, no customizations of any kind.... should I go on? Is there anything GOOD about it? It's fine as a basic keyboard, but that's all it is: basic. And iPhone users don't know how limited it is, because it's usually the only on-screen keyboard they've ever used.

I agree that the standard Ipad keyboard is lousy but for some time now I have been able to use Swype. Which has always been excellent. From Symbian days onwards. Whilst Wordflow on Windows Mobile is welcome it is not a patch on Swype. IMHO.

I've used to use an iPhone and I believe the Google keyboard is better than the ios one, IMHO. Swiftkey is even better on Android. Posted via the Android Central App

+1. SwiftKey > Swype > Google keyboard > iOS keyboard IMO

I agree, android keyboards are customizable and offers variety but all of them sucks compared to the wp kb prediction and typo correction, I been using the more popular in android but I cannot get anything closer, currently using one called ginger keyboard and is good in corrections. Posted via the Android Central App

I was just thinking about whatsapp-20bil Posted via the Android Central App

Well this will definitely get me to switch to a Windows Phone..... /s

That's not necessarily the point of the purchase... Posted via the Android Central App

It could be worse... It could be apple. Posted via the Android Central App

That's the way I'm looking at this. I think Microsoft as someone else said, to make it better. Posted from my Nexus 6/Nexus 7 2013/Surface Pro 3

Microsoft is a software company, so there's no real reason for this not to be a good thing. More money for SwiftKey to keep doing awesome work. Just the name over the door that might change.

Unless Microsoft kills it like they did with Sunrise Calendar. Posted via the Android Central App

I won't be surprised that the next news articles about Swiftkey are about layoffs.

That's my worry as well. In practice, promises of "continued support" tend to fall flat after acquisitions like this. The same statements were made after the Sunrise acquisition.

Thanks for your support! Cheers, Ryan, SwiftKey Community Manager

I also thank you for your support! Cheers! Greanmachine, SwiftKey community co-manager Posted via the Android Central App

I think Apple would've been the better option Posted via the Android Central App on my Frost Nexus 6P

It is well past the time where Windows should have a predictive system. After using my phone on a trip it can get annoying to go back to a keyboard that has no clue what I'm doing. Of course, it will need to be tweaked for the desktop but this could eventually be big. Posted via the Android Central App

Oh crap. Looks like Im back to Google Keyboard. Screw you Microsoft. Posted via the Android Central App

+1 Posted via the Android Central App

Well enjoy your **** stained material design keyboard, SwiftKey is great That's just my opinion I don't like material design. Posted from my Nexus 6/Nexus 7 2013/Surface Pro 3

It's the same swiftkey it always was...just because Microsoft bought suddenly means it's crap? A bit dramatic, wouldn't you say? Posted via the Android Central App

Maybe not so much. Remember what happened to the Aviate launcher after yahoo bough it. Stayed the same for about two months, then it was all yahoo. I can't imagine that MS would want this to push MS services though. Looks like they want user data and other stuff. All the keyboards have huge amounts of data collected, I mean a lot, even stuff you deleted making a post here. Just think about that for a second. All of your texts and emails. Everything you ever typed on that keyboard. They can use that to make their search better, browser. Really it is a lot of useful information that they didn't need to spend a lot of time or money to get. It's a great deal for them. Can't wait to see what they do with it. Not to mention the artificial intelligence part of it as well. Although I think one of these two is just a bonus they get in the purchase. Posted via the Android Central App

Hater Posted via the Android Central App

Maybe my tinfoil hat is on too tight. I just don't need Microsoft snooping on my phone. No better way than with a keyboard used by every app, collecting data for them. Google knowing all is enough for me.

+1 Posted via the Android Central App

Same here. Privacy was a HUGE reason to use SwiftKey. Remember the interview with their CEO on Android Central? There's zero chance Microsoft is committed to that same level of privacy. It'll be the opposite. Posted via the Android Central App

Screw ms...... Skype where are you at? They messed withy Skye account I had to create new account losing lotta of my important contacts Posted via the Android Central App

We're sad to see you go, but we're still committed to continuing the make the best keyboards. Hopefully we see you again. Cheers, Ryan, SwiftKey Community Manager

Every few months I'll think "let's give Swiftkey another try". That generally lasts about 2 hours before I get frustrated and go back to Google. Maybe Microsoft will fix it... Maybe they'll just kill it and cannibalise it for parts. Posted via the Android Central App

What do you find frustrating about SwiftKey? My experience is the opposite - i try Google every so often and then after a couple hours go back to SwiftKey :) My biggest gripe with Google Keyboard is the lack of a height adjustment - it's just too tall for me to use comfortably (fine for swiping but I prefer thumb tapping)

Well, that's why it's good that we've got choices ;) I gesture type primarily... You may be right that Swiftkey is better for pecking at, but that isn't how I type. Although one of the niggles I have is that it seems laggy when tapping... Do you not have that? Could be my still I suppose... Posted via the Android Central App

True - I am unfortunately finding SwiftKey more laggy in the later versions. So far the predictions and speed in which I can type has kept me with it but we'll see.

That's because it takes a little longer than 2 hours for SwiftKey to do its magic. It learns from you, that's the heart of the software. Posted via the Android Central App

Make it cannabis, awesome! Posted via the Android Central App

Swype is better anyway. Posted via the Android Central App

As long as they don't shut it down in favor of their other keyboard app I'm good.

Don't be so quick to say that. Their WordFlow keyboard is fantastic. You might even like it better than swiftkey Posted via the Android Central App

Hopefully they'll improve what was once a great keyboard. I don't know about you guys, but lately accuracy has been terrible (since they started focusing on horribly designed and expensive themes than on actual features). They're prediction makes up for it, but typing stuff accurately has been awful since then, and that shows when typing passwords or non-predictable fields.

I noticed that too. I used to be able to type accurately pretty quickly. But now, autocorrect has been hit-or-miss for me, causing me to type slower than before or create more typos.

I found that the prediction just wouldn't learn from my typing. I gave up on it. Posted via the Android Central App

Sorry to hear you feel this way. Our prediction engine should be even better than it's been. I recommend you go into device settings and clear the cache and data from the app. Sometimes it just needs to be kickstarted after a major update. Cheers, Ryan, SwiftKey Community Manager

Will part of the tech used to power SwiftKey Neural make its way to the normal SwiftKey keyboard in the future?

I can't say too much, but Neural as you know is experimental technology that we're not done with. Just be sure to keep an eye out for SwiftKey news. We have so much more to come.

I own a surface 2 not pro. Would be nice to see this engine come to Windows devices. Btw my lag issues are gone since last beta update. Posted via the Android Central App

For me prediction isn't the issue, it's the accuracy of the typing. I will see my thumb hit a letter and have SwiftKey input the one adjacent (I think it has something to do with the letter pop ups which, BTW, should have an option to be disabled and kept only for extended symbols) but I'm not sure. What I'm sure of is that now prediction seems to think it has corrected a bunch of words for me when in reality it did it because it got the wrong input to begin with. And yes, this happens with both beta and stable releases.

Can't edit anymore...but did I really write 'They're prediction...'? haha. THEIR. :P

They haven't bought it yet. It's a rumor. Posted via the Android Central App

Microsoft better not muck this up, if true. If they do it right (not to mention the increased capital), I would love to see even more features from SwiftKey moving forward.

This is exactly what we plan on doing; continuing to build excellent products for our community! Cheers, Ryan, SwiftKey Community Manager

Good move by Microsoft. They have the money. They already have a launcher and so many other apps for iOS and Android. Just another way for people to use the Microsoft eco system. Remember a Microsoft is a software company Posted via the Android Central App

It will be bye bye SwiftKey for me if true

Why? Same app, new owner. What's the big deal? Posted via the Android Central App

Very naive on your part to think Microsoft is just gonna buy something for 250 million and leave everything as it is. But yeah ok. Posted via the Android Central App

If they do anything, they'd probably turn it into their WordFlow keyboard. Which would be a huge win. That keyboard is amazing. But, like the article suggests, they may just be after the data swiftkey has acquired over their lifespan. Data can be just as valuable, if not more valuable, than the app they bought. So no, it's not naive to think they'll leave it alone. Posted via the Android Central App

You should go ask the Sunrise fans..

Hi Darren, We're sad to see you go, but we're still committed to continuing the make the best keyboards. Hopefully we see you again. Cheers, Ryan, SwiftKey Community Manager

Am I the only one who has tried all of the popular keyboard apps and still prefer google keyboard? Posted via the Moto X Pure (2nd Gen.) running CM13 w/ Nova Prime

No I'm there with you. I know Swiftkey is supposed to be awesome and I used it for months but it just didn't learn my typing style. Got tired of it and the lag and jank Posted via the Android Central App

The Microsoft Wordflow keyboard is not available on iOS yet. I think it went into a public test group, but not in the AppStore yet.

I actually want to use Wordflow. The stock Apple keyboard on my iPad Pro isn't very good when it comes to predicting text. I also didn't like SwiftKey on it as it is stretched to hell on the Pro. I hope Microsoft optimizes the keyboard for the Pro and adds toggles for bold, underline and italics on the keyboard itself like SwiftKey. That'll get me to switch.

Lol, but why? Posted via the Android Central App

Boo! Posted via the Android Central App

Hopefully this means third party keyboards are finally going to Windows Mobile and catch up to iOS and Android? Posted via the Android Central App on my Frost Nexus 6P

I was just wishing for that this morning using the keyboard on the Surface Pro 3. Posted via the Android Central App

I'm not sure if we can even put custom keyboards on the desktop version of Windows

Nope see the update. Being integrated into Word Flow. App lives on an Android and iPhone. Posted via the Android Central App

I'm fine with this, as long as they keep up the development of the keyboard the same. Keep innovating on the best keyboard, that's all we ask. Posted via the Android Central App

This is exactly what we plan to keep doing. Stay tuned for what the future holds. Cheers, Ryan, SwiftKey Community Manager

Well this sucks! Wish Google would of bought it and incorporated it into stock Android. Posted via the Android Central App

THIS!! Posted via the Android Central App

It really depends what they do with it. If they buy it and shut it down it will be a sad day. Or they could let it flounder like Hotmail. Or they could integrate it into their own app and make it that much better. With their recent track record, I'm not optimistic

Looks like I will be finding a new keyboard. Posted via the Android Central App

Why, specifically, would this cause you to change keyboards? Posted via the Android Central App

Probably because he's a close minded fanboy who thinks anything owned by Microsoft is immediately crappy and gross. Lol Posted via the Android Central App

It would be necessary if Microsoft kills it like they did with Sunrise Calendar. Posted via the Android Central App

Google already has access to all my crap. Now you want me to share it with Microsoft ? Can you say Windows 10? Am typing this with Google keyboard after uninstalling Swiftkey with much regret.

Damn it, I JUST switched to this keyboard! Please don't muck this up! Posted via the Android Central App

Muck??
Autocorrect is that you? :-P Posted via the Android Central App on my Galaxy S3 Neo Dual Sim which thankfully doesn't have S-pen and does not have a horrible metal body.

Nope. Muck. As in dragged through the muck. God I wish autocorrect used muck! Posted via the Android Central App

Adding to my vocabulary, now. Posted via the Android Central App on my Galaxy S3 Neo Dual Sim which thankfully doesn't have S-pen and does not have a horrible metal body.

Oh shoot. I hope this isn't true. I was already pissed off that they abandoned Sunrise and now news of this?. Hopefully if they do buy Swiftkey they will improve it rather than scrap it and also they will put it on Windows 10. Otherwise we users are screwed if they decide to pull the plug on the keyboard

Isn't Sunrise now integrated with the Outlook app?

Yep. But for Sunrise users who don't use Outlook, it was a bit of a kick in the shorts.

I agree, it was a kick in the shorts for me. I don't use Outlook and liked Sunrise.

Whatever, there's always Google Keyboard dreaming of electric sheep

I just pray that Microsoft doesn't just keep the patents, reverse engineer the app and then kill it. This is the keyboard I've been using exclusively since my Droid Incredible days. Posted From my Verizon Galaxy Note Edge via the Android Central App... And Don't Eat The Yellow Snow!

I'm still not sure why Samsung or HTC or Google for that matter didn't buy them earlier.

Been off SwiftKey for 2 years Fleksy is waaay better Posted via the Android Central App

I hope Microsoft doesn't ruin it or shut it down, like they've done with many other products they bought, such as Skype and Sunrise Calendar. Posted via the Android Central App

Skype would've shut down years ago, if not for Microsoft. They should've kept Sunrise though.

If you can't beat them, buy them. Posted via the Android Central App on my Galaxy S3 Neo Dual Sim which thankfully doesn't have S-pen and does not have a horrible metal body.

Just great! Everything they put their grubby hands on turns to crap! Like Hotmail, Skype etc... Now they want to ruin bloody SwiftKey too! A**holes!

Skype was bad long before Microsoft. Posted via the Android Central App

Have you used Hotmail upgraded version lately? It's fantastic to say the least Posted via the Android Central App on my Galaxy S3 Neo Dual Sim which thankfully doesn't have S-pen and does not have a horrible metal body.

Just use Google keyboard. Google Nexus 6P

I hope they don't screw it up!!!

It's bad because on the whole, Microsoft doesn't have people's best interests at heart, as proven by their attempt to force windows 10 onto everyone.
Microsoft will never again make a good product, they made windows xp and windows 7 and regret it. Microsoft are of the sick, twisted, wrongful ideology of selling you a product but keeping control of it; they are pro-mandatory-update, and not only want to take control of YOUR personal computer this way, but your phone too.

Omg crawl back to your hole Posted via the Android Central App

Ugh shut your gob Posted via the Android Central App

They're responsible for the security of peoples systems so updates should be mandatory. That's why Windows on any platform is so damn secure compared to the likes of Android. They don't control anything or take information that is personal to you so you're completely wrong to say that.

Not even true they send me personal replies on bugs and fix them I give them suggestions for their apps and they add them. Posted via the Android Central App

I love SwiftKey and Microsoft on my laptop, though I'm not a fan of Microsoft's mobile work. I bought both the phone and tablet version of SwiftKey years ago, so I've been a fan and supporting user for a long time. I'm really hoping Microsoft doesn't cripple SwiftKey, or mess it up in any way. Hopefully they'll hire the current SwiftKey devs, create a specific department for them, and keep them somewhat separate thus allowing them a bit of freedom. Posted via the Android Central App

I don't know how u feel about this. I also use wunderlist alot. Hopefully they don't interrupt the current users. Posted via the Android Central App

YEESS! I just moved from Windows Phone to Android and the ONLY thing I was mad about was the stupid keyboards. Typing on a WP was a wonderful experience and if Microsoft even remotely tries to get swiftkey to become as fluid and easy-to-use as a WP keyboard then I'm all in for it.

I agree 100%!!! I miss my WordFlow keyboard soooooooo much!! Posted via the Android Central App

Only thing mad about moving to Android? I am trying Android as an experiment. Some really good things but the interface is a complete mess in comparison to Windows Mobile and I will go back to that for day to day use. With relief. Sometimes you do not realise how good something is until you try something else. As for trusting Google with any of my data...

They don't mention the bit where they gather all the metadata from the database and sell your details to advertisers like they do in Windows 10.....

Lol. I feel sorry for you. Posted via the Android Central App

Yea, cause Google would *never* do that.../s Posted via the Android Central App

Not very happy with Swiftkey recognition lately. Can you guys pls recommend a good alternative that would a) support multiple languages simultaneously b) have numbers row?

I'm testing Minuum lately, unfortunately Google Keyboard doesn't have multiple languages simultaneously which is a shame :-(

Best MS did for its mobile line up. Swiftkey is great and MS I am sure will keep the app steadily imrpoving. Who knows maybe they will introduce Cortana on tap. Posted via the Android Central App

Does this mean they've completely and utterly given up on THEIR mobile effort? (well, I wouldn't call it an effort, considering how much they like to ruin stuff. See: XBOX One DRM) Because doubling down on a competitor's platform by releasing one app after another there and buying their biggest apps is not a good sign for your own... This phone with the AC App is "Broke."

Yes they messed up Xbox One so much it's selling faster than the 360 over the same period. Their mobile effort is still there and developing. Just because they don't have big sales numbers doesnt mean it isn't there. There's very little I could say that they have ruined.

Woah. There's actually WP fans hanging around here? How sad. Are you here because you're preempting the death of WP?

WP is an amazing OS. I was a Lumia user for a long time, decided to switch to Android to try something else. Except for the apps, I very much regret that decision. Posted via the Android Central App

Just to be clear I'm no fanboy. I do however prefer the Windows OS on mobile. I do however use Android phones too. Windows 10 as an OS is doing very well and Microsoft will make phones for those that really want them. Other OEM's will fill in the gaps. Posted via the Android Central App

So that's why Swiftkey is lagging and choking my Galaxy S6 since last one or two updates! Actually that's perfect, because I removed my account, uninstalled it and switched to Minuum :-) Yay, it's so much faster

No that's not why. What a dumb comment. Posted via the Android Central App

This has to be for tablets and windows pcs with touch access included, windows phone is dead and it makes little sense to do this for other competitions like android and ios. Has to be for tablets and tablet based pcs. you're not gonna convince ios users to ditch the stock keyboard for no alternative period. same with android.

I've tried Swiftkey like half a dozen times. I just find myself always returning to Swype.

+1 Posted via the Android Central App

Get ready for Swiftkey to be able o read your entire hard drive, personal files and everything else.

What's WP? And what's a Cortana?
(PS I'd rather keep my metadata limited to Google as much as I can, but re learning to type on the Google keyboard sucks, reminds me of an iPhone).

i've paid for swiftkey twice, but i dont trust microsoft at all :( makes it hard for me to keep using it.

Why don't you trust Microsoft out if interest? Posted via the Android Central App

because i've had them lock me out of my pc before using my microsoft account, so now i use local only accounts. I've had them sell my data to advertisers, because i use gmails + feature in my email addresses when using different accounts ("your email"+microsoft@gmail.com), it helps you see what email groups are getting access to and narrow down who is doing it. when they took over skype, they made all users available to the main list, so you couldnt keep your account away from spammers. They also still wont clarify their windows 10 line items and make you go through hoops to get out of sending data back.

Oh-no! I am surprised Microsoft bought them for their predictive text capabilities. I switched to SwiftKey when I got my Nexus 6P. I had used the Samsung keyboard on my previous phones, but it isn't available on the 6P. I find the predictive text on SwiftKey to be very inaccurate compared to my experience on the Samsung keyboard. I had hoped that SwiftKey would get better over time, but it still drives me crazy sometimes. I will probably be looking for a new keyboard now. BTW, for those of you who do not understand the near universal negative reaction to the news, Microsoft has a decades old history of underhanded and unethical behavior. Some of this was related to abuse of their monopoly position in desktop OS in the 1990s (which led to the US government's anti-trust case against them), their attacks on FLOSS software (including Linux and the whole Caldera/SCO affair), their Embrace, Extend, Extinguish philosophy towards standards and hostility towards any standards that they didn't control (and the cooking of the ISO to get their proprietary document formats approved as standards), their cut-throat tactics against competitors... I could go on, but I have other things to do today. Unfortunately much of the documentation of these abuses has disappeared down the memory hole of the web as various sites detailing them have gone offline.

Oh no. Posted from my LG V10

Thanks guys. This comments section gave me a good 10 minutes of amusement - real top notch stupidity here :)

RIP SwiftKey. Nothing good can come of this. Look at poor Nokia. Microsoft is pure cancer.

It's just a brand name...phones are phones Nokia or not. Ms makes new phones based on Nokia. Posted via the Android Central App

Nokia would have disappeared with or without Microsoft so stop trolling. Posted via the Android Central App

I recommend Fleksy everyone. Awesome keyboard Posted via the Android Central App on my Frost Nexus 6P

Yup sayyyme Posted via the Android Central App

CRUD! I reckon this means we're in for 2 good updates followed by 1 REALLY AWFUL update. Repeat.

Well its been a good run but i am uninstalling it because i keep Microcrap products off my phone Posted via the Android Central App

Well, at least it wasn't Facebook :/ Posted via TCP/IP

i bet they're now going to add a bing key in that keyboard....
Android Central Newsletter
Get the best of Android Central in in your inbox, every day!
Thank you for signing up to Android Central. You will receive a verification email shortly.
There was a problem. Please refresh the page and try again.