Microsoft partners with SEVEN Networks to update Outlook.com app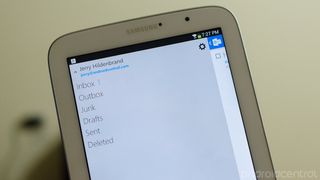 Microsoft and SEVEN Networks have revamped the Outlook.com application for Android, and released a huge update today on Google Play. There's a whole new look -- a mashup of a strange Holo-esque feeling combined with Microsoft's traditional Windows phone style elements -- and a trio of new features. Users can now have threaded conversations, use filters for unread and flagged mail, and now have the ability to mark messages as junk.
To build the all-new app, Microsoft partnered with SEVEN Networks. These are the same folks they used to build the Hotmail app on Android, and makers of what Phil calls "an old-school bad-ass Exchange conduit for Windows Mobile".
While most Android users will use Gmail, we can understand why Microsoft cares enough to try and provide a good experience for Android users. Outlook.com is a successful venture for them, and it makes sense to be able to deliver it -- and deliver it with quality and class -- on as many screens as possible. If you haven't tried it yet, and use Outlook.com for email (or are thinking of trying it), hit the Google Play link above. SEVEN's full press release is after the break.
SEVEN Networks Selected by Microsoft to Develop Android App for Outlook.com
SEVEN's Push Technology Expertise Delivers Great User Experience
REDWOOD CITY, Calif.--(BUSINESS WIRE)--SEVEN® Networks, a provider of innovative software products that optimize and manage mobile data traffic, announced that it worked closely with Microsoft to develop the Outlook.com email Android client that launched today on Google Play.
The announcement marks the second Microsoft-authorized Android app developed by SEVEN.
Microsoft announced that Outlook.com came out of preview earlier this year as the world's fastest growing email service. Outlook.com is a brand new email service, delivering a beautiful, fresh and intuitive experience on modern browsers and devices.
The new Outlook.com app has been designed with the same principles as the web experience. It supports Android 4.1 and 4.2 (Jelly Bean) devices and will deliver push-enabled access to the inbox, contact list, folders and calendars.
"It is an honor to be working with Microsoft once again," said Ross Bott, President and CEO of SEVEN Networks. "The prior Android app, developed by SEVEN, was incredibly successful with millions of downloads and very high user ratings. We're confident that the Android community will be equally as excited about the new Outlook.com app."
"We've had a long relationship with SEVEN Networks, the company has embraced the Outlook.com design principles and combined that with its own technology to deliver a very high-performance app. This combination will result in a great email experience for Outlook.com users," said Eduardo Indacochea of Microsoft.
As part of its long-term relationship with Microsoft, SEVEN has successfully certified hundreds of devices from a variety of manufacturers for the Microsoft-authorized Android apps, including HTC, LG, Motorola, Nokia and Samsung.
About SEVEN Networks
SEVEN® Networks develops innovative software solutions that help wireless carriers and device manufacturers manage and optimize mobile traffic before it impacts the network. SEVEN's flagship Open Channel™ products reduce operator costs, increase efficiency in the use of wireless infrastructure, and enhance end-user experience. Open Channel extends management of data traffic from the network to the mobile client, bringing immediate capacity relief to overloaded networks. Operators gain actionable intelligence on their networks, application activity is optimized, and signaling activity is significantly reduced.
SEVEN solutions are deployed worldwide at major carriers across the five continents. For more information, follow SEVEN online at www.seven.com or on Twitter at www.twitter.com/SEVEN_Networks.
About Outlook.com
Outlook.com is personal email from Microsoft. First introduced in July 2012, Outlook.com is a modern email service with a fresh and intuitive design that connects to popular social networks, works seamlessly with Office and SkyDrive, and organizes your inbox automatically with powerful tools like Sweep.
Senior Editor — Google Ecosystem
Jerry is an amateur woodworker and struggling shade tree mechanic. There's nothing he can't take apart, but many things he can't reassemble. You'll find him writing and speaking his loud opinion on Android Central and occasionally on Twitter.
If only they let me change the font size somehow!

So Microsoft can make an OS but can't make an app?! Also what's with the elephant font size!

I am no longer a fan of microsoft so, no thanks. in fact i hate them.

I will wait to see how others report the app acts in terms of battery life. This app as constantly running and running my Gnex battery down.

Did you change the sync method from PUSH to something else? Shouldn't use much battery when set to PUSH, unless there are some serious bugs...

Doesn't even show on my list of battery usage apps. Been using the new one since this morning and have gotten several messages so I know it works.

Through testing I found out that if you sync the Junk folder it will eat up battery like crazy. If you turn off the Junk folder sync then it doesn't even show up in the battery usage. I guess it isn't really a Junk mail issue but rather the fact that if you get a lot of email in the Inbox then perhaps your battery usage will be high too. I don't get that much email to the Inbox (maybe 20 or 30 max per day). Now my Junk email folder gets tons. So I just make it a habit to only check Junk on a PC rather than on my mobile device. Or if you need to check the Junk folder on a mobile device then just use the web browser, or remember to turn off Junk sync if you just need to check one time. It would be a nice feature to set the Inbox for Push notification and then the Junk folder for Manual.

Does anyone know how to turn "Show Images" on by default. I hate that grey box at the top of every email.

Better looking than before but still only syncs the last thirty days messages. Wish they would address that....

Exactly. That is one of my issues with it as well.

Their permission list is ridiculous.

Been waiting for this for awhile now! Seems to work pretty well and certainly better than it was before.

HTC's integrated Mail app has been functioning superbly on Android since inception years ago with excellent power management, pinch expandable text, easy full featured folder and server management, and message threads handling Microsoft s various email platforms. Amazing! HTC's programmers accomplished this year's ago yet Microsoft had to contract Seven to write their Android program for their email platforms. Incredulous! Am I missing something?

I have an @live.com account and I have the awesome Samsung Galaxy Note II. Currently I use the Gmail app for my Gmail account and I use the stock mail app for my Live account. I love the stock app, but there is one major flaw. When I send from my phone, my email shows up as my email address instead of my name. Like if I sent you an email it would show in your inbox as myemail@live.com instead of Mike-Mike. Does anyone know if this Outlook app fixes that? Or is it an issue with Microsoft and Google not playing nice?

FYI...all you have to do is go into the setting for the mailbox and change "Your Name" to what you want to show. Simple.

The "Your Name" field is not an option for Microsoft accounts, it's there for my school account, but not the Microsoft.

They couldn't even do it themselves?? LOL!!!

My school uses Outlook.com, but with their own domain (@uno.edu). I couldn't get my school email to work on the old Outlook.com app; it seemed to only accept microsoft domains (hotmail.com, msn.com, live.com, etc). Does anyone know if this new app would work for me?

I use the Outlook service as my primary email service, but I don't see any point to using this instead of EAS and the HTC Mail app (which I'm happy with).
Android Central Newsletter
Thank you for signing up to Android Central. You will receive a verification email shortly.
There was a problem. Please refresh the page and try again.