Nextbit's Robin looks to merge phone and cloud like never before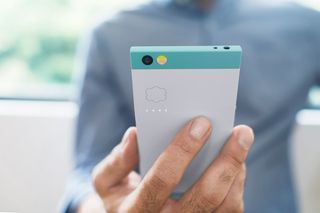 You don't use a smartphone in 2015 without using the cloud in some form or another. It's just not possible. (OK, it's possible, but it won't be fun.) But now Nextbit — a new company led by a former head of partnerships for Android in its early years, a power-management engineer and one of the lead industrial designers behind some of HTC's most iconic smartphones — is looking to bring the cloud to your phone in a whole new way.
Meet the Nextbit Robin.
Launching today on Kickstarter — $299 for early adopters; it'll retail at $399 — and available early next year, think of Robin as a double-edged sword. On one hand you've got the hardware. On the other side is the cloud.
"Nextbit started because we really wanted to ... we felt anxious and a little bit bored with the progress being made at the operating system level in both Android and iOS," Nextbit's Tom Moss told us. He's the former head of business development and partnerships for Google in the very early years of Android. "Nothing's really changed. Yeah, UIs improved, but these are things that are not necessarily new."
Robin definitely is new. But at the same time there's something very familiar about it. A stylish block of polycarbonate — something Nextbit's Scott Croyle, the former HTC designer, knows very well — with a 5.2-inch display inside. The front-facing stereo speakers stand out, as do the oversized sensors and front-facing camera. The idea, Croyle said, was to do something nobody else has done from that design standpoint.
"We were equally unimpressed with the state of phones the past couple of years," Moss says. "Yes, there are some good products here and there. But in in general, as Android enthusiasts ourselves, nothing's really inspired us in a while. It feels like the last great kind of shift in industrial design in phones ... was when Scott did the HTC One. Basically all the phones kind of look the same now, and we think it's kind of boring, and we think consumers are ready for something a little bit fresh, something a little bit cool."
"How bout a lot fresh, a lot cool," Croyle chimes in.
"Really freaking cool," Moss confirms.
And you very much get that feeling with Robin. It's a phone that's definitely trying to look cool. It's got a bit of a retro feel about it, both in the colors — mint on white and midnight black with blue accents — and in the overall design.
More: Nextbit Robin specs
That desire for uniqueness goes into the details as well. You see it in the volume button on the side of Robin — two very separate and distinct buttons. The power button's over on the right, and it doubles as the fingerprint scanner — one of the first times we've seen that feature move to the side of the phone instead of in a physical home button. On the back of Robin you'll find four LED lights that look like they're straight off an external battery. They'll light up when Robin's doing its cloud thing.
And that Cloud thing is this: Right now it's all about storage. Robin comes with 32 gigabytes of internal storage. And as we all know, that's really the minimum for any phone that's not considered low-end. So Robin takes a look at your apps. And when it spots something that you haven't used in a while it'll back up the APK data to its cloud, leaving your personal application data locally on the phone. The app icon will gray out, indicating that the app is backed up. If you try to launch the app again it'll prompt you to re-download the app. (If you're not on Wifi you'll get another prompt checking to make sure you want to burn your mobile data.) The backed-up app is a snapshot of one point in time. The big selling point is that you don't lose any of your data. You don't have to log back in. You don't have to recreate progress in a game. But it also means that if you sit on an app for six months before using it again, what you download again will be that six-month-old build, and you'll then have to download and apply any updates from Google Play.
Nextbit is giving everyone 100GB of cloud storage to start with.
Says Croyle: "We're the only cloud-first, design-forward smartphone in the market today. It doesn't mean that we're a cloud phone. There are serious limitations in a cloud phone. It'll come, it'll do all that one day, but the reality is why wait? We cane take the cloud and the OS and break down the barrier between them, and do it in a smart way."
And that smart way continues into photos. Robin will back up your images to its cloud, and then serve back more resolution-appropriate versions (remember it's a 1080p display) until you tell it to download the whole smash. It's all in the name of saving space on the device. (And it's also not entirely unlike what Google Photos does.)
So we've got another affordable device that flirts between the mid-range and high-end spectrum. But it's untested (we'll get our hands on it soon), and not actually available until January.
The real question is whether that'll be enough to lure users in a crowdfunding environment when there are a number of excellent smartphone choices in the same price range. And when the smartphone space in general continues to advance as quickly as it does.
Another software tidbit: The phone will launch with Lollipop — but Nextbit already is working on Marshmallow (though Google hasn't yet released the code publicly.) It's also going to have the full Google suite of apps available.
Get the Android Central Newsletter
Instant access to breaking news, the hottest reviews, great deals and helpful tips.
I only see the Japanese buying this Posted via the Android Central App

check out the kickstarter. if had a midnight color that looks pretty nice.

It looks like a hand-held 2001 Space Odyssey monolith.

That's the one thing I'll agree with you on Posted From my Nexus 6/Nexus 7 2013/Surface pro 3

This is a very cool concept but have to see just how well it works and if they can keep on time with android updates with that level of customization.

When one of the owners stated that there's nothing like it out there he was right: there's nothing this ugly out there.... The panda has spoken

+20x Posted From my Nexus 6/Nexus 7 2013/Surface pro 3

Looks pretty cool, Posted from my Beast Galaxy Note 5 via the Android Central App DEVICE HISTORY (since they got smart) Phones
Galaxy Nexus, LG viper, Galaxy s3, HTC Evo 4g, Galaxy Note 2, Galaxy s5, LG G-Flex, Galaxy Mega 6.3, Galaxy s6 edge, Galaxy Note 5 Tablets
Galaxy Note 10.1 gt-n8013, Galaxy tab 3 7.0, a few low budget tabs I care not to mention because they were terrible and not worthy of my memory. Watch
Galaxy gear

When your signature is over 15x the length of your actual comment, you might want to reconsider your signature. But thanks for your device history! /s

+15x Posted via the Android Central App

+20x Posted From my Nexus 6/Nexus 7 2013/Surface pro 3

÷4x Posted via the Android Central App

=5x Posted From my Nexus 6/Nexus 7 2013/Surface pro 3

x 20x Sorry I'm bored at work today... Posted via the Android Central App

I was told there would be no maths Check out the new Nexus! https://youtu.be/u3uFOavLo_w, not a Rick roll

:*( Posted via the Android Central App

I know you think it's "maths" because you're probably from the UK, but it really is just "math". Your language ancestors have led you astray! Posted via the Android Central App

It is actually mathematics...

=100x Posted From my Nexus 6/Nexus 7 2013/Surface pro 3

+1 Posted via the Android Central App

+1 Posted from the last of a dying breed...Galaxy Note 4

+25 Posted via the Android Central App

I am not seeing what is cool or new, or different with this. OK, it comes with 100gb of cloud storage, but that is available via many services. What am I missing here? What is this device changing?

You can put food on the table for them Posted From my Nexus 6/Nexus 7 2013/Surface pro 3

The only ONLY thing that this device is changing apparently is that you won't have to worry about putting things into the cloud and actually managing the device because the software will decide what needs to go into the cloud and what needs to stay local itself.
This isn't new tech though, Apples iCloud photos does the same thing and Google Photos will upload every photo and video to the cloud automatically as well. So with that being said, nothing...nothing is new

What's different is that it will take more taps, time, and data to use an app the device has decided to backup to the cloud to save space that would have been easy enough to include in the first place. I would much rather have the storage on the device. This just seems like an over complicated solution to a non existent problem. ... Joe K. Posted via the Android Central App

So much of this. The cloud is a miserable way to handle things. I have a burst camera app I rarely use. When I need it I need it right away. Same with a conversion calculator. So this is seriously going to fock with my apps like that? The only way to sum it up succinctly is the last sentence in Joe K's comment.

No. The phone has 32GB of onboard storage and 100GB of cloud storage. Everything you put in the phone goes onto the phone's local storage and is backed up (when the phone is charging and connected to a WiFi network) to the cloud storage. By backing up only when charging and on WiFi, the cloud will not hinder battery life or any data caps that you have. When you begin maxing out of that local 32GB of storage, the phone will take unused apps, photos, music, videos, etc. and essentially delete them from local storage while keeping it in the cloud. In the place of the app that is deleted from local storage will be a dummy and if you need that app, you simply press it as if it had never left. However, if you consistently use your camera app, it will most certainly remain on local storage and never be deleted off of that. However, those photos you took when you were in Bora Bora 7 months ago, will be deleted from local storage, but saved on the cloud, allowing the phone to have more local storage for you to take photos on your up coming trip to St. Barts. Of course this is what Nextbit claims it to be and as this is the only data we have (and we haven't seen it in action), we can just go by this information. Chris makes a good point. What is the difference? The difference is that this phone's cloud storage system is somewhat "smarter" compared to other cloud storages (e.g. Google's cloud, OneDrive, etc) in that it detects items which you have not used or looked at in a while and allocates them out of the local storage. The other cloud storages back up the information, but they don't delete unused things, which still leads to maxing out of storage. Is it easier to use a micro SD slot? Probably. But as we see, cloud based storage, whether we like it or not, is becoming more and more prevalent.

This would be fine if we lived in a perfect world where Every Carrier had 100 Mbps speeds and Unlimited data plans

Don't see this coming to anyone but T-Mobile or sprint considering data limits o the other carriers Posted via the Android Central App

I'd be willing to bet that there is a built in toggle to limit the backups to wifi.

Per the Kickstarter webstie, it is default set to backup when on a charger and Wi-Fi

But it's not about the backup, it's restore. Who the heck wants to wait for a download to complete before you can launch an app? ... Joe K. Posted via the Android Central App

If you haven't used the app in a few months, why not? It's putting the app as a low priority to save room. Posted via the Android Central App

Room that doesn't need to be saved if you have enough storage available on the device. No matter how infrequently I use an app I want to be able to access any app on my phone immediately. As I said previously, this is a complicated solution to something that doesn't have to be a problem in the first place. ... Joe K. Posted via the Android Central App

From what I got from the Kickstarter page the times where it will allocate infrequently used apps to just the cloud is when the phone begins to max out on its 32GB of storage. Nextbit claims, "After you've been using it for a while and start running out of space, Robin intelligently removes apps and photos you haven't used in a while - even if you're offline. Robin knows they're already backed up safely. If you ever want an offloaded app or photo back, no problem. Just tap on it and we restore the full version right away." I take that to mean, if I have 15GB of storage left on this phone, nothing will be deleted, but once I get to 1GB of available storage, the phone will begin allocating unused items to only the cloud. If I haven't used an app in over a month, there is good reason that I may not use it again for a while, unless needed. These apps will probably be smaller in size (100MB-500MB) and with LTE speeds, I'm sure the lag won't be as burdensome as some believe to download a 300MB app. Note that you won't have to reinstall the item, just allocate it back to local storage.

Sony could make something like this if they weren't so hemmed in by their design constraints. I agree with them that Android has become very boring, both in the OS and the current phones. Posted via Android Central App

Just want to know if it supports dual SIM. And I hate kickstarter programs. Not enticing with a 2016 release date when there's several more good sub $400 phone coming out this fall. Posted via the Android Central App

I find it entertaining that Android Central always complains about the design of plastic phones and now complain that they all look the same. I guess you can't make them happy (first world problem). I never understand the whole issue with the look and design of the phone! I rather have a fast and well working one and one instead of one which looks good.

that was a quote from Nextbit :)
I agree with you though, performance, camera, battery life, extra features they all pretty much matter far more to me than design.
from a design perspective all I care about is small bezels and screen to body ratios, which is really more of a practical usability concern.

Well, this is odd. And having to wait 4 months minimum, more like 6+ is not happening for most people in this need-it-now society.

yeah, if this was immediately available they might get some buzz, but by January, people will be speculating about the Samsung S7

No thanks. Posted via the Android Central App

Too bad it's NEVER coming to Verizon.. Lol Posted via the Android Central App

Who runs out of storage due to app installs? All I hear about is that it's cool and they tried to be cool so it's cool. Marketing, marketing, marketing for a phone that won't fit properly in my pocket.

If I have 128GB phone, cloud service would be irrelevant. Posted via the Android Central App

More than you think. I know people who have 200, 300 apps installed and they probably use 10 percent of those on a regular basis. Kind of a addiction I think. Posted via the Android Central App

I used to think I need 101 apps. One day I just deleted alot of stuff. Posted via the Android Central App

and I bet they wonder why their battery life stinks :)

Especially in 2015 flagship phones Posted From my Nexus 6/Nexus 7 2013/Surface pro 3

I've ran out of storage on a 16GB phone. I think that 32GB is that perfect in-between where you don't run out and don't have to worry about it because of Google Photos and other cloud storage apps backing up photos and videos so you can delete the local copy. The thing is this device starts with 32GB, so I would more then likely never actually need more than that and I wouldn't ever use the 100GB cloud storage

Not to be a jerk, but what world do you live in? Do you ever touch phones that aren't maintained by techies? I routinely see people with 15Gb of photos on their phone, they don't know how to offload them or they sync with a laptop that has 120GB hard drive that doesn't have enough space to backup their phone because of other phone backups filling it up. I see people upgrade regularly because they think they're irreparably "out of space." Google Music can cache gigs of music. Text messages can eat up gigs of space thanks to MMS attachments. I see people with 200 apps who use a number of them regularly because several games are 200-400+ MB apiece. I have 8GB of apps on my phone myself!. I see people without the knowledge of Google Photos or iCloud Photo Stream. Some have older phones and can't run newer versions. In SO MANY cases, the idea of a phone that auto-manages cloud sync would be helpful. Just because you can't see it doesn't mean there aren't plenty of use cases.

I think the auto offloading of pictures and video is great.
Current cloud products allow you to sync to the cloud, but it doesn't free the space automatically. For me that's fine , I can manually purge the local storage , but most users don't know how to do this.
which leaves them with the problem my wife has, no room for apps and stuff due to all the old photos on her phone.
The app backup doesn't sound like a particularly appealing option, given you have to redownload the apk and install it. Unfortunately for this product, the good idea auto syncing photos and videos and clearing the space on local storage could be easily implemented by google with a Photos app update.
Google, if your listening, do this, you could enable it as a option that's turned off by default to start.

Google photos already does that. It uploads your photos and replaces the local copies with lower resolution versions.

I don't know what to think of it. Aside from the look it sounds like it would be heavily data based for multi tasking. With that said, I don't see too many people investing in a mid range if their goal is to multi task. Am I missing something? Posted via the Android Central App

If it was avaible right awat mabay... But in 2016?... I dont think so. The phone is not much better than the OPO, and that phone is over a year old now... Edit: ok it is better then the OPO :P but stil...

Honestly, the only spec I'm interested in these days is for how long the manufacturer is going to be providing system updates!!! Guarantee me at least two years, preferably three years, of updates. Also unlock the boot loader and provide the source for necessary drivers so alternative ROM's can take over when you bail on your customers. Do that, and your phone will be number one on my shopping list. Otherwise it's the same sh1t in a different case.

Not an attractive case at that. Posted From my Nexus 6/Nexus 7 2013/Surface pro 3

Per their kickstarter site, the boot loader is unlocked and the source is available. Custom roms won't void the warranty, even if you brick the phone.

Technically, those FEATURES aren't specs. But I know what you mean.

Not sure I understand the Cloud thing with this phone. Current Nexus 5, what's NOT in the cloud? contacts -- Gmail
email -- Inbox
photos -- Google Photos
music -- Google Play Music
files -- Google Drive
texts -- who knows?
tasks -- Tasks
lists -- Keep

I think the thing is that it backs up stuff to the cloud automatically and clears that space on your phone, giving your more space on your phone
the cloud sync your talking about with google all keeps a local copy on your phone.

I don't doubt what you're saying, but am I losing part of my 32GB of storage to data stored on device and, if so, where is it? e.g. photos, emails, texts, drive documents, contacts, music, keep lists, tasks? Once sync'd couldn't it be deleted?

Ugliness level 99. Posted via the Android Central App

This phone intrigues me. Bleeding edge specs are nice, but performance is better. I eagerly await some reviews of the performance.

I went against my better judgement and backed it. I personally love the color scheme. The 808 is the lesser of the evil. The 32GB is concerning considering this phone is cloud driven. We'll see if I change my mind. Posted via the Android Central App

I have no problem with the 808. Seems to be a solid chip, at least I hope so, since it will be in the Moto X P/E which is my next purchase. Posted via the Android Central App

It is the one chip qc got right this year apparently Check out the new Nexus! https://youtu.be/u3uFOavLo_w, not a Rick roll

I'm not going to back it, but I'm with you on the design. It's unique and cool-looking, although I get why it's so divisive.

I ended up cancelling. I love the whole design of the phone but kickstarter I always have hated. January just to far out. I'm not a cloud driven customer Posted via the Android Central App

In for one. At $299, I'm in for innovation. I love the darker color and hopefully it's as buttery as sense!

I've gotten burned by almost every Kickstarter project. While the price is nice, there are a lot of variables to cloud first based storage. I like the price and features but that razor cuts deep. I'll wait until ver. 2 and marshmallow before I consider diving in. The extra $100 it will cost me to buy retail is worth the price of waiting a year for a working ver 2. model.

UGH, a Cloud-first phone. Just when data caps are being thrown left and right, data plans are getting pricier by the minute, and, Oh, wait... It's a Cloud-based phone, therefore I need a very fast Internet line! And that's available in, aha, the US of A! It would suck everywhere else. Oh well,...

Badass is not the word I would use to describe how it looks. Maybe the last half of that word...

The more I think about it, why do I want another cloud service when OneDrive gives me 1TB of storage? Does this allow you to use cloud service freely? Posted via the Android Central App

I think your question is more towards your carrier, right?

No its read as it says. They offer you 100 GB storage to use their cloud. I already have OneDrive. Their cloud is OS integrated so that it can load and unload apps as the software feels needed. It won't do that with other cloud services. I already have Drive, Dropbox, and OneDrive. Why do I want another. I don't even use Drive or DB. If they allowed other cloud services to be integrated instead of theirs this would be more useful to me. Posted via the Android Central App

I don't want the Note 5 because of the $hitty storage options.. Why would I want even LESS storage?? Cloud..pffft. I use it for backups but would never want it as my default storage option lol. Tech is going backwards..

This could somehow work. Granted, you need a reliable internet connection for the cloud to even work properly, but even though I'll be holding on to large-capacity SD cards until they die, looks like this could work for devices that choose to abolish the SD card.

I personally don't like having to rely on a network connection so much. Posted From my Nexus 6/Nexus 7 2013/Surface pro 3

Interesting, but it's old tech processor before it's even available and needs a minimum of 64 gb onboard storage. Also needs to be sleeker and easier for one handed use and pocketability... IMO. Plus, data costs are up and this is trying to be a"cloud" phone. Doesn't make sense. Posted via the Android Central App

No expandable storage? DOA, everyone knows no phone without expandable storage has ever been successful. Posted via the Android Central App

Not sure if sarcasm present Posted via the Android Central App

Sarcasm Check out the new Nexus! https://youtu.be/u3uFOavLo_w, not a Rick roll

Everyone's forgetting the /s this week Posted From my Nexus 6/Nexus 7 2013/Surface pro 3

It is an inevitability with this phone that the apps you rarely use and get sent to the cloud are the ones you'll need in a pinch and have no data access at the time you need them.
It just seems like an awfully complicated way to save space when you could just spend the extra $50 for more capacity to begin with.
I do like the look of the phone, though. But you can more or less replicate those color schemes on Moto maker and get a similarly priced device with carrier support and a proven, quality interface and performance. Posted via the Android Central App

I check my bank account once a week. this would suck.

To me, its looks pretty good Posted via the Android Central App

Specs are a little light....and yeah...does it even make phone calls? *Eyeroll*
- pass

Funny thing is this still would be out before the One Plus 2 gets invites Posted via the Android Central App

Look at the black one. My God, it's full of stars!

I think this looks pretty cool, but the cloud aspect of it...seems a bit annoying. I can understand backing up app data, like login information and settings configurations, but the whole app itself? No, that's annoying. If you just put more storage in the device to begin with, I don't need to jump though hoops to re-download an app every time I want to use it (for infrequently used apps).

Ugly POS. It looks like a cheap toy you would buy for party bags from the dollar store. Posted from my NOTE 5

I know that smartphones are essentially candy bars due to their standard rectangular shape but this is just plain ridiculous. Also, the idea looks interesting but I don't see how Scott Croyle created the rather POS design. Cynicism Evolved

The video had to be neat considering NextBit isn't offering something revolutionary new.

I like the phone's format and colors, but the wait until February is too long, and $350-$400 is too expensive for an unknown product. I'd pay $250. Posted via the Android Central App

Looks pretty good. I for one like the design haha and the software looks sleek. I think it's a bit too much at 399 to begin with. I think 299 or 349 would be a tad better. Battery is on the mid range though so we'll see how that holds up. Posted via the Android Central App

Completely agree, much more interesting than what's currently offered. Posted via Android Central App

I think this is a very forward looking product, combining cloud storage with local in an automatic, intelligent way. Rather than saying "ok, lets back up all the photos and videos and be done" its more dynamic. It says "hey, you haven't touched that app in x amount of time, lets free up that space. if you need it again, put it back on, with all the data contained within it." This type of intelligent system (assuming its well done of course) will take another layer of maintenance out of technology. I think one long term problem is that storage capacity is increasing, especially with 3D NAND storage well in the works.

Look at those robin eggish buttons! hehehe

https://www.kickstarter.com/projects/nextbit/robin-the-smarter-smartphone Looks like another hour or so and they hit their goal. God speed NextBit. I reject your funny looking phone and even funnier cloud sync premise but I hope you manage $10-$15 million in pre-order/pledges so that you can gain media attention, make back the development costs of this thing, and most importantly, inspire other independent phone makers. I would love to see some stock android loving gang of uber geeks do this: 3 phones, 5", 5.7" and 6.5" 1080 screen phones. Each phone has these specs: 820 processor
STOCK ANDROID
Removable battery (if Wiley Fox can do it then so can you!;)
SD card
4 GB ddr4 ram
3500, 4000, 4500 mAh battery for 5", 5.7" and 6.5" phones respectively
32/64/128 GB memory
21 MP camera
front facing duel speakers
water proof Cost of 5" phone: $400, $450, $500 for 32/64/128 GB
Cost of 5.7" phone: $500, $550, $600
Cost of 6.5" phone: $600, $650, $700 I guarantee you that anyone who puts such a project on kickstarter for 60 days (limit on kickstarter) will get $25 million to $30 million in pre-orders and may even reach $35 to $40 million. Either way it would be a new all time record for Kickstarter, with the previous record being the Pebble Time with $20.3 million.

I like the unique design, but I want more built-in storage, not cloud-first. And I would rather avoid Kickstarter.

I'm cool with kickstarter and the more i see it the more the design grows on me. But the whole cloud thing is a deal breaker. I don't trust my files to a server. We all know that one day sky net shall evolve out of a server and use our own files against us. I shan't be accessory to the extinction of mankind;)

This is a cool concept, but I'm not completely sold. Sent from my Moto G

I'm tired of the "Infinite storage" thing. I don't need it and don't want it. On my One Plus One I have 64GB to use. Today I was noticing i'm getting a little light on space. When I looked I have so many B.S, photos that are accidents, redo's..etc. Just stuff we all do with our phones. I went through and got rid of 100's of images that wouldn't be useful for anything. If I didn't have a finite amount I would just let that garbage sit there and not clean it out. It's good to have to do some house cleaning, It makes you realize what's going on with your device. You also find forgotten apps you installed that are just taking up space. Nice looking phone though, make it in a 64GB flavor and I'm sold. I don't know, I just don't want some massive dumpter to keep my stuff in. I think as a society maybe we should focus on living a little more efficiently and not just look for a "bigger solution". (not preaching, please don't flame me).

I think the phones look quirky cool. Kinda like kids toys in the best possible sense. I also think they're taking a clever, forward thinking approach to cloud. Will it succeed? I don't know yet. Will I buy one? Unlikely. I'm still a total cloud neanderthal, and I'm pretty well convinced my next Android Phone will be a Nexus anyway. So unless I end up with two Android phones, I probably won't get this....but I do still think it's really cool, and certainly wish it success! Posted via the Android Central App

Can I ask where can I find the wallpalpaper of the phone? (the one we can see on these pictures)

I think this phone is gorgeous!