Nextbit's Robin looks to merge phone and cloud like never before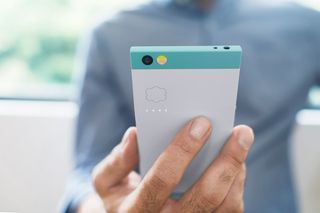 You don't use a smartphone in 2015 without using the cloud in some form or another. It's just not possible. (OK, it's possible, but it won't be fun.) But now Nextbit — a new company led by a former head of partnerships for Android in its early years, a power-management engineer and one of the lead industrial designers behind some of HTC's most iconic smartphones — is looking to bring the cloud to your phone in a whole new way.
Meet the Nextbit Robin.
Launching today on Kickstarter — $299 for early adopters; it'll retail at $399 — and available early next year, think of Robin as a double-edged sword. On one hand you've got the hardware. On the other side is the cloud.
"Nextbit started because we really wanted to ... we felt anxious and a little bit bored with the progress being made at the operating system level in both Android and iOS," Nextbit's Tom Moss told us. He's the former head of business development and partnerships for Google in the very early years of Android. "Nothing's really changed. Yeah, UIs improved, but these are things that are not necessarily new."
Robin definitely is new. But at the same time there's something very familiar about it. A stylish block of polycarbonate — something Nextbit's Scott Croyle, the former HTC designer, knows very well — with a 5.2-inch display inside. The front-facing stereo speakers stand out, as do the oversized sensors and front-facing camera. The idea, Croyle said, was to do something nobody else has done from that design standpoint.
"We were equally unimpressed with the state of phones the past couple of years," Moss says. "Yes, there are some good products here and there. But in in general, as Android enthusiasts ourselves, nothing's really inspired us in a while. It feels like the last great kind of shift in industrial design in phones ... was when Scott did the HTC One. Basically all the phones kind of look the same now, and we think it's kind of boring, and we think consumers are ready for something a little bit fresh, something a little bit cool."
"How bout a lot fresh, a lot cool," Croyle chimes in.
"Really freaking cool," Moss confirms.
And you very much get that feeling with Robin. It's a phone that's definitely trying to look cool. It's got a bit of a retro feel about it, both in the colors — mint on white and midnight black with blue accents — and in the overall design.
More: Nextbit Robin specs
That desire for uniqueness goes into the details as well. You see it in the volume button on the side of Robin — two very separate and distinct buttons. The power button's over on the right, and it doubles as the fingerprint scanner — one of the first times we've seen that feature move to the side of the phone instead of in a physical home button. On the back of Robin you'll find four LED lights that look like they're straight off an external battery. They'll light up when Robin's doing its cloud thing.
And that Cloud thing is this: Right now it's all about storage. Robin comes with 32 gigabytes of internal storage. And as we all know, that's really the minimum for any phone that's not considered low-end. So Robin takes a look at your apps. And when it spots something that you haven't used in a while it'll back up the APK data to its cloud, leaving your personal application data locally on the phone. The app icon will gray out, indicating that the app is backed up. If you try to launch the app again it'll prompt you to re-download the app. (If you're not on Wifi you'll get another prompt checking to make sure you want to burn your mobile data.) The backed-up app is a snapshot of one point in time. The big selling point is that you don't lose any of your data. You don't have to log back in. You don't have to recreate progress in a game. But it also means that if you sit on an app for six months before using it again, what you download again will be that six-month-old build, and you'll then have to download and apply any updates from Google Play.
Nextbit is giving everyone 100GB of cloud storage to start with.
Says Croyle: "We're the only cloud-first, design-forward smartphone in the market today. It doesn't mean that we're a cloud phone. There are serious limitations in a cloud phone. It'll come, it'll do all that one day, but the reality is why wait? We cane take the cloud and the OS and break down the barrier between them, and do it in a smart way."
And that smart way continues into photos. Robin will back up your images to its cloud, and then serve back more resolution-appropriate versions (remember it's a 1080p display) until you tell it to download the whole smash. It's all in the name of saving space on the device. (And it's also not entirely unlike what Google Photos does.)
So we've got another affordable device that flirts between the mid-range and high-end spectrum. But it's untested (we'll get our hands on it soon), and not actually available until January.
The real question is whether that'll be enough to lure users in a crowdfunding environment when there are a number of excellent smartphone choices in the same price range. And when the smartphone space in general continues to advance as quickly as it does.
Another software tidbit: The phone will launch with Lollipop — but Nextbit already is working on Marshmallow (though Google hasn't yet released the code publicly.) It's also going to have the full Google suite of apps available.
Get the Android Central Newsletter
Instant access to breaking news, the hottest reviews, great deals and helpful tips.