Meet the BlackBerry KEYone this month at CrackBerry Meetups across Canada!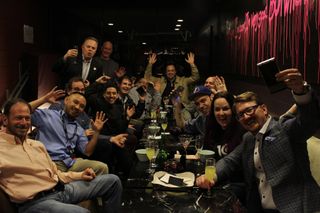 (Image credit: CrackBerry)
This isn't an Android thing — at least not directly — but our friends over at CrackBerry will be touring parts of Canada to meet up with BlackBerry fans who want to try the KEYone prior to its release on May 31.
The meetups will take place in Calgary, Vancouver, Ottawa and Montreal (they already did Toronto!) throughout the month, and, if you're in the neighborhood, we'd love it if you registered!
RSVP for KEYone!
Calgary - Friday, May 5th
Vancouver - Saturday, May 6th
Ottawa - Saturday, May 13th
Montreal - Monday, May 15th
Every attendee gets entered for a chance to win a KEYone, so make sure you go if you're around!
Sign up for future CrackBerry meetups
If you haven't yet, be sure to visit our global CrackBerry Meetup Groups (opens in new tab) page, where you can sign up for your city. If an official CrackBerry Meetup is coming your way, we'll be sure to let you know.
Daniel Bader was a former Android Central Editor-in-Chief and Executive Editor for iMore and Windows Central.
Chicago!? Let's get that date set!

How about just releasing the d*mn phone already!

How blackberry blew it https://beta.theglobeandmail.com/report-on-business/the-inside-story-of-... BlackBerry sued by over 300 employees http://www.cbc.ca/beta/news/canada/ottawa/blackberry-employees-class-act... How Canadian Police Intercept and Read Encrypted BlackBerry Messages https://motherboard.vice.com/en_us/article/rcmp-blackberry-project-cleme...

You forgot the link to the article where blackberry was just awarded 815 million in a settlement from Qualcomm https://www.google.ca/amp/www.cnbc.com/amp/2017/04/12/blackberry-awarded...

Pass on the meetups. Just release this phone so all who's been waiting since February can enjoy.

Always download best apk here: http://Knowledgee.in

If you live in one of the cities listed above, you should definitely head on down. I had a blast at the Winnipeg meet up. Kevin is a great host! Free drinks, free food and a room full of people that love tech.

Wow, there captured all of the remaining blackberry fans in a single shot.

It must be kind of cool to have a user base so small you can meet with each and every individual user.
Android Central Newsletter
Get the best of Android Central in in your inbox, every day!
Thank you for signing up to Android Central. You will receive a verification email shortly.
There was a problem. Please refresh the page and try again.