MediaTek's mid-range resurgence should worry Qualcomm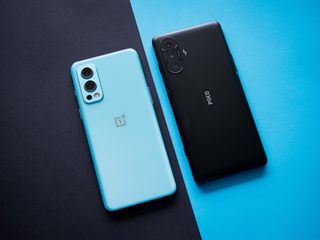 (Image credit: Apoorva Bhardwaj / Android Central)
This time last year, Qualcomm dominated the mid-range category. The company's decision to launch the Snapdragon 765G alongside the Snapdragon 865 meant that value flagships were able to leverage features limited to the best Android phones, with standout devices like the Pixel 5 and OnePlus Nord utilizing the chipset.
Things are a bit different in 2021. I just finished testing the latest mid-range phones — including the Reno 6 Pro, OnePlus Nord 2, and POCO F3 GT — and what was surprising was that all of these devices featured MediaTek's Dimensity 1200 chipset. This would have been unheard of even two years ago; most brands shunned MediaTek's designs because they weren't on par with what Qualcomm had to offer, and what few wins it managed came in the budget segment with devices like the Redmi Note 8 Pro series.
To its credit, MediaTek was able to turn things around with its 5G-enabled offerings in the Dimensity series. In particular, the Dimensity 1200 is a stellar chipset that holds its own against the Snapdragon 780G, delivering robust performance and global 5G connectivity. While I don't have the numbers to back it up, it is entirely likely that MediaTek is undercutting Qualcomm in terms of pricing, making it that much more enticing to device makers.
The result is that over the last 18 months, MediaTek has not only managed to regain its footing but also launch chipsets that went up against the best that Qualcomm has to offer in the mid-range segment.
Sravan Kundojjala, Associate Director at Strategy Analytics' Handset Component Technologies, notes that MediaTek successfully capitalized on the increasing demand for 5G, with the company seeing a 143% year-on-year increase in its mobile business in Q2 2021. Kundojjala says that 5G was a key driver in MediaTek's recent surge, allowing the brand to "improve its average selling prices and profits dramatically." With the brand amassing a market share of 26%, it is now the second-largest mobile chipset maker:
We've seen increasing diversification in the semiconductor industry as vendors seek new revenue streams — Qualcomm is investing in automotive, IoT, audio, and wearables — and MediaTek is no different. The company's chipsets power the best Chromebooks, Wi-Fi 6 routers, and more. "MediaTek has a strong footprint in Chromebooks, tablets, digital streaming devices, DTVs, Wi-Fi 6 and power management ICs. As a result, MediaTek is on track to see over 45 percent growth in 2021, reaching approximately $16 billion," says Kundojjala.
While MediaTek has made heady gains in the mid-range segment, it continues to struggle in North America. Kundojjala notes that there are a few MediaTek-powered phones in the U.S., like the Galaxy A32 5G. But because its biggest customers — Xiaomi, OPPO, and Vivo — do not have a presence in the country, it hasn't been able to challenge Qualcomm in any meaningful way.
That could change in the coming years as MediaTek shifts focus to the flagship segment, an "essential category" for the U.S. market, as Kundojjala puts it. MediaTek's earlier efforts in this category haven't amounted to much; it wasn't able to measure up to what Qualcomm was doing with the Snapdragon 800 series. "MediaTek tried with the Helio X30 (10 nm) chip before but failed to get momentum as the company had a weak modem and performance compared to Samsung and Qualcomm," says Kundojjala.
"However, MediaTek now integrates the latest Arm cores and has solid multimedia and connectivity IP. MediaTek will re-enter the flagship market early next year with its 4nm (N4)-based Dimensity 5G SoC, which will include 5G Release 16 and integrate Cortex-X2 CPU core." In addition, Kundojjala says that Xiaomi, OPPO, Vivo, Realme, Redmi, and Lenovo will adopt MediaTek's flagship next year, giving the chipmaker much-needed momentum in this category.
So what does this mean for Qualcomm? The chipmaker has posted soaring revenues in Q2 2021 on the back of strong handset, RF front-end, and IoT sales, and that is unlikely to diminish soon. With 5G requiring more components and increasing the manufacturing cost, Qualcomm is ideally positioned to leverage its technology.
For instance, even though Google is switching to its custom Tensor SoC for the upcoming Pixel 6, it is estimated that the search giant will still use Qualcomm's RF front-end and IP licensing, as highlighted by Kundojjala.
But unlike years past, it isn't smooth sailing for Qualcomm. It is seeing stronger competition in the budget and mid-range categories from MediaTek and Samsung, and that rivalry will soon extend to the flagship category. Samsung is set to introduce its first AMD RDNA 2-powered chipset shortly, and MediaTek will challenge Qualcomm with its upcoming 4nm Dimensity chipset in 2022.
Qualcomm has diversified its portfolio well beyond the smartphone segment, and it has managed to leverage its RF and licensing tech to manufacturers that don't use its mobile chipsets. That said, the mobile business continues to deliver nearly half of Qualcomm's overall revenue, and if it wants to stand out in 2022, it needs to do something truly special in this area.
Get the Android Central Newsletter
Instant access to breaking news, the hottest reviews, great deals and helpful tips.
Harish Jonnalagadda is a Senior Editor overseeing Asia at Android Central. He leads the site's coverage of Chinese phone brands, contributing to reviews, features, and buying guides. He also writes about storage servers, audio products, and the semiconductor industry. Contact him on Twitter at @chunkynerd.
As an American I hope to see Qualcomm continue to dominate and I think they will but the competition is hungry. It's shaping up to be a very interesting era in technology.

And as a Brit I hope to see ARM continue to dominate 😂😂😂

Great to finally see Qualcomm has competition from Mediatek and Google. Come on Samsung!

Nice to see Qualcomm having some competition now which will force them to up their game in the Smartphone SoC market.

How much did Mediatek pay for this ad? Mediatek promotes the Dimensity 1200 as their cutting edge, flagship processor. Actually, it is significantly slower than the last 4 generations of Qualcomm processors: the powerful 888, 870, 865+ and 865. You have to go years back to the 855 to find a Qualcomm processor with equivalent power. Mediatek overclocks their processors to hide their weakness. This results in system instability, poor battery life and premature processor failure. If Mediatek truly wants to compete with Qualcomm, Intel, AMD etc they will need to build facilities in the USA, Israel and Europe. This has the added benefit of allowing Meditek to survive when the PRC invades Taiwan. Qualcomm has all the competition they can handle from Apple who makes the most powerful and efficient mobile processors.
Qualcomm has been able to poach Apple engineers recently which will allow them to pull even further ahead of Mediatek. Mediatek processors might be acceptable for budget devices but tech savvy Android customers demand powerful Qualcomm processors.

You sure Qualcomm didn't pay you to post all of that?

The article actually says it's equivalent to the 7 series not the 8 series.
To avoid US protectionism they will have to move into the US if they want to sell there. But why should they? The rest of the world is fast developing and the US market is a duopoly which is really a monopoly - Samsung must supply Apple if it is not to suffer protectionism. There's plenty of growth in the 95% of world population that doesn't live in the US.
We don't really know that Apple processors are the most powerful and efficient because nobody can do bare iron benchmarking on any current phone chipset. They may be, but it may in reality be all about the difference between iOS and Android at low level.
Your last sentence just sounds like a press release, real people don't say "tech savvy Android customers demand powerful Qualcomm processors".
tl;dr you start off calling it an "ad" and then come up with a slanted press release on behalf of Quacomm.
Whereas for most people it is interesting to know that there may be competition in the performance range of the majority of the world's phones, and where it might come from.

We don't won't no American ****. Qualcomm are being caught and will soon be passed. Just watch.

Been seeing a lot more mediatek processors lately and for the most past they're pretty decent. Happy to see more diversity in chipsets rather than this monopoly Qualcomm has.

Good with competition. Qualcomm is still dominant in the flagship segment. But the latest Snapdragon 888 is a mixed bag. Batteryhungry and seems to get very hot.
2022 will be a interesting year. Samsung teaming up with AMD for the next Exynos chip. Google now got the Tensor chip. And Mediatek stepping up to.